How to Delete Shortcuts from MacBook Pro/Air and iMac Quickly
"I hide the Dock and placed a couple of icons on my desktop, but now I am using more applications, so I decide to use the Dock, how to delete shortcuts on Mac?" Nowadays, we rely on technology to make our lives easier. The shortcuts, for example, are a great design to avoid longer routes and quickly access the folders or apps that we use frequently. Sometimes, we do not need shortcuts anymore. This guide tells you how to get rid of them quickly.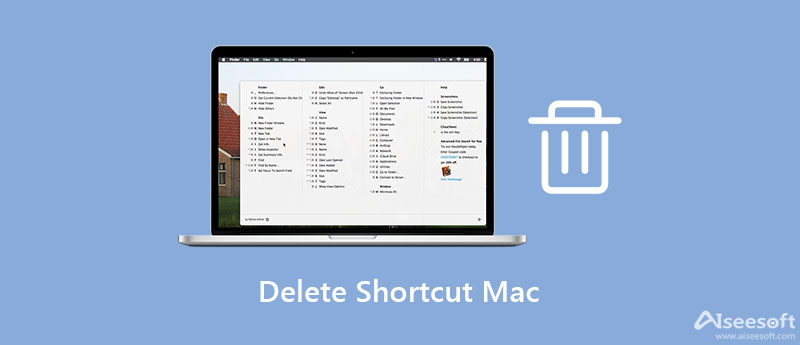 Part 1: How to Undo Shortcut on Mac with Built-in Methods
Method 1: How to Delete a Shortcut on Mac Desktop
If you intend to delete a shortcut on Mac, the easiest way is to move it to the Trash folder. This way does not ask for a lot of technical skills but it is only available to shortcuts on your desktop.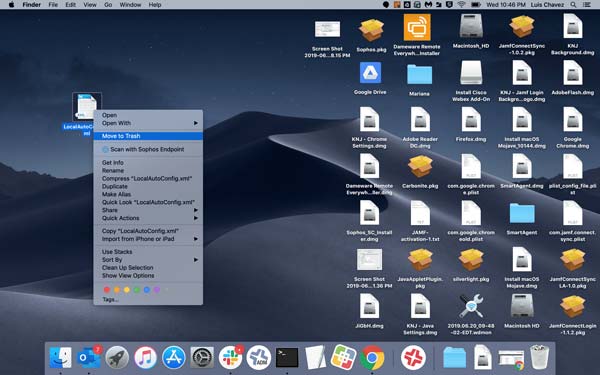 Step 1:
Power on your Mac and navigate to the desktop.
Step 2:
If you have the Dock bar on your desktop too, highlight the shortcut, drag, and drop it into the Trash folder.
If not, right-click on the shortcut, and choose Move to Trash on the context menu.
Step 3:
Go to the
Trash
folder and permanently delete the shortcut.
Note: To select multiple shortcuts, hold down the Command key on your keyboard and select them one by one.
Method 2: How to Undo a Shortcut in Mac Shortcuts App
After you update to macOS Monterey, you will see that you now have the Shortcuts app installed by default. It allows you to access apps and folders in Launchpad or with Spotlight search. Moreover, it can create a shortcut for a set of actions. To undo a shortcut in the Mac Shortcuts app, perform the steps below.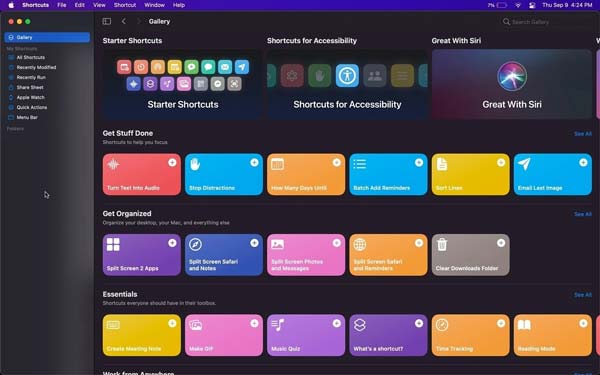 Step 1:
Run the Shortcuts app, and go to the
Gallery
tab from the left side. You will see all shortcuts.
Step 2:
Locate the shortcut that you want to delete, and double-click on it to enter the editor window.
Step 3:
Highlight the unwanted shortcut, hold down
Command + Delete
keys on your keyboard at the same time. Then click
Delete Shortcut
to confirm it.
Part 2: The Easiest Way to Delete Shortcut on Mac
Since the Shortcuts app is pretty new, many users still do not understand how it works. Moreover, deleting a shortcut on Mac just removes the icon but not relative files. To free up space, we suggest you try Aiseesoft Mac Cleaner. It deletes shortcuts on Mac along with the apps and associated files in batch.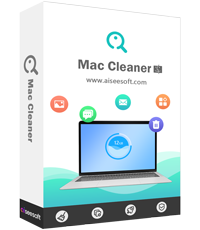 161,522 Downloads
Aiseesoft Mac Cleaner – Best Shortcut Remover
Delete shortcuts and apps on Mac without technical skills.
Delete shortcuts and apps on Mac without technical skills.
Batch delete multiple shortcuts at one time.
Support almost all Mac computers and laptops.
How to Delete Shortcuts on Mac Permanently
Step 1:
Look for shortcuts
Launch the best shortcut manager after you install it on your Mac computer or laptop. Then you will see three buttons in the first interface. Click the Toolkit button, and choose the Uninstall option to enter the next screen. Click the Scan button to begin looking for shortcuts and apps on Mac.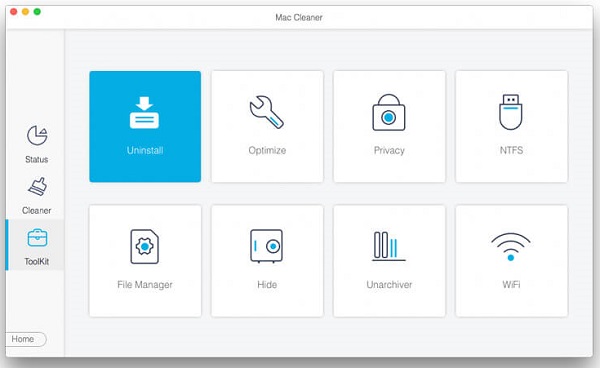 Step 2:
Delete shortcuts on Mac
After scanning, click the View button to display all shortcuts and apps on Mac. Select the unwanted apps in the middle panel, and check the box next to each shortcut and file on the right side. At last, click on the Clean button at the bottom right side to delete shortcuts on Mac immediately.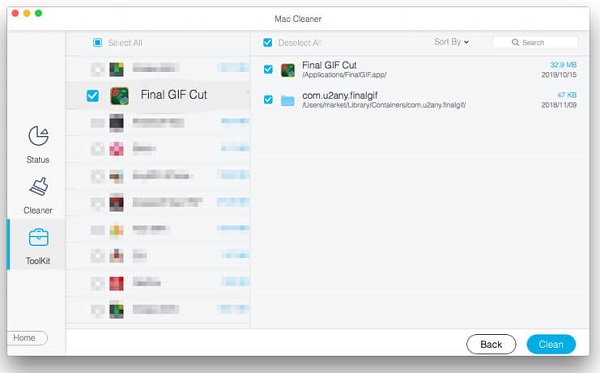 Part 3: FAQs about Deleting Shortcut on Mac
Why Mac does not have a delete key?
The Delete key is very mysterious. Modern Mac keyboards do have a Delete key, but the function is the same as the Backspace key on Windows. You can learn the detail on Apple's website.
What is the Shortcuts app on Mac?
The Shortcuts app on Mac is a digital automation app. It comes with macOS Monterey. It allows users to quickly accomplish complex tasks with the apps they use the most.
How to add a shortcut on Mac?
Open the Shortcuts app on your Mac computer, and double-click the shortcut that you want to edit. Click on the Shortcut Details button at the top of the right panel, and check the box next to Pin in Menu Bar or anywhere you want to find the shortcut.
Conclusion
This guide has told you how to delete a shortcut on MacBook Pro/Air or iMac. As a quick way to access your apps and folders, shortcuts are widely used among Apple customers. Fortunately, you can remove unwanted shortcuts from the desktop and Shortcuts app effectively. If you intend to delete shortcuts and free up space, Aiseesoft Mac Cleaner is the best choice. More questions? Please leave your message in the comment area below this post.

Leave your comment and join our discussion