Part 1. How to Delete WhatsApp Photos (Common Way)
Besides the basic text messages, WhatsApp also allows you to share photos, videos, GIFs, contacts, locations, audio messages and documents and so on. So while the daily usage of it, more and more photos gathered in WhatsApp and took large storage space. At the first part, we like to tell a regular way to quickly delete a photo from WhatsApp Group.
How to delete WhatsApp photos on iPhone
Step 1:
To delete photos from WhatsApp, you should open the chat and locate the specific photo you want to erase. You can keep tapping on it until you get the Delete option. Now you can simply tap Delete to remove this photo from WhatsApp.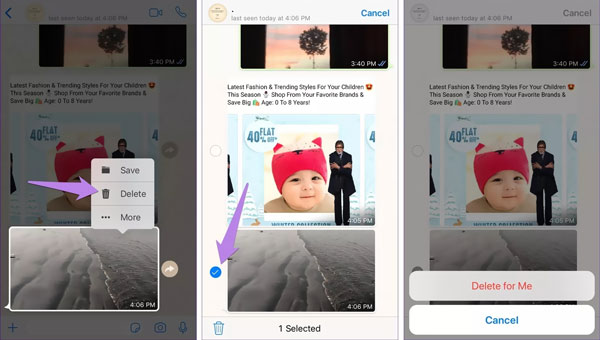 Step 2:
If you want to delete two or more WhatsApp photos, you can select the More option. Then you are allowed to select more pictures. After choosing all WhatsApp photos you want to delete, just tap on the delete icon at the bottom and then tap Delete for Me to confirm your operation.
You can save photos from WhatsApp to avoid an accidental deletion.
How to delete WhatsApp photos on Android
If you are an Android user and want to remove the useless photos from WhatsApp, you can take the similar method.
Open the WhatsApp chat and find the photo you want to delete. Tap and press on it until you see the Delete icon appears on the menu bar. Tap the Delete icon and then choose Delete for Me to start the deletion.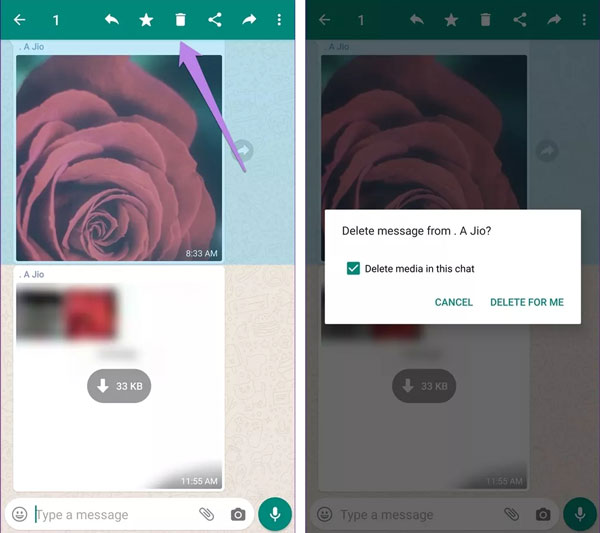 If you want to remove multiple photos, you should select one photo, and then tap on others to select them. After that, you can hit the delete icon and use the same method to confirm the deleting operation.
Part 2. How to Delete WhatsApp Photos Through Storage Usage
Recently, WhatsApp has brought a storage management feature called Storage Usage for you to better manage various data. It enables you easily delete videos, pictures, and GIFs. The following guide will show you how to delete WhatsApp photos with it.
Step 1:
Open WhatsApp on your device. Here we take Android phone as an example. If you want to remove photos or videos from WhatsApp on an iOS device, you can take the similar steps. Tap the three dots icon on the top-right of the screen and then choose the Settings option.
Step 2:
When you enter the main interface of Settings, choose Storage and data. Then you can see an option called Manage storage, tap on it.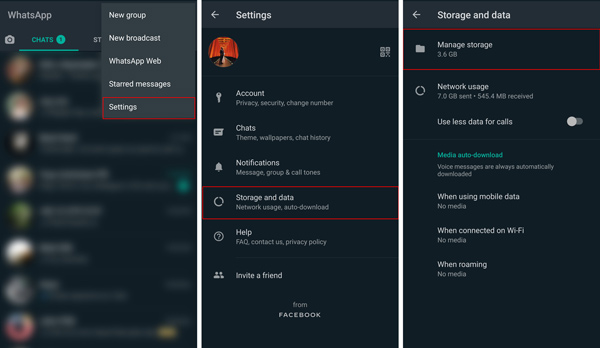 Step 3:
Now you can see detailed information about how much storage is used and how much is available. You can delete WhatsApp photos based on specific sections like Forwarded many times and Larger than 5 MB and Chats.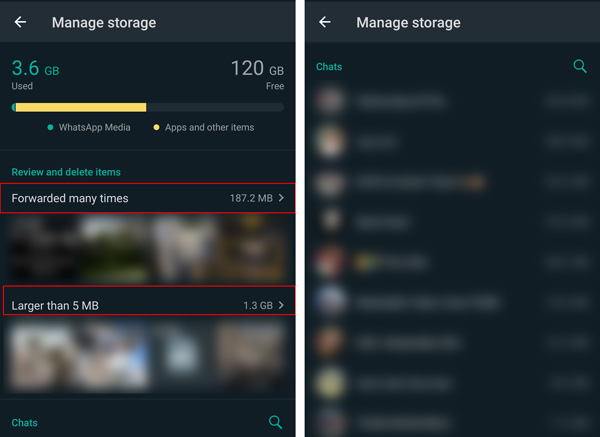 If you don't have this Storage Usage feature in your WhatsApp, you should update the app to its latest version. You can go to Google Play Store or App Store to update it.
From the ways above, you can still recover deleted WhatsApp photos. To delete them permanently, just move the next part.
Part 3. How to Permanently Delete WhatsApp Photos on iPhone
To delete WhatsApp photos and other related files permanently, you can rely on the professional WhatsApp data deleting software, FoneEraser. It has the capability to quickly remove all WhatsApp photos, videos, messages and more from your iOS device.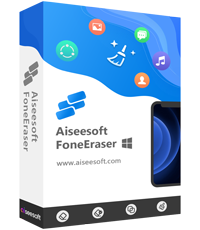 Downloads
FoneEraser - Delete WhatsApp Chat
Delete all WhatsApp data including photos, messages, chats, videos and more
Erase all contents and settings on iPhone thoroughly and protect private
3 different erasing levels to remove WhatsApp photos for different requirements
Support multiple iOS devices like iPhone/iPad/iPod and iOS versions like iOS 16/15/14/13/12/11
Step 1:
Free download, install and run this WhatsApp photos deleting software on your computer. Connect your iPhone or iPad to it with a USB cable. To help computer quickly recognize your device, you need to tap
Trust this computer
on your device screen.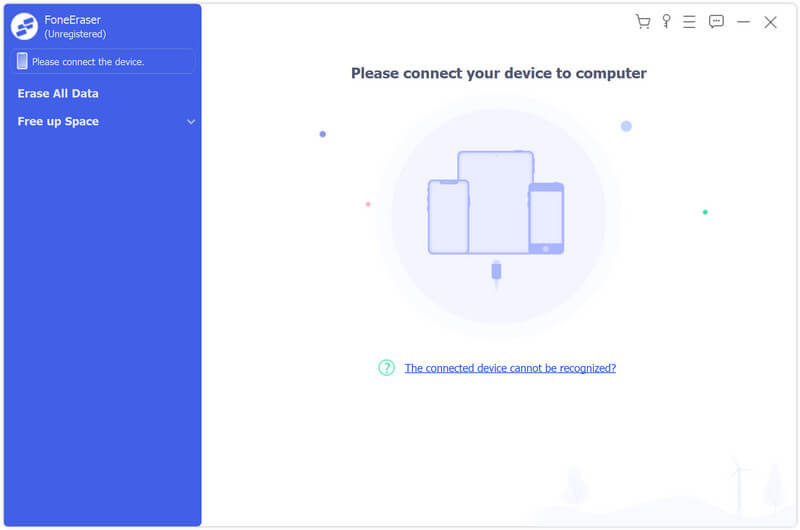 Step 2:
You are offered 3 erasing levels to delete your WhatsApp photos,
Low, Middle
and
High
. You can choose one according to your need.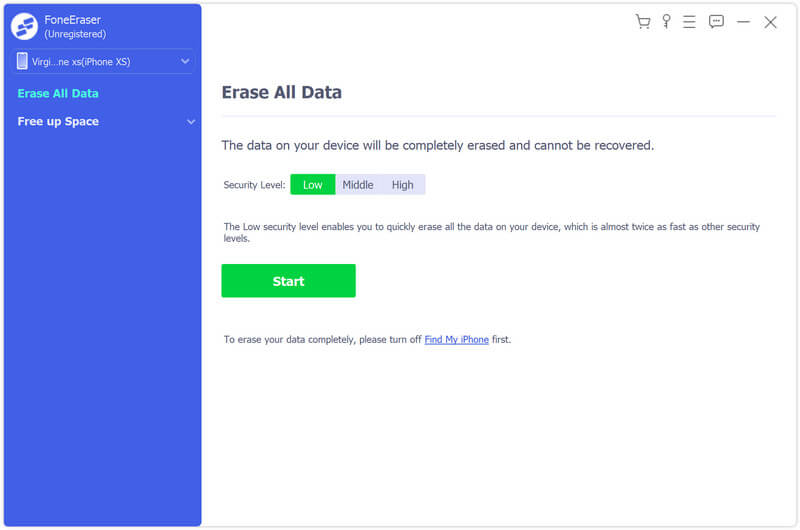 Step 3:
After choosing the erasing level, you can click
Start
button to delete all photos, messages and other data from WhatsApp. Then enter
0000
to confirm the erasing, and click the
Erase
button to erase all WhatsApp photos on iPhone.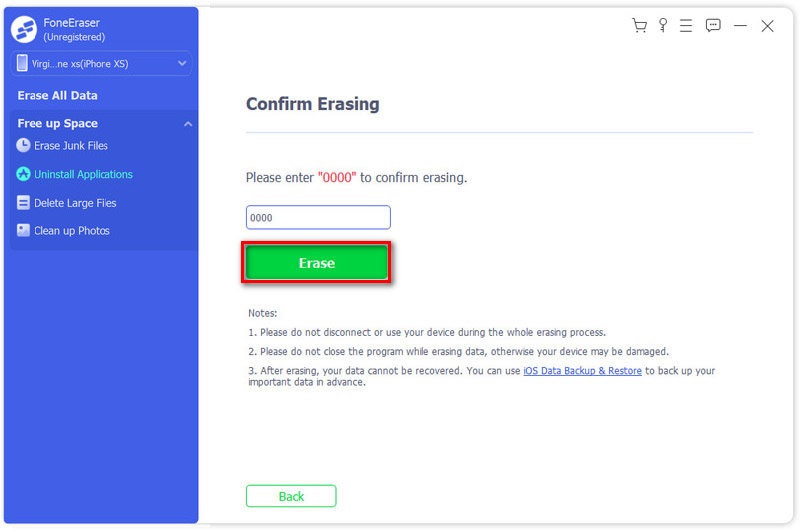 With this method, you can permanently erase all WhatsApp files including photos. But you should know that, the erasing will also remove other iOS data and settings on your device.