Top Picks for iPhone Cleaner - Clean up your iPhone (Free & Paid)
There are so many places like music, videos, apps, emails, and countless more locations on your iPhone where junk and clutter accumulates. It has been proved that a handy iPhone cleaner can help you get rid of all the annoying clutter, and keep your iPhone alive and perform at best. In this article, we've bought together some of the best iPhone cleaner apps to clean redundant files, temporary files, junk files, caches and cookies, optimize space usage, and create more free storage space on your iPhone.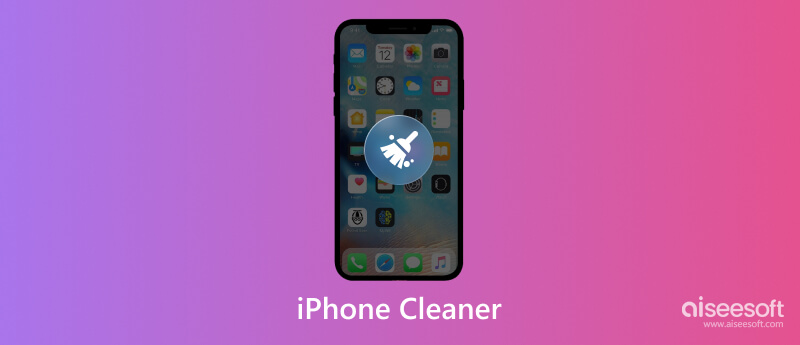 Part 1. Top 5 iPhone Cleaners for iPhone
Here, we get a list of iPhone cleaner for Mac and Windows PC. With these storage cleaners, you can clear app caches, delete documents and data and then free up more space on iPhone.
1. Aiseesoft iPhone Cleaner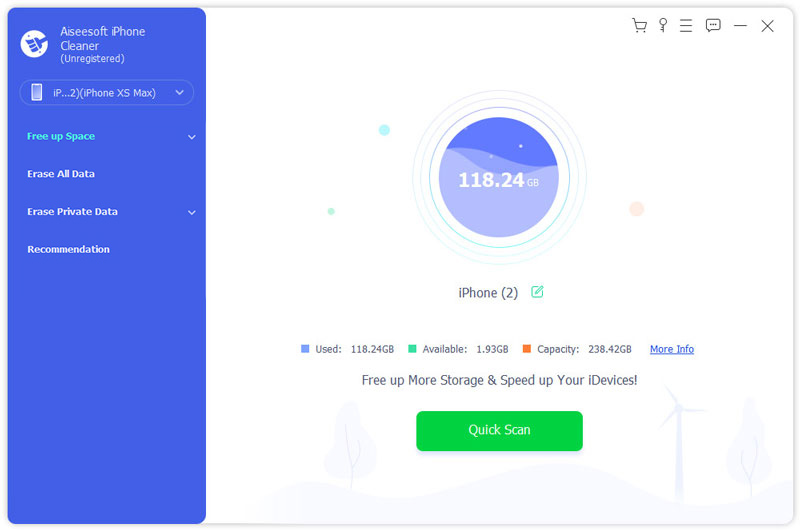 When it comes to iPhone cleaners, Aiseesoft iPhone Cleaner is a featured-packed iPhone cleaner app that boasts a clean and intuitive user interface and a whole host of useful cleaning features. It can be thought to be the best free memory cleaner for iPhone. With one click, you can get Aiseesoft iPhone Cleaner to quickly scan your iPhone storage, go through all kinds of data to decide what to get rid of and what to keep, and look for ways to speed up the system. It offers the free version to let you have a try, if you need more features, you need to upgrade to its premium version.
Features:
Once-click to delete image cache, junk and unwanted files, unnecessary apps, temporary files, etc. on your iPhone.
Thoroughly clean up all data on your iPhone.
Remove private data and documents selectively.
Reliable and safe, with no ads and malware.
Fast and easy to use.
Get regular and timely updates.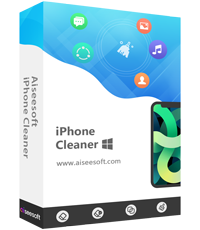 Downloads
Aiseesoft iPhone Cleaner – The Best Cleaner App for iPhone
Clear temporary files, junk files, caches and cookies thoroughly from iPhone.
Remove unused apps to release more space and speed up iPhone.
Back up and delete large files to free up more space on iPhone.
Erase all the data on your iPhone permanently.
Works for all iPhones, compatible with the latest iOS version.
2. PhoneClean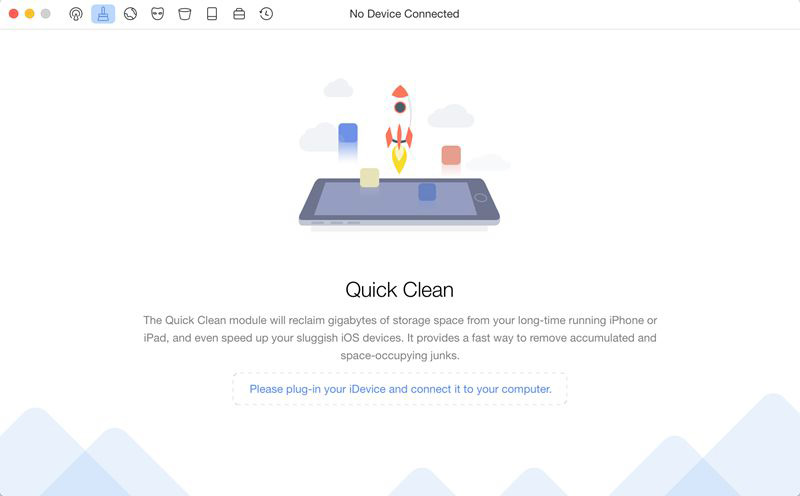 PhoneClean is one simple and easy iPhone cleaning software for Windows and Mac. It focuses on freeing up cookies and remnants of applications.
Features:
Free some space, at the same time, fix some little errors on your iPhone.
There is no file left after you delete the data, so you need to be careful.
100% Safe and efficient iOS cleanup utility with no jailbreak needed.
3. Macgo Free iPhone Cleaner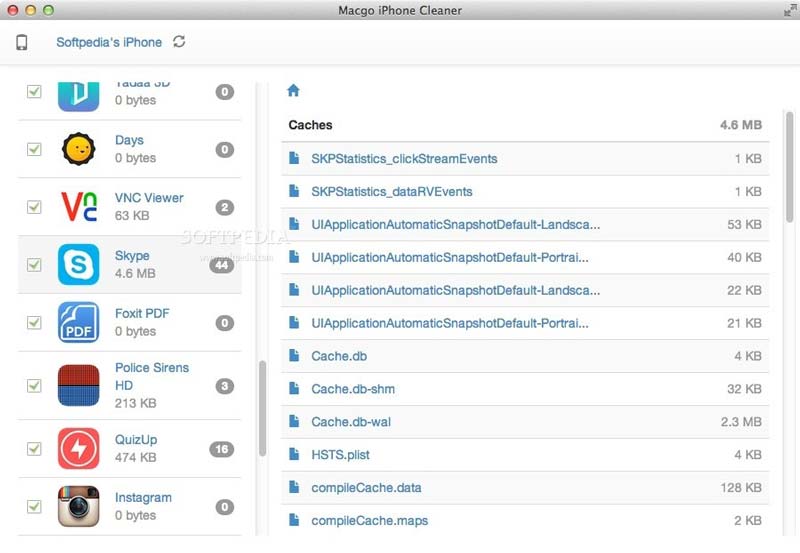 Macgo Free iPhone Cleaner is one powerful iPhone cleaner for clearing apps on iPhone. With it, you can clear app caches, delete documents and other data respectively.
Features:
Configure, organize and manage apps and files on your phone.
Find the large files quickly and delete them as well as clear personal data securely.
Permanently remove all data from your iPhone without giving any possibility to recover it.
4. iFreeUp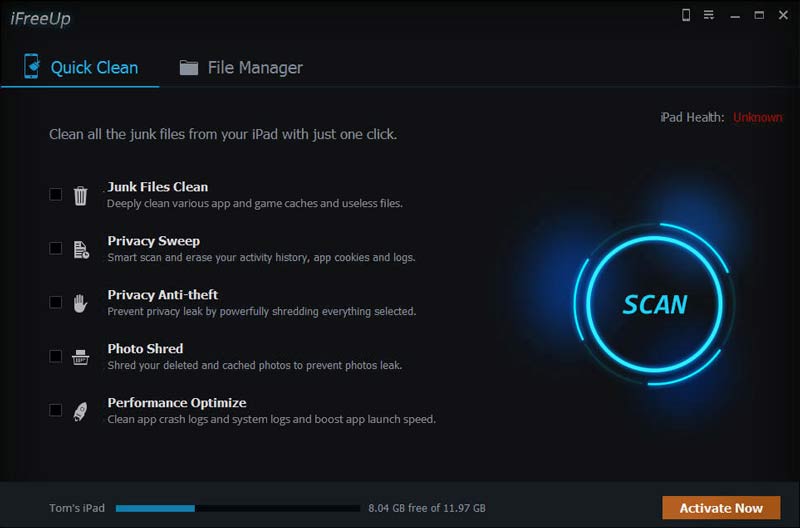 iFreeUp is one free and easy iPhone cleaner to correct certain configurations and make your iPhone perform well as it should.
Features:
Clean large junk files to free up more space and export/import game records and app data.
Transfer All Kinds of Media Files between your iOS devices and computer.
Speed up your old iPhone to run faster.
5. Cisdem iPhoneCleaner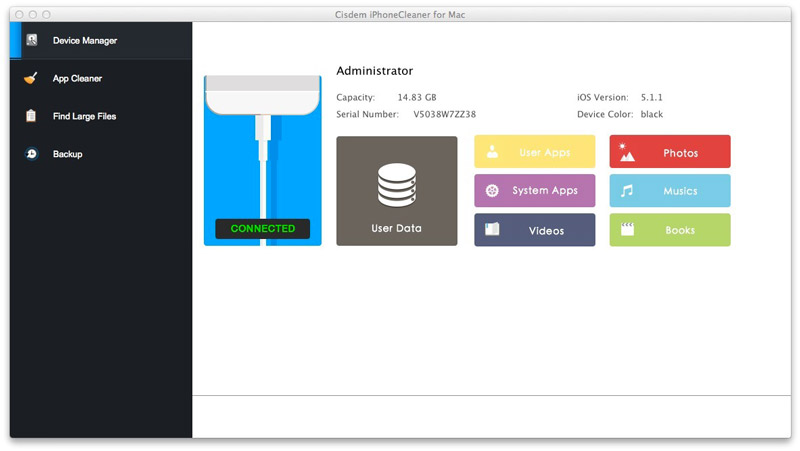 Cisdem iPhoneCleaner is one memory cleaner for iPhone on Mac. It allows you to clear temporary files completely.
Features:
Scan all of your iPhone to find out the files that are taking much space on your iPhone.
Delete empty folders, files made by apps that were uninstalled, app caches, etc.
Backup your data before cleaning.
Part 2. How to Clean up Your iPhone on Mac and Windows
In the above paragraphs, we have introduced you top 5 iPhone cleaners. They have their own special features. So you can choose one according to your need. And for helping you learn more about how to clear iPhone, we will take Aiseesoft iPhone Cleaner to show you how to clear iPhone to free up more space.
To start with, you need to download and install iPhone Cleaner on your computer. And make sure that you have installed the latest iTunes on your computer.
Step 1.
Launch the program and then you will see the main interface as follows.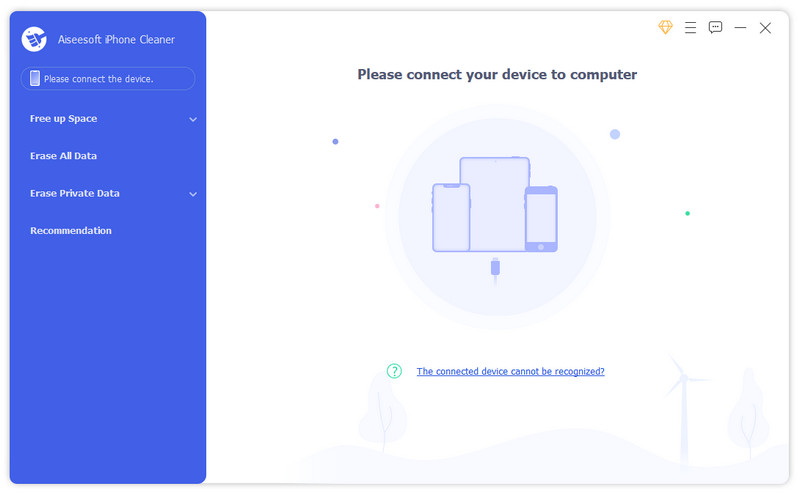 Step 2.
Connect your iPhone to the computer using a lightning cable. Once the program recognizes your device, you can see what's taking up your storage space on your iPhone.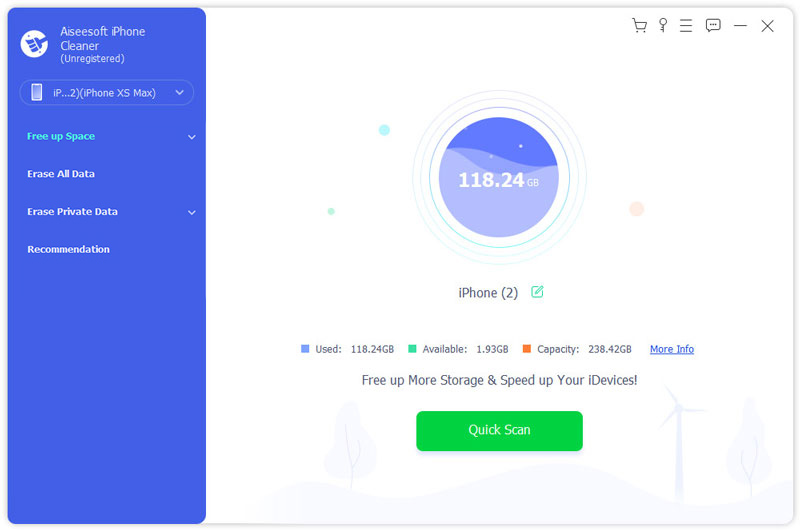 Step 3.
With the program detects your iPhone, you can click on the
Quick Scan
button to the iPhone clearing process. After scanning, you can selectively clean up iPhone from various options, including Erase Junk Files, Uninstall Applications, Delete Large Files, and Clean up Photos. Choose the desired category that you need to clean up and then click on the
Erase
button to move on.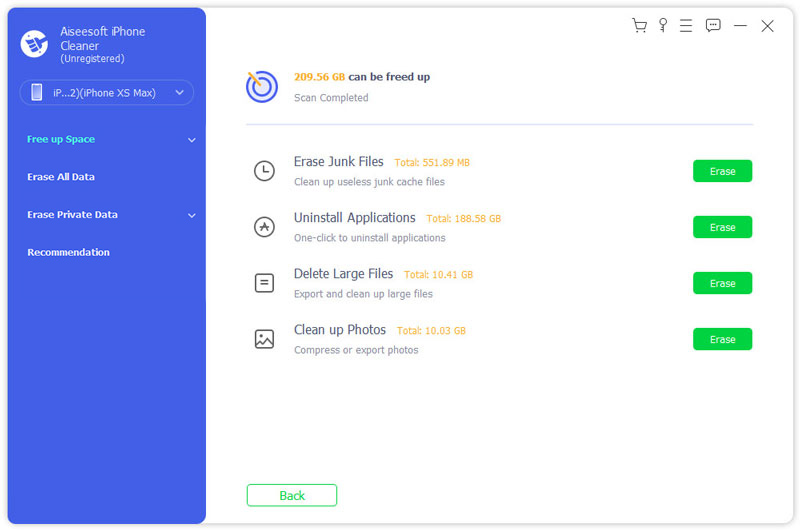 1. Erase Junk Files
The program will scan and display all the junk files hidden in your iOS system, like image cache, iTunes cache, invalid files, download temporary files, and crash log files.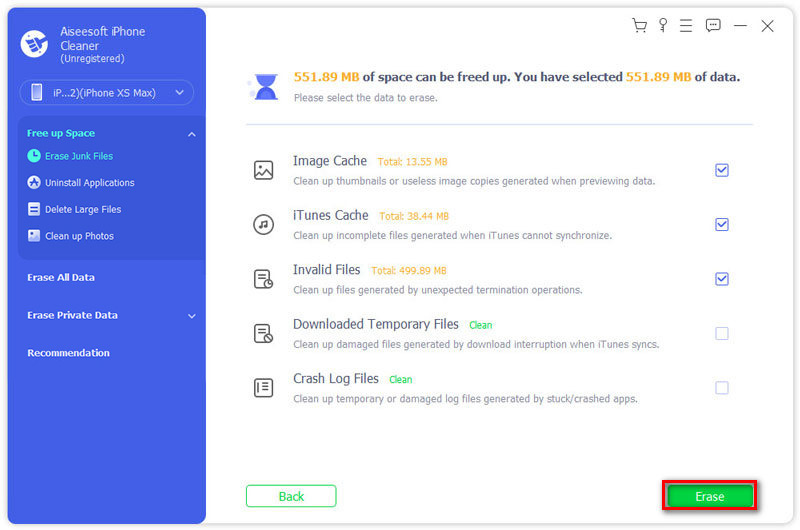 Check the data type you want to remove and then hit on the Erase button.
2. Uninstall Applications
You could install too many apps on your iPhone and many of them are no longer needed. Then, this feature can help you uninstall all the useless apps easily.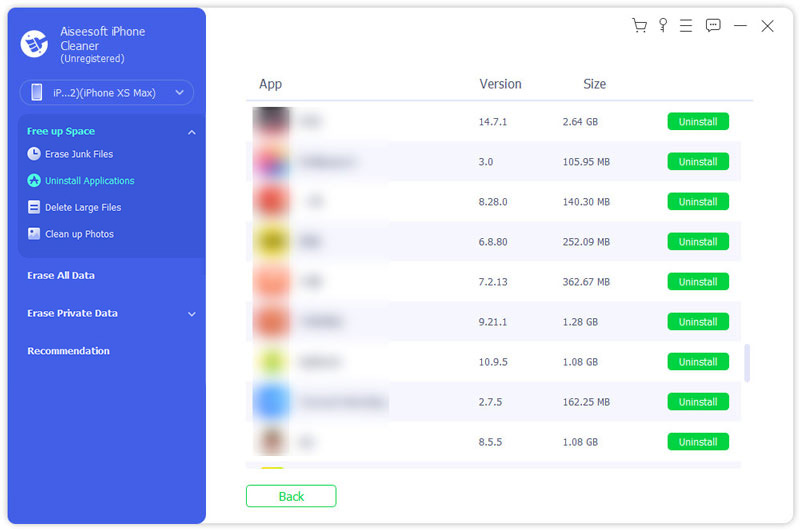 Find the app you don't need anymore, click on the Uninstall button. Then all apps you select will be removed from your iPhone instantly.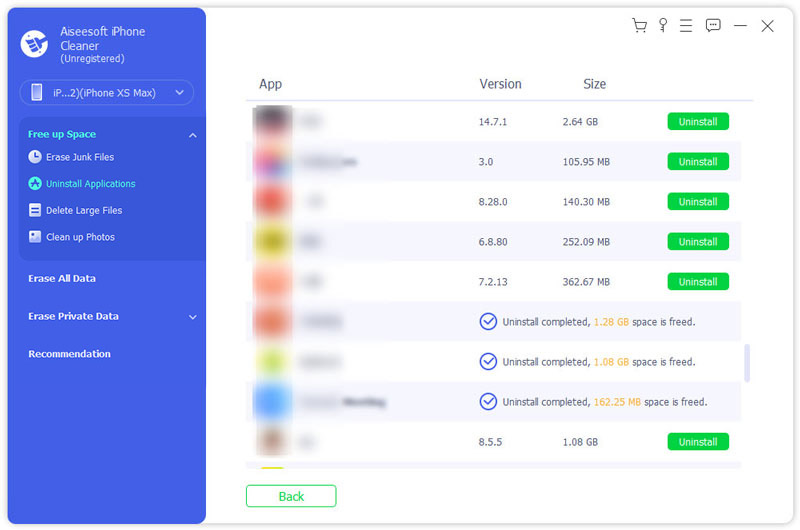 3. Delete Large Files
The program can also scan out all the large files that slow down your iOS system. When all the files are detected and shown, you can set the specific file format from the File Type to quickly find the file you're looking for. Then, check the files you want to erase, and then hit on the Erase button.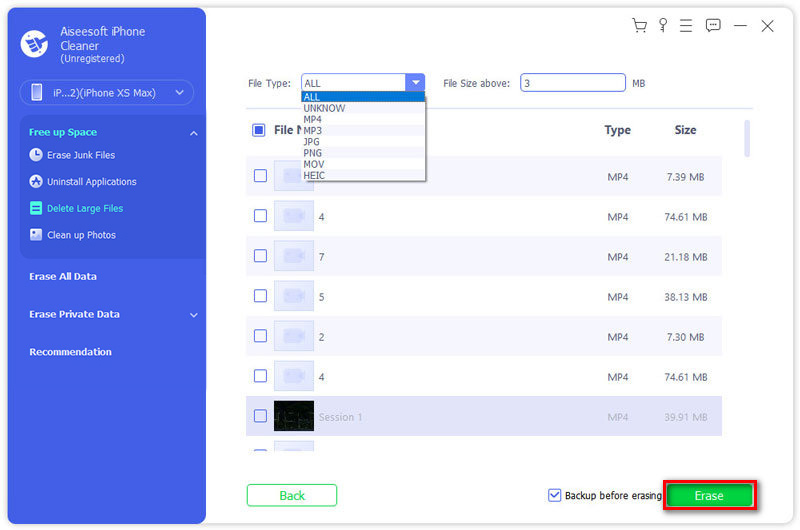 If you need to back up the large file, check the box next to Backup before erasing.
4. Clean up Photos
In this part, you have 2 options for photo management. One is to compress photos with no deletion, and the other is to export photos to PC and deleted them from the iPhone.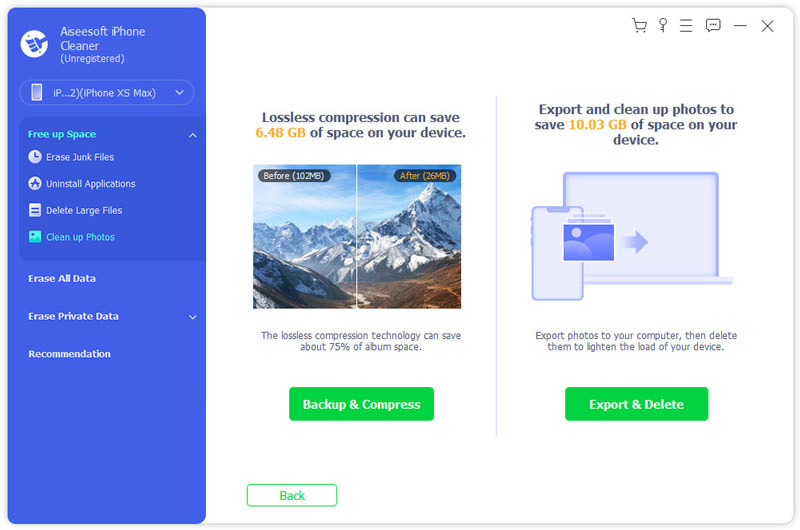 To compress your photos, choose Backup & Compress. Then, select photos to compress and then click Compress.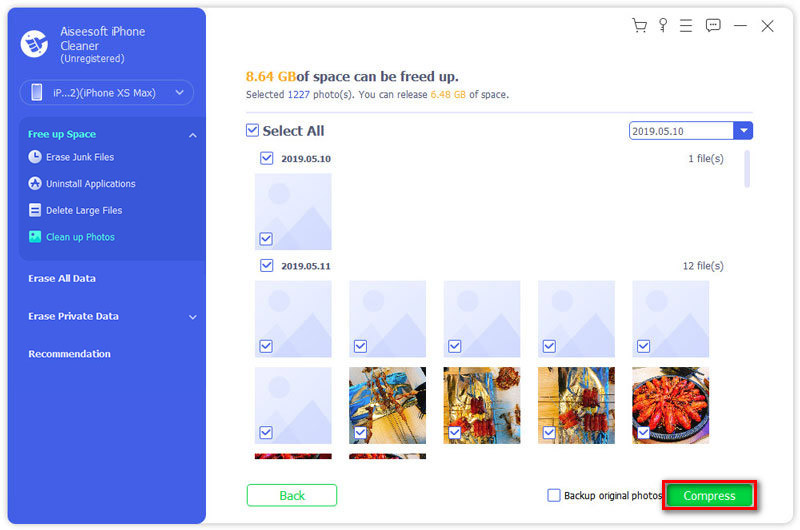 If the space on your iPhone is not enough, you can click Export & Delete to export your photos to your computer and then erase them from your iPhone.
Step 4.
If you need to remove all the data from your iPhone permanently, the program also offers you the easiest and quickest way to erase all data in one click. Choose the
Erase All Data
option from the left panel and then select a security level to erase iPhone data. The higher the security level is, the lower possibility your data can be recovered. Meanwhile, a higher security level could take a longer time to erase.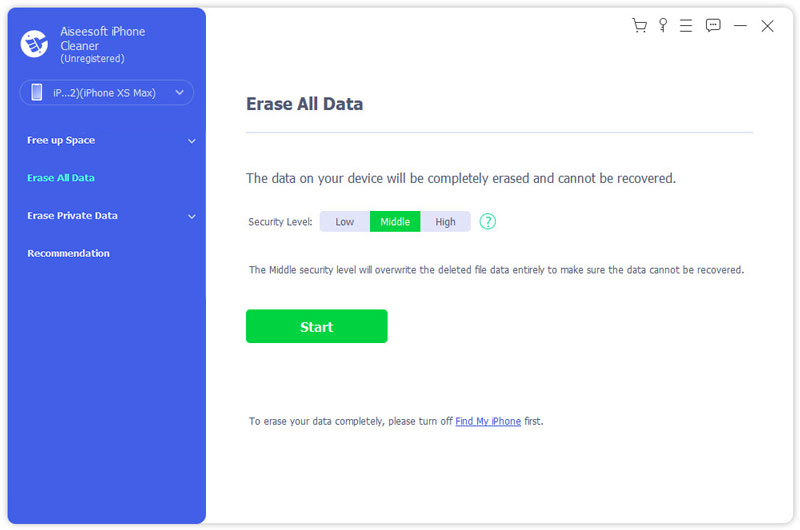 Enter "0000" and click Erase to confirm your operation when you are ready. Then, just wait for the end of the process, and keep your iPhone connected during the whole process.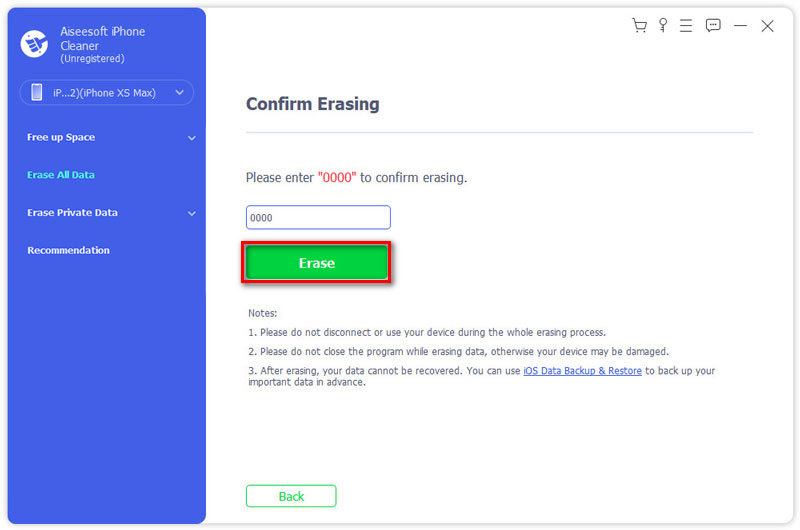 Part 3. FAQs of iPhone Cleaner
Does iPhone have a cleaner?
No, it doesn't. If you need an iPhone cleaner app to clear your iPhone, there are plenty of apps out there that do a quick and efficient job of getting rid of files you don't need anymore.
How does iPhone cleaner work?
An iPhone cleaner app performs an automated scan to search for junk, malware, and unwanted files on your iPhone. Once the scan results are produced, a user can mark and delete unwanted files and apps to clear a significant amount of space on iPhone.
Why do you need iPhone cleaner software?
Every iPhone requires a cleaning application. Every session on your iPhone whether it's for using an app or for web browsing, there are many temporary logs, cache, and junk generated. A cleanup utility tool helps you remove these unwanted files.
Did you find this list of iPhone cleaners for 2022 to be helpful? Share your reviews in the comments section below.

Leave your comment and join our discussion