Part 1. How to Restore WhatsApp from iCloud
iCloud offers a simple way to back up and restore your WhatsApp chat history. To restore WhatsApp from iCloud, you must have a previous iCloud backup. Before we tell you how to restore WhatsApp data, we like to give you a quick guide about how to backup WhatsApp to iCloud.
Backup WhatsApp to iCloud
Step 1:
To back up WhatsApp with iCloud, you should enable the WhatsApp backup feature in iCloud settings. Open Settings app on your iPhone, tap your iCloud account, and then choose the iCloud option. When you enter the main interface of iCloud, you can scroll down to locate the WhatsApp section. Make sure WhatsApp is enabled and at the green On position.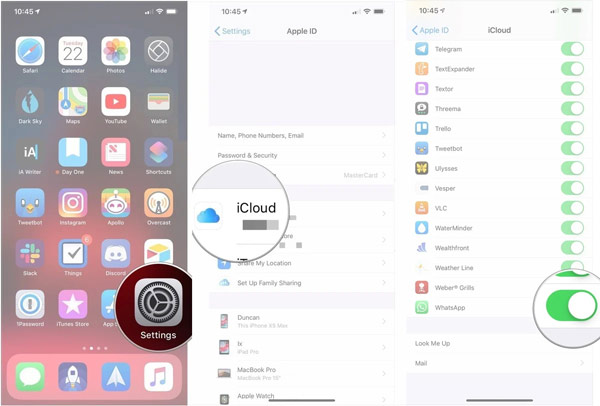 Step 2:
Open WhatsApp and then tap on the Settings icon at the bottom right of the screen. Tap Chats and then select the Chat backup option.
Step 3:
Now you can tap Back Up Now to start backing up your WhatsApp chats to iCloud. Here you can also turn on the Auto Backup feature to set up iCloud to automatically backup your WhatsApp data.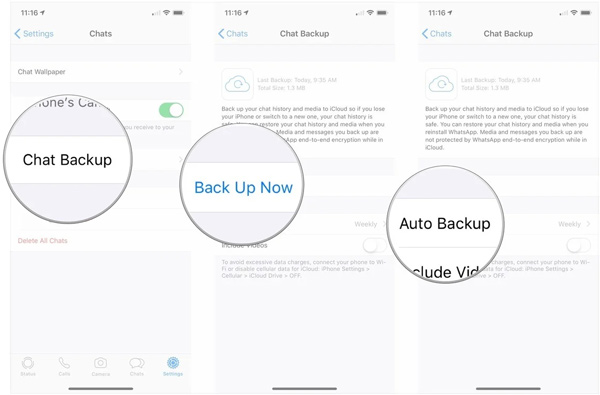 You need a good Wi-Fi connection to backup WhatsApp to iCloud. Moreover, your iPhone should run an iOS 9 or a later version. The WhatsApp backup is stored on your iOS device. So there should be enough free space on both iCloud and iPhone.
More ways of backing up WhatsApp on iPhone are here.
Restore WhatsApp from iCloud
If you have backed up WhatsApp data previously with iCloud, you are able to restore WhatsApp chats from it. You can go to WhatsApp Settings, tap Chat Setting and then Chat Backup to check if there is a suitable iCloud backup.
Step 1:
Turn on your iPhone and locate the WhatsApp. Press and hold on its icon, and then tap X to uninstall it. You need to completely remove WhatsApp from your iPhone.
Step 2:
Go to App Store to re-install WhatsApp on your iPhone. Open WhatsApp and sign in with the same WhatsApp account.
Step 3:
Now you can follow the prompts to restore WhatsApp from iCloud. Tap the Restore Chat History option to start restoring your WhatsApp Chat history.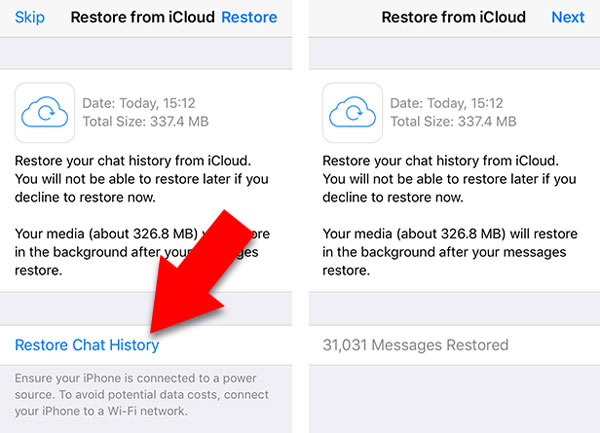 To restore WhatsApp to a new iPhone, you should read this post.
Part 2. Best Way to Backup and Restore WhatsApp
With the method above, you can handily restore WhatsApp chats from a preview iCloud backup file. One thing you should concern about is that, all the WhatsApp chats and related files will be restored to your iPhone. What's more, you are not allowed to check the detailed data in iCloud backup. What if you just want to restore some specific WhatsApp chats?
Considering that kind of need, we want to share a better way to backup and restore WhatsApp chats. Here we introduce you with the WhatsApp Transfer for iOS to better manage your WhatsApp files.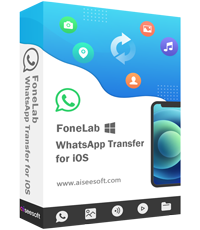 Downloads
Backup and restore various WhatsApp data on Windows PC and Mac.
Transfer all WhatsApp messages and chat history from old iPhone to new iPhone.
Back up WhatsApp data including chats, messages, audio, images, videos, etc.
Check and restore selected or all WhatsApp files from backup safely.
Step 1:
Double click on the download button above and follow the instructions to free install and run this WhatsApp backup and restore tool on your computer. When you enter the software, choose the WhatsApp Transfer for iOS feature.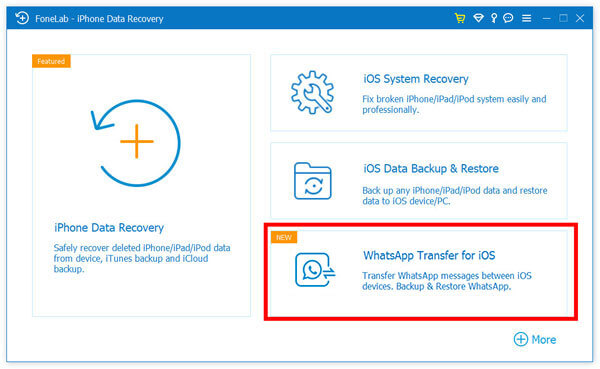 Step 2:
Connect your iPhone to computer with a USB cable. During this step, you need to tap Trust on iPhone screen to help your computer quickly recognize this iOS device. Click Backup to move to the next step.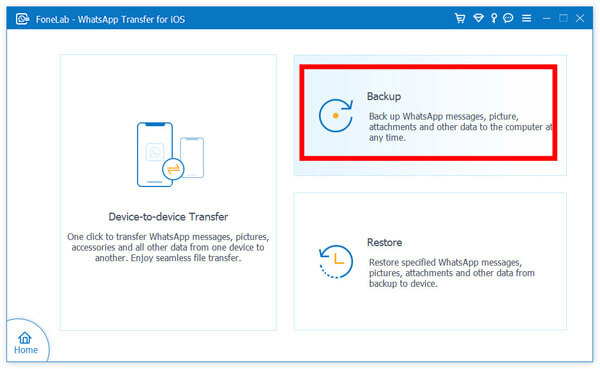 After connecting successfully, you can click Start Backup to back up all your WhatsApp chats to a local hard drive. You can choose a suitable destination file folder for the WhatsApp backup.
Step 3:
When you have the need to restore WhatsApp from one backup file, you can back to home window of this software and choose the Restore option.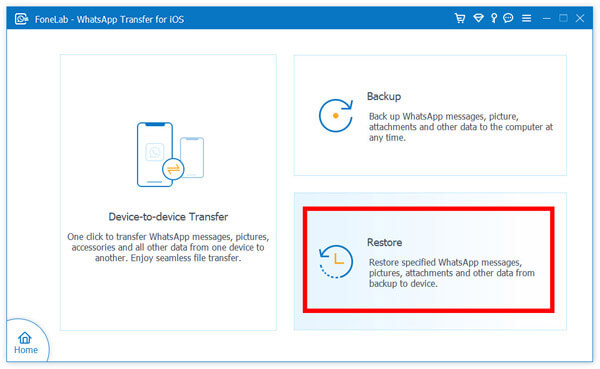 Step 4:
All created WhatsApp backup files are automatically loaded there. You can select a right backup according to your need.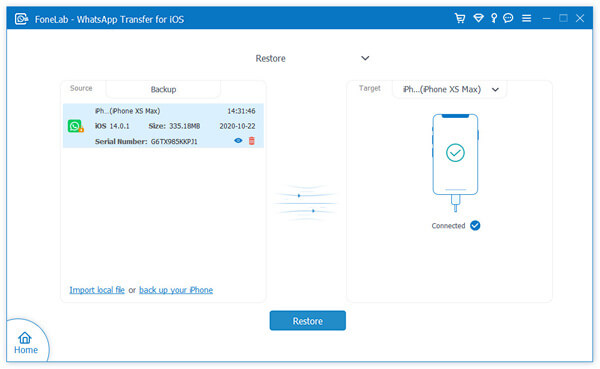 Step 5:
You are offered 2 options to restore WhatsApp, Restore to Device or Restore to PC. You are allowed to check all WhatsApp messages and attached media files by clicking the View icon.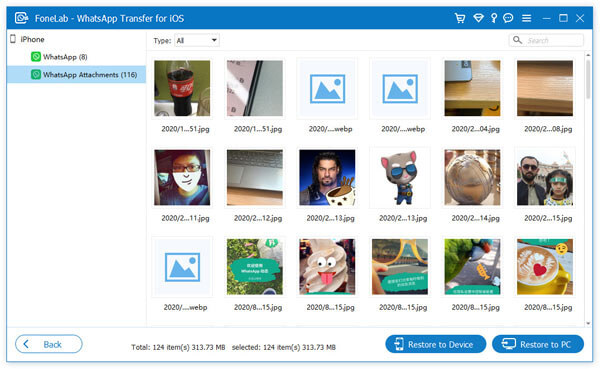 Step 6:
Choose all the WhatsApp chats you want to restore and then click Restore to Device or Restore to PC button to start the restoring process. Remember to connect your iOS device if you want to restore WhatsApp data to your iPhone.