Tutorial to Repair an iPhone from Water Damage
I dropped my iPhone 7 in water and it refused to turn on, how to fix water damaged iPhone?
It is true that water can find its way into the places that it should not go. In result, iPhone will malfunction or completely stop responding.
In this tutorial, we will tell you what you should do in case you drop the iPhone in water, including how to determine whether your iPhone is damaged by water, how to fix water damaged iPhone, and the best way to recover data after iPhone is dropped in water.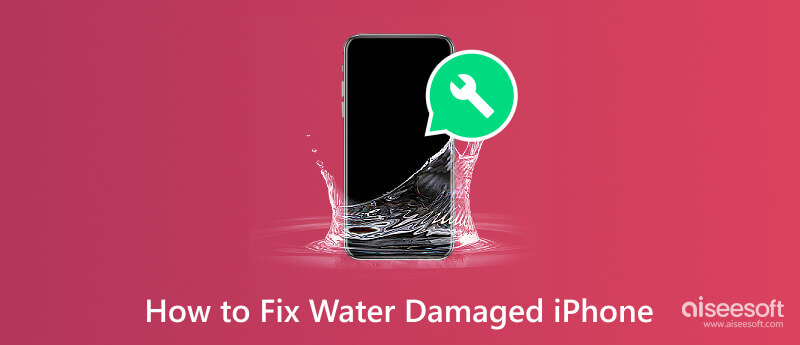 Fix Water Damaged iPhone
Part 1: How to tell if iPhone has water damages?
First of all, let's talk about two concepts, water-resistant and waterproof, since you may have heard of them when you bought iPhone. There is no universal standard for waterproofing. To be honest, nothing is truly waterproof and no manufacturers can absolutely promise that. Therefore, the latest iPhone models are just water-resistant products. IP rating, standing for Ingress Protection, is used to tell customer the level of water resistance of a device. It includes two digits, the first display the intrusion protection and the second shows the moisture protection. iPhone 7 and above are IPX7, which means they can survive after being sunk in up to 3 feet of water for half an hour.
To help users to determine if iPhone has water damages, Apple had introduced a water damage indicator into iPhone.
On iPhone 4/4s, the indicator locates in the charging port.
For iPhone 5/5c/5s/SE/6/6s/7/7 Plus/8/X/XR/XS/XS Max, you can find it in the SIM card tray slot.
iPhone's water damage indicator is a little white label. If your iPhone is moisture enough to damage the device, the label will turn to red. It means that chances are that your device has a problem caused by water.
In addition to check the indicator, the most symptoms of iPhone water damage include:
2. iPhone won't charge.
3. The screen is water damaged.
4. The speaker stops working.
Part 2: How to fix water damaged iPhone
If you believe that your device may be damaged after dropping iPhone in water accidentally, there are some solutions you can try to fix it.
Dry your iPhone manually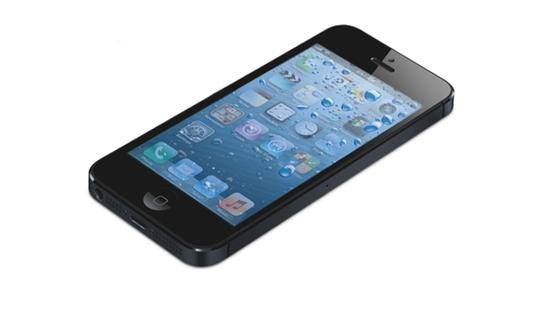 Step 1 Take your iPhone out of the water as quickly as possible and power it off immediately. If the device is shutdown, don't turn it on. Don't use it or charge it; otherwise, your device will short circuit.
Step 2 Remove the case no matter it is waterproof or not. Unplug other peripherals, like headphones.
Step 3 Use a paper clip to pull the SIM card tray out of your iPhone and take your SIM card out.
Step 4 Next, wipe down all the ports on your iPhone with a small piece of absorbent cloth, including charging port, headphone jack and SIM card tray. Don't dry your iPhone with a hairdryer, nor put it in an oven.
Step 5 Put your iPhone in a dry place as long as possible. Bear in mind that the longer you can wait before turning on your iPhone back, the better.
Note: According to our tests, putting an iPhone into a bag with oatmeal cannot get rid of the water damage. The uncooked rice, oatmeal or silica might absorb moisture out of your device, but the air inside the bag is still wet.
Check the water damage indicator

Step 1 After your iPhone is submerged in water, and take the SIM card tray out.
Step 2 Look at inside the SIM slot using a flashlight to see if the indicator turns from white to red.
Step 3 If it is white, it means that your iPhone is not damaged by water, but you still need to dry it up.
Step 4 When the indicator changes to red, place your iPhone in dry environment for at least two days and then turn it back on. If your device works well, you are lucky.
Back up your iPhone before going to Apple Store
If your iPhone cannot power on after it is dried, you have to ask help to Apple. According to Apple, there is no way to guarantee fixes on water damaged iPhone, but it is still worth to try. You should make a backup for entire device. FoneLab iOS Data Backup & Restore is a professional way to back up iPhone.
Back up iPhone with a single click.
Support all data types on iPhone.
Encrypt iPhone backup with password.
No interrupt existing data on your device.
Work for all iPhone, iPad and iPod Touch.
Learn here to backup iPhone.
Part 3: How to recover data from water damaged iPhone
Compared to fix iPhone, data recovery is another big problem. Here we share two ways to retrieve data from water damaged iPhone.
Situation 1: Recover lost or deleted data from backup
FoneLab iPhone Data Recovery is the best way to recover your data after iPhone dropped in water.
Recover data from iTunes/iCloud backup easily.
Preview iPhone backup and retrieve certain data.
Restore lost data from backup to computer.
Support photos, videos, contacts, messages and more.
Compatible with iPhone XS/XR/X/8/7 and earlier.
How to recover lost data from iTunes backup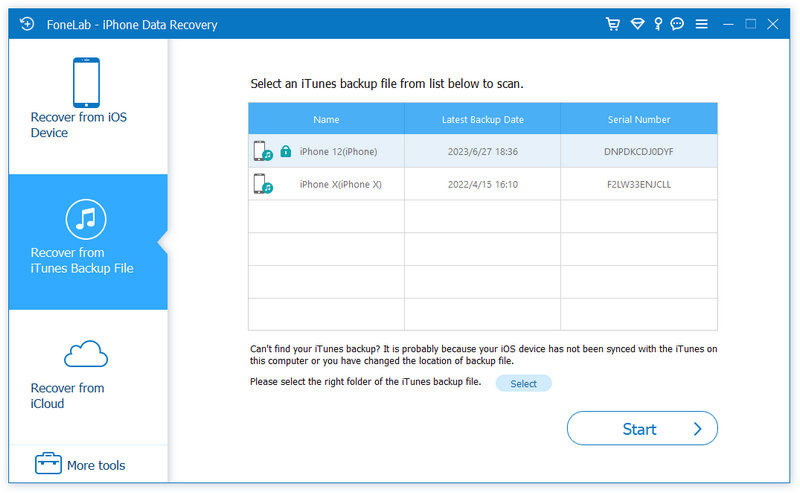 Step 1 Connect iPhone to iPhone Data Recovery
Get the best data recovering software for iPhone installed on your computer and run it. Plug your water damaged iPhone into your computer with the Lightning cable. Then go to the Recover from iTunes Backup File tab from left side.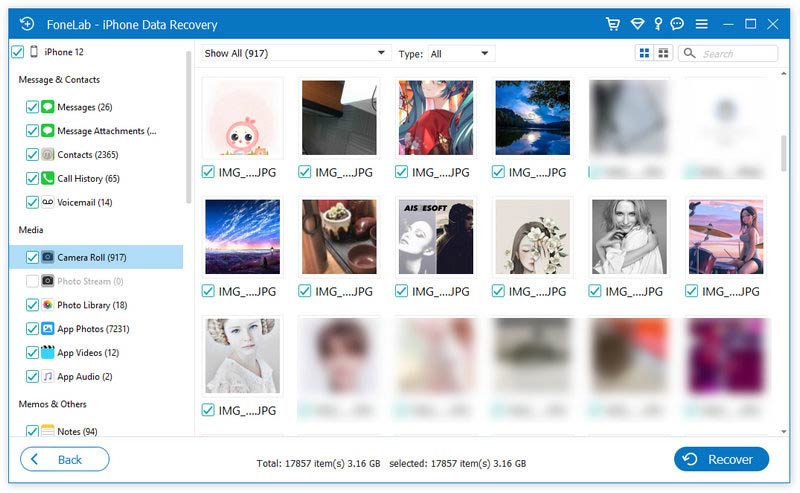 Step 2 Preview lost data
Choose the latest iTunes backup and hit the Start Scan button. When it is done, you will be presented the detail window. Here you can preview all lost data on your iPhone by categories.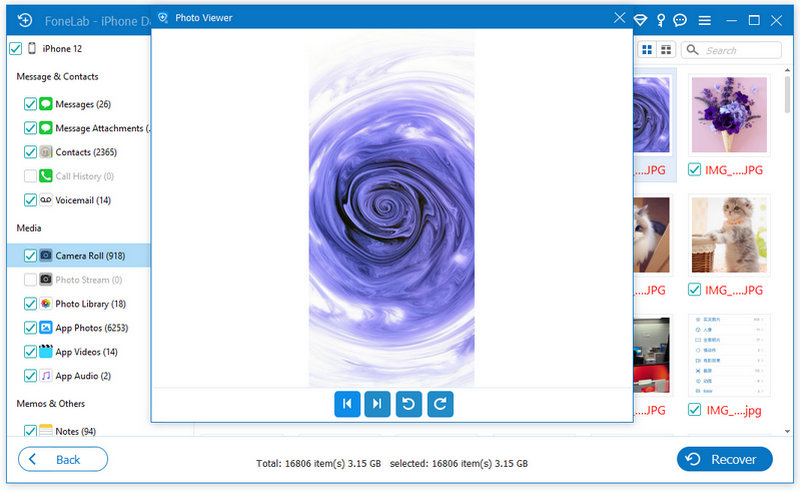 Step 3 Recover data from water damaged iPhone
Select all the data you want to get back and click the Recover button. On the popup dialog, choose a specified folder to save the data and start data recovery.
Tips
1. You need to download this software to the computer where you have synced with your iPhone via iTunes.
2. The workflow of recovering data from iCloud backup is similar. It relies on iCloud account to perform data recovery.
Situation 2: Fix iPhone system and recover data from iPhone without backup
If you cannot find desired data in your backup, you have to fix your iPhone system with iOS System Recovery first.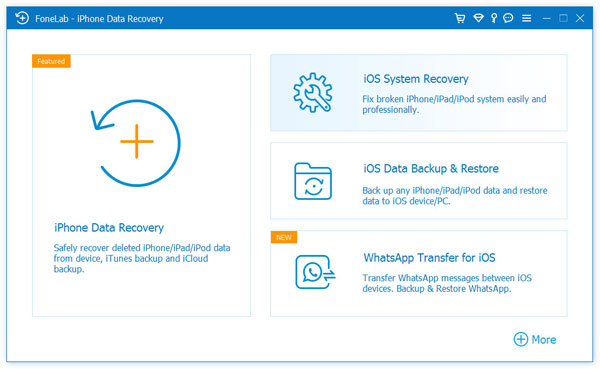 Step 1 Start FoneLab after installing it on your computer. Click the iOS Data Recovery to open the window. Follow the onscreen instructions to repair iOS system.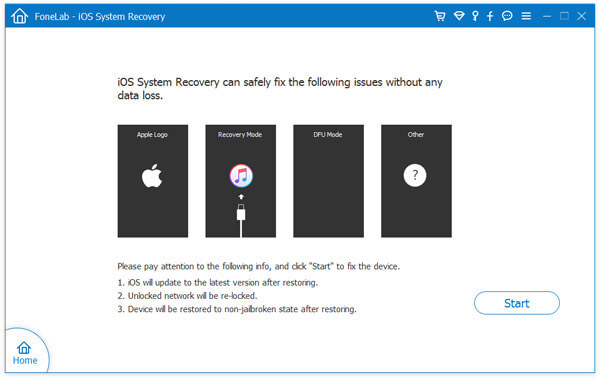 Step 2 Next, go back to the home interface and select iPhone Data Recovery. Choose the Recover from iOS Device tab this time. Now, you can preview and get back your lost data from iPhone without backup.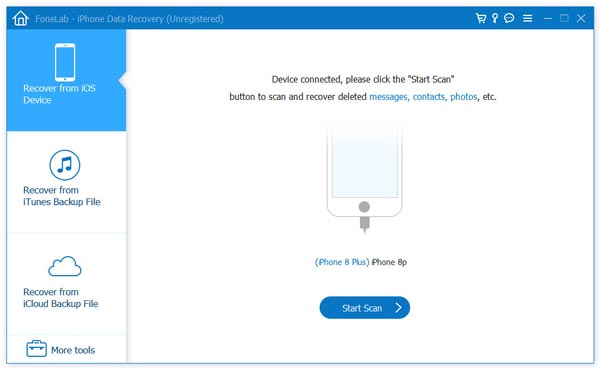 Note: This way is only available to repair iOS system and recover data. Plus, it requires that your iPhone has trusted the computer. If something is wrong on the hardware, it cannot do anything.
Conclusion
It is well known that iPhone is an advanced digital device. Similar to other digital machines, moisture is the biggest killer. Although Apple had realized such need and improved the water resistance capacity of iPhone, liquid damage is still a big problem. Based on our step-by-step guides, you should understand what you can do when dropped iPhone in water. At least, you can get back your data from your iPhone with FoneLab. We hope that our suggestions are useful.