2 Simple Ways to Hide Videos & Pictures on iPhone
Nowadays, we pay more and more attentions to the personal information and privacy. Surely there are lots of data on your iPhone you don't want to share with others, especially for some videos and photos. That's why many iOS users are searching on the internet for a good way to hide videos on iPhone. Are you one of them?
Some photos and videos are just too sensitive to let others easily see in the Photos app. For many valuable or meaningful videos, you can backup them on your computer and then delete them from your iPhone. But it's a little bit annoying to transfer every new this kind of video from now and then to the computer. So, it's quite necessary to directly hide them on your iOS device like iPhone, iPad or iPod touch.
Now we back to the question, how to hide videos or photos on iPhone? Considering your need, here in this post, we will tell you 2 simple methods to hide your iPhone videos and pictures.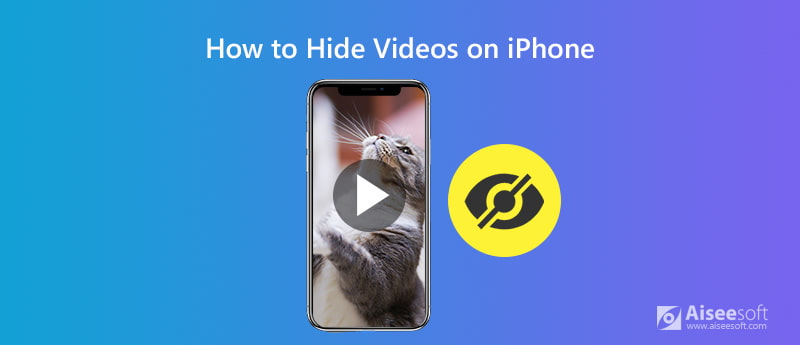 Part 1. How to Hide Videos/Photos on iPhone [Regular Way]
The truth is, Apple actually secretly introduced the iPhone videos and pictures hiding feature to you. You are allowed to directly hide and unhide photos on your iPhone in the Photos app. But this feature won't allow you to set a password to prevent others viewing these protected pictures or videos. They are just moved to a hide file folder. Now you can take the following guide to hide videos or pictures on iPhone with ease.
Step 1.
Unlock your iPhone and open the Photos app. You can directly go to the specific album that contains the photos or videos you want to hide.
Step 2.
When you get there, you can use the regular way to select these files. On the top right corner, there is a Select option, you can tap on it and then choose the video or image files you want to hide on your iPhone.
Step 3.
After selecting all files, tap on the Share option on the bottom left part. Then you will see a Hide feature, tap on it. By doing so, all these iPhone videos and photos will be hided and moved to a "Hidden" folder.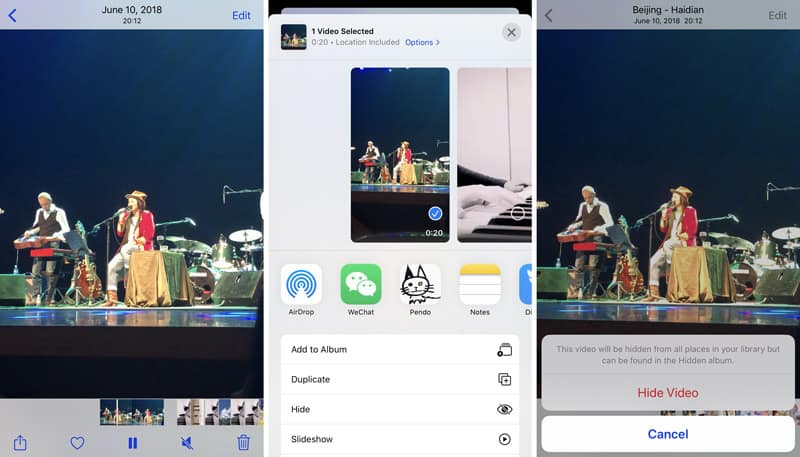 With the steps above, you can handily hide videos on iPhone. But you should know that, this method can only help you hide videos or pictures from Moments, Years, Collections and the regular albums in Photos app. They can be directly viewed in the "Hidden" album.
Surely, you can use the third-party apps to hide photos on iPhone here.
Best iPhone data eraser you may like to know:
To better protect your iPhone data, you should not easily delete various iOS files on your iPhone. For some really import data, you should rely on professional erasing tool to handle it. Here we strongly recommend the powerful FoneEraser to help you remove iOS data thoroughly. This iPhone data eraser is specially designed to protect your privacy and erase some useless files.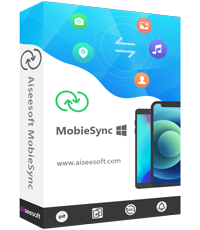 Downloads
Remove all types of iOS data thoroughly to better protect your privacy.
Delete caches, cookies, and all types of unnecessary files on iPhone, iPad and iPod.
Erase iOS data with low level, medium level and high level to overwrite data in different times.
Permanently erase photos, videos, music, contacts, messages, notes, Safari history and more.
Remove all files and settings on more than one iDevice simultaneously.
Support all iPhone, iPad and iPod devices running iOS 15, iOS 14, iOS 13, iOS 12, iOS 11, and lower versions.
Part 2. Lock and Hide iPhone Photos and Videos in Notes App
The built-in hide feature in iOS won't let you create a password to protect your sensitive videos or photos on iPhone. So, it only offers a tricky way to keep your family and friends seeing them directly. They still get a big chance to check these files on your iPhone. So, what should you do?
In fact, you can choose to transfer iPhone videos or photos to a note file which can be locked. By doing so, a password will be required when you want to check this note. Before you do that, ensure the Notes lock feature in Settings app. Then you can follow the steps below to hide iPhone videos and photos in Notes app.
Step 1.
The first step will be the same, you need to navigate to the Photos app on your iPhone and choose all the image files or videos you want to hide.
Step 2.
Tap the Share option and then select the Notes option this time. During this step, you are allowed to name the note file and add text. Then tap on Save to confirm the operation.
Step 3.
Now you need to go to the Notes app. Locate the note which carries the videos you just transferred. Then tap Share and choose the Lock Note option. Here you can set a password for locking this note file.
With this method, you can put more secure on your valuable videos or photos that you don't like to share with others. There are also a large number of iPhone videos hide apps offered on the internet. If you don't like these 2 methods, you can install them from the App Store. (You can find hidden apps on iPhone in this way)
We have mainly talked about how to hide videos on iPhone. We shared 2 simple ways to help you better protect your personal information. Surely, if you want to hide photos on your iPhone, iPad or iPod touch, the methods will be the same. Leave us a message if you have any better idea about hiding these files on iOS device.