Two Best Methods to Hide Photos on iPhone Effectively
Everyone is likely to have a few photos sitting on their iPhone that they'd rather nobody else see, whether it's private or inappropriate, and I'm sure that most of you must have run into situations when you intend to show some iPhone photos to your friends, while suddenly these embarrassing photos slip out. It's in cases like this when we wish to know how to hide photos on iPhone.
Actually, to hide private photos on iPhone is very simple right now. In the following article, we'll provide you two best methods to help you hide photos on iPhone effectively.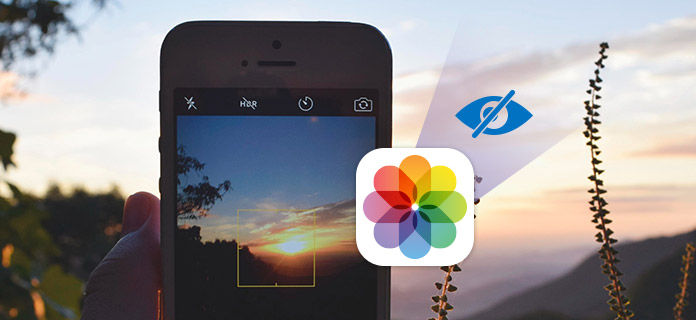 Hide iPhone Photos
Method 1. Hide photos on iPhone using built-in features
Apple has provided a built-in feature for you to hide iPhone photos directly. This method to hide private iPhone photos is the quickest as well as easiest way, since it doesn't require any additional software. If you want to avoid the hassle of recollecting the password set for any iPhone apps to hide photos, this method is perfect. Now let's see how hide photos on iPhone using this feature.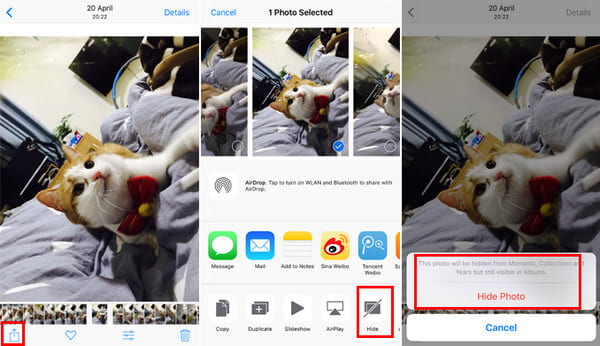 Step 1Open the Photos app on your iPhone.
Step 2Click "Select" at the top-right corner and then select the photos that you would like to hide. Then, Tab on the "Share" icon at the bottom of the screen.
Step 3Now you can choose "Hide" icon at the bottom of the screen to hide the selected photos.
Step 4A window will pop up to double check if you want to hide the selected photos, click "Hide 2 Photos" on the screen to hide the photos. Then the iPhone photos will be hidden and won't be shown on the Moments page of iPhone easily.
Note: Keep in mind that this method only keeps iPhone photos from appearing in the Moments, Years, and Collections views. Hidden photos will still be visible when browsing your Albums.
Method 2. Best iPhone apps to hide photos
Using the first method to hide photos on iPhone is easy enough, but it is not the most secure way. Thankfully, there are many apps that can help you hide photos on iPhone. In the following article, we will provide you five most popular apps to keep your photos hidden on iPhone.
1. Private Photo Vault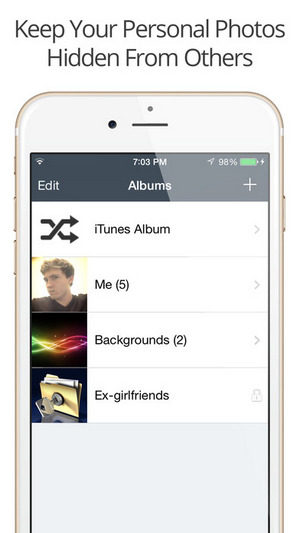 Private Photo Vault is one of the best and most private photo apps that work well for iPhone and iPad. It requires a password to get in Photo Vault by typing the passcode. The app supports both dot lock and password lock. It enables the users to lock and manage the photos that you want to keep private or secret.
2. Keep Safe Photo Vault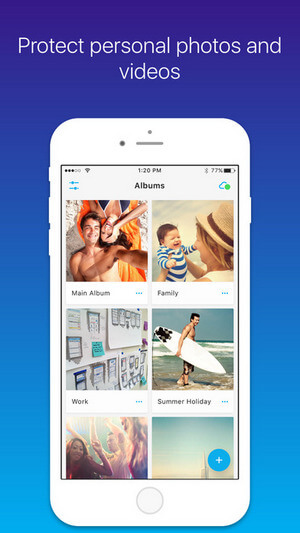 Keep Safe Photo Vault is another great app to easily and securely hide photos on iPhone/iPad. This app lets you import images from the Photos app, and locks your snaps behind either a PIN code or Touch ID. After hiding photos in iPhone, you can then delete them from Photos app. You can also create and name albums, take new photos using the app's camera feature, and share photos with others.
3. Best Secret Folder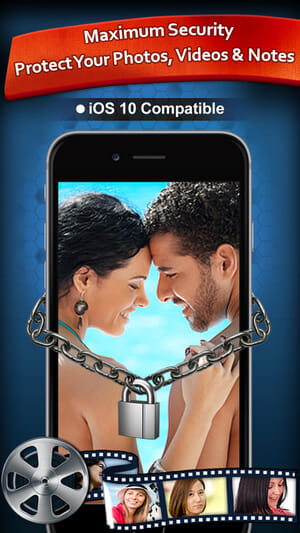 Best Secret Folder is a great app to help you keep stuffs like photos and other files private by allowing you to add a passcode. The app will even let you know if someone tries to log in to the password protected app and snaps a photo of the offender. (Try hiding photos on Mac)
This article mainly introduced two methods to hide photos on iPhone. You can either use the built-in feature to hide iPhone photos from Moments, Years, Collections, or you can a third-party to hide photos from iPhone effectively. Still have more questions about how to hide photos on iPhone? Feel free to leave your comments down below.