Tutorial of Checking IMEI Number Online Efficiently
When your mobile phone got lost or stolen, you would need the IMEI number to prove you are the owner or make a report to your carrier.
Is it possible to check IMEI number online? The answer is simple, yes. Read this article carefully and you will get what you want.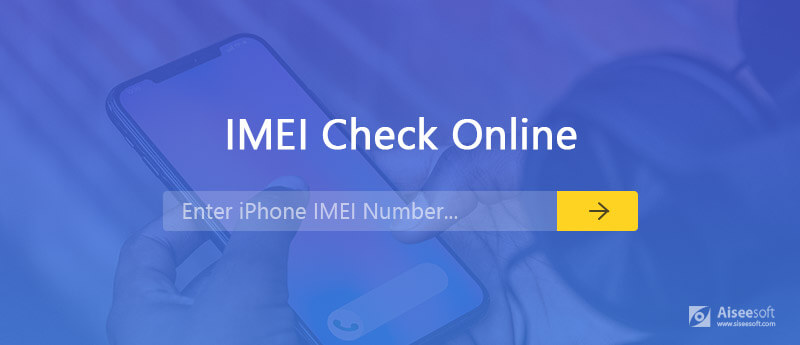 Check IMEI Number Online
Part 1: How to Do IMEI Check Online
IMEI, stands for International Mobile Equipment Identity, is a 15-digit code to identify your mobile phone. It is unique to every single broadband or device. Since it is built into your hardware, you can find them on your device. When your device is lost, your phone provider can block your phone based on the IMEI number. It is also the identification of warranty.
When your mobile phone is not in your hand, you can check IMEI number online, whether it is Android or iOS device.
Note: Do not forget to open iPhone Lost Mode when your iPhone is stolen or lost to protect your iPhone data.
How to Check Android IMEI Online
If you have set up Google account on your Android phone, such as Samsung Galaxy, you can check IMEI number via Google Dashboard.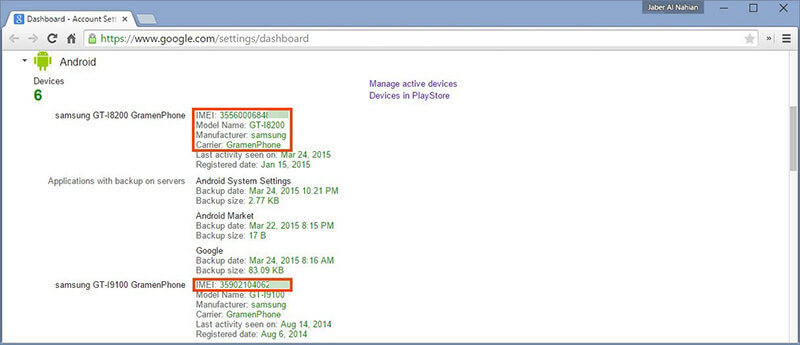 Step 1.
Access
Google Dashboard
in your web browser and sign in the Google account affiliated with your Android phone.
Step 2.
Go to the
Android
section, click and expand it. Then you will be presented all devices associated including the phone information.
Step 3.
Locate the Android phone and check the IMEI number online.
How to Check iPhone IMEI for Free
If you are using an iPhone, the easiest way to check IMEI number for free is iTunes. If you have used iTunes to sync your iPhone, the device information can be visible in iTunes.

Step 1.
Open iTunes and head to
iTunes
>
Preferences
on Mac or
Edit
>
Preferences
on Windows.
Step 2.
Click the
Device
icon and go to the
Summary
tab. Then you will get your phone number.
Step 3.
Double click on your phone number and the IMEI number will show up.
Part 2: Top 5 Places to Check IMEI Online
Checking IMEI number with Google Dashboard or iTunes need some requirements. So, the third-party services can help you get IMEI number online without extra requirements.
Top 1: IMEI.info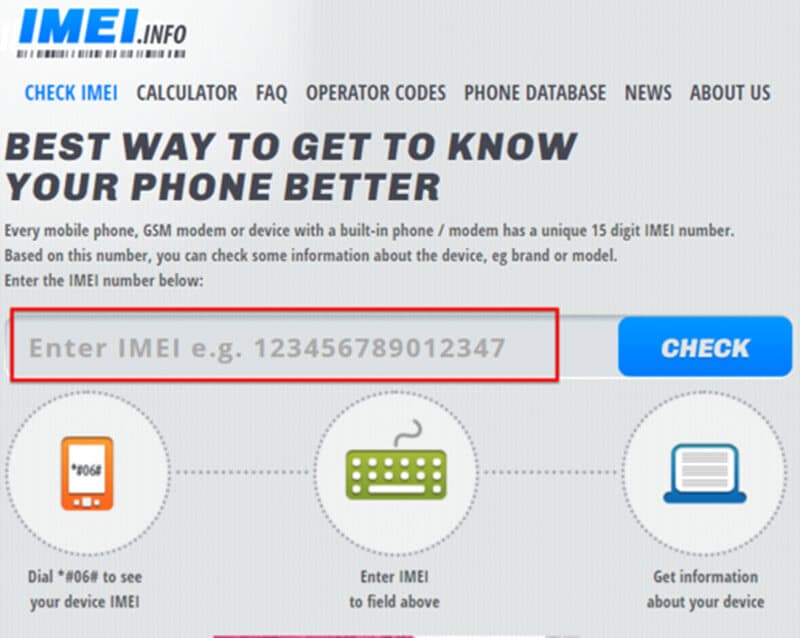 http://www.imei.info/
IMEI.info is an easy way to check IMEI number online. Since it has been around for a while, more smartphone models are supported. The customer support responds quickly.
Top 2: Lost & Stolen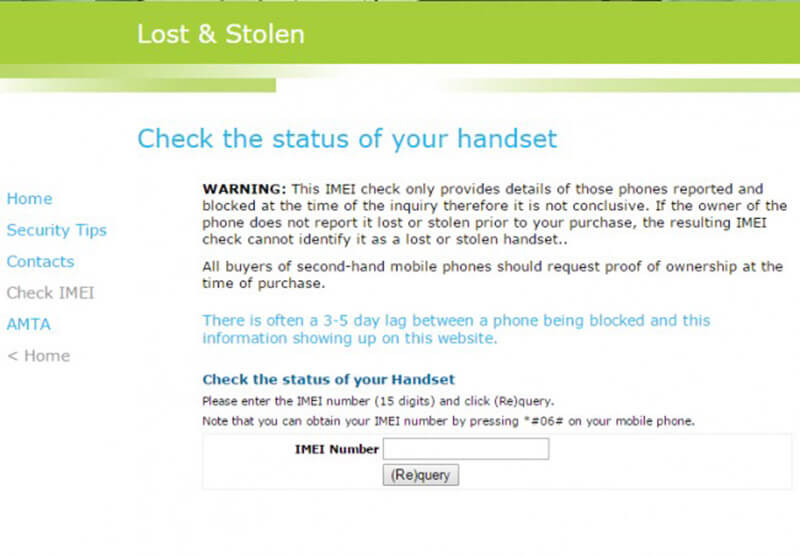 http://www.lost.amta.org.au/IMEI
Though this IMEI checker online is available to a wide range of iPhone, it is mainly designed for lost and stolen device. The website is pretty easy to check your IMEI number and other details.
Top 3: IMEI Pro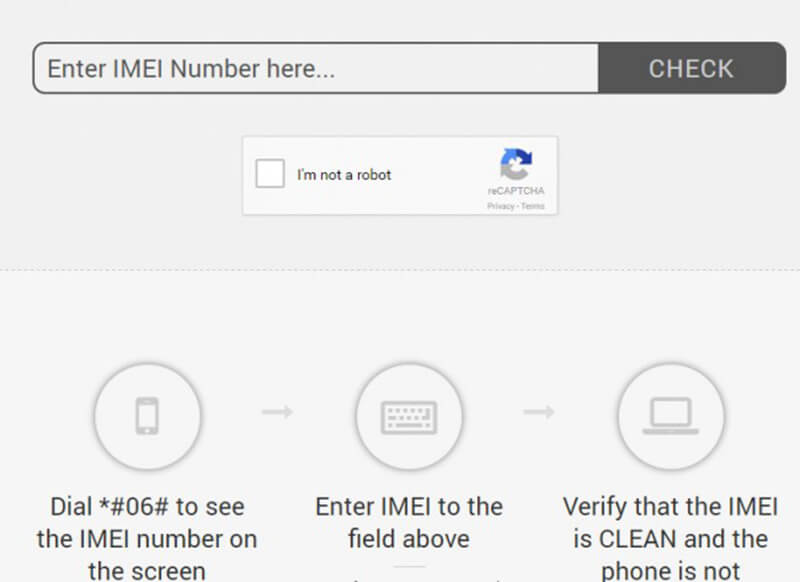 http://www.imeipro.info/
This is the fully international service to check IMEI number for iPhone and Android phone. The concise design makes it quite easy to get the information you need.
Top 4: iPhone IMEI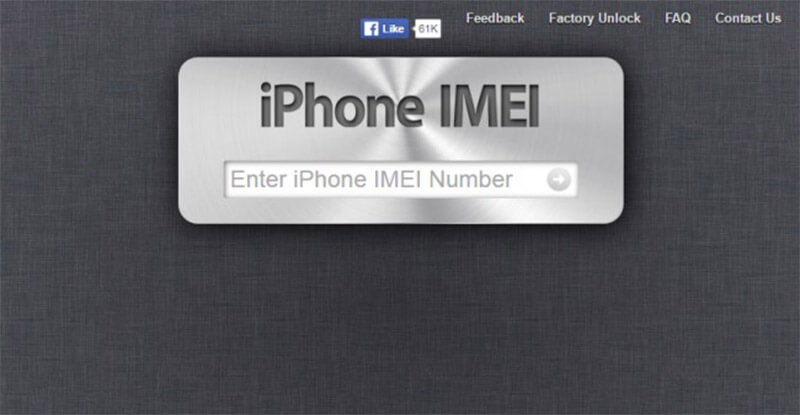 http://iphoneimei.info/
As its name said, it is a dedicated platform to check IMEI number for iPhone users. Moreover, it can display any information you need with your IMEI number.
Top 5: IMEI Database Lookup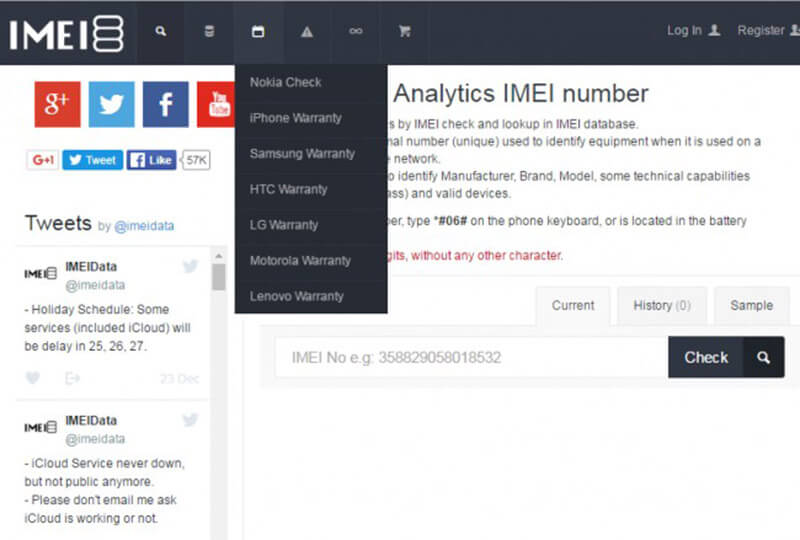 http://imeidata.net/
It is another way to do IMEI check online. Though it is pretty easy to use, you cannot get as much information as other services. For instance, the information other than IMEI and warranty is not available.
You may need: How to Find iCloud Account by IMEI
Recommend: Recover Data from Stolen iPhone with iPhone Data Recovery
In addition to IMEI number, you may want to recover your files from your stolen iPhone. That is why we recommend FoneLab iPhone Data Recovery.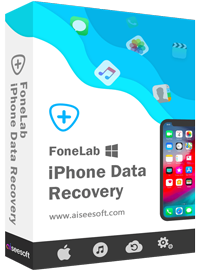 Downloads
Recover files from your iPhone, iTunes/iCloud backup.
Support photos, videos, contacts, call history and other data types.
Allow you to preview iPhone data before recovery.
Compatible with all iPhone models from iPhone 14, 13, 12, 11, XS, XR, X, 8, 7, 6, 5, etc.
In a word, it is the easiest way to get back data from a lost or stolen iPhone.
How to Recover Data from a Stolen iPhone
Step 1.
Get iPhone Data Recovery
Download and install iPhone Data Recovery on your PC. If you are using a Mac computer, get the dedicated version for Mac.
Then launch it, go to the Recover from iCloud Backup File tab from the left side, and sign in your Apple ID and password.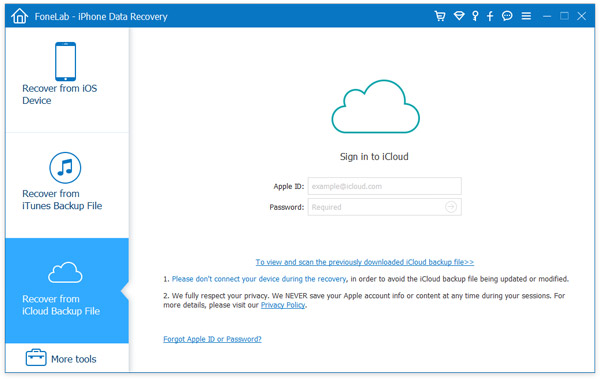 Step 2.
Preview files on lost iPhone
Select the relevant backup and click the Download button to get it to your computer. When it completes, the preview window will show up. Here you can view iPhone data by categories without checking IMEI number.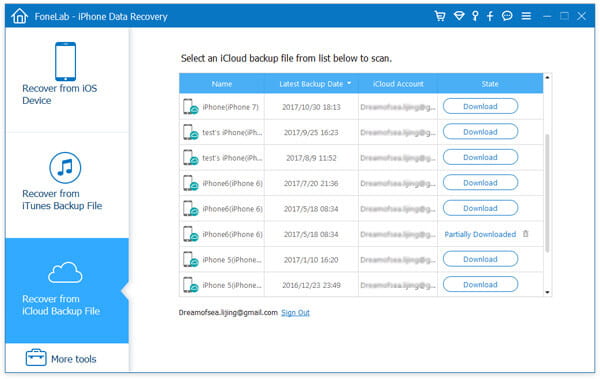 Step 3.
Recover stolen iPhone data
Check all files that you want to get back and click the Recover button. A few minutes later, selected data will be restored to your hard drive.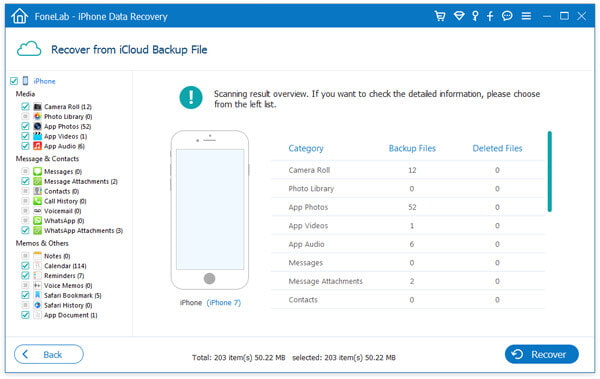 Conclusion
Based on the sharing above, you should understand how to check IMEI number for iPhone or Android phone. We expect that you get what you want from our sharing. More questions? Leave a message below.

Leave your comment and join our discussion