iPhone Lost Mode – The Necessary Issue to Find My iPhone
Summary: When you lost your iPhone, what is the first thing to do? Launch iPhone Lost Mode to find your iPhone certainly. How to unlock the Lost Mode on iPhone when you find your iPhone? Check this tutorial to learn more about this issue.
iPhone are popular throughout the world for many reasons. One of its reasons is Find My iPhone. In this feature, you can make your lost iPhone in Lost Mode, and track its location to find your iPhone. In this page, we will discuss the issue about iPhone Lost Mode, so you can make it clear when you suffer from this situation.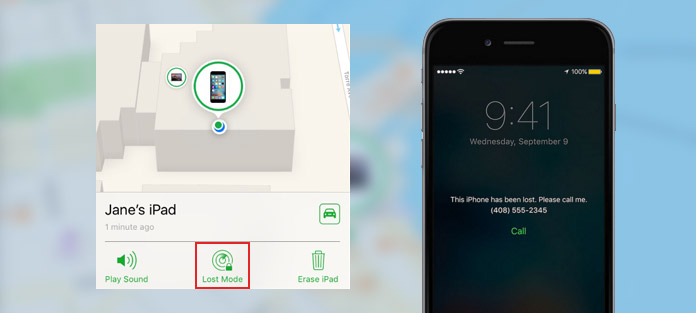 What is iPhone Lost Mode?
iPhone Lose Mode will lock your device with a passcode so that others who get your lost iPhone or iPad cannot access your personal information.
When you put your iPhone in Lost Mode, you can do the following things:
1. Display a custom message on your iPhone screen to indicate that the device is lost or how to contact you.
2. Your iPhone will not display alerts or make noise when you receive calls, messages or notifications, etc.
3. Any credit or debit card set up for Apple Pay on your device will be suspended. After you unlock the Lost Mode, then you can resume using the suspended cards on your iPhone.
How to set up Find My iPhone
Lost Mode is the feature of Find My iPhone. So for using this feature, you need to turn on "Find My iPhone" on your iPhone.
Go to "Settings" > "iCloud" > "Find My iPhone" and slide it to ON.
Lost Mode is not supported by all iOS version. You must make sure your iPhone runs iOS 6 or later.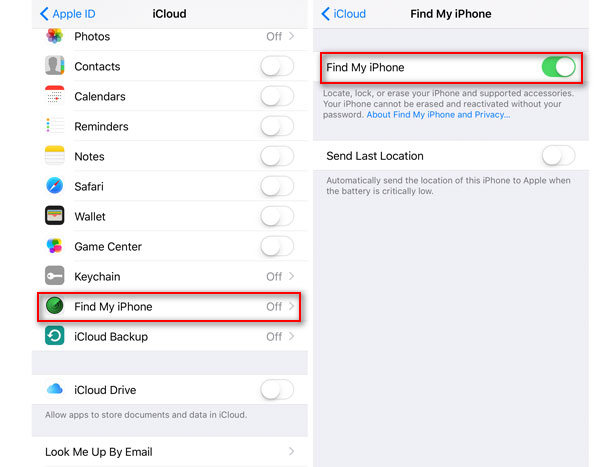 How to turn on Lost Mode for a lost iPhone
If you find your iPhone is lost, you need to turn on Lost Mode immediately to avoid any data disclosure or money loss.
1Go to https://www.icloud.com/find, log in your iCloud account to visit "Find My iPhone".
2Click "All Devices", select the lost device from the drop-down list.
3Click "Lost Mode" (iOS 6 or later) or "Lock" (iOS 5 or OS X v10.7.5 or later).
1. If you cannot visit Find My iPhone on iCloud's web page, that means, you do not set up iCloud on your iPhone. Just set up iCloud.
2. If your iPhone has a passcode, then it is required to unlock the device. Otherwise, you will be asked to create a passcode now. If you select the family member's device in Lost Mode, but it does not have one, then you need to enter the person's Apple ID password.
3. If you are asked to enter a phone number or message, then the phone number or messages will appear on the lost iPhone's locked screen.
After you do the three steps, you will see that your iPhone's current location. If your iPhone picker still does not contact you after you enter the passage or phone number, then you can track its location by yourself.
How to track your iPhone in Lost Mode
There are two ways to locate your lost iPhone on the map.
If your lost iPhone is online when you get it in Lost Mode, then the location tracking services will begin when you use Lost Mode. And a confirmation email will be sent to your Apple ID email address.
If your lost iPhone is offline, the passcode lock and tracking will take effect the next time it is online.
After you find your lost iPhone, you could turn off Lost Mode to start to use your iPhone again. Just follow the three two steps in turning off Lost Mode, and click "Lost Mode" in the last step to turn off it.
Also, if you are unfortunate to fail to find your lost iPhone, then you could click "Erase iPhone" to clear all private information on your lost iPhone remotely. Also, you cannot track your lost iPhone in Lost Mode.
How to bypass iPhone lost mode
If you just buy a second-hand iPhone from eBay or Amazon, but the seller is not good enough to help you turn off the Lost Mode for the iPhone, then you have to brainstorm to find the ways to bypass Lost Mode to restore the iPhone. At this point, you should read this post to help you: How to bypass iCloud activation.
Best iOS Data Backup tool you may want to know:
FoneLab - iOS Data Backup & Restore
FoneLab is the professional iPhone data backup and restore software for Windows and Mac users.
Restore and back up contacts, call logs, videos, audios, pictures, etc.
Support any iOS device like iPhone 14/13/12/11/X/8 Plus/8/7 Plus/7/SE/6s/6s Plus/6 Plus/6/5s/5c/5, iPad Pro/Air 2/mini 4, iPod touch 6/5/4.