How to Screen Mirror from iPhone to Mac with a USB Cable or Wirelessly
iPhone is a popular smart handset around the world. You can play video games, watch the latest HD movies, listen to your favorite music, and more on your iPhone. The biggest challenge is still the small screen although Apple has improved a lot. To help users view iPhone screens on a large monitor, Apple has added the screen mirroring feature into iOS. This guide focuses on how to screen mirror from iPhone to Mac properly.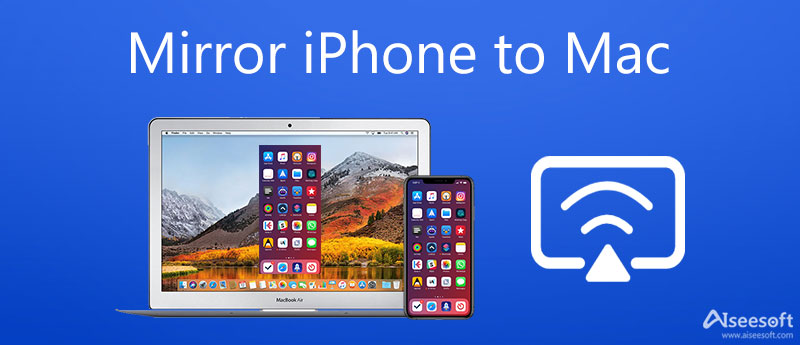 Part 1: How to Mirror iPhone to Mac with QuickTime Player
QuickTime Player is far more than a media player on Mac. It includes a wide range of bonus features such as mirroring iPhone screen to MacBook with a USB cable. Since the setup process is a bit complex, we explain the steps in detail.
Step 1:
Put one end of a Lightning cable to your iPhone, and insert the other end into your MacBook. You'd better use the cable that came with your iPhone to avoid data loss.
Step 2:
Fire up the QuickTime Player from the Dock bar or Applications folder.
Step 3:
Go to the
File
menu on the top menu bar, and choose the
New Movie Recording
. It will trigger the movie recording screen.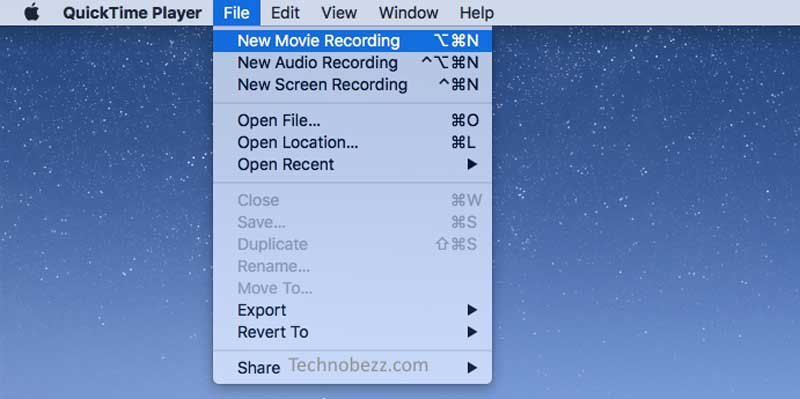 Step 4:
Click the
downward
icon to enter the context menu. Make sure to select your iPhone under the
Camera and Microphone
sections respectively.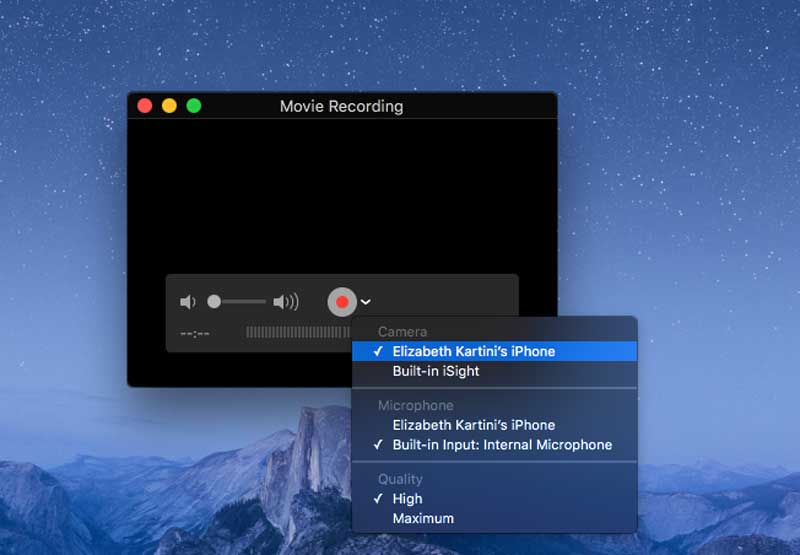 Step 5:
Now, your iPhone screen is mirrored to Mac in QuickTime Player. Besides, you can record the iPhone screen on Mac by hitting the
Record
button.
Note: This way does not require any wireless networks, but you must have a USB cable.
Part 2: How to AirPlay iPhone to Mac
AirPlay is a wireless connection available to mirror iPhone screen to Mac. Unlike the QuickTime Player, this way does not require a USB cable. Although it asks you to enable Wi-Fi on your iPhone, you do not need a real internet connection.
Way 1: How to Mirror iPhone Screen to Mac with Reflector
You can transfer files between iPhone and Mac through AirPlay directly. When it comes to iPhone screen mirror to Mac, you need a recipient app. We use Reflector 4 as the example to show you the procedure.
Step 1:
Put both your iPhone and Mac under the same Wi-Fi, which does not have to connect to the internet. Plus, install the Reflector app on your Mac and launch it. The latest version costs at least $17.99.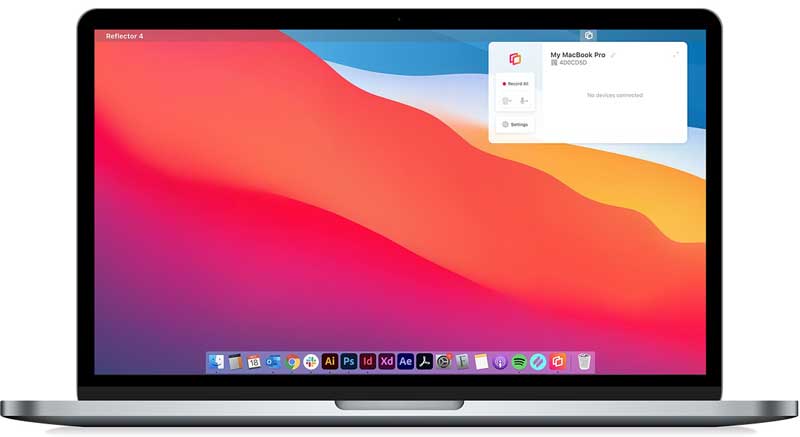 Step 2:
Turn to your iPhone, and open the
Control Center
:
On iPhone 8 or earlier: Swipe upward from the bottom of your screen.
On iPhone X or later: Swipe downward from the top right corner of any screen.
Step 3:
Tap the
Screen Mirroring
icon and you will get a list of devices around your iPhone that support AirPlay. Tap your Mac on the list.
Step 4:
Now, your iPhone screen will appear on your MacBook.
Way 2: How to Screen Mirror iPhone to Mac in YouTube
Reflector is a specific app to mirror the iPhone screen to MacBook. In fact, most streaming apps have built-in AirPlay functionality, such as Netflix, YouTube, and more. With them, you do not need extra apps to mirror your iPhone screen to a large display. This guide takes YouTube as an example.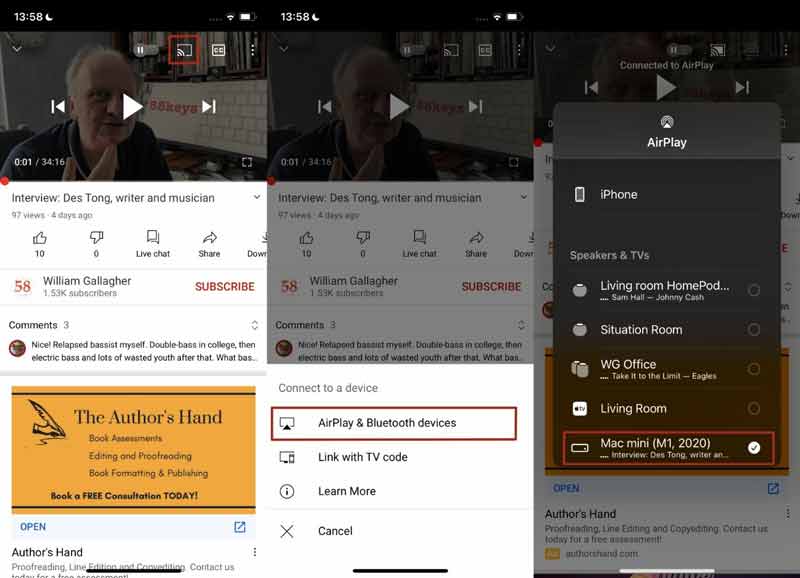 Step 1:
Connect both your iPhone and the Mac to the same Wi-Fi network. Fire up your YouTube app from your home screen.
Step 2:
Find the video that you hope to watch on a larger screen, start it and tap the video to pause the playback.
Step 3:
Tap the
streaming
icon at the top right corner to open the device list, select
AirPlay & Bluetooth devices
, and pick your MacBook from the AirPlay list.
Step 4:
Next, tap anywhere around the AirPlay list to close it. Now, tap the
Play
button to begin mirroring the iPhone screen to MacBook. Here you can watch it on your computer.
Step 5:
When you want to stop screen mirroring, tap the same
streaming
icon, and touch your iPhone on the AirPlay list. Then close the list.
Note:If you do not stop screen mirroring in YouTube, the connection will continue. That may interrupt the actions on your MacBook.
Recommend: Best Way to Mirror iPhone Screen to PC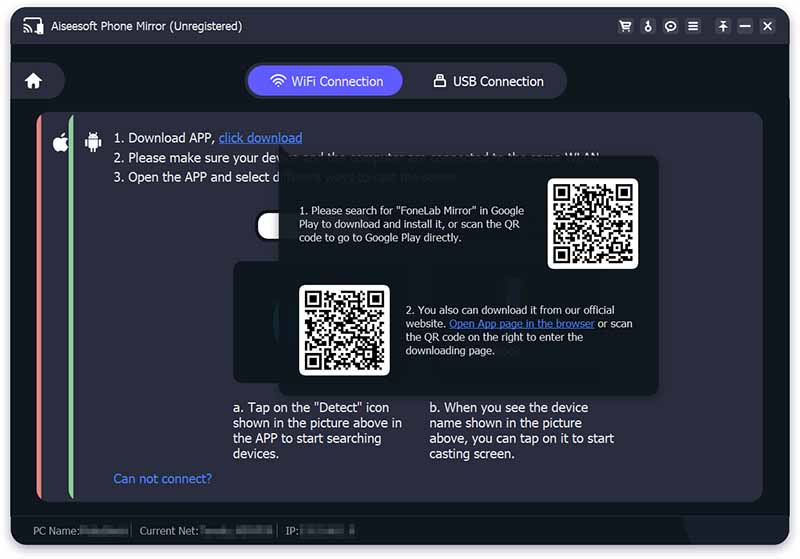 In most cases, you mirror the iPhone screen to PC in order to record videos or gameplay on a computer. However, the wireless connection does not offer such ability. Therefore, you need an iPhone screen mirror tool with bonus tools. Aiseesoft Phone Mirror is one of the best tools on market.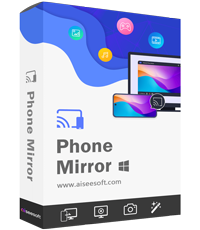 154,940 Downloads
Part 3. FAQs about Screen Mirror iPhone to Mac
1. Can you AirPlay iPhone to Mac?
Yes, you can AirPlay documents, music, files, and more from iPhone to Mac. In addition, it allows you to stream videos and presentations between iPhone and Mac.
2. Why is my Mac not showing up on screen mirroring?
Firstly, you need to put your iPhone and Mac on the same Wi-Fi network when using screen mirroring. Although it is a wireless connection, you need to put the two devices as close as possible. Plus, make sure that your software has updated to the latest version.
3. Does my Mac have AirPlay?
The AirPlay is available to MacBook, MacBook Air, or MacBook Pro models released in 2011 and later running macOS 10.8 (Mountain Lion) or later. You can check the full list on Apple's official website.
Conclusion
This tutorial has told you how to mirror the iPhone screen to MacBook Pro/Air, iMac, and more. The QuickTime Player allows you to view the iPhone screen on Mac using a USB cable. If you prefer to wireless connection, the built-in AirPlay feature is available. Now, you can choose an appropriate method and follow our steps to get it quickly. More questions? Please feel free to leave a message in the comment area below this post.

Leave your comment and join our discussion