How to Effectively Mirror Your iPhone to Mac or TV Wirelessly
Although iPhone displays become larger and larger, it is too small to enjoy videos or gameplay with families and friends. iOS 13 makes it easy to stream content from iPhone to a large screen. It does not require a Lightning or USB cable if you are using it the right way. This tutorial tells you the easiest ways to mirror iPhone to Mac or smart TV wirelessly so that you can enjoy content on a large screen effectively.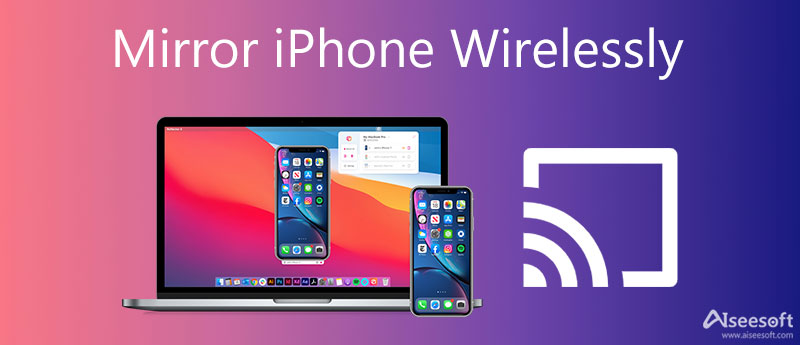 Part 1: How to Screen Mirror iPhone to Mac Wirelessly
There are several utilities that can mirror iPhone to Mac or Windows wirelessly, such as Reflector 4, AirServer, X-Mirage, etc. Of course, most of them are not free to use. They work in a similar way and we use Reflector 4 as an example to show you the concrete steps.
Step 1:
Make sure that you have installed the utility on your Mac computer or laptop. It is available on App Store. Download the .dmg file, and launch it. Then drag the Reflector app to your
Applications
folder.
Step 2:
Next, launch it from your Applications folder when you need to screen mirror iPhone to MacBook wirelessly.
Step 3:
Turn to your iPhone, and enter the
Control Center
. On iPhone X and above, pull down from the upper right corner. On older devices, pull upward from the bottom of the screen.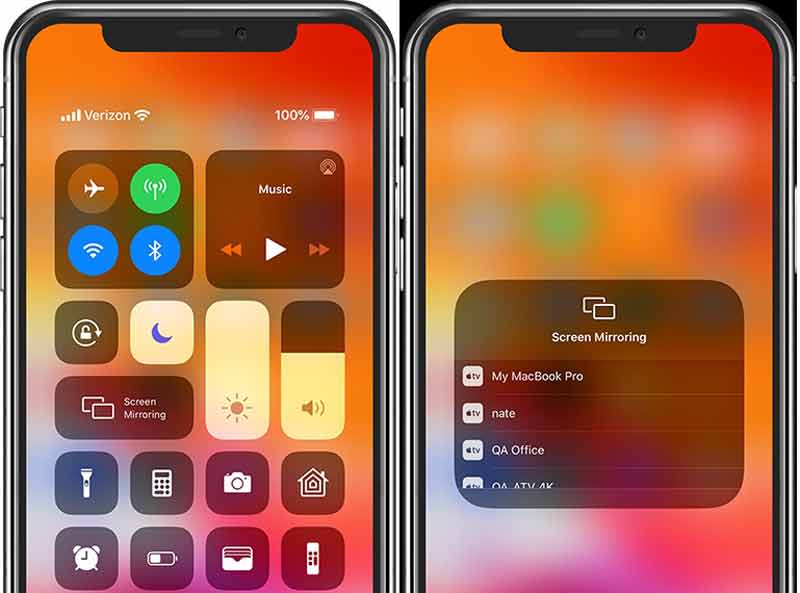 Step 4:
Tap the
Screen Mirroring
icon and select your MacBook on the list. If you are using Reflector, the name of your computer will appear on the list.
Tip: On iOS 12 and earlier, you can mirror iPhone to Mac wirelessly using AirPlay.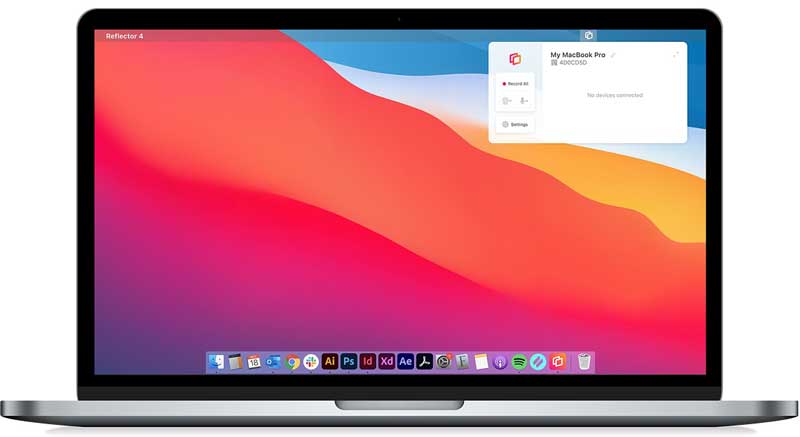 Note: This way is available to iOS 7 and later.
Part 2: How to Screen Mirror iPhone to TV
It is a bit complex when coming to wirelessly screen mirroring iPhone to a smart TV. You can wirelessly mirror an iPhone screen on vizio TV, Apple TV or AirPlay-compatible smart TVs directly. Moreover, the Smart View app by Samsung is available to most Samsung TVs. Furthermore, some stream apps allow you to get the effect too.
Way 1: How to Wirelessly Mirror iPhone to TV via AirPlay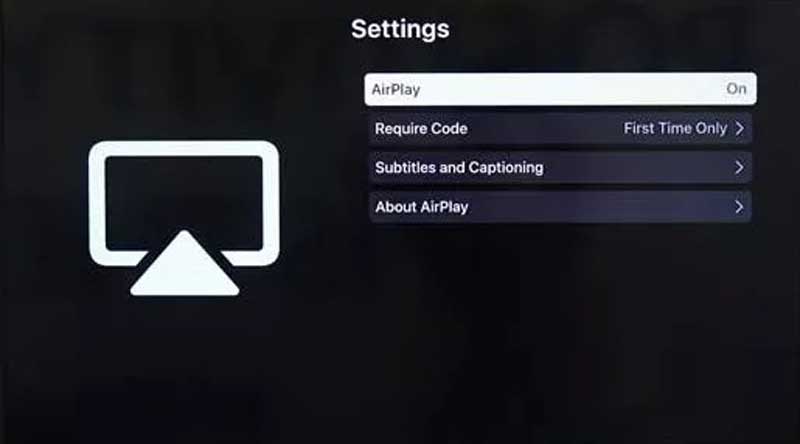 Step 1:
Enable the AirPlay feature on your smart TV. It is usually available on the Settings screen.
Step 2:
Connect your iPhone and smart TV to the same Wi-Fi network. Next, enter the
Control Center
on your iPhone, tap the
AirPlay or Screen Mirroring
icon, and select your smart TV on the list.
Step 3:
When prompted, enter the code that appears on your TV to confirm the connection. Now, you should get an iPhone screen on a TV.
Note: Some streaming apps are compatible with the AirPlay feature too. Once you open the YouTube app on iPhone, for example, you will find the AirPlay icon. It can mirror the iPhone screen to TV wirelessly too.
Way 2: How to Mirror iPhone to Samsung TV Wirelessly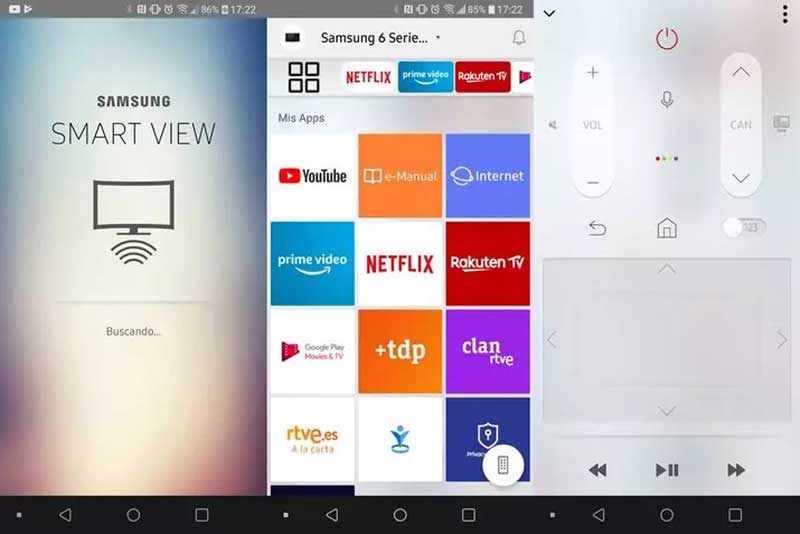 Step 1:
Put both your iPhone and Samsung TV on the same network.
Step 2:
Fire up the Samsung SmartView app on your iPhone. Remember the code appears on your TV screen, and type it into your iPhone when prompted.
Step 3:
Now, your iPhone screen mirrors on Samsung TV automatically.
Recommend: Best iPhone Mirror Screen Recorder for PCs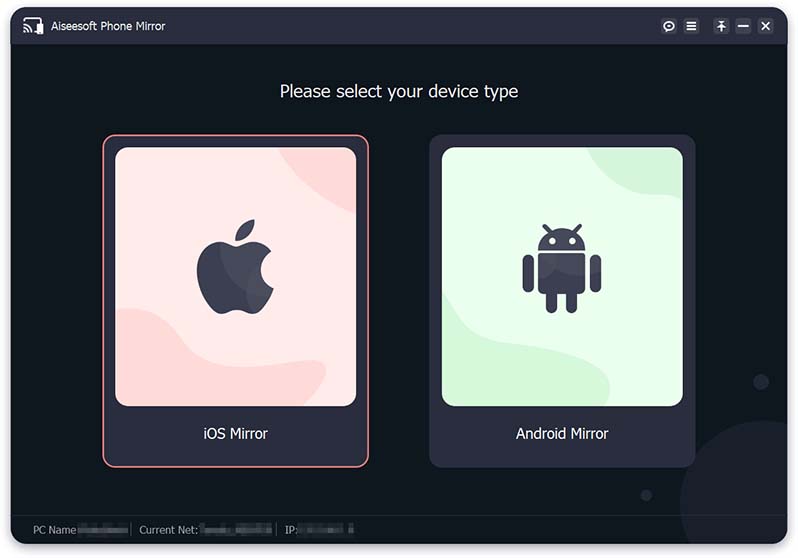 Sometimes, you also hope to record your iPhone screen on a computer, such as gameplay. Aiseesoft Phone Mirror is one of the best iPhone screen recorder software on market. It includes a lot of bonus tools but is easy to use.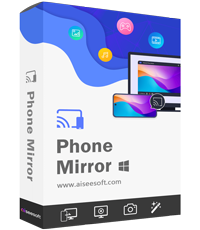 154,940 Downloads
Part 3. FAQs about Mirroring iPhone Wirelessly
1. Can I mirror iPhone to computer wirelessly without third-party apps?
No. Unlike smart TVs, you cannot screen mirror your iPhone to a computer without a third-party tool. If you have a Lightning cable, connect your iPhone to your Mac and mirror screen using the QuickTime app.
2. How much does Reflector cost?
Reflector is a wireless connector tool between mobile devices and computers as well as a file transfer. It costs $17.99 for a single license.
3. Why I cannot find my TV on Screen Mirroring?
If your iPhone is far away from a TV set, it won't appear on the list. Moreover, make sure that your smart TV supports the AirPlay or Screen Mirroring feature.
Conclusion
This tutorial told you how to mirror the iPhone screen to Mac or TV wirelessly. It is a good idea to enjoy movies, video gameplay, and other content with your friends and families by mirroring the iPhone screen. You can pick a proper method and follow our guide to get what you want. Aiseesoft Phone Mirror helps you record the iPhone screen after mirroring. More questions? Please leave a message below.

Leave your comment and join our discussion