[Solved] Reset/Reboot Toshiba Laptop to Factory Settings to Wipe Hard Drive Clean
When you want to give up your old Toshiba Laptop Satellite and want to get a new Toshiba Portégé or Tecra, resetting Toshiba is the first step. In this page, we collect the easy 3 ways to help you reboot Toshiba to factory settings, even 0 is not working or Toshiba password is forgotten.

Toshiba laptop takes over a great part in market. From Toshiba Satellite to Portégé A/X/Z or Tecra C/A/X/Z, you will never miss its attendance in laptop market.
When you find your Toshiba run slow or get frozen, or just want to give up the old device to embrace a new laptop, resetting Toshiba laptop will be a good idea. Reboot your laptop to factory settings can wipe all data, which makes your laptop run faster and protect your privacy if you have the plan to sell it.

In this post, we gather three easy but 100% practical ways to help you reboot Toshiba laptop, even if you forgot its password.
Note: Before you reset Toshiba laptop, please backup all important data, because resetting or rebooting Toshiba laptop will erase all data on your computer.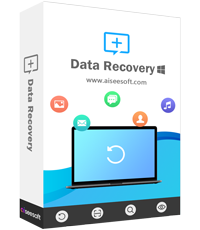 Downloads
Recover various data and documents from your computer.
Support photos, videos, audio, documents, emails and more.
Available to plentiful situations, like system restore or crash.
Integrate deep scanning and quick standard scanning.
Not interrupt current data on your hard drives.
Solution 1. Reboot Toshiba laptop from hard disk drive (without CD/DVD disc)
Hard disk drive is the way that reboots your laptop into system recovery mode, and use factory default software on your computer for resetting.
Now, let's check the steps below.
Factory reset Toshiba laptop on Windows 10 and Windows 7
Hold down the power button for 10 (ten) seconds to switch off your laptop.
Note: Holding down the power button on the machine forces it to switch off. Any unsaved data will be lost.
Press and hold the 0 (zero) key on top of the keyboard (not the 0 key on the numeric keypad) and at the same time, press the power button once to switch your laptop on.
Release the 0 key once the Toshiba screen appears. Select 32bit or 64bit operating system from the prompt, and "Next" to enter the "Warning" screen. Click "Yes" to continue with the system recovery.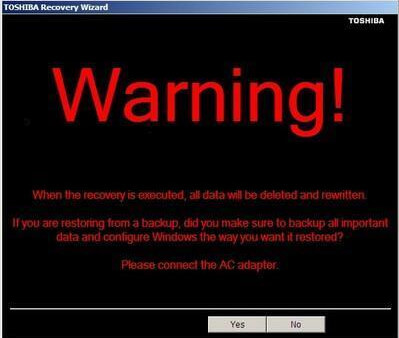 In the pop-up window, select "Recovery of factory Default Software" > "Next", then "Recover to out-of-box state" > "Next" > Read and acknowledge the warning screen and "Next" to restore your laptop to factory settings.
Notes:
1. In this way, your computer will restart several times, and you need to wait patiently. Honestly speaking, the time may vary 1-2 hours.
2. The steps will restore your computer to its original settings, which helps you to deal with many issues on Toshiba, like hard drive reapir, loop restart, etc.
Restore Toshiba laptop on Windows 8/8.1
If you are running Windows 8 and 8.1, you need to perform the following operations.
While on the Start screen, type "Advanced Startup" > Select "Advanced Startup Options".
Note: On Windows 8.1, select "Change advanced startup options".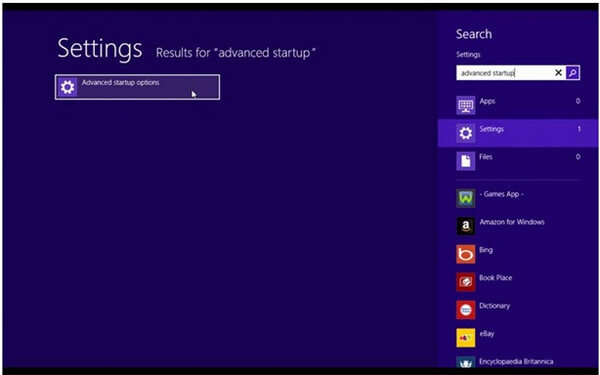 Under "Settings" > Find "General" and scroll down to bottom to click "Restart Now" under "Advanced Startup".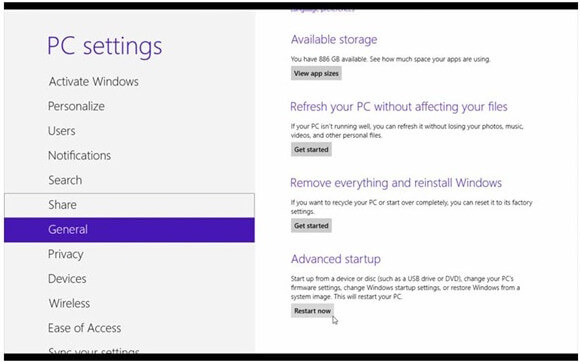 The pop-up blue screen will bring you to the Advanced startup screen, select "Troubleshoot" > Select "Reset your PC".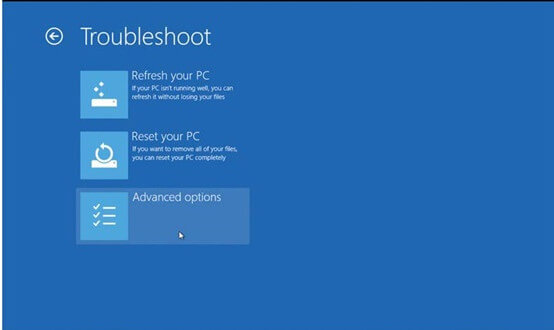 However, some users complain that Toshiba factory reset 0 key is not working on Windows 7 or 10. At that point, you need to refer to the second method.
Solution 2. How to reset Toshiba laptop with CD/DVD disk (0 key is not working)
Sometimes the 0 key will bring no change because the recovery partition might have a developer lock. For resetting Toshiba laptop at that situation, you can try to restore system to a previous point, and insert CD/DVD disc to handle the problem.
System restore only restores your laptop system to some a point previously, which is not the perfect way of resetting. So here, we only introduce the second way to factory reset laptop with CD/DVD disc.
Insert Recovery disc into CD/DVD drive on your computer. Hold on the power button for 10 seconds to turn off your computer.
Press and hold the C key and meanwhile, tap the power button once to turn on your laptop.
Release C key when the Toshiba screen appears > Select 32bit or 64bit operating system based on your computer and "Next" to enter "Warning" screen > "Yes" to proceed with the system recovery.
Repeat step 4 in the first solution to factory reset your laptop.
Like above, you still need to spend time on waiting for the long resetting process.
Easy, right? All the steps can be followed if you get your Toshiba laptop work well. However, if you forgot laptop password, and want to reset your computer, what should you do?
Keep reading in the next part to restore your locked laptop.
Solution 3. How to factory reset a locked Toshiba laptop (Windows 7/8/10)
If you are fortunate to create a password-reset disc before, then here, you just need to use your password-reset disc to reset the password firstly, and follow the steps below to reboot it easily.
Reset Toshiba password with password-reset disc
Insert the password-reset disc into your laptop and reboot it.
When the welcome screen appears, click "Reset Password…" and a new password reset wizard will open, click "Next" once.
Choose the driver where the password reset disc is situated. Setup a new password and click "next" to complete the setup process and restart your computer. Now, you just need to enter the new password.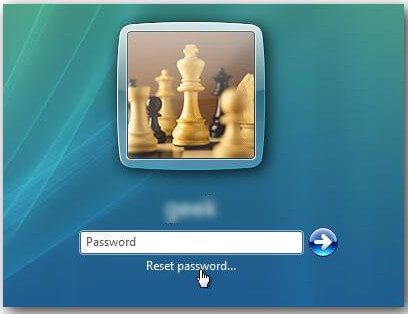 Bypass and reset password on Toshiba laptop for resetting
However, if you are unfortunate to create the password-reset disc, then here you have to use other third-party apps to bypass and reset password. Tipard Windows Password Reset is the tool, which resets and changes Windows Administrator or other user password on your Toshiba laptop.
It gives you two options to make the password reset, CD/DVD disc or USB Flash Drive.
Now, let's check the steps as following:
Download Windows Password Reset
Download Windows Password Reset on your another one computer, install and run it. Meanwhile
Insert your CD/DVD or USB drive into your another one computer.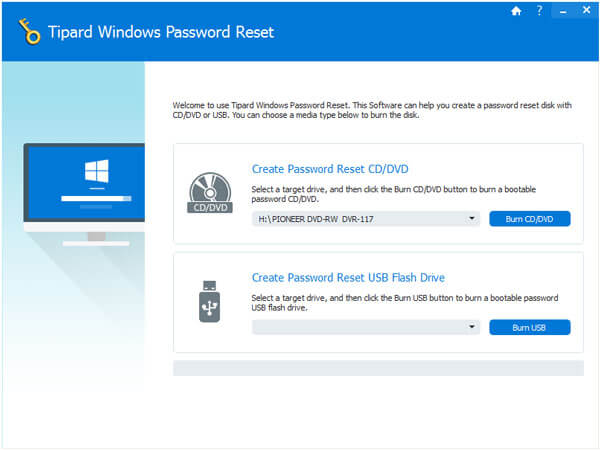 Burn password remove disc
In the main interface, it provides two solutions to create your password remove disc, CD/DVD and USB flash drive. Choose the creating mode as your requirement, click "Burn CD/DVD" or "Burn USB" button to burn a bootable password disc. Only a few seconds, the disc will be made completely.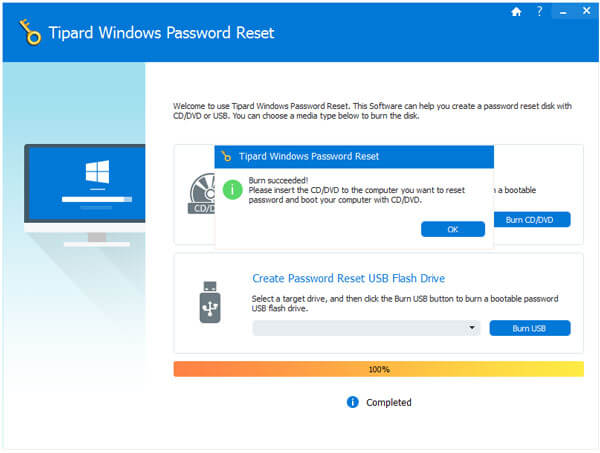 Insert the bootable CD/DVD or USB flash drive just burned into your locked Toshiba laptop.
Restart your computer > Once seeing the boot screen, keep typing the key ("F10/Delete/Esc/F8/F12" regularly) to enter the BIOS interface > Enter the "Windows Preinstallation Environment" according to the prompt of computer starting > Choose "CD-ROM Drive" or "USB Drive" depending on your burned disc.
Then you will find all the information of your computer, like version and various user accounts.
Choose the account that you want to reset and click the "Reset Password" button to remove the forgotten Windows password.
After that, click "Reboot" to restart your computer and account will be unlocked in the log in interface.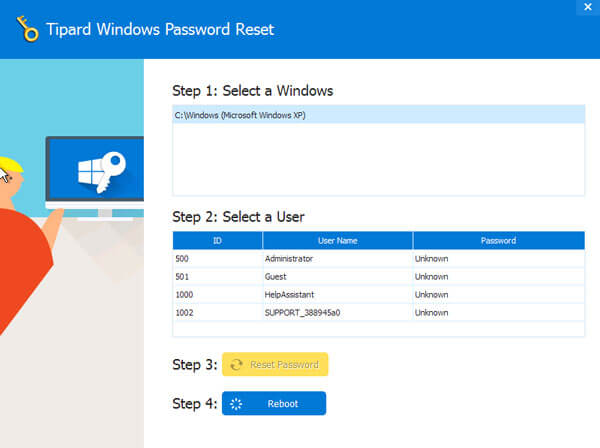 Then just follow the steps in the above 2 solutions to reset your Toshiba laptop.
Here, three ways of rebooting Toshiba laptop to factory settings are introduced. When your 0 key is not working, you can try CD/DVD drive to reset Toshiba laptop. When you forgot password, you can also reset password firstly and restore your computer to factory settings easily. If you have any suggestion, just feel free to leave your comments below.

Leave your comment and join our discussion