How to Recover Tiktok Messages on iPhone & Android [Tested & Proven Ways]
Besides watching, creating, and editing short videos on Tiktok, the app also supports real-time text transmission to the people you have followed. Howbeit, the power of its text messaging technology is typical like the other emailing app we have used for a long time. At some point, there are instances when the messages we send or receive over Tiktok have been deleted or disappeared because of unknown reasons.
Looking for a solution to this problem could be a real headscratcher, particularly for those who aren't technologically oriented. But that shouldn't stop you from learning how to recover deleted Tiktok messages on iPhone & Android - interested in the topic? Better read the following information that we have included here.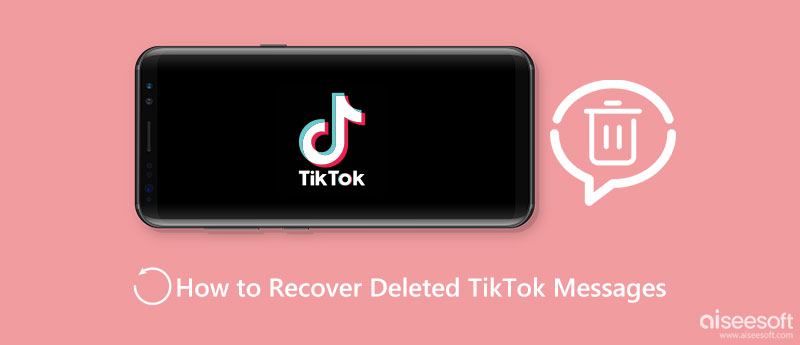 Part 1. How to Recover Deleted Tiktok Messages on iPhone
What could be the best way how to recover deleted Tiktok messages on iPhone? Well, there have been solutions that we have that work well on iPhone and Android as well. But today, we will focus on the best approach, the data request mode using your iPhone. This method works effectively because you are submitting a request on the platform to give a copy of the data you want to access that you no longer have access to. It is a method that recovers data like you can with the Fonelab iPhone Data Recovery.
Every social media site, such as Tiktok, stores the data you have accessed, and you can request to access it if you want to. The steps added here might confuse you in many ways, but there is no need to worry because you can learn them in the most accessible way here. Let's follow the steps on how to request back data by following the steps below.
Step 1:
Tap your screen to open the Tiktok and log in to the official account you want to access if necessary. Under the home screen of it, open your profile and select
Me
to proceed.
Step 2:
Now that you have accessed the Tiktok account, go to the
Profile Page
and tap the
hamburger
icon to open the
Settings
of Tiktok.
Step 3:
Different options will appear on your screen but tap
Privacy and Safety
. After you have opened it, tap
Personalization and Data
.
Step 4:
Lastly, you will need to tap the
Request Data
, which will take three days to confirm, then select the format, whether
TXT
or
JSON
. After three days, go to the
Download Data
and download the file you request on Tiktok. We have also written a post on that topic if you need to
recover deleted messages on your iPhone
if you want to know.
Part 2. How to Recover Deleted Tiktok Messages on Android
The first could also work on Android, but if you want to learn other ways to recover deleted Tiktok messages on Android, you better try downloading the WAMR. It is a utility app that recovers text messages and other media attachment that has been deleted by the user or the system itself. The app creates a backup of that file so you can still access and view it for free. Isn't the app excellent? Well, it is!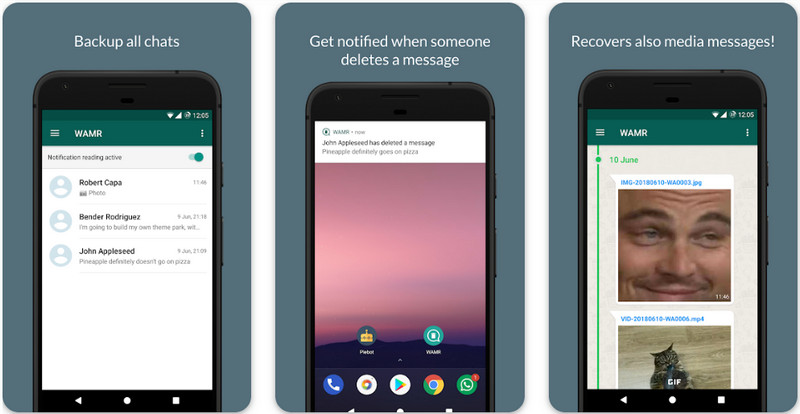 Despite the strength, the app only recovers the app activity you allowed and can't recover old messages with this. Also, the app with which it can create backup data is minimal. Luckily, Tiktok is one of them. In addition, the app can't retrieve old files. The purpose of this being a utility app has limitations, unlike the Aiseesoft Android Data Recovery, for it can scan even the deleted files on Android for free. If you want to use it better, read the details below as we teach you how to!
Step 1:
Download the WAMR on your device to start using it, then tap Open to launch the app after the process.
Step 2:
Now that you have opened the app, select the app that you want to monitor, which means you will need to pick what is or is the app that you want this app to create a backup for you in case users deletes it or the system. Tick the box for Tiktok and another app that you want.
Step 3:
Allow the notification access, and the app will now check the activity on Tiktok and start creating a backup version of every text, file, or attachment you will receive in the future. What if you need to
recover deleted videos on Android
? The best way to solve this is by using the best apps on your desktop devices for deep scanning and recovery, which this app can't do for you.
Part 3. FAQs on How to Recover Deleted Tiktok Messages
If you delete a message on Tiktok, does it unsend?
When you delete a message on Tiktok, you aren't trying to unsend it because it has already been delivered. If you delete the chat or DM, it will only be deleted from your point of view, not from the person you sent it to. Images, videos, and texts can be viewed by the receiver anytime it opens the messages.
Can Tiktok read my messages?
Tiktok can read the messages you have DM other people using their app. However, the app's developer is still not trying to expose any private messages you have over the platform, which means it is safe to contact other users thru the app.
Are deleted Tiktok messages deleted forever?
It is deleted forever when you've deleted it, even if you search for the name of the user you have DM. It will delete all of the chats and attachments sent on your side, but in the end, the user still has access to them. Yet, there is no need to worry because, in this article, we have introduced multiple ways to recover deleted messages on Tiktok even if you are using mobile devices at ease.
Conclusion
Learning to recover deleted Tiktok messages isn't as challenging as many people exaggerate. So, if this thing is a problem of yours, the steps added in this article and methods are proven and tested so that it will be factual for you to follow. Even if you aren't tech-savvy, you can still learn how to do so effectively. If you have other related questions about this article, there is no need to be shy; type them inside the commentary box and tell us so we can answer your queries instantly.

Leave your comment and join our discussion