How to Clear Your TikTok Cache?
TikTok is one of the most popular social media across the globe. Millions of people use it everyday to chill. Due to its large number of users, TikTok updates regularly to meet more users' need. However, more functions like special effects and filters will consume more space on your phone. In addition, the main source of cache is from the time when you scroll down the videos on TikTok. You may find out that your phone and TikTok itself runs less smoothly. It's TikTok cache that slows down your phone. What is cache? How to clear TikTok cache? This article explains what is TikTok cache and offers two ways to clear it. Follow the guide to know more about it.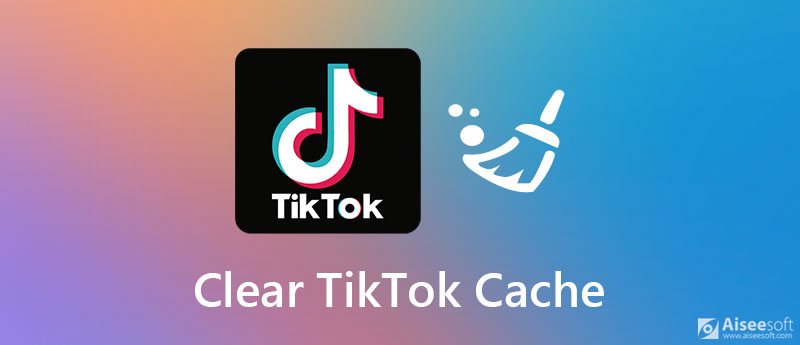 Part 1. What is Cache?
Before you clear TikTok cache, you must know it well. The cache is unimportant data generated when you use the app. For example, when you watch the videos on TikTok, the app will store the data of that video to ensure its fluency when you watch it for the second time. What's more, your profile photo and special effects you used before also takes space on your phone. The more videos you watch, the more space they will take on your phone.
If you need more space to store other files, you need to clear your cache. There are two ways to clear it, keep reading and find out the best solution according to your need.
Part 2. Use TikTok to Clear its Cache Quickly on iPhone/Android
When TikTok doesn't stop properly due to the cache, you may receive a notification from it. Actually, you can enjoy powerful functions like doing split screen on TikTok. It also provides cache clearance service. Since TikTok is available to both iPhone and Android, this method can be applied to both to solve the problem. What's more, clearing TikTok cache without a third-party software is super easy. You can free up your phone space by three simple steps.
Step 1.
Start the TikTok app on your phone and tap the
Me
icon at the bottom-right corner.
Step 2.
Tap
Settings
(the three dots) at the top-right corner of your Profile interface.
Step 3.
Scroll down to the end of the menu appeared. Tap the
Clear Cache
button.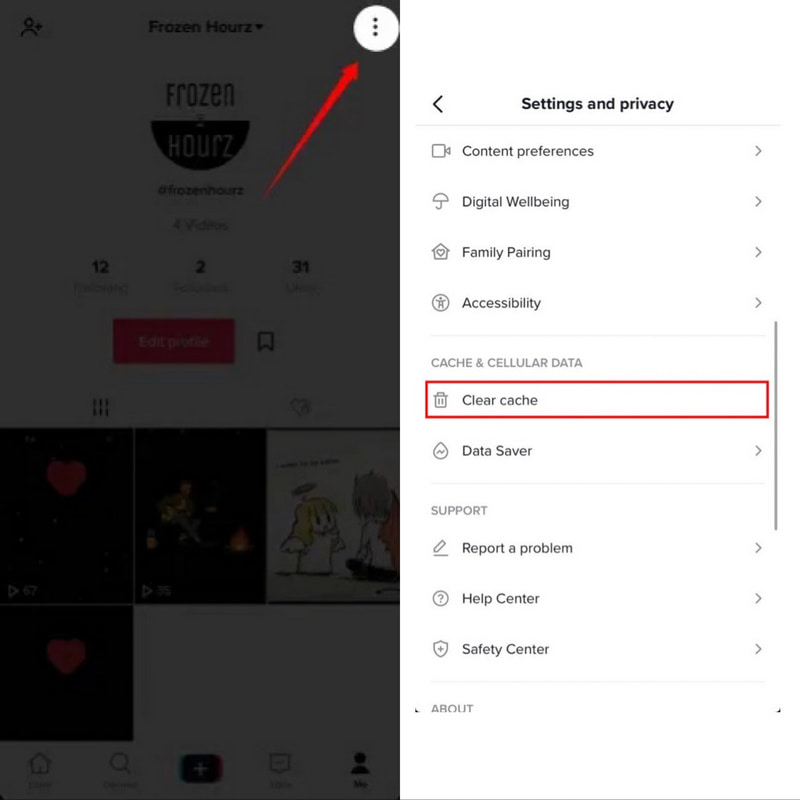 Part 3. Clear TikTok Cache Permanently with iPhone Cleaner
Clearing the cache using TikTok directly is convenient and easy-to-learn. But the clearance power is not guaranteed and there may exist residual cache. Then you can try iPhone Cleaner to clean up your iPhone cache thoroughly. Take notice that it is only available to iPhone.
Step 1.
Download, install, and launch iPhone Cleaner on your computer.
Step 2.
Connect your iPhone to the computer using USB cable. You'll see a notice on your phone. Tap
Trust
and then enter the passcode. After that, your computer is trusted and you can continue the follow-up operation.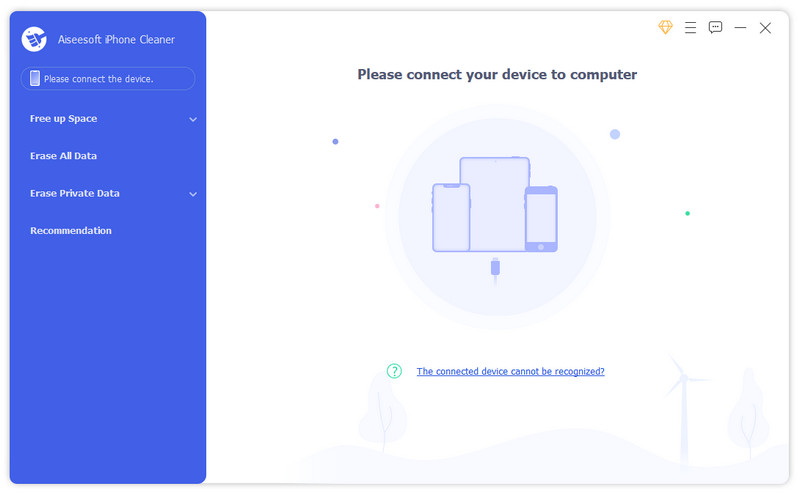 Notice that the latest iTunes is needed. You can install iTunes from Apple official website.
Step 3.
Choose
Free up Space
. Then click the
Quick Scan
button. You can see the junk files, applications, large files and photos that are taking up your iPhone space.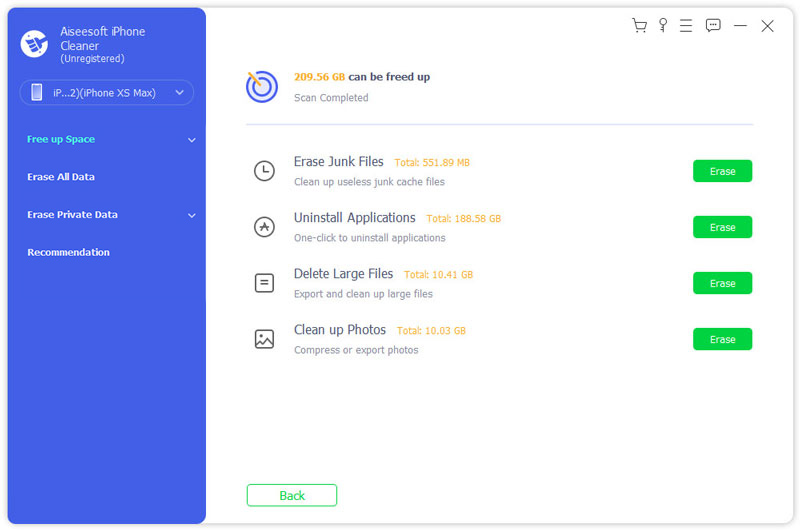 Step 4.
Click
Erase
behind
Erase Junk Files
. Here you can see the category of cache. You can check what you want to delete. Then click
Erase
to start freeing up your phone space.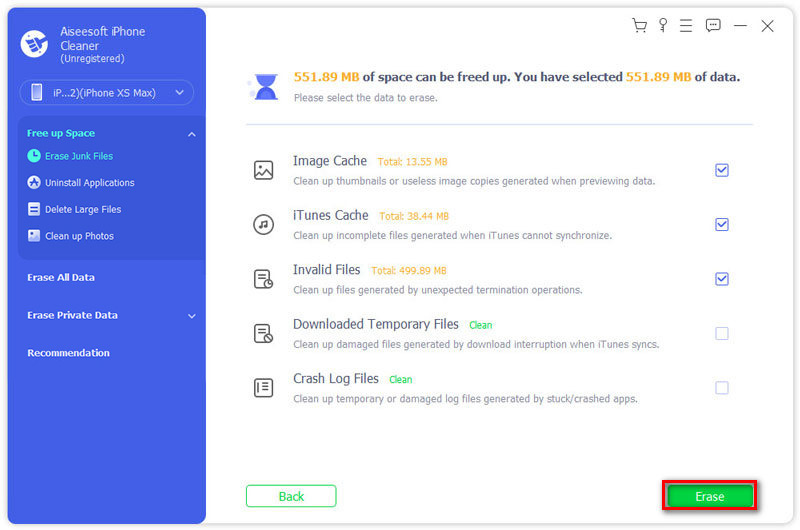 Step 5.
You can also choose
Delete Large Files
by clicking the
Arrow
icon from the drop-down menu. Then check the files you want to delete and click
Erase
.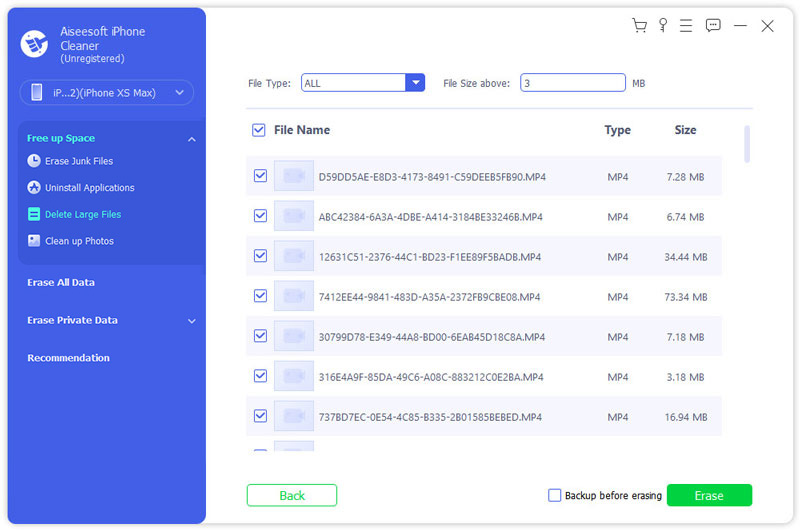 Besides, iPhone Cleaner can also show how much storage does iPhone have and backup important data.
Part 4. FAQs of Clearing TikTok Cache
1. What happens when you clear cache?
When you tap Clear Cache on TikTok, the app itself will delete the data of videos you've watched before automatically. You may also need to log in again.
2. If I clear my TikTok cache, will it delete drafts?
No. Cache means unimportant data. Clearing cache won't affect your normal use. Your drafts will be deleted only when you erase them manually.
3. How to clear TikTok cache on iPhone?
You can clear TikTok using the app itself. Besides, you can use iPhone Cleaner and iPhone Eraser to free up your phone space. They can also erase other junk files in your iPhone.
Conclusion
Clearing TikTok cache regularly is necessary, or it will slow down your phone. Actually, TikTok itself can clean the cache of its own. In addition, you can try third-party software like iPhone Cleaner to erase junk files from other apps and the cache will be eliminated permanently. After knowing about the two methods, you can choose the suitable one and try it yourself.

Leave your comment and join our discussion