How to Make a Sound on TikTok & Add It to a TikTok Video
Does TikTok have a recycle bin? If so, can I recover deleted drafts on TikTok? For the TikTok fanatics reading this article, you better read the information we recorded here. There are still hopes to recover it, and we list ways to do it effectively on your mobile devices.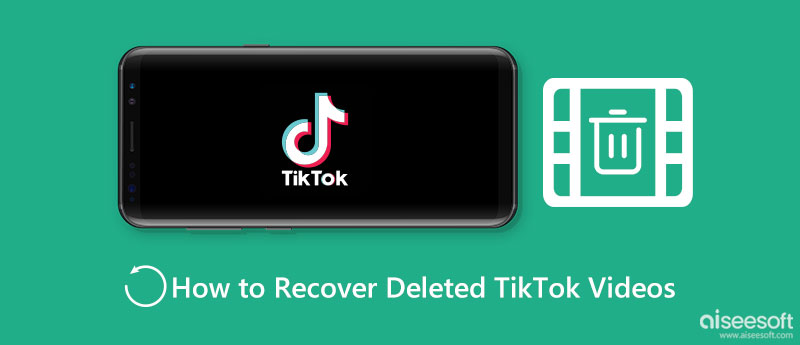 Part 1. Can I Recover Deleted TikTok Completely?
Yes, and it is possible to recover TikTok deleted videos. However, the app doesn't have a built-in feature that allows you to view or recover deleted videos on the app. You can recover it quickly using an application we included here. So choose which one you prefer the most below.
Part 2. How to Recover Your TikTok Draft Videos from the Gallery
How to recover deleted TikTok videos with ease? After you have filmed the video you want, the app allows you to download the final output on the gallery via activating it. If you delete the videos saved on your gallery, better check the recycle bin or recently delete them by following the steps below.
Step 1:
Open where the videos are saved from your device.
Step 2:
Now that you have opened the app tap the Trash on Android or Recover Files on iOS to see if the video is still on it. Sometimes, after 30 days, the video on them is automatically deleted, so if you ever accidentally forgot it for a month, use the application we added here.
Step 3:
Click the files you want to back and tap the
Restore
button to re-save the video files on your device.
Part 3. How to Recover Your Liked Videos on TikTok at Ease
How to recover deleted liked videos on TikTok? It is a method with limitations because you can't retrieve deleted private videos. But if you have posted it publicly, you can follow the next step below.
Step 1:
Now that you have opened the app click the
Me
icon.
Step 2:
Inside the profile, click the
heart
icon to view the videos you posted on TikTok.
Step 3:
After that, the videos that are deleted that have been posted will appear here, then tap it.
Step 4:
Tap the
three-dotted
icon on the right corner of your screen, and select
Save Video
to download it to your Album. In that way, the video that has been deleted is saved back into your device.
Part 4. How to Recover Deleted TikTok Videos with Video Recovery App [Android & iOS]
1. Aiseesoft Android Data Recovery
Aiseesoft Android Data Recovery is the best app to learn how to recover deleted videos on TikTok. It scans the device entirely to see the files you can recover on an Android device. If you are wondering if it is safe to use, then you can see that the app works best based on the steps we included; interested in how it works? You better use this app to start recovering files.
Step 1:
Download the application Aiseesoft developed to take a quick or hard scan on your device to recover the lost files on your Android.
Step 2:
After that, connect your Android to your PC via a USB cable; if the app recognizes your Android device, proceed to the next step. When debugging appears, select
open USB debugging mode
on your Android, then press
OK
.
Step 3:
Press
Android Data Recovery
and let the app scan your device to see what files it can retrieve.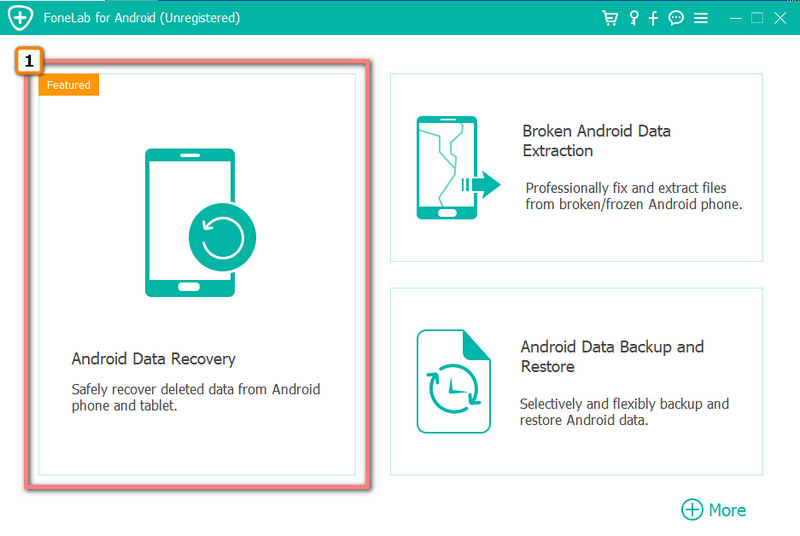 Step 4:
Tick the box of each file you want to recover and press
Next
to proceed.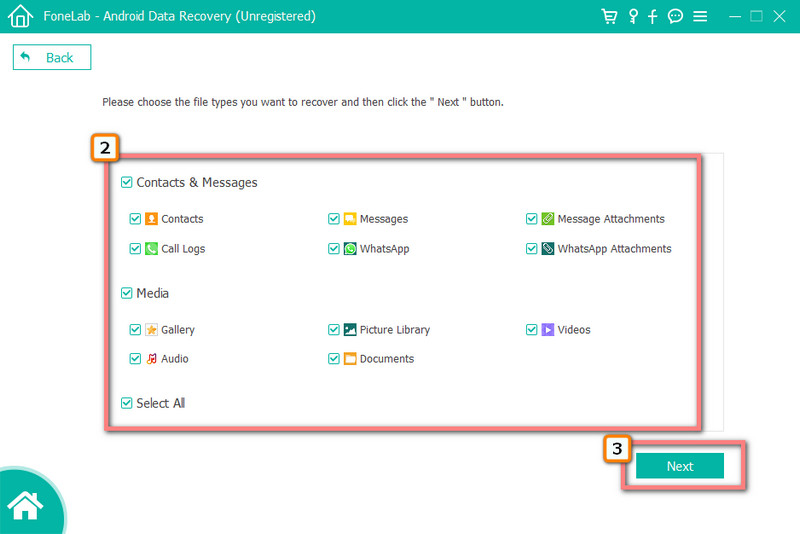 Step 5:
To recover the data on your device, better allow the app to download FoneGo. There is no need to worry because this app is secure, and its only purpose is to scan and recover data. As easy as that, you have now recovered the deleted files on Android with this.
2. Aiseesoft FoneLab iPhone Data Recovery
How to recover deleted TikTok videos on iPhone? If you can't find it in the Trash better use the Aiseesoft iPhone Data Recovery to see where the file is. Like the first one, this app is a reliable application that can perform scanning and data recovery only on iPhone. Aside from the TikTok videos, it can recover; you can also restore deleted text messages, contacts, notes, photos, and more. You can learn how this app works by reading the following steps below.
Step 1:
Install the iPhone data recovery on your Windows or Mac, then launch the app if you already have it.
Step 2:
After opening the app, choose to
Recover from iOS Device
, then connect your iPhone to the computer via a charging cable.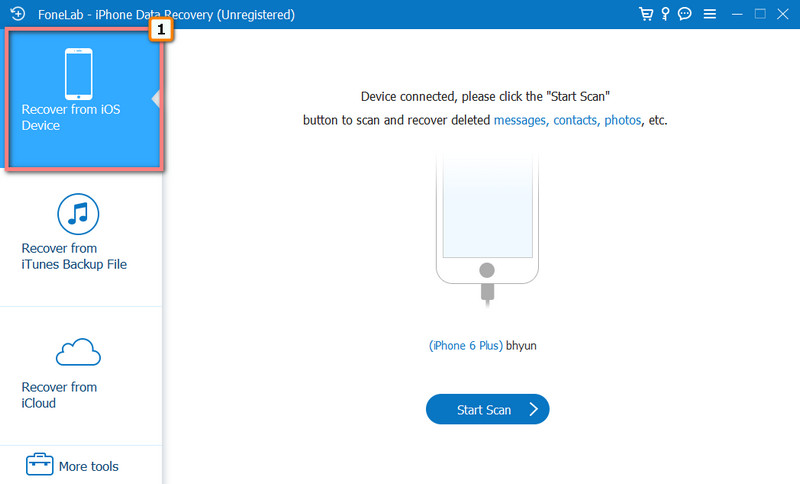 Step 3:
Now that it is completely connected, press
Start Scan
so the app will start looking for the data you can retrieve.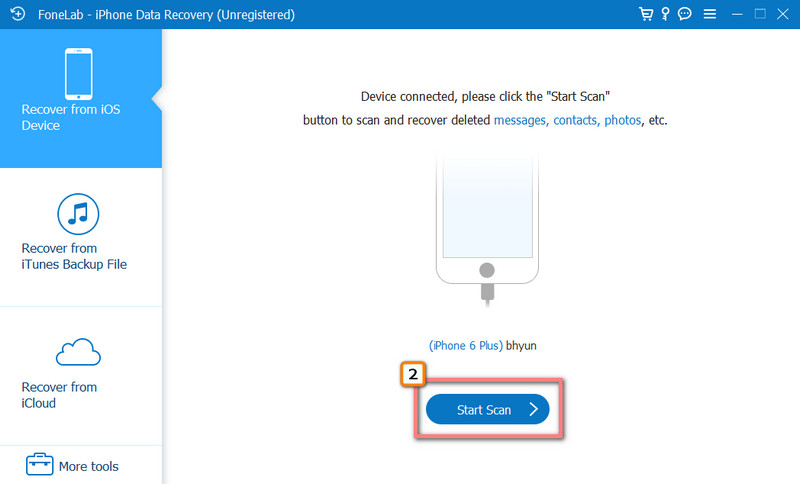 Step 4:
Select the files you want to recover and hit the
Recover
button to restore the files on your iOS devices.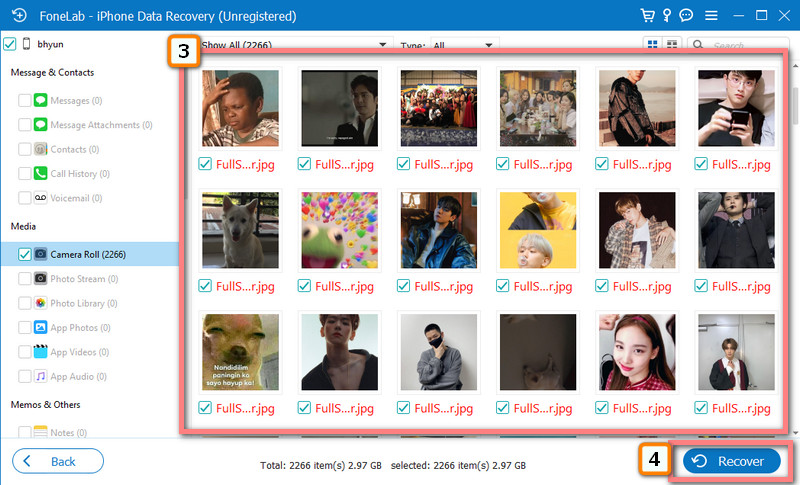 Part 5. FAQs on How to Recover Deleted Drafts on TikTok
How to recover deleted videos on Android?
You can simply use the Aiseesoft Data Recovery Android to restore the deleted videos on your Android. It is a great application that restores almost all of the deleted or lost data you haven't backed up on your Android devices, but you can find other alternatives that best suit your needs.
Why are TikTok drafts deleted?
TikTok videos aren't automatically saved on TikTok servers, and there are times that the TikTok drafts will be lost. So, if you don't want this to happen, you better post it on the platform and save them in your Gallery or Album to create a copy on your device.
Does TikTok attach a watermark on exported video?
Yes, TikTok does attach a watermark on the exported video, mainly if you export the video on the app. Though you can remove it using a watermark remover app, remember to choose the right one because some watermark remover leaves a smudge on the final product.
Conclusion
How to recover deleted drafts on TikTok? With the information in this article, learning and performing the task is a piece of cake for everyone. There are times that TikTok automatically removes the video on its server, and the only way to retrieve it is by following the steps included here. With the tutorial with the third-party app, you can recover lost videos on TikTok if you use Android and iPhone. If this article helped you figure out what to use or solve this problem, you could leave a comment below. Kindly give us five stars to show that you appreciate us as your helper on digital world problems.

Leave your comment and join our discussion