How to Transcribe Audio to Text with Best Audio to Text Converter
Transcribing audio to text is a time-wasting, boring part of most journalists' job, yet it is the best way to convert your recorded audio into highly accurate, readable text. By using your voice instead of your fingers to communicate important action items, interviews, and ideas, then transcribe audio to text, you'll save every single detail perfectly, as well as a ton of your personal time, health, and expended energy.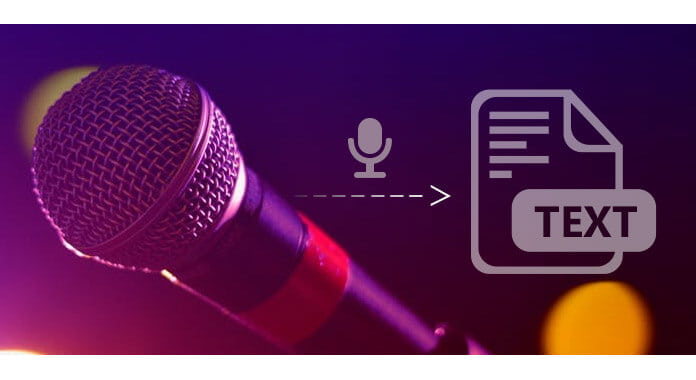 Audio to Text
So how to transcribe audio to text? At the moment there are three options available to convert audio to text. You can use online audio to text transcription service, or turn to audio to text transcribing company. In the following article, we'll go through these two methods, hope you can find one that suits you.
Method 1. Free transcribe audio to text with online service
Free transcribe audio to text with online service is one convenient way, this allows you to convert audio to text by yourself. Here we recommend a great online service called Transcribe. It looks to transcribe dedicate audio to text by keeping everything contained within the browser, no more switching back and forth between the audio player and the editor.
Step 1 Go to Transcribe.com or download the Chrome app, click the "Choose File" button to upload a MP3/WAV audio file.

Step 2 When you've selected a file, an audio player pops up at the top of the screen, which can then be controlled using the keys on your keyboard. There are only five keys you'll need to remember to control the player – and it's likely you'll only ever use two of them with any kind of regularity:
Esc: Pause/Resume
F1: Slow Down
F2: Speed Up
F3: Rewind 2 Seconds
F4: Fast-Forward 2 Seconds

Step 3 You type directly into the browser and, when you're done, you can copy/paste the text into WordPress, Word or wherever else you need to use it.
Method 2. Automatic audio to text transcription
If you have quite large audio files that needs to convert to text, you can choose to transcribe audio to text automatically, but keep in mind that auto transcription will not give you 100% accuracy. Here we recommend online transcription software, TranscribeMe!, which go beyond automated transcription to provide the world's most innovative platform for searching, editing and getting the most out of your audio and video content.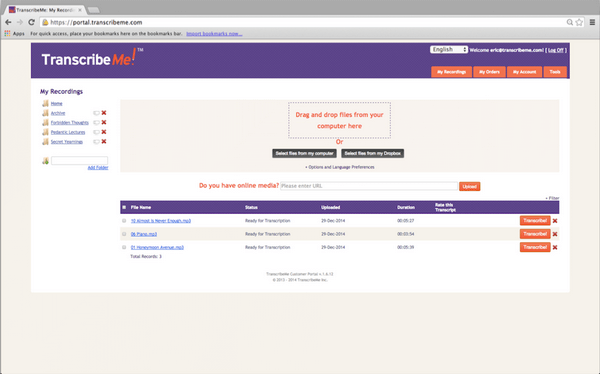 1. Log in to your account. You'll see the main homepage that allows you to upload audio/video content. You can also organize your content into folders, and download completed transcripts in a range of formats.
2. Upload your file by clicking the "Select files from my computer" button and choosing the file you wish to submit; you'll see a real-time upload status to see where your file is during the process.
3. Once the file is uploaded, order your transcript by clicking "Transcribe." This will take you to the Order Details page, showing you the total price and details that can be edited.
4. After verifying payment and other details, and confirming your order, you'll receive your finished transcripts within the time specified.
In this article, we have mainly introduced two methods to help you transcribe audio to text. You can choose to convert audio ot text by means of online audio to text playform, or you can choose to transcribe audio to text automatically. Still have more questions about audio to text? Feel free to leave your comments down below.