How to Transfer Clash Royale from Android Device to iPhone
More and more mobile game players are looking for a decent way to transfer Clash Royale from Android to iPhone or vice versa. However, Android and iOS are completely different operating system. Plus, they use various file system as well. In result, you have to install your game app again on the new device.
The problem is that you have to start from zero level and all items are gone. You may wonder whether you can keep playing your game on the other mobile device. The answer is yes and that is why we share this guide.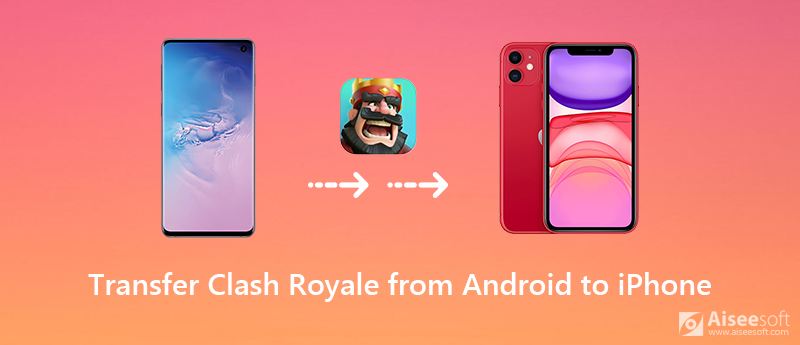 Part 1: Easiest Way to Transfer Clash Royale Data from Android to iPhone
It is easy to play and manage your mobile games on a single device. When it comes to migration crossing platforms, it is another story. It is well-known that iOS and Android are completely different systems. They are even using various file systems. Fortunately, Aiseesoft MobieSync can meet your need.
1. Transfer data of Clash Royale between Android and iPhone.
2. Transcode game data based on the target device automatically.
3. Support a wide range of data types including music, video, etc.
4. Work on almost all iPhone and Android devices on market.
In a word, MobieSync is the best option you can find to transfer Clash Royale data from Android to iPhone or vice versa.
How to Transfer Clash Royale Data from Android to iPhone
Step 1. Connect Android and iPhone
After you set up your new iPhone, download and install the best Clash Royale transfer program to your computer. Then connect both Android phone and iPhone to the same computer with USB cables.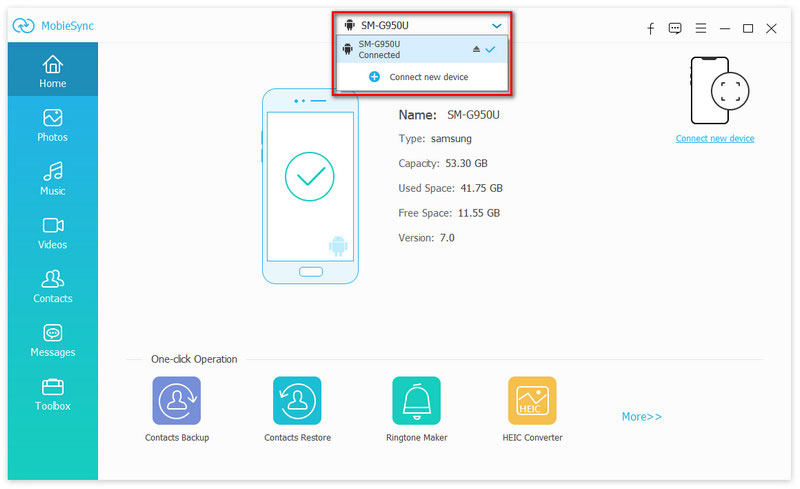 Enable USB Debugging mode on your Android phone and trust the computer on your iPhone.
Step 2. Preview game data on source device
Expand the drop-down list on the top of the window and select the source Android phone. It will scan all data on the device. When it is done, you can preview them by categories. To find the Clash Royale photos, for example, go to the Photos tab and browse them by albums and date.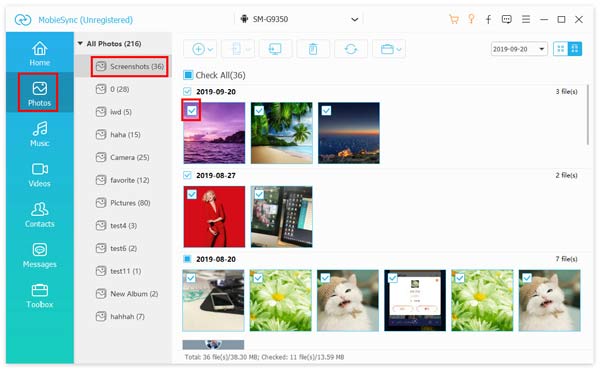 Step 3. Transfer Clash Royale data from Android to iPhone
Make sure to check all Clash Royale data you want to transfer to new iPhone. Then click the Phone icon at the top ribbon and select the target iPhone. A few minutes later, disconnect your devices after Clash Royale transfer. Now, you can access your game data on any device.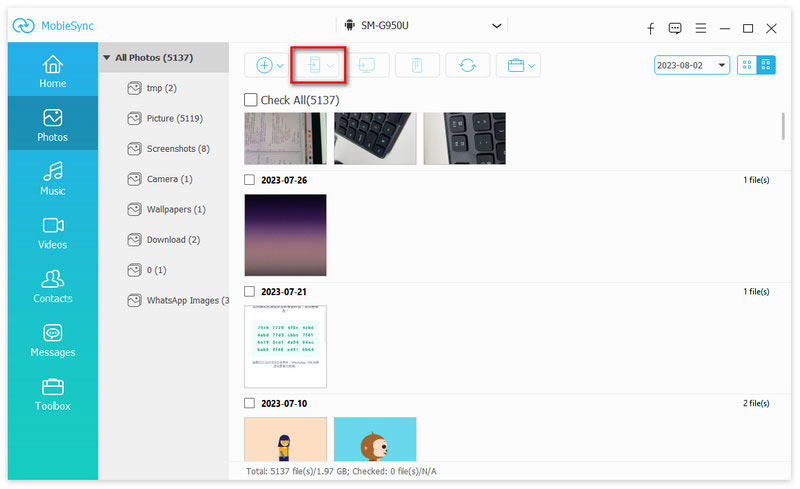 Note: You do not need to worry about the compatibility problem since the program is able to do data conversion spontaneously.
More tips on transferring apps from iPhone to iPhone, you can check this post.
Part 2: Transfer Clash Royale Account from Android to iPhone
Thanks to Google Game and Apple Game Center, you can transfer Clash Royale account between Android and iPhone quickly. It is a good idea to keep playing your favorite game on new device or crossing devices. However, many people still do not understand how to do it. Read the steps below and you will get it.
Step 1. First of all, make sure that you are using the correct Google Game and iOS Game Center ID of the current Clash Royal account. (Forget Google account? Recover it now.) Connect both Android phone and iPhone to a stable Wi-Fi network.
Step 2. Open the Clash Royale app on the source device, and tap the Settings icon to access the menu screen. Then tap Link Device and select This is the OLD DEVICE. You will be presented two options, Link to iPhone and Link to another device. Pick up the former to display the code.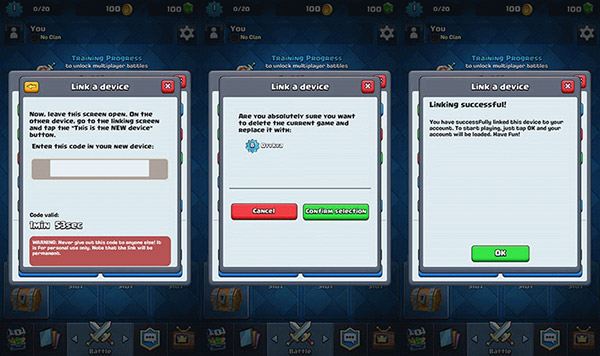 Step 3. Switch to the target device, your iPhone, and run the game app as well. Tap Settings icon, select Link Device, and then pick up This is the NEW DEVICE.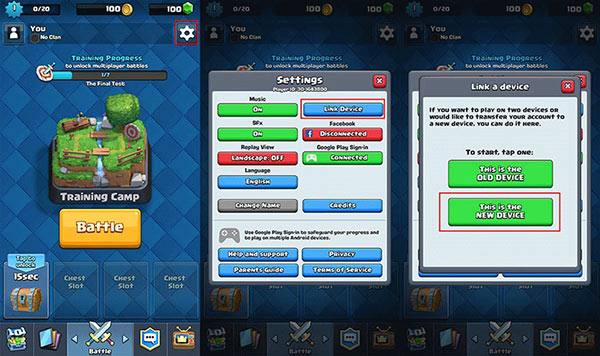 Step 4. When prompted, enter the code that you see on the Android screen. After that, the game will reload and you should see your Clash Royale account on the new device. All your progress will be synced as well.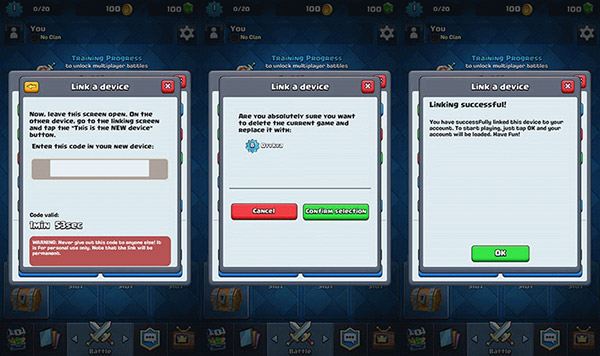 Note: This way can transfer your entire Clash Royale account, and all decks, clan and more from Android to iPhone. In fact, after linking your account using your Google ID or Apple ID, you are able to play Clash Royale on any iOS and Android device. In result, it lets you do more than just transfer your account.
You may need: How to transfer Clash Royale from iPhone to iPhone
Part 3: FAQ of Transferring Clash Royale
1. I do not receive any code but was asked to use the correct Google ID.
As mentioned previously, if you are not using the correct Google ID or Apple ID associated with Clash Royale, the process will fail. Go to the Settings screen in the game, tap Connected and check or correct your ID. Then transfer Clash Royale account from Android to iPhone again and it should work.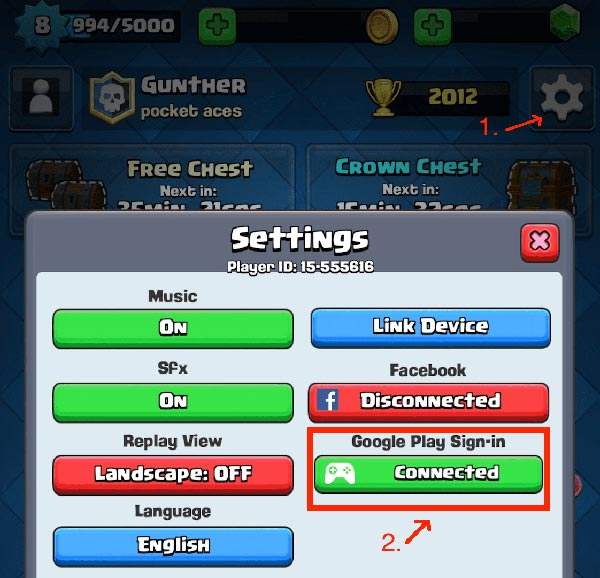 2. It said that I could only link once when I try to link my account.
Bear in mind that you can link your account just 1 time, so you should use it wisely. In fact, once your link your account to Google ID and Apple ID, you can use it on all Android and iOS devices associated with the same ID.
3. Can I transfer Clash Royale account to new iPhone after I lost my Android phone?
Thanks to Google Games, you do not use the Android phone to transfer Clash Royale. All you need to do is to sign in your Google Games and transfer it to another phone.
However, it is a bit complicated if your iPhone is lost or stolen. In such case, you have to contact Supercell, which is the developer of Clash Royale. Provide your username, Clan name, experience level, and your user ID. Chances are that Supercell is able to find and recover your account.
Conclusion
Now, you should understand how to transfer Clash Royale from Android to iPhone. First of all, the built-in link device feature allows you to sync account and progress between multiple mobile devices. However, it only offers one chance. Aiseesoft MobieSync, on the other hand, can help you to transfer Clash Royale data between any mobile device, from Android to iPhone or vice versa, without any limit. Plus, we also answered several commonly asked questions related to the task. If you encounter other troubles when transferring Clash Royale, feel free to leave your message below and we will rely it as soon as possible.