All Things You Should Know to Upload A Mixtape on Datpiff
Datpiff is an online distribution platform that specializes in hip-hop, rap, and urban music. It's the authority in free mixtapes. It allows you to upload your mixtapes and videos which can help you spread your music and reach more fans. So it would be artists' top priority to upload their mixtapes on Datpiff.

Part 1: Steps to upload mixtape on Datpiff
Posting a mixtape on Datpiff is much simpler years ago. All you had to do is creating an account and starting uploading. But now things have been changed. Datpiff now has paid more attention to release more "exclusive" mixtapes from mainstream artists in order to improve its brand. So now if you want to upload mixtapes on Datpiff as a new user, it will take much time than before.
Step 1 Create an account or sign in
If you are a new user, you need to create an account at first. If you already have an account, you might already have the "upload permissions" on your account (This depends on how old your account is). If you have Datpiff's account for a long time, you are still able to upload mixtapes to Datpiff despite its changes. So if you are a new user, please keep reading.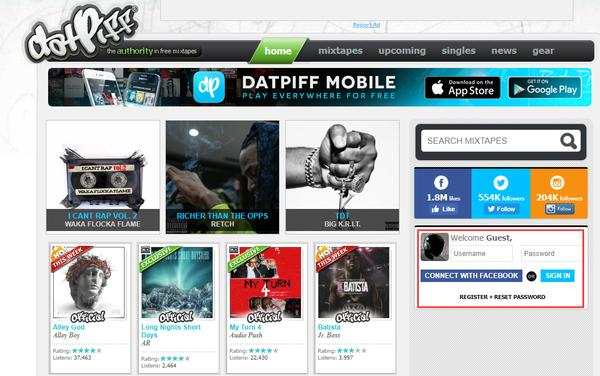 Step 2 Go to "My Files"
After creating your account, go to My Account > My Files.
Step 3 Go to the "applications" Tab
There are 3 tabs under "My Files": mixtapes, videos, and application.
You should click the "application" button to apply for "upload permissions".
Step 4 Complete the application form and wait
You may be required to fill out a short form letting Datpiff know who you are. This will help Datpiff filter out spam and illegal uploads.
Step 5 Follow up via email every 7-14 days
Wait for the feedback from Datpiff within a few hours (business days). If you didn't hear from Datpiff within 7-14 days, you can write a professional and friendly email to them to ask for an update about your upload application. Keep in mind that your email should be formal, don't use text-message language such as "U" instead of "You", "Wanna" instead of "Want to", etc.
Step 6 Once approved, go back to "My Files"
Step 7 Start to upload your mixtapes
Click on "mixtapes" under "My Files", this is where you start the process of uploading mixtape on Datpiff. Fill out all of the information about your mixtape and then proceed to the next screen.
Step 8 Upload your mixtape
You have to upload your mixtape in MP3 format and with a zip file. Datpiff does not accept mixtapes in any other format but MP3. Note that each song should be uploaded individually and after it's uploaded, you are able to re-arrange them in the order you like.
Step 9 Preview your mixtape
You can preview your mixtapes after all the information is filled out and all of your MP3 to make sure that everything looks legit (mixtape info, cover, music, etc..).
Step 10 Submit it
After all information has been confirmed, click the "Submit" button to upload your mixtape to Datpiff. Your mixtape will be uploaded on the site in minutes.
Part 2: How to change your mixtape to MP3 format before uploading it to Datpiff?
Since you can only post mixtape to Datpiff in MP3 format, you have to change the mixtape format to MP3 before uploading it if it's in other format.
Aiseesoft Video Converter Ultimate can do you a great favor in this case. It is a powerful all-in-one audio/video converter and editor. Check its main features as below.
Convert audio file

This audio converter enables you to convert any audio files to MP3 format or other formats with ease. Therefore you can convert your mixtapes in other audio formats to MP3 before uploading them to Datpiff, or convert the downloaded music on Datpiff from MP3 format to other audio formats for portable devices. Aiseesoft Video Converter Ultimate offers many default output settings for iPhone/iPad/iPod/Apple TV, Android devices, Samsung devices and other popular devices.

Convert video and home-made DVD to GIF/video/audio.

Aiseesoft Video Converter supports more than 1000 video and audio formats. It even supports 4K/3D video.

It provides powerful video editing effects.
You are able to enhance video quality, brightness and remove video noise etc.
Steps to convert your mixtape to MP3 format
Step 1 Download and launch Aiseesoft Video Converter.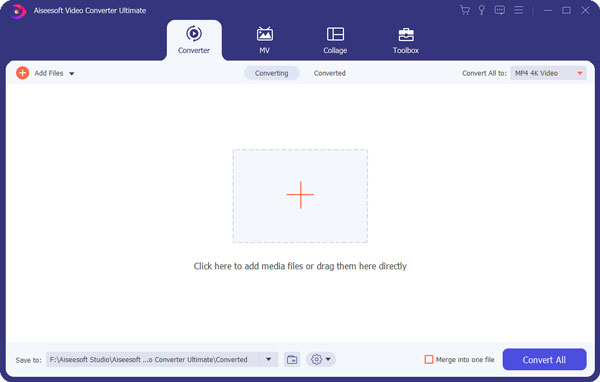 Step 2 Click "Add File" button to import your mixtape file.
Step 3 Set MP3 as the output format.
Click "Profile" button at the bottom of the interface to choose MP3 as the output format.
Step 4 Start conversion without any quality loss
If you are ready, now you can click the "Convert" button at the bottom right corner to convert your mixtape to MP3 format.
Finally you can compress the mixtape in MP3 format and upload it to Datpiff easily.
Now you have learned all the knowledge you need to know to upload your mixtape on Datpiff. Give it a try!