Best Samsung Music Players for Both Android and PC
Nietzsche once said, "Nothing is worth living for without music." Music is one of the most magic languages in the world, which enables people to resonate with others in different culture. Therefore, it's necessary and important to get a good music player which can meet all your needs of listening to music. Here we will recommend 5 best Samsung music players, in addition to Samsung default music app, to all Samsung users.

Samsung Music Players
Part 1. How to use the Default Samsung Music Player
I think all Samsung users will be very familiar with Samsung default music player and know how to use it to enjoy the music you like. So here we will introduce how to use Samsung default music player simply.
1. Find the Music player app on your home screen and tap on it.
2. When you are in the music player, you can choose the song you like and play it. You can use the Search function on the top to search a certain song you want to play or choose a song from the audio files in your files and it will be automatically played.
There are also many options available for you to control the music.
1. Tap on the Pause/Play option to pause a song.
2. Tap the left/right arrow to switch to the previous/next song.
3. You can tap the shuffle icon to play the music in the playlist randomly.
4. Tap the repeat icon to repeat one or repeat all songs.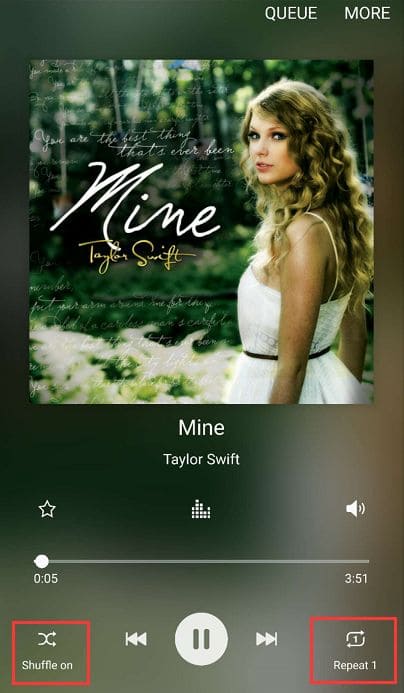 5. To adjust the volume, you can press the Volume Up or Volume Down button on the left side of the phone.
Part 2. Google Play Music
Samsung announced that Google's music app will become its default music player on Samsung mobile devices, coinciding with the retail launch of Samsung S8. But actually Google Play Music has been the default music playback app on Samsung Galaxy S7. The main feature of Google Play Music which is different from Samsung default music player lies in that, Samsung users can upload their music to the service's cloud locker. Samsung S8 users can upload up to 100,000 tracks to Google Play Music, and other Google Play Music users are able to upload 50,000 tracks for free. You are able to listen to music on different devices, such as Samsung phone or computer or iOS devices anytime and anywhere, when you are signed in to the account you used in Google Play Music.
Part 3. Alternative Samsung Music Players
1. Poweramp Music Player
Poweramp is a powerful music player for Android. It has all the standard features you expect in a music player.
It supports various audio formats like MP3, MP4/M4A (incl. alac), OGG, WMA, FLAC, WAV, APE, WV, TTA, MPC, AIFF. And the 10 band optimized graphical equalizer works for all supported formats. It is equipped with separate powerful Bass and Treble adjustment feature, which provides you with a high-quality music listening experience.
Price: Free trial version and paid version ($3.99) both available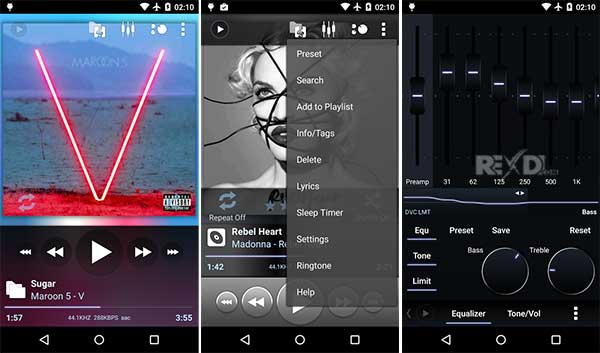 2. Player Pro Music Player
Player Pro Music Player is an advanced music and video player for Samsung devices. It has a beautiful, fast and intuitive interface, along with powerful audio configuration options. There are also several free plugins available: Skins, DSP Pack, etc.
Key features:
Browse and play your music by albums, artists, composers, genres, songs, playlists, folders, and album artists.
Single and group Tag editing: You can edit title, album, artist, album artist, composer, track, year, genre, lyrics, comment as you like.
The ability to view and edit the lyrics embedded in the ID3 tags of your music files is also a great plus.
The Shake it feature is interesting and different from the common way to switch a song. For example, you can shake your Samsung phone from top to bottom or bottom to top to play the next/previous song.
Price: Free version and paid version ($3.95) both available.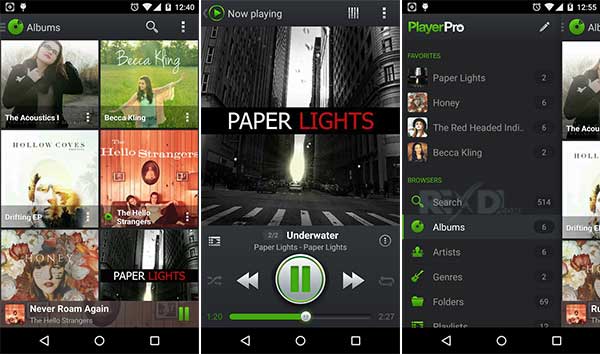 3. Rocket Music Player
Rocket Music Player is an all-in-one Samsung music player and podcast, rather than a simple MP3 player. It supports many audio formats(.wav, .ogg, .mp3, .3gp, .mp4, .m4a, .alac, .tta, .ape, .mpc, .wav, .flac, .wv and .wma) with 10 band graphic equalizer and over 30 themes. If you subscribe to its cloud features, you are able to backup and restore playlist between devices. Rocket Music Player is one of the best Samsung MP3 music players for you to choose.
Price: Free version and paid version ($4.0) both available.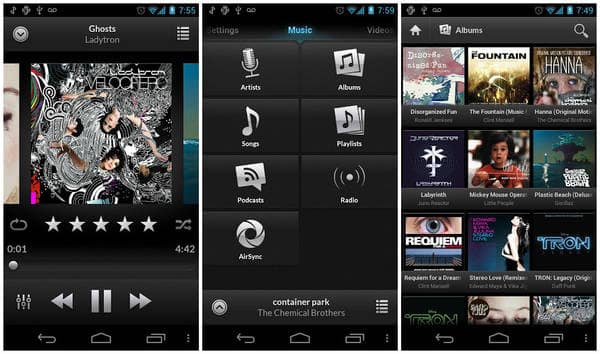 Part 4. Samsung Music Player for PC
4. Aiseesoft Free Media Player
If you are a Samsung notebook or tablet user, you may also need a good Samsung MP3 music player which is compatible with your windows system.
Aiseesoft Free Media Player is one of the best free all-in-one media players. It allows you to enjoy any audio/movie/video files smoothly with lossless audio/video effect. If you are looking for a totally free and powerful music player for your Samsung notebook, it will be a good option.
Price: Free
Features:
It supports DTS-HD and Dolby TrueHD audio, as for video resolutions, it supports up to 4K from 1080p HD.
Various audio formats (MP3, FLAC, AAC, WAV, OGG, ALAC, AIFF, and more) and video formats (MP4, AVI, MKV, FLV, MOV, WMV, 3GP, MXF, etc.) are supported.
You are able to listen to any songs and audio books you bought or downloaded on your computer with this free Samsung MP3 music player.
5. Cross Platform Samsung Music Players
When people changed their smart phones from iPhone to Samsung, they will need a cross platform music player which can sync their favorite music from iPhone to Samsung and other devices.
What's more, if you want to listen to all the music in your Samsung phone when you are using your computer, a cross platform music player is necessary.
The two Samsung music players mentioned in part 3 (Poweramp Music Player and Rocket Music Player) are also cross platform music players and both have corresponding desktop apps for Windows system.
Here we will also recommend another functional cross platform music player, MediaMonkey.
MeidaMonkey is a heavyweight tool that can cope with any files format you have. It can handle collections containing thousands of videos and audio tracks easily.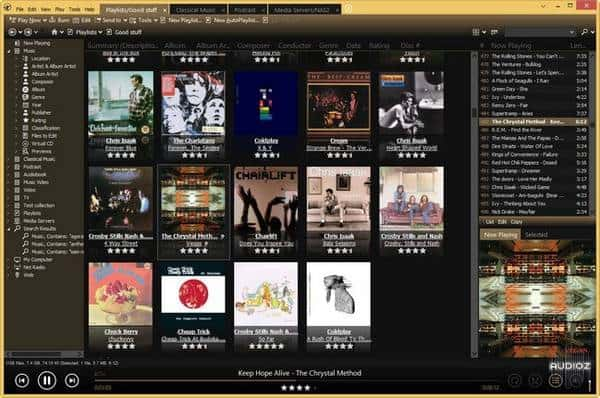 Features:
Automatically lookup and intuitively tag album art, lyrics and other metadata.
You are able to sync your music among Android, iPhone, iPod, iPad & other devices easily and quickly with this cross platform Samsung music player.
It enables you to convert MP3s, M4A, OGG, FLAC, WMA, MP4, AVI, and WMV audio formats to support most devices.
All the Samsung music players mentioned above have a free version for a trial. You can try them one by one to pick the most suitable one for yourself. Leave a comment below if you have any good recommendation.