Do Video Stitch on Windows, Mac, iPhone and Android
The 360 degrees video and VR video are the most advanced technology recently. As YouTube and Facebook released channels for 360 degrees videos, people can share their masterpieces with friends and followers. And that stimulates many young people's ideas of making 360-degree videos by themselves. However, professional 360 degrees cameras are too expensive. The alternative solution is to stitch standard videos captured by smartphones or digital cameras and make a 360 degrees video. In such cases, all you need is excellent video stitching software. To help you make professional looking 360-degree videos, we will show you how to do video stitching on Windows, Mac, iPhone and Android in this tutorial.

Video Stitch
Part 1. How to do video stitch using After Effects
After Effects is a professional video editor developed by Adobe. It integrated almost all video-editing features. Moreover, there are a lot of plugins available to After Effects. This plugin allows people to edit and export real 360 videos by stitching video footages. Before posting the result on YouTube, you can view the 360-degree video from different perspective within After Effects, including Equirectangular Map, Cube Map and Sphere Map. Anyway, if you are ready, let's start stitching videos right now.
Step 1 Preparations for stitching videos
Make sure you have installed Adobe After Effects and Skybox Studio plugin on your computer. They are available to both Windows and Mac OS. Transfer the videos you want to stitch to your computer too.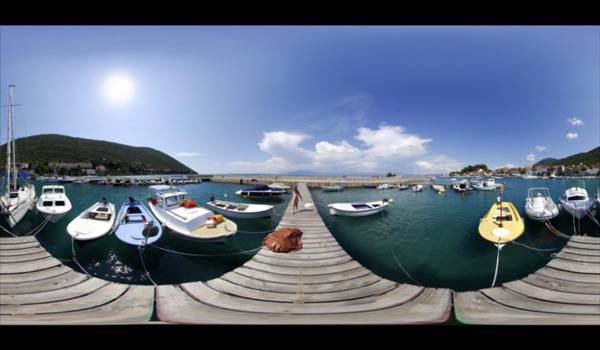 Step 2 Stitch videos to create a 360 video
Launch After Effects, create a new project and import the videos into the project panel. Open the "Skybox Extractor" window and click "Extract Skybox" button to activate the video stitching feature. Then Skybox Studio will recognize and stitch the raw videos into four compositions automatically.
The Skybox Footage is used to organize the video footages into 360 degrees perspective. And then you can edit the 360 video in Skybox Edit. Before saving the result, Skybox Preview allows you to preview and navigate the 360 degrees video within After Effects. If you are satisfied with the resulting 360 video, Skybox Output is able to help you render the 360 video finally.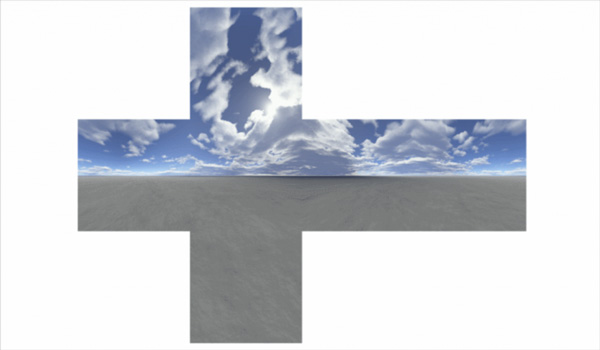 Step 3 Share the 360 video to YouTube 360
No matter view 360 video on computer or share it to YouTube 360, you will need dedicated tools. Google's 360 Video Metadata Tool, for example, is used to share 360-degree videos on YouTube. Open the stitched video in Metadata tool and click Inject button to complete sharing.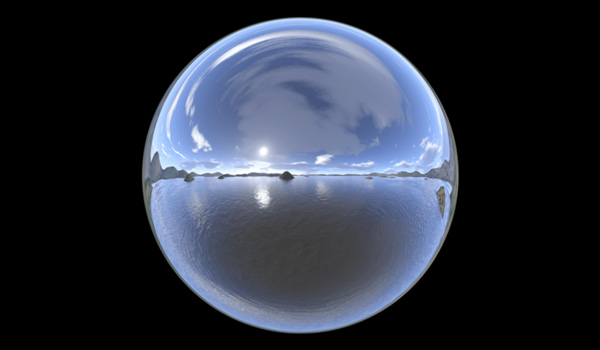 Best video editor you may want to know:
Aiseesoft Video Converter Ultimate
For Mac
Aiseesoft Video Converter Ultimate is the professional video converting and editing software which enables you to edit video, adjust output effects, enhance video quality, convert video/audio formats and more.
Powerful editing features. Rotate/clip/merge/crop video, adjust output video effects, and add personal image or text watermark.
Support over 1000 formats converting, including MOV, MP4, AVI, WMV, FLV, MKV, and more.
Support 1080p HD/4K UHD video downloads and conversion from YouTube.
Enhance video quality and add more video/audio effects, including 3D.
Add new subtitle/audio track to video, remove original audio track.
Support any popular video and audio format, Windows/Mac version, iOS/Android device.
Part 2. How to stitch videos with Kolor Autopano
Kolor Autopano Video is another video stitching application, which was developed by GoPro. And we will tell you how to use it to stitch videos.
Step 1 Drag and drop your videos into the video stitching software. If you use advanced cameras, such as GoPro Omni, the software will synchronize the video footages.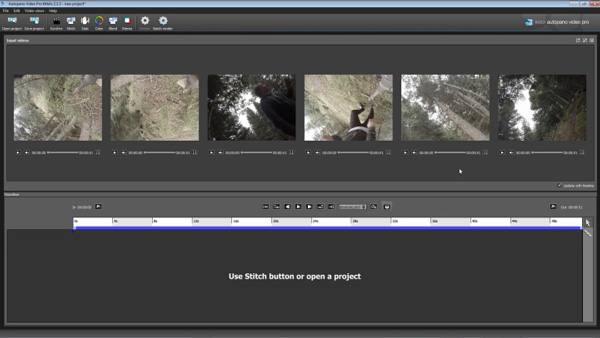 Step 2 To stitch video footages, click the "Stitch" tab, locate to the camera pre-sets and select your camera. Once click the "Stitch" button, the video stitching software will process and stitch videos together and create an equirectangular scene.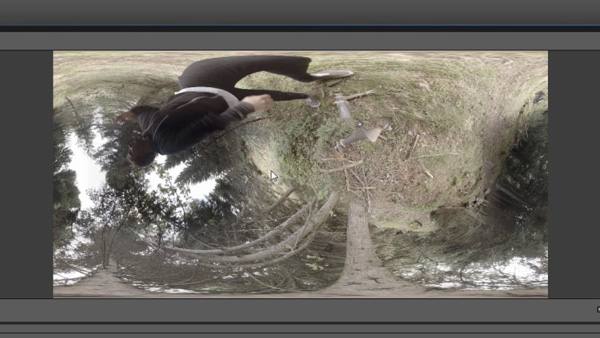 Step 3 After video stitching, you can make some fine-tuning adjustments, like orientation, color and more. More importantly, you need to set a default field on the video for the viewers when they start up your 360 video. Then click "Apply" button to do preliminary render.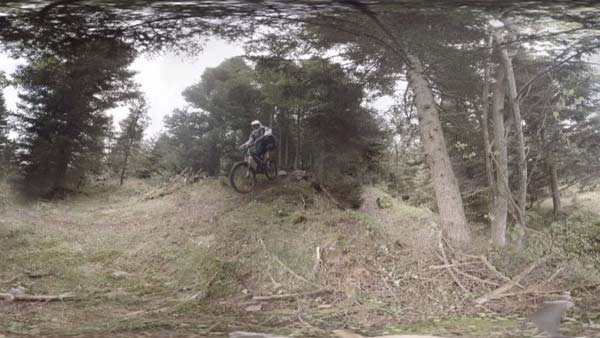 Step 4 When it is done, you can take a close look and start enhancing the result. Go to the "Stabilization" tab and click "Stabilization" button to de-shake you homemade video. Next, go to the "Color" tab. Here you can adjust exposure and other parameters.
Step 5 Finally, go the "Render" tab. You can change the profile settings, such as output type, bit rate and more, or leave them default. Name your project and click "Render" to export the stitched video to your computer.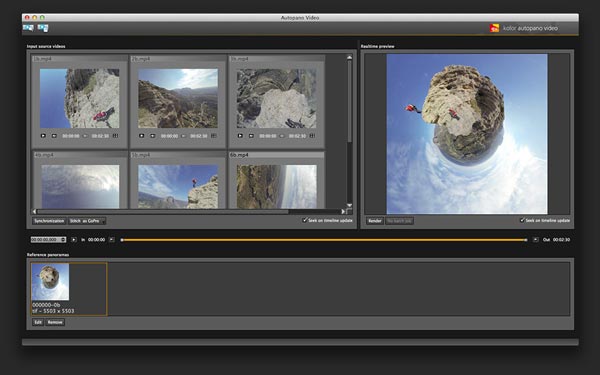 Part 3. How to do video stitching on iPhone
Though it is not convenient to edit videos on mobile devices, the advanced camera technology makes iPhone a popular tool to make 360 experiences by video stitching. There are several video stitching apps available to iPhone, such as Splash, 360 Panorama and Photo Sphere. In this part, we will show you how to stitch videos on iPhone using Splash.
Step 1 Start the Splash app from your home screen. Tap on the "green video camera" icon to turn on the video footage stitching mode.
Step 2 Place your iPhone at the starting position, press and hold the "shutter" button to start capture the video in one direction. Then rotate your phone to the right, left, up or down to capture footage in different orientation.
Step 3 When it is done, tap the round "shutter" button again to stop recording. Splash will stitch videos and create a 360 experience on iPhone automatically.
Step 4 If you want to view the stitched video, you can back to the interface and open the last video file with in Splash.
Note: Splash automatic stitch videos captured in different orientations. Though it is not perfect, this video stitching app is rather easy to use.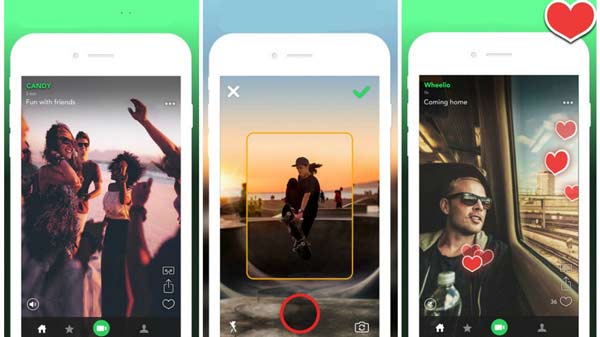 Part 4. How to stitch videos on Android
When it comes to Android devices, you will discover that there are not many options to stitch videos. V360 is a mobile video editor for Android specifically for stitching videos and making 360 videos.
Step 1 Open V360 app and tap the Plus icon to add videos to stitch from your photo gallery. After videos imported, you can arrange them by drag-and-drop or preview any one by tap the "Play" icon.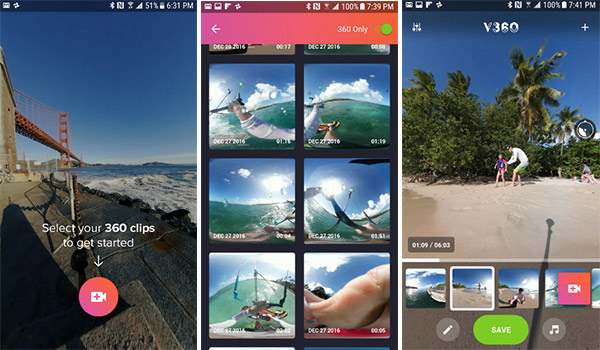 Step 2 You can also touch the "Select music" icon to add music on the 360 degrees video. Duplicate the video clips in order to make a 360 video file, or automatically trim the video files.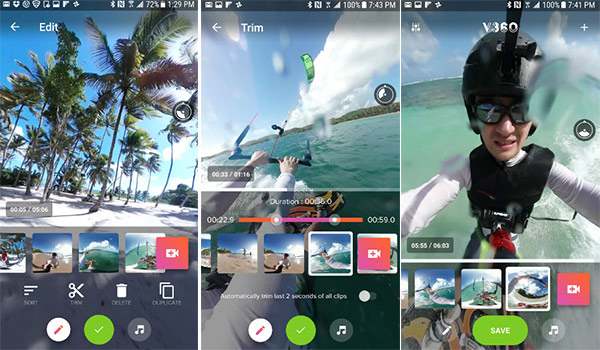 Step 3 If you are ready, tap "Save" button to render and stitch videos on you Android phone. Then you can post the 360 video to your YouTube account.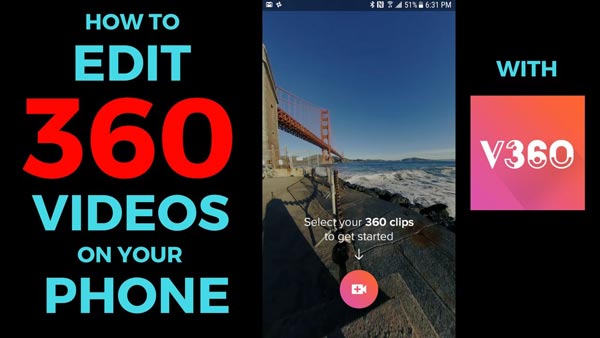 Conclusion
In this tutorial, we have told you how to do video stitching on Windows, Mac, Android and iPhone. Thought there are a lot of video editors on market, only a few have the ability to stitch video footages due to creating 360 videos is still a new technology. After Effects and Skybox Studio plugin are powerful on stitching videos for professionals. And Kolor Autopano Video is an easy way to do video stitch on both Windows and Mac. On the other hand, there are several video stitching apps available to iPhone and Android. You can pick your favorite tool and follow our guides to convert your creative to real 360 videos at any time.