How to Cut/Trim Video on Windows PC, Mac, Android Phone and iPhone
To refine and streamline your video, you can perform any number of cut edits as well as trim both the original in and out of points of the video. After cutting video, you can decide to display and arrange the cut sections or clips as you wish. That sounds amazing, right? Cutting video is a very useful skill. For example, a shortened video can be uploaded to social media faster. Moreover, all social networks have limitations on video file size. Instagram, for instance, allows users to upload a 60-second video no more than 15MB. Therefore, we are going to show you how to cut video or trim video on computer and mobile phone easily.

Trim Video
Part 1. How do I trim a video on my computer
Though there are many video cutting programs on market, only a few of them are easy to use. Aiseesoft Video Editor is one of the best video editors that offer excellent video cutting feature. More importantly, it is rather easy to use, especially for beginners.
Step 1 Install the best video trimming tool
Get Aiseesoft Video Editor installed on your computer and start it when you need to trim videos. Select "Advanced Clip" option to open the corresponding window.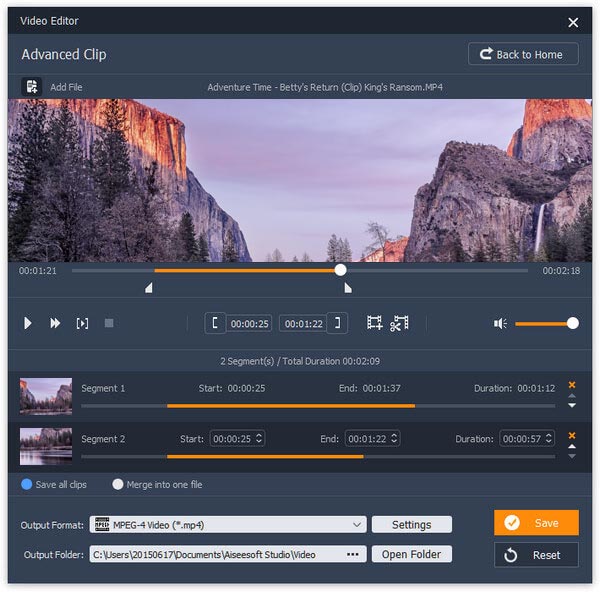 Step 2 Trim video in one click
Hit "Add File" to import the video you want to shorten onto the timeline. Move the sliders to select a video clip and click the Trim icon, the video clip will appear on a separate track. If you want to cut another clip, press the "Add Track" and repeat the operation.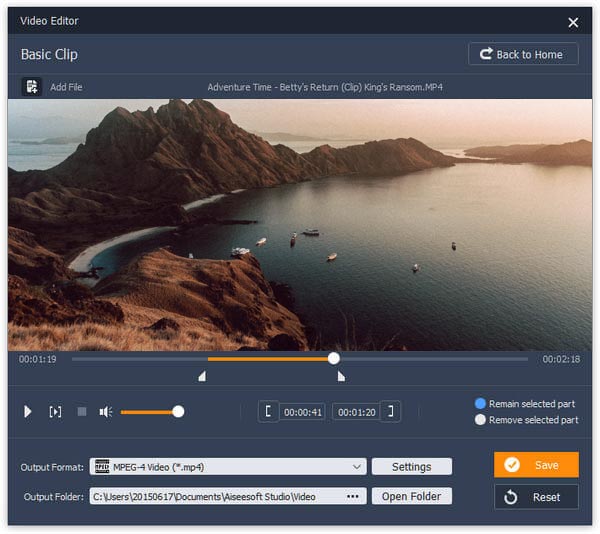 Step 3 Save the trimmed video clips
When it is done, select "Save all clips" to save video clips separately, or merge the video clips by selecting "Merge into one file". Drop a path in "Output Folder" box and click "Save" button to complete the process.

Part 2. How to cut video on Android and iPhone
Though it is not convenient to edit videos on mobile phone, the simple operations, such as cutting videos, are available.
Cut video on iPhone
To cut videos on iPhone, you even do not need to install any app since the Photos app has such ability.
Step 1 Open your Photos app and select the video to shorten. Then tap the Edit icon on top of the screen marked three horizontal lines.
Step 2 On the timeline, you can see a slider on each end of the video. Drag the sliders left or right to cut video as you wish.
Step 3 After get the desired video clip, tap on "Done" at the bottom right corner of the screen. Then decide to overwrite the original video by tapping "Trim Original" or tap "Save as New Clip" to create a new file.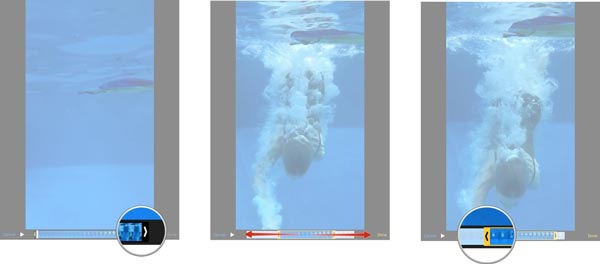 Trim video on Android
Similar to iPhone, Android's Gallery integrates the video trimming feature as well.
Step 1 Open the video you'd like to trim in the Gallery app, but not play it.
Step 2 Tap the "Menu" icon and find out the "Trim" option. Then put the markers to the desired starting and ending points.
Step 3 When it is complete, tap "Done" to save the shortened video clip to your Gallery.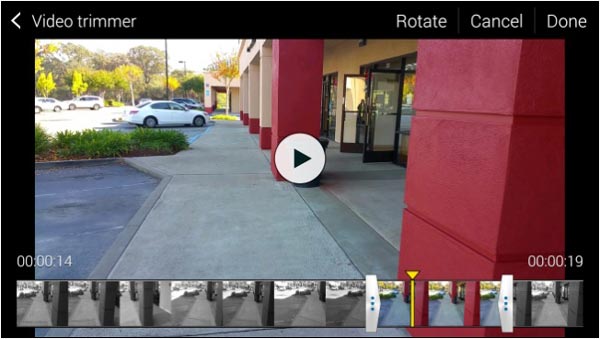 Part 3. How to cut video online
There are several online video cutting apps. Their usages are similar and we use Aconvert as the example to show you how to cut video online.
Step 1 Visit www.aconvert.com/video/split/ in your browser and then upload a video from your computer or URL.
Step 2 Set the "Start position" and "Duration" based on your demands.
Step 3 Click "Submit" to start cutting video and then download the video clip to hard disk.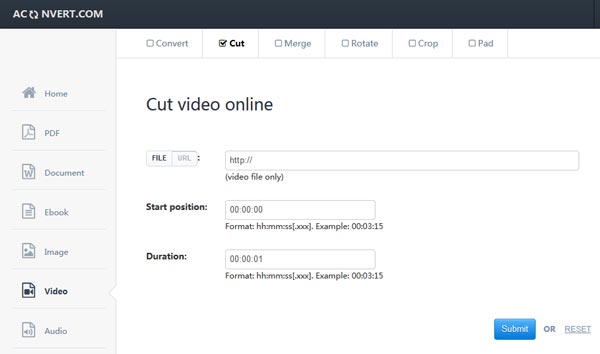 Part 4. Video splitter software
In this part, we will show you how to cut video with famous video splitter software.
How to cut video with VLC
Step 1 Start VLC, unfold the "View" menu and pick "Advanced Controls" to display more tools.
Step 2 Open the video to cut and use the button titled "AB" to mark the starting and ending points.
Step 3 Click the "Record" button to capture the shortened video clip. When it is done, the video clip will be stored to your video library automatically.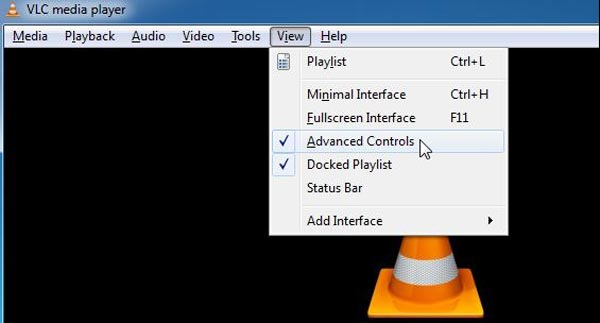 How to trim video in iMovie
Step 1 Put the video you want to shorten onto the timeline in iMovie.
Step 2 Drag the edges of the video toward its center to shorten the video and remove unwanted part. To trim video accurately, double click the edge of a video clip to display the "Precision Editor'. Or you can select and trim unwanted frames using the "Trim Selection" feature in the shortcut menu.
Step 3 Finally, click "Share" and then hit "Export Movie" to save the video clip.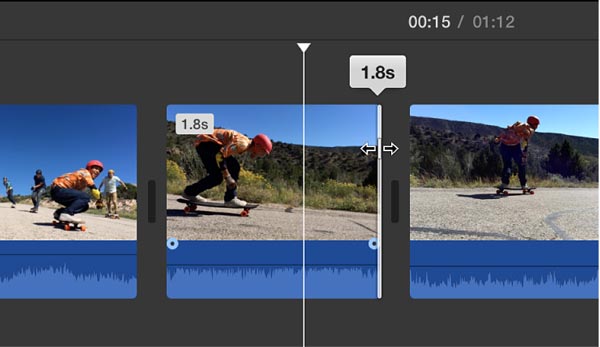 How to trim video via Windows Movie Maker
Step 1 Start Windows Movie Maker and click "Add Videos and Photos" to add the video you want to shorten into the video editor.
Step 2 After WMM analyzed the video, it will be displayed on timeline frame by frame. Select your desired starting point on the timeline, right click and pick "Set Start Point" option. Then set the end point using the "Set End Point" option.
Step 3 Preview the shortened video clip in the built-in player and then click "Save Movie" to export it to hard drive.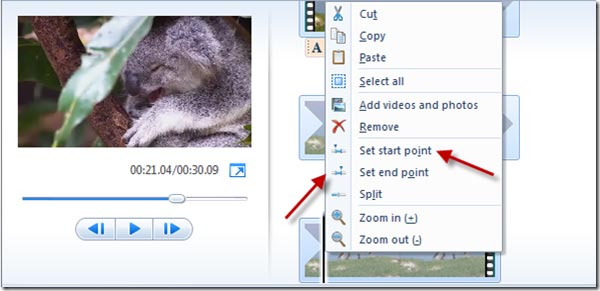 How to shorten videos in After Effects
Step 1 Open After Effects on your computer and create a new composition from the main menu. Then import the video to shorten and put it on the timeline.
Step 2 Place the red vertical line to the starting point and use the "Split Layer" tool in "Edit" menu to trim video clip. Repeat the operation on the end point. Then select unwanted part and click the "Delete" key to remove it.
Step 3 To save the result, go to "File" > "Export" and select "Add to Render Queue". Then follow the onscreen instructions to save the short video clip.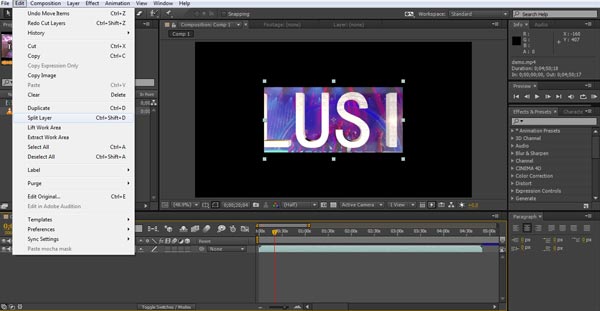 Conclusion
In the tutorial above, we have shared many simple ways to cut video on computers and smartphones. Professional video editors, such as Adobe Affect Effects and iMovie, of course have the video split feature, though the workflows are a little complex. And you can use the Photos app or Gallery app to shorten videos on iPhone or Android phone. But if you need a simple tool to cut or trim video, Aiseesoft Video Editor is a good choice. It is not only easy to use, but also able to produce better output quality.