Splice Video Editor Review: Features, Pros, Cons, and Full Guide
If you are a video enthusiast, you must have heard of GoPro or had the latest version of motion camera. As a famous motion camera manufacture, GoPro also developed several video editing applications, such as Splice Video Editor Free. But many people are still not familiar with this video editor. What it can do? Is it worth to use? Is it only for GoPro customers? How to use it? There are many questions about Splice Video Editor Free.
In this post, we are going to answer these questions and introduce this video editor app in details. Moreover, you can learn about the best Splice Video Editor alternatives to Android devices.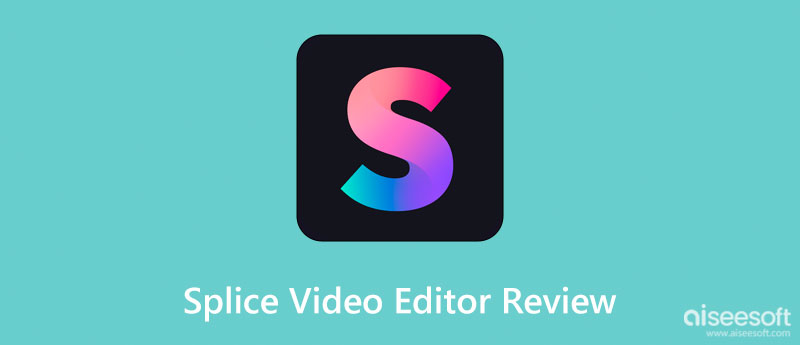 Part 1. Splice Video Editor Review
What is Splice Video Editor Free
Splice Video Editor is the movie maker and video editor by GoPro. Its key features include:
Provide basic video editing tools, like trim, cut, rotate or crop videos.
Use transitions to make the movie playback smoothly.
Apply filters and adjust background color to create special video effects.
Adjust video speed to create faster or slower motion.
Integrate a wide range of free music and sound effects to make you videos attractive.
Save the movies in up to HD 1080p.
Share your videos to YouTube, Instagram, Facebook, Vimeo or email.
Pros
It is free of charge, no matter you have GoPro or not.
Splice Video Editor Free is available to both iPhone and iPad.
It offers a variety of sound effects for free.
Cons
It is not available to Android devices, but only for iOS device.
Once a project starts, you cannot import new video, audio or other elements.
How to make a movie using Splice Video Editor Free
Step 1:
Open Splice Video Editor Free app on your iPhone. You can download it from App Store, if you still do not have it. When you are presented the project screen, tap the Plus icon and select your movie to edit. Then please set a title and aspect ratio for the video. Follow the onscreen instructions and hit Create.
Step 2:
When going into the movie making screen, you can add clips, text, captions, music, sounds, voice, overlay, and effects according to your need. You can also mute the clips if needed. Between clips, you can add transition as you like.
Step 3:
To edit a certain video clip in the project, just select the clip and there will be plenty of tools, such as trimmer, volume adjuster, speed controller, filters, color correction, cropper, background changer, etc. You can even replace, split, duplicate, reverse, and extract the clip easily.
Step 4:
After editing, you can hit in the Save icon in the top-right corner. There, you can also change the FPS and resolution before exporting to you Photo.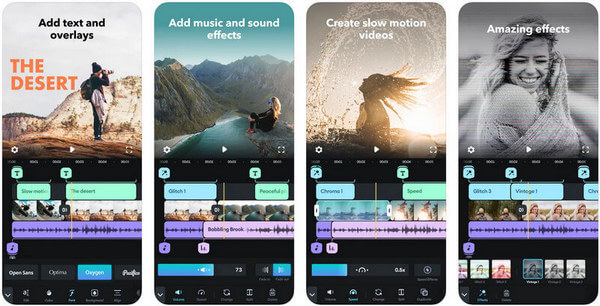 Part 2. Best Splice Video Editor for Android
Though Splice Video Editor Free is not available to Android devices, there are several alternatives.
Vid.Fun - Video Editor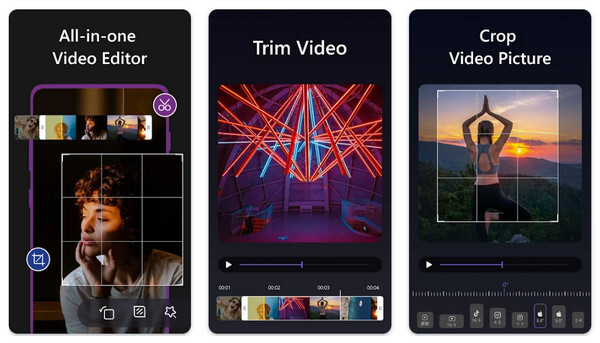 Vid.Fun - Video Editor is the best choice if you are looking for an Android alternative to Splice Video Editor. You can use it to edit and create stunning videos at ease.
Trim the video clip to any length you need.
Crop the unwanted the part out of your video.
Rotate and mirror the video to a perfect angle as you like.
Beautify the background of the video and get rid of dark edges.
Plenty of filters, and effects to refine your movie easily.
Pros
It is recently updated and contains the latest features.
It has an intuitive interface and is quite easy to use.
It respects users' privacy and share no data with third parties.
Cons
There isn't an iOS version.
Magisto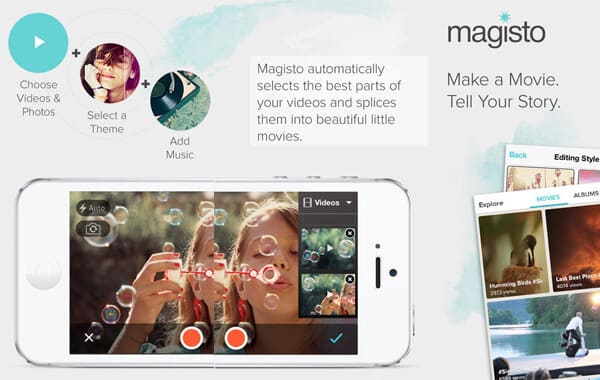 Magisto is popular splice video editor on Android. Its key features include:
Create a movie with your video clips on Android phone.
Making professional looking video stories in several steps.
Apply filters, effects, and transitions on the video.
Add audio to your movie and adjust volume as you wish.
Stabilize shaky videos automatically to optimize the video quality.
Pros
This Splice Video Editor Free alternative is free of charge.
It is available to Android, iPhone and online.
Cons
The video editing tools are limited.
WeVideo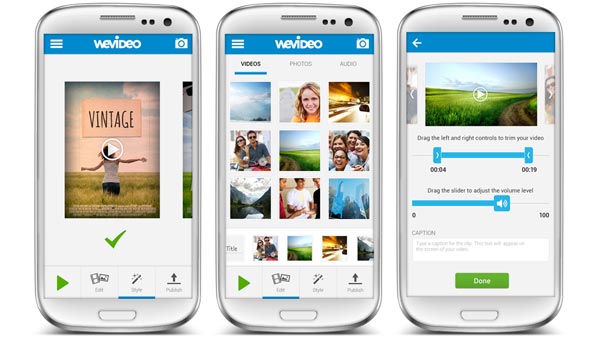 WeVideo is popular splice video editor on Android. Its key features include:
Edit videos on the timeline.
Import video clips from your gallery and make a movie by splicing them together.
Offer a variety of video editing tools, such as trim, rotate and more.
Add titles, captions, text and logo on the movie.
Control the audio tracks and edit it separately.
Pros
This video editor has extensive useful tools.
It is compatible with both Android and iPhone devices.
Cons
This video editor is large.
AndroVid Video Editor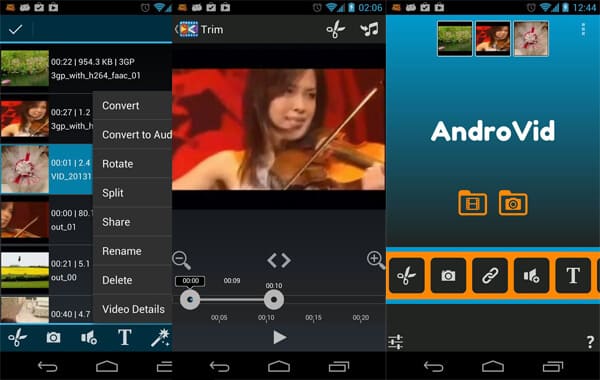 AndroVid Video Editor is a dedicated movie maker on Android. Its basic features include:
This Splice Video Editor Free alternative supports a variety of video formats, including AVI.
Merge multiple video clips into a movie.
Edit the video clips with trimming, cropping, rotating and other tools.
Add text and filters on the movie to create personal looking.
Save the movie in 3GP, AVI, FLV, MP4, MPG, MOV, WMV and VOB formats.
Pros
The interface is intuitive.
It is totally free to use.
Cons
The output quality is not as good as other best splice video editors.
Andromedia Video Editor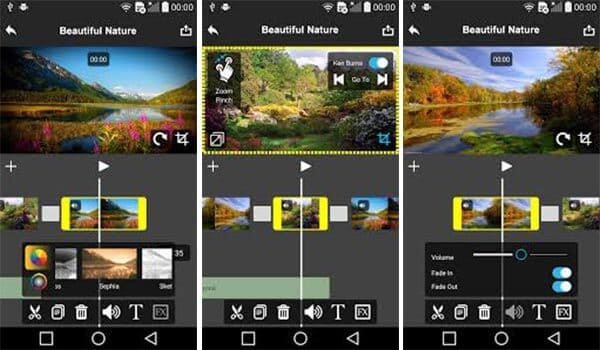 Andromedia Video Editor is another popular way to make movies on Android. Its principal features include:
Make professional looking movies in a few minutes.
Edit the video clips before making the movie, like trim, crop and more.
Adjust the audio in a separate editor.
Integrate several video effects, such as Ken Burns.
Save the movie in standard definition or HD.
Pros
The interface is easy to navigate.
This Splice Video Editor Free alternative is free to download in Play Store.
Cons
You have to view annoying ads.
VidTrim Video Editor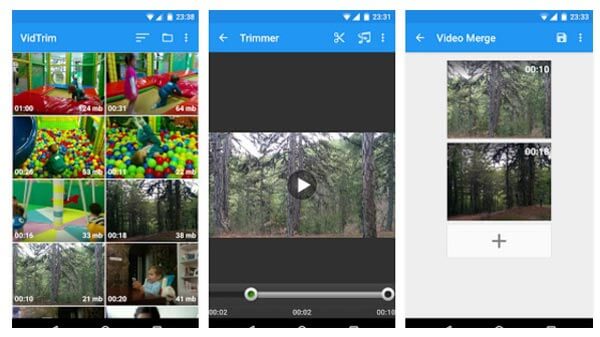 VidTrim Video Editor is designed to edit videos and make movies for Android. Its features include:
Merge multiple video clips to make a movie on Android devices.
Trim, rotate, crop or flip video clips before creating movies.
Apply cool video effects to make a personalized movie.
Add music to your videos.
Compress the resulting videos to free up space.
Pros
It has both free and pro versions.
This Splice Video Editor Free alternative is easy to use.
Cons
It does not support sharing video to Facebook.
Part 3. FAQ of Splice Video Editor
Does Splice cost money?
If you want to try those Pro features, then you need to purchase the license. There are 3 plans: yearly with free trial ($69.99), monthly ($9.99), and weekly ($3.99).
What are the pro features in Splice?
Basically, they are the ones with a blue crown icon. For example: Effects, Captions, Music, Transition, Mask, Chroma Key, Animate, Reverse, Extract, and 4K resolution output.
Is Splice good for editing?
It is quite a great choice if you need to edit video on an iPhone or Android phone. It can help you make simple but great videos within several steps. But if you need more advanced features, like making a music video for YouTube, then you better try some professional tools like Adobe and Aiseesoft Video Converter Ultimate.
Conclusion
In this post, we have introduced one of the best movie maker apps, Splice Video Editor Free. Now, when you want to create movies using this movie maker on iPhone or iPad, you can follow our guides above. On the other hand, if you have an Android device, you can browse the best Splice Video Editor Free alternatives in the second part and pick an appropriate movie maker app based on your situations. Then you will discover that making movies on smartphone is not difficult at all.

Leave your comment and join our discussion