5 Effective Ways to Erase All Content and Settings on an iPhone [With/Without a Passcode]
'How to wipe an iPhone before selling it?' This is the question that crosses your mind when you want to sell or give away an old device. It is important because you want to prevent the next user from accessing your data, including photos, videos, contacts, accounts, and more. Fortunately, Factory Reset is the standard way to wipe an iPhone. But you can learn other ways to delete data; this article will show you how!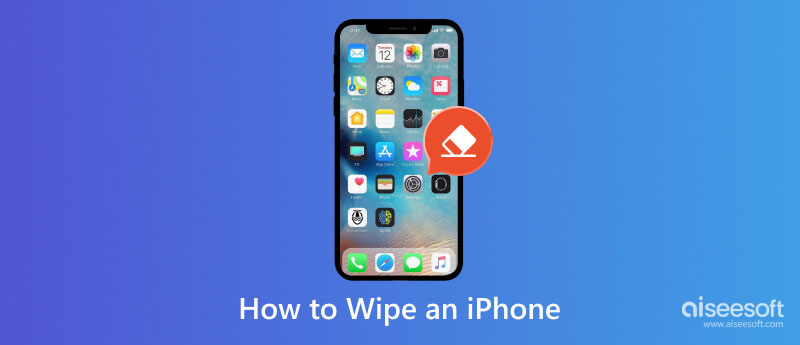 Part 1. What Does Erase iPhone Do
It is an important built-in function that helps wipe all information in the mobile device. Erase iPhone deletes personal data piled up from the day the user used the phone. Information will no longer appear in the device, and several more things will happen, such as:
The Activation Lock will prevent anyone from rendering the device. Since it is connected with an Apple ID, Activation Lock will safeguard privacy by making personal data inaccessible to everyone except the user with an Apple ID.
Lost Mode will be turned off after erasing all content and settings on the iPhone. This function increases the chance of recovering the device once lost.
Remove the iOS device from Find My Device, which also removes it from the user's iCloud account and other backups. The user cannot track the device or restore it from a backup.
If phone resetting is done offline, it will initially start when connected to an internet network.
Delete all data gathered from the start, including videos, images, messages, contacts, documents, and applications.
Remember that the process will take some time, depending on the device's storage capacity and the internet connection speed. For example, an iOS device with 256GB storage will process longer than a device with 64GB storage. Usually, it can take 15 minutes to one hour to finish.
Part 2. The Default Way to Wipe an iPhone
Before deleting ringtones, text messages, contacts, and everything on your phone, it is encouraged to back up personal data to a new device. If you are unsure how to do it, you can follow the steps below:
Step 1:
Connect to an internet network. Open the iPhone settings and tap your name.
Step 2:
From the
iCloud
menu, tap the
iCloud Backup
option. Then, tap
Back Up Now
to start the process.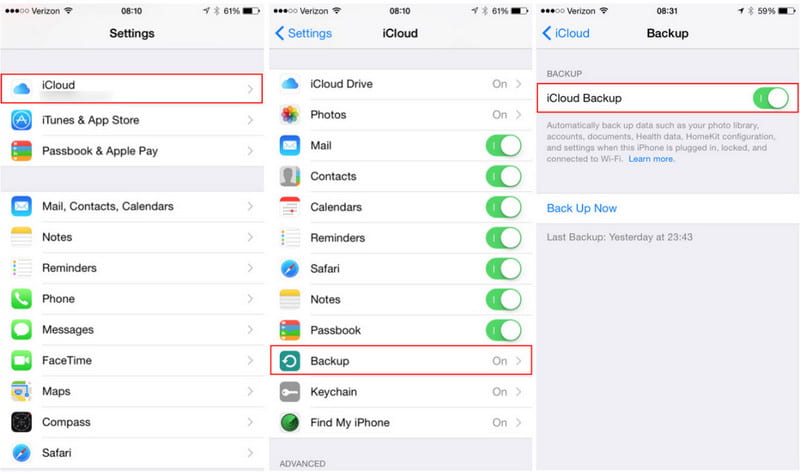 Step 3:
You can keep track of the last time you back up the phone under Back Up Now. Also, you will get a notification if you don't have enough space to complete the process.
Once you are done with the backup, it is time to erase all personal data from the iPhone. Other than this, make sure to disconnect other devices like the Apple Watch to avoid deleting its data. Without further ado, here's how to delete everything on your iPhone:
Step 1:
The first thing you need to do is to sign out from iCloud and iTunes. Go to settings and tap your name. Scroll down further and tap the
Sign Out
button. Enter the Apple ID password to proceed.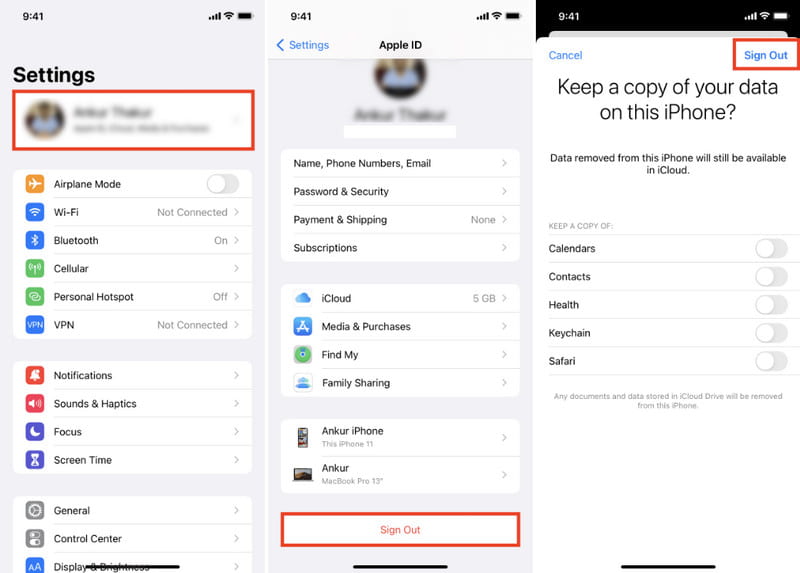 Step 2:
Go back to the main interface of the Settings app, then open the
General
menu. Scroll down and enter the
Reset
page. Tap the
Erase All Contents and Settings
button.
Step 3:
When a prompt appears, enter the required Apple credentials. After that, your phone will restart in its original system condition.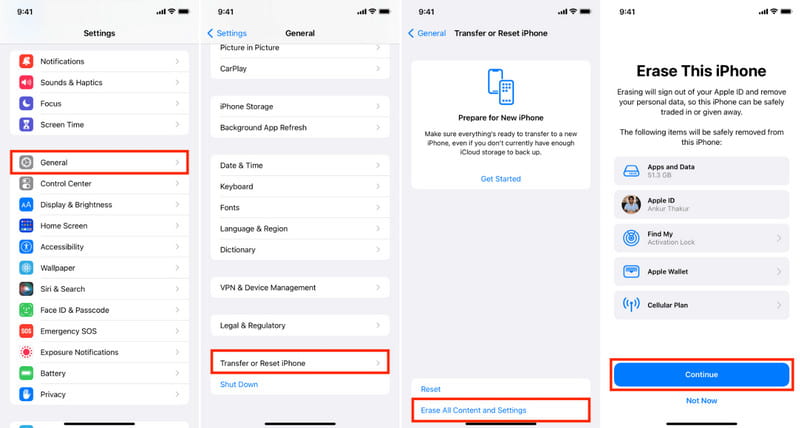 Part 3. Use a Third-Party Tool to Wipe an iPhone
To make sure that you did not skip any data, Aiseesoft iPhone Cleaner is the recommended tool to clean your iPhone. It is a desktop program that helps wipe unnecessary junk on your device, frees more space, and eliminates crash logs. It detects unused apps and gives users the option to uninstall them to get the occupied storage space. Meanwhile, it has an outstanding system that wipes clean all data, ready for trading or selling. With Aiseesoft iPhone Cleaner, it makes a quicker data cleaning process. The best part is you can download it on Windows and Mac and wipe your iPhone in a few seconds.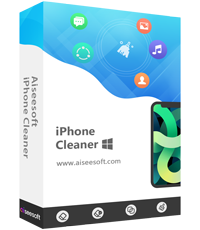 Downloads
Aiseesoft iPhone Cleaner – Delete Photos from iPhone
Secured tool to remove all personal data on an iOS device.
Effectively scan and delete files like app caches, notes, call history, etc.
Prevent phone lags by minimizing photos and exporting them to a PC.
Suitable for deleting larger files with minimal time processing.
Step 1:
Download Aiseesoft iPhone Cleaner and install it on a Mac or PC. Once done, connect your iPhone using a compatible USB cable and wait for a popup to appear on your screen. Press
Trust
to let the program access the device. On this point, make sure you have the updated iTunes on the computer.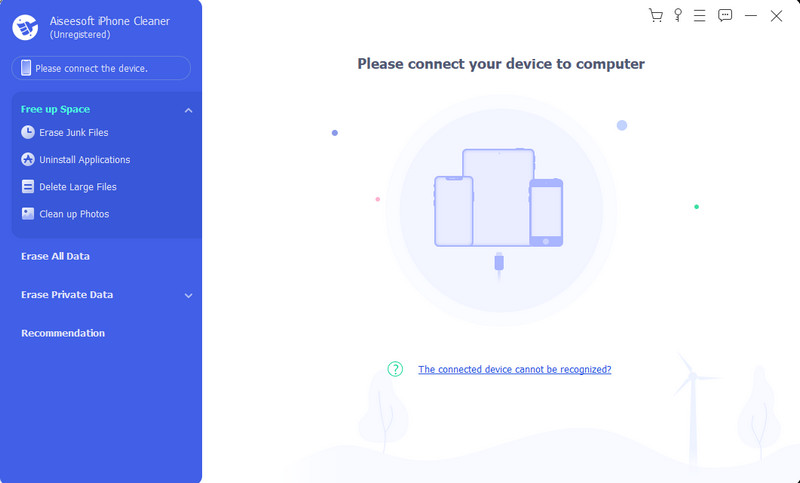 Step 2:
When iOS is connected successfully, the iPhone Cleaner will show the device's storage, use, and available space. Go to the
More Info
menu to see more details about your phone. You can also copy the information to the clipboard.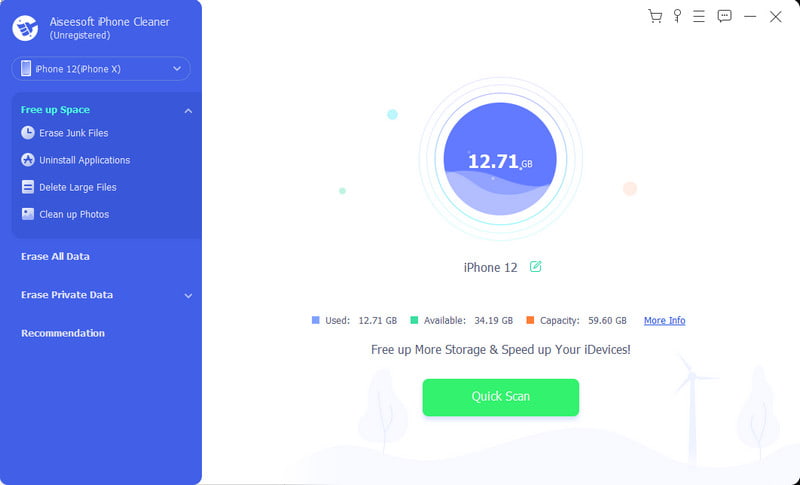 Step 3:
To erase all content and settings on the iPhone, click the
Erase All Data
menu from the left panel. Make sure no app is running or updating in the background, as all data is backed up to iCloud.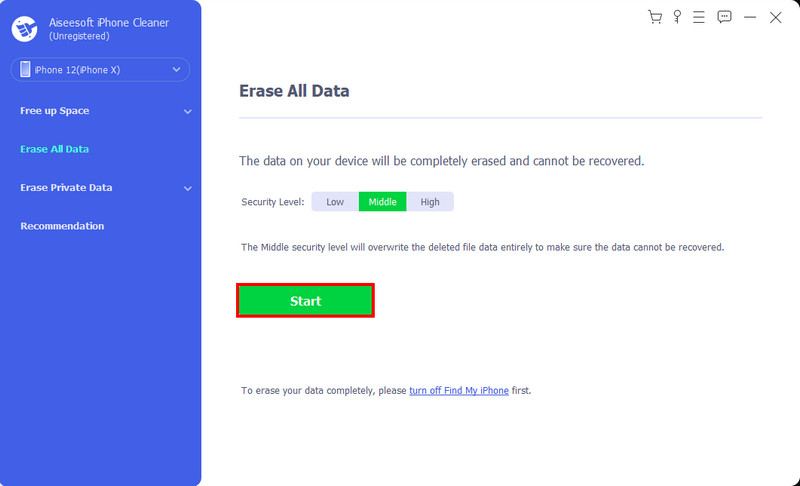 Step 4:
Finally, enter 0000 in the box and click the Erase button. It will be done in a few seconds. Try the Erase Private Data function to clear other data. To do this, click the Erase Private Data button from the left panel. You can choose Custom Erase to see details before erasing the data.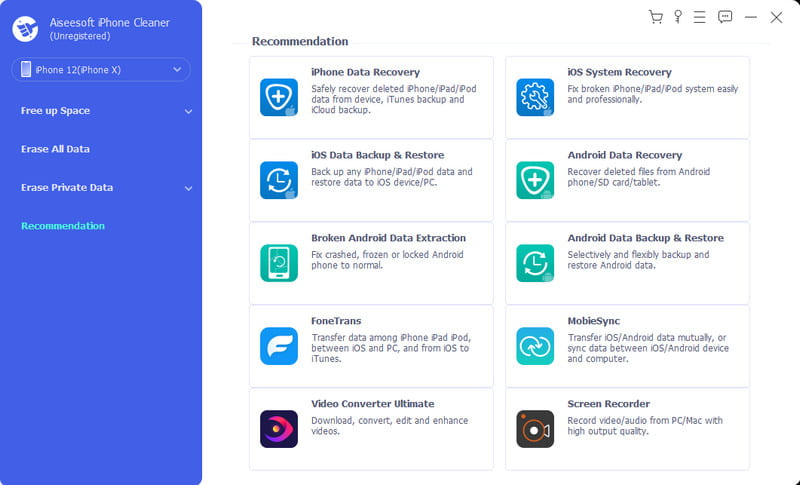 Step 5:
For the One-click
Erase
option, it will automatically scan and delete all private data. See more available tools on the
Recommendation
menu to restore, back up, and transfer data.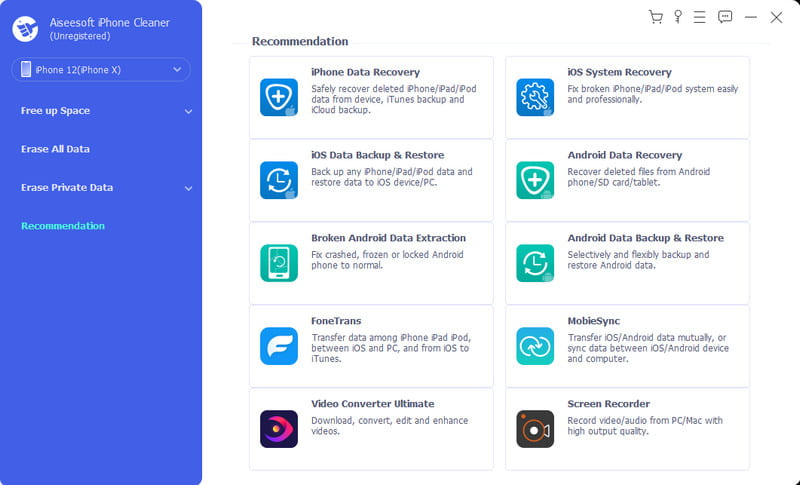 Part 4. How to Remotely Wipe iPhone
Is it possible to erase the personal data and all settings of an iPhone that is not around? If the device is stolen or lost, you can still erase all information using the Find My feature on iCloud. Its main purpose is to locate the device, but it can also erase data, especially when you know you will never get it back. However, many requirements exist to use the Find My feature. First, the function is already enabled on the device with an Apple ID. Next, the phone must be turned on and connected to an internet connection. Once you are prepared, follow the instructions below:
Step 1:
From your browser, search for iCloud.com on your laptop. Sign in with your Apple ID and hit Enter.
Step 2:
After logging in, click the
Find My iPhone
option. Then, choose the lost device from the All Devices menu.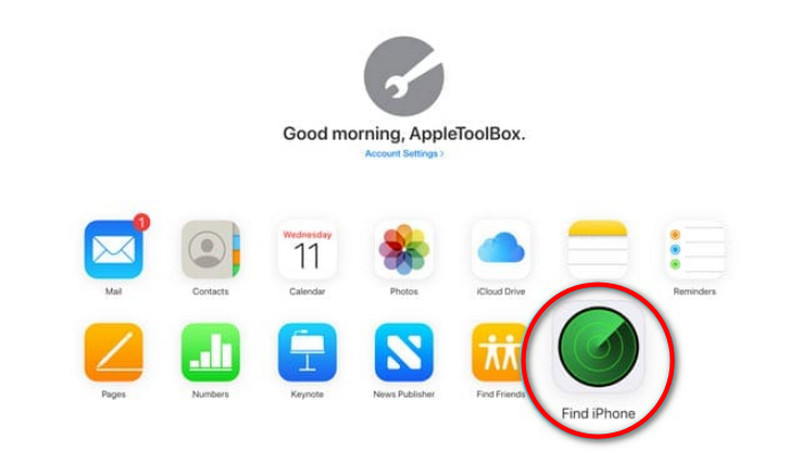 Step 3:
Click the
Erase iPhone
button to proceed. You may need to input the required Apple ID credentials.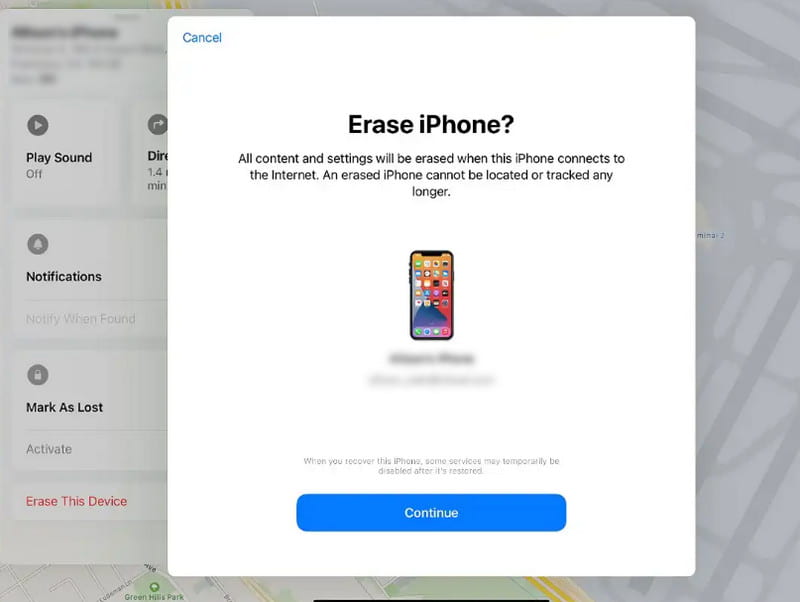 Note: If the method does not work, you can only change the password on your Apple ID. It can only prevent other people from accessing the iCloud information. To do it, go to the Apple ID page and log in. Click the Change Password button from the Security section, then continue from there.
Part 5. How to Wipe an iPhone without a Passcode
If you forget your Apple ID passcode, there is a chance you can still erase data from your iPhone. iTunes does not require a passcode, but some users thought the app was slow and could not detect iOS devices. It also depends if you synced the iPhone to iTunes. Otherwise, you will use other methods. Still, it is an excellent choice to try. Let's see how to use iTunes to clean an iPhone without a passcode.
Step 1:
Download the latest iTunes version and use a USB cable to connect the phone to your computer.
Step 2:
From iTunes main interface, go to the
Device
tab and click the
Summary
button. Select the
Restore iPhone
button under the iOS version. It automatically erases all data from your iPhone.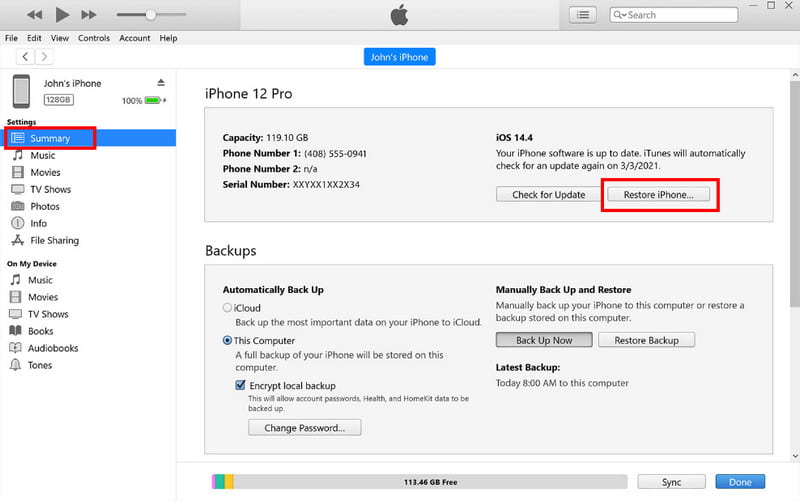 Step 3:
If you never synced the phone with iTunes, turn off the device. Keep pressing the
Volume Down
button, then connect the device to your computer. A prompt will appear on the screen. Click the
Restore
button to reset the mobile phone.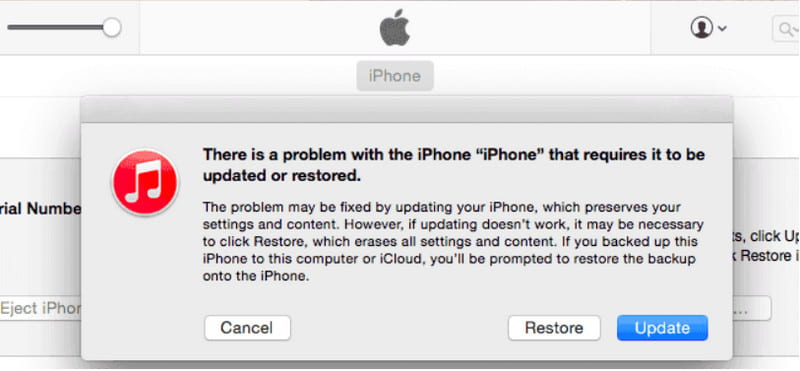 Part 6. FAQs about Wiping an iPhone
Does the iPhone factory reset delete everything?
Yes, it will erase all data, including photos, videos, passwords, call histories, browsing history, and third-party apps. It is used to make an iOS device new without any personal information.
How do I wipe my iPhone without a factory reset?
You can use iCloud, iTunes, and Find My to clean an iPhone. Another alternative is to use Aiseesoft iPhone Cleaner to completely erase data from a smartphone without an Apple ID passcode.
How do I remove the previous owner's Apple ID from the iPhone?
Get in touch with the previous owner to help you remove the Apple ID. Then, proceed to the settings app on a PC and scroll down to click the Sign Out button. Input the Apple ID credentials, and then you are good to go.
Is a wiped iPhone still traceable after factory resetting?
No. For as long as the Find My Phone is disabled before resetting the phone, it is not traceable with the same feature. You can enable it again once the device is restored.
What to consider first before erasing all content and settings on an iPhone?
First, sign out all the online accounts, including the App Store and Apple Music. Remove your SIM card to prevent hackers from accessing your messages, contacts, and other information. Most importantly, backup and restore data to a new device after deleting it from the old device.
Conclusion
It takes time to clean an iPhone before using a new device. Of course, it is an important task since all essential details must be inaccessible to the next user, especially if you want to sell the device or give it away. This article helped you on how to wipe an iPhone using the default way, iCloud, and iTunes. Additionally, you can use Aiseesoft iPhone Cleaner to safely clean the iOS device from general data to private ones. Try it for free by downloading it from the official webpage.

Leave your comment and join our discussion