How to Erase Contacts from iPhone with Simplest Way
Want to remove contacts from your iPhone, iPad and other iOS devices for selling or donating to others? But worry about privacy information? Actually, Apple device only allows you to delete the contacts one by one from the Contacts app. If you only have several phone numbers on your iPhone, you can tap Contacts app, find the number and name which you want to delete from your iPhone, then tap Edit and scroll down to find Delete Contact. Tap it again to confirm and the contacts will be removed from your iPhone.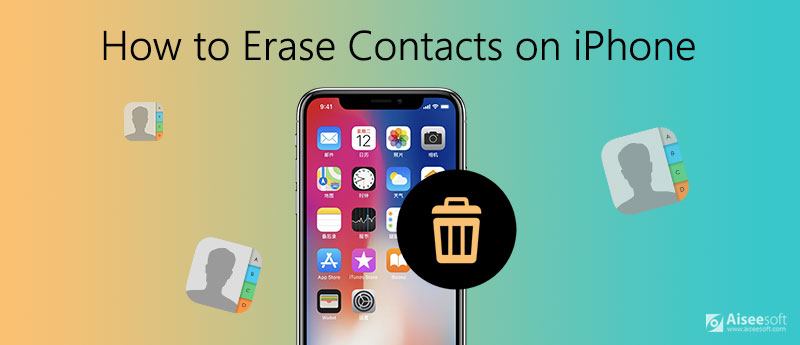 However, this method above to delete iPhone contacts is tedious and laborious. If you have a number of contacts on your iPhone, you may need to delete all contacts at a time within seconds. Also, the deleted contacts are just hidden but still existing on your iPhone. You may ask: how to erase all contacts on my iPhone 5 with the fastest speed? Keep reading this article to get the answer.
You can use iCloud for helping you erase all contacts from your iPhone.
Friendly reminder: Before you do erase contacts thoroughly, you had better backup contacts from iPhone to computer.
Part 1. How to Permanently Delete Contacts on iPhone with iCloud
You can use iCloud for helping you permanently delete all contacts from your iPhone.
Go to Settings > iCloud, input your recover iCloud password, find Contacts under iCloud account, turn off the button which is next to Contacts by sliding it to left. You might be asked to confirm the the question: What would you like to do with the previously synced iCloud contacts on your iPhone? Tap Delete from My iPhone when you turn off the "Contacts" button to confirm the deletion.
Whether recent or previous contacts, or duplicate/multiple contacts, all of the contacts will be removed from your iPhone. However, this way cannot help you to erase all contacts thoroughly. Once you turn on the contact backup to iCloud, all the contacts which you have backed up to iCloud will come back to your iPhone again.
Is there any way to solve this problem?
Of course there is a way. You should sign out your iCloud account from your iPhone. Given the privacy security, you can follow the next two steps before selling or donating your iPhone.
Step 3:
All contacts will be erased from your iPhone.
This way shows you an easy way about how to delete all iCloud contacts, however, there are also many people who have never turned on iCloud, let alone backed up contacts to iCloud. Aiming at this condition, we also provide you an easy and complete way to erase all contacts from your iPhone directly.
Part 2. How to Erase All Contacts on Your iPhone
How to permanently delete contacts on iPhone? For example, you made some friends on Facebook, but it is annoying that these friends showing up in your iPhone contacts. How to remove Facebook contacts from iPhone? With the best erasing iPhone contacts software, you can permanently clear all kinds of contacts from iPhone without worrying about your privacy.
Before you use this way to delete contacts permanently, you had better export iPhone contacts for backup.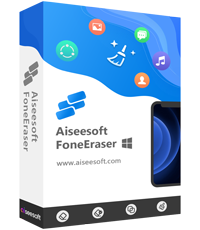 143,600 Downloads
FoneEraser - iPhone Data Eraser
Scan and erase junk files, cache & cookies, large & old files on iPhone.
Erase iPhone settings completely and permanently.
Protect your privacy and speed up iPhone.
Meet your personal needs with three erasing levels selectively.
Available for all iPhone 12/11/X/8/7/6s/6/5s/5/4 in iOS 7/8/9/10/11/12/13/14.
Download the best iPhone data eraser - FoneEraser on your computer and finish the installation.
Step 1:
Connect your iPhone to computer via USB cable and the iPhone contacts erasing app will detect your iPhone automatically. Don't forget tap Trust this computer on your iPhone.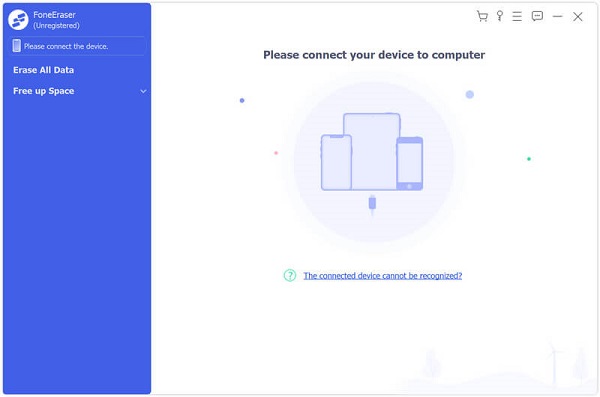 Step 2:
After entering the main interface, choose an erasing level according to your need. High level here is highly recommended. It can clear everything on your iPhone completely without leaking your privacy.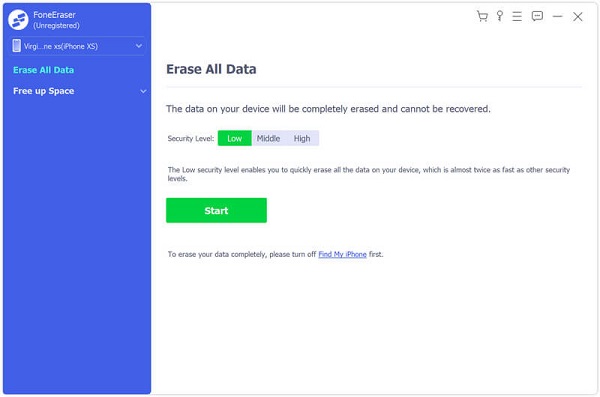 Step 3:
Click Start and enter 0000 to confirm erasing all contacts on your iOS device.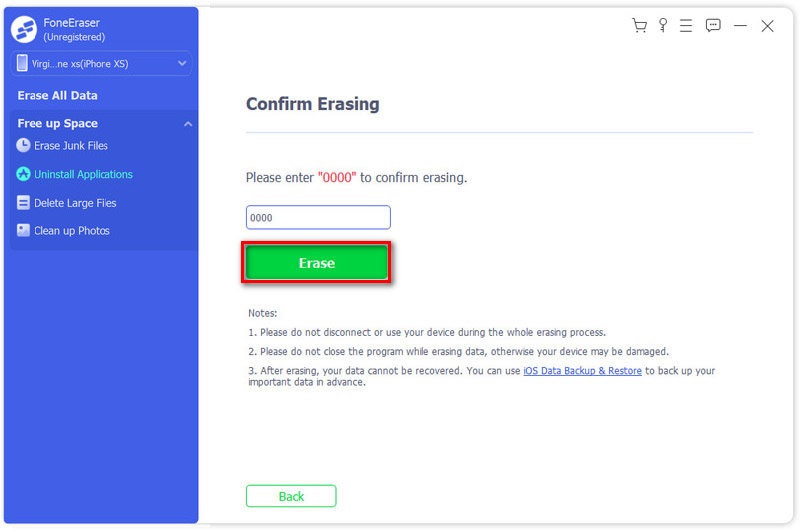 This iPhone Contacts Eraser works well for iPhone 12/11/XS/XR/X/8/7/SE/6/5, iPad and iPod. And it also supports erasing from more than one iOS device simultaneously.
Part 3. FAQs of Erasing Contacts on iPhone
1. Why does my iPhone keep deleting my contacts?
Maybe it is due to a new iOS version update or some system issues. Usually, you can fix this problem by turning off and then turning on iCloud contacts. If that doesn't work, you can try to restore your iPhone with Aiseesoft FoneLab iOS System Recovery.
2. How do you delete a contact on iPhone?
Just open your Contacts and find the contact that you want to delete. Tap Edit on the top right corner. Scroll down and tap Delete Contact and confirm the deletion.
3. How do I Unsync my iPhone from another phone?
Go to Settings on your iPhone and navigate to [your name]. Tap iTunes & App Store then open your Apple ID. To view Apple ID. You need to sign in first. Locate the iTunes in the Cloud section. Now it's time to Remove This Device.
For the purpose of selling your iPhone, it is not enough to only delete contacts. All data should be erased both from iCloud and from your iOS device. So, it is necessary to erase all data from your iPhone completely and permanently.

Leave your comment and join our discussion