How to Delete All Contacts on iPhone – 4 Quick Solutions for Individual and Mass Deletions
You wonder how to erase contacts on iPhone, and fortunately, this article will show the best way. You just noticed that you have a lot of contacts on your iPhone. Some are from previous jobs, former colleagues, and random strangers. You noticed the long list and decided it was time to remove inactive numbers. The problem relies on the iPhone, which does not support multiple selects in the Contacts app. Likewise, you will have to keep the active and important ones. Still, this article will guide you to the quickest route to delete contacts on your iPhone.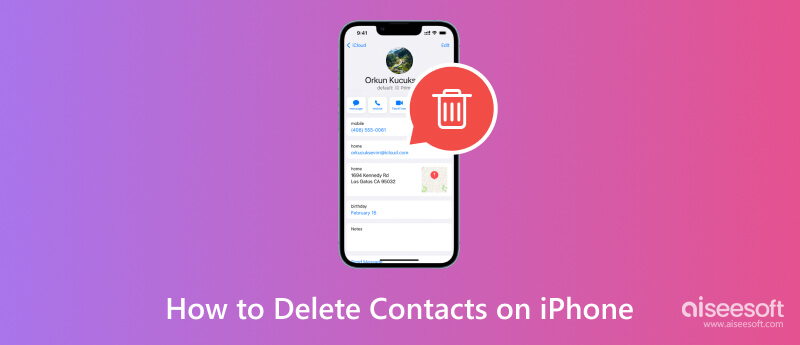 Part 1. How to Delete Contacts on iPhone [3 Ways]
It can be annoying to see your contact list is full not only of inactive contacts but also duplicates. iOS does not allow a massive deletion from the Contacts app, making the task more challenging. Considering you want to find important contacts for later use, many methods exist to discard unwanted numbers on your iPhone. Here are the different ways to erase one or multiple names from your contact list.
How to Delete one Contact on iOS
This is commonly used for individual contact deletion. It is also the ideal method if you have fewer contacts to remove from the Contacts app since it is not too much work. Otherwise, you can use the next method to delete multiple contacts on your phone. Now, follow the steps below to erase contacts individually:
Step 1:
Open the Contacts app on your iOS device. Browse for the number you want to remove.
Step 2:
Open the contact details by tapping on it, then press the
Edit
button from the upper right corner of your screen.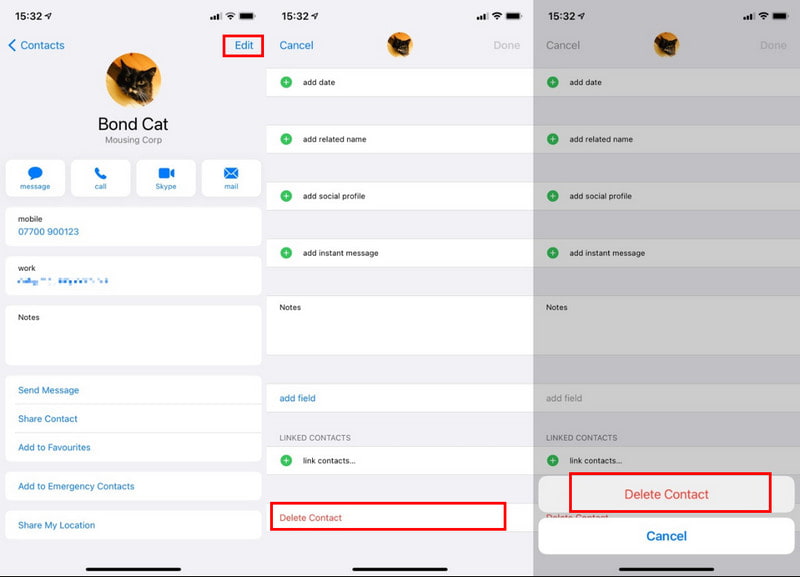 Step 3:
Scroll down until you see the
Delete Contact
button, then tap it. Proceed by pressing the
Delete Contact
button from the prompt.
Pro Tip: If you have a higher iOS version, you can simply long-press a contact number, and then a menu will appear. Tap the Delete Contact button to erase it from the list.
How to Delete Multiple Contacts on an iPhone
Removing multiple contact numbers is possible on iPhone. However, you can only do it if your mobile device is iOS 17 and above. If you own a later version, you will have to use the first method. To see if you have the required OS version, go to your phone's settings and tap the General button. Navigate to Browse, then you will see it in the Software Version section. After that, follow this instruction to delete multiple contacts at once:
Step 1:
Go to the Contacts app or, alternatively, open the Phone app, and you can access the Contacts menu there.
Step 2:
Use two fingers and drag them from one contact to the rest you want to delete. You will see the selected contacts are highlighted in gray. Ensure the fingers are pointed to the first contact to highlight easily.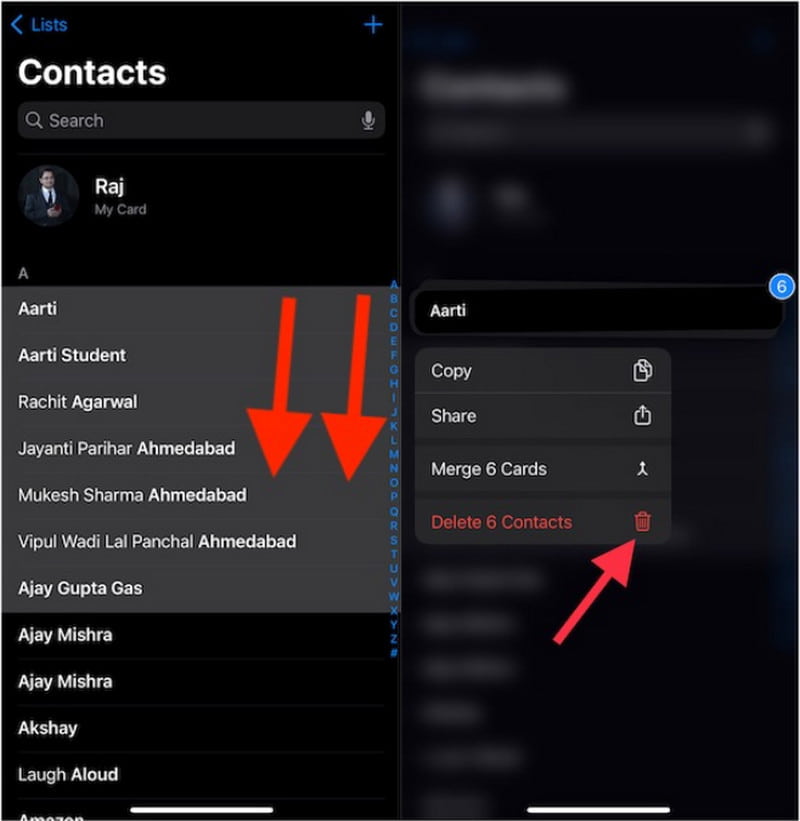 Step 3:
After that, long-press the highlighted names to reveal an additional menu. Tap the
Delete
button to remove contacts from your list. You can also use this function to send, copy, and merge multiple contact numbers.
Tip: Think twice before deleting the contacts on your iPhone and make sure they are the ones you want to get rid of, because it will be hard to recover the iPhone contacts with a backup once you deleted them.
How to Delete All Contacts on iPhone
It is troublesome for email accounts to duplicate contact numbers, especially if you are using an iPhone with a lower version than iOS 17. However, this is the ideal method to delete them easily with an email account. You can solve it by using your email accounts like Yahoo, Gmail, and Outlook. Since the iPhone supports importing contacts, this makes it quicker to delete inactive numbers from one email account. With that said, here are the steps to follow:
Step 1:
Open the device's settings app and proceed to the
Password & Accounts
menu. You will see all of the accounts present on your mobile device.
Step 2:
Select an email account and toggle off the
Contact
option. By doing this, you will receive a prompt if you are sure about the action. Tap the
Delete from My iPhone
button to delete all contacts from the email account.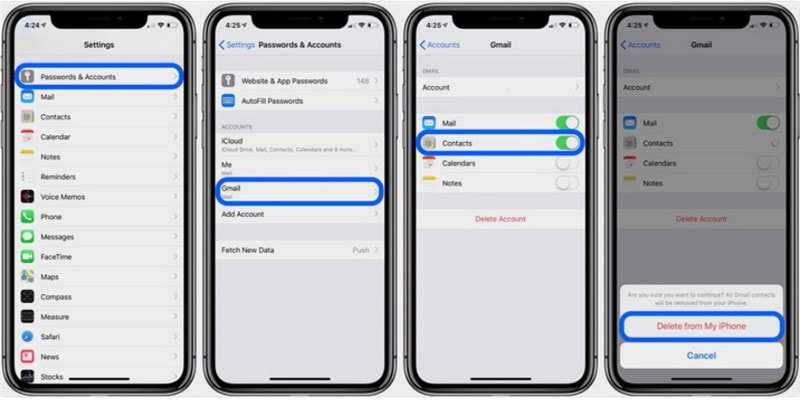 Step 3:
Once done, check the Contacts app to see if the list is shortened. Also, check out other email accounts if you have other contacts to delete on your iPhone. It will help you discard duplicates.
Part 2. How to Erase Contacts on iPhone Using a Computer
Is it possible to use your computer to remove contacts from your iPhone? Definitely, yes. Aiseesoft MobieSync is designed to quickly transfer and manage files from your iPhone, computer, and other devices. Its managing algorithm helps to organize contacts from local, family, coworkers, and other categories. With this, users can delete contacts from iPhones via a USB cable, WiFi, or QR code. The best part of MobieSync is it can back up and restore numbers or export them to a computer as vCard files. With just a quick click, deleting multiple contacts on an iPhone is possible with this tool. You can try it on Windows, macOS, Android, and iOS.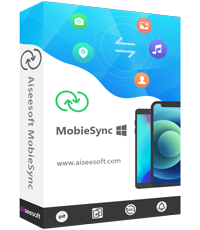 Downloads
A quick way to erase, manage, and transfer data from device to device.
Enable to copy contact information and send to an email provider or social media.
Support categorizing photos, videos, contacts, voice memos, and messages.
More tools to convert images, create ringtones, and backup data.
Step 1:
Click the
Download
button for Aiseesoft MobieSync on the official website. Continue setting up until you have finished installing the app to your computer. Next, download the app version to your computer. You can find it in the App Store or Google Play.
Step 2:
Connect the iOS device with a USB cable or use the app to scan the QR code from the desktop software. If your phone asks for permission, tap the Allow button, and the device connection will be successful. Your iPhone details will show on the software's main interface on the computer.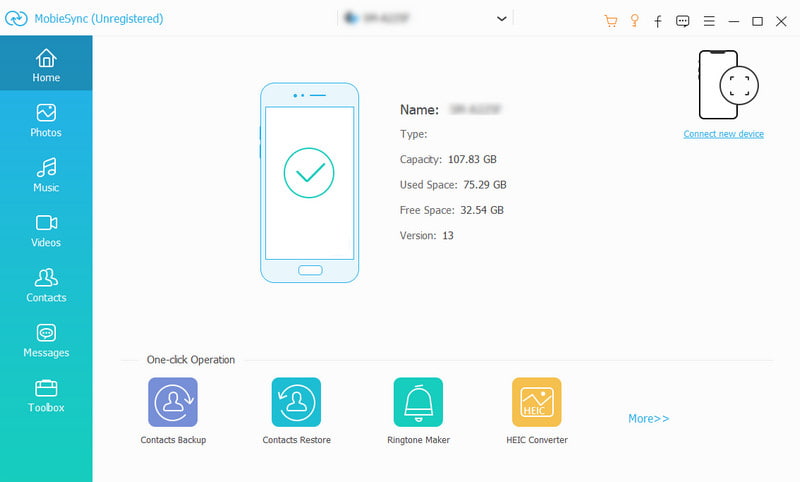 Step 3:
From the left panel, go to the
Contacts
tab. Use the local, family, friends, and others to track the numbers you want to remove. Tick the checkboxes to select or long-press while gliding your cursor for multi-select.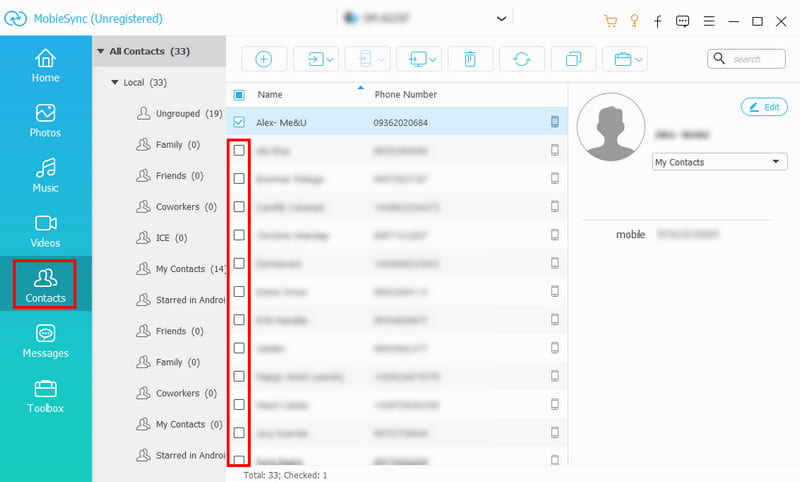 Step 4:
Once done selecting all the contacts, click the
Delete Item (s)
button from the top menu. When asked if you are sure to delete the numbers, click the
Yes
button. After a few seconds, MobieSync will delete all the contacts.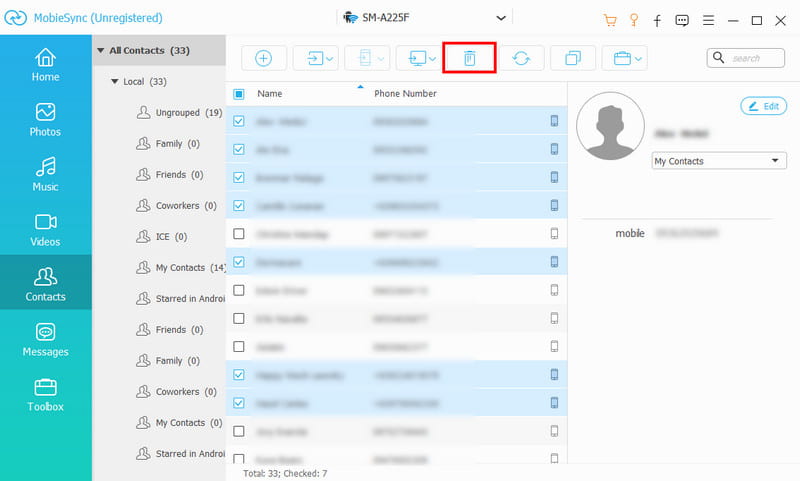 Step 5:
If you want to transfer contacts to your computer, multi-select contacts from the list again. Then, click the
Export to PC
button. Another way to transfer is to choose
Connect New Device
from the dropdown menu of the current connected device. Scan the new QR code with the other mobile device to connect it with MobieSync.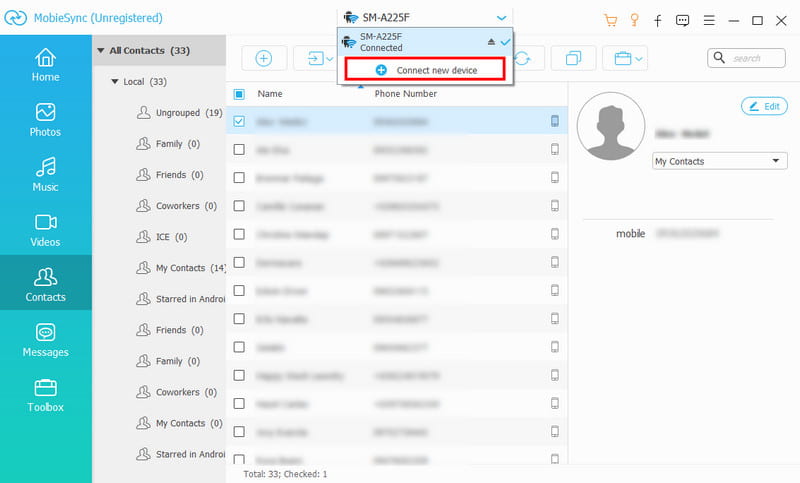 Step 6:
For other tools, go to the
Toolbox
menu. You can use Contacts Backup, Contacts Restore, Ringtone Maker, and HEIC Converter. Visit the Preferences to set up language, preferred language, and so on.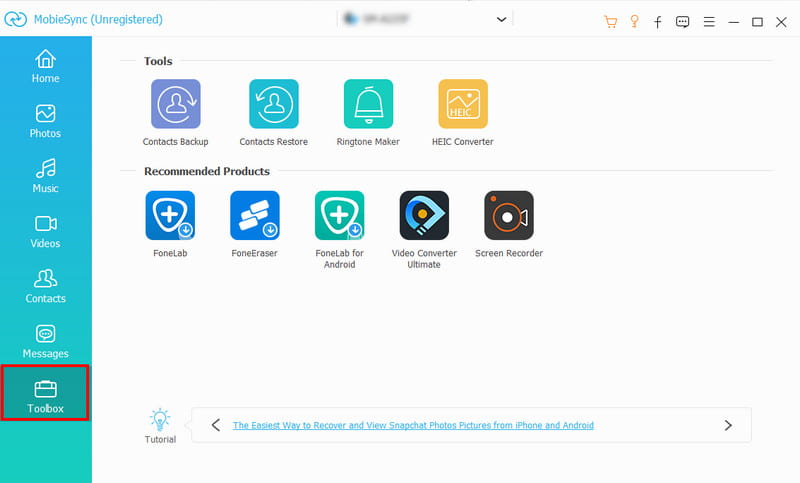 Note: Apart from helping you delete iPhone contacts, Aiseesoft MobieSync enables you to back up and restore contacts on iPhone in one click. Moreover, you can transfer contacts from iPhone to iPhone even with paying for iCloud backup using Aiseesoft MobieSync.
Part 3. FAQs about Deleting Contacts on iPhone
Why is my iPhone not showing deleted contacts?
Unlike other built-in apps on your iPhone, the Contact app does not have a Recently Deleted folder where all deleted numbers are stored. That is why it is advisable to backup all the contacts to iCloud or ensure the number is inactive.
How do I select all contacts on my iPhone?
If you have iOS 17 or above, you can simply use two fingers and glide over the contacts you want to erase. Then, tap once to reveal a menu, and tap the Delete button to clear the selected names. This is the only way to delete all contacts, unlike Android, which offers a Select All option.
How do I delete multiple contacts on an iPhone without a name?
Since the Phone app does not support multi-select to delete unknown numbers, you can try saving them with temporary names. Just make sure they are chronically ordered in the list, so it is easier to remove them all at once. Then, use two fingers to select all the unknown contacts and press Delete from the dropdown menu.
Can I delete contacts from my iPhone using iCloud?
Yes, but you will need a computer to use this method. Then, you must log in to iCloud.com using your Apple ID. Once you are logged in, go to the Contacts menu on the iCloud website. Choose one or multiple numbers and press the Delete button. Confirm the action by clicking the Delete button again.
What are the best third-party apps to delete contacts on iPhone?
Since not all iOS version has a multi-select option for contact deletions, several apps were made to make it easier. Try Groups, Clean My Photos, and Delete Contacts+. These apps are free to use and can optimize your device by categorizing files and freeing up more storage space.
What to do to keep unknown numbers from piling in my Contact list?
It is recommended to use the Silence Unknown Callers to keep unknown callers and numbers away from your contacts. The only requirement for this feature is to have an iOS 13 and later, and then you are set. To activate it, go to your device's settings and tap the Phone option. Scroll down until you see the Silence Unknown Callers option. Toggle on the button to block unknown numbers from calling you.
Conclusion
All in all, this article gave solutions on how to delete contacts on iPhone with more options for individual and multiple number deletions. On the other hand, only iOS 17 and the latest version support multiple contact deletions. This brings frustration to other iOS users, as it is difficult to erase names one by one. But thanks to Aiseesoft MobieSync, the process gets quicker with optional features to back up and restore numbers to your devices. Moreover, it is also available for free download on Windows and macOS, so you can try it now by clicking the Download button. Check more of its feasible features from the main website.

Leave your comment and join our discussion