How to Back up iPhone Contacts to iTunes/iCloud/Computer/Gmail
To a mobile phone user, no matter it's iPhone or Android phone, the most important content on the phone must be the contacts. If you lose Apps, you can download again. But once you lose your contacts list, you lose the connection with friends, colleagues and families. Unless you have recovery tool, you have to rebuild the whole list. To prevent this from happening, you'd better backup your iPhone contacts frequently. In this article, we will conclude four ways on how to back up iPhone contacts.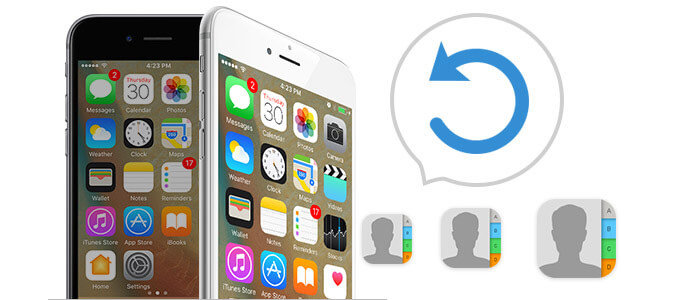 Method 1. How to backup iPhone contacts to iTunes
Step 1 Connect your iPhone to computer via USB cable.
Step 2 Run iTunes.
Step 3 After being detected by iTunes, the name of the device will be shown on the top right corner, next to iTunes Store. Click the name of the device.

Step 4 Click "Back Up Now" after choose backup location to "This Computer" or "iCloud". And iTunes will start to back up your iPhone contacts and other data.
Method 2. How to back up iPhone contacts to iCloud
Step 1 Click Settings on iPhone. Scroll down and tap iCloud.
Step 2 Sign in to your iCloud account. iCloud password forgot?
Step 3 Find Contacts and turn it ON.
Step 4 Click Storage & Backup - Back Up Now.
Then the contacts in your iPhone will be backed up to your iCloud account automatically. As long as the iPhone is internet connected, the contacts will be backed up regularly and automatically. The disadvantage of this method is that you should have network and when you need the backup file, you need to sign in to the account and download it.
Method 3. Make iPhone contacts backup with FoneLab
In order to backup iPhone contacts to computer, you could get help from a professional iPhone Contacts Backup tool. FoneLab is the perfect option. The main function of FoneLab is to recover lost or deleted files on iPhone, iPad and iPod. In the newest version, it provides an advanced iOS Data Backup & Restore function, that can assist you to back up the existing files on your device to computer. Now free download this program and folow the steps below to learn how to back up iPhone contacts.
How to backup iPhone with iOS Data Backup & Restore
Step 1 Free download FoneLab on PC and open the program, choose "iOS Data Backup & Restore" option in the main interface.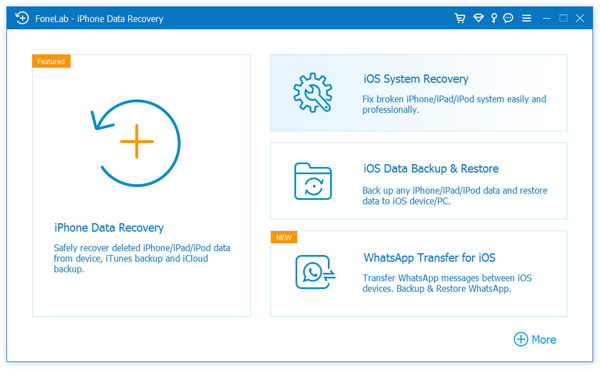 Step 2 To backup iPhone contacts, connect your iOS device to your computer, and then select iOS data Backup option.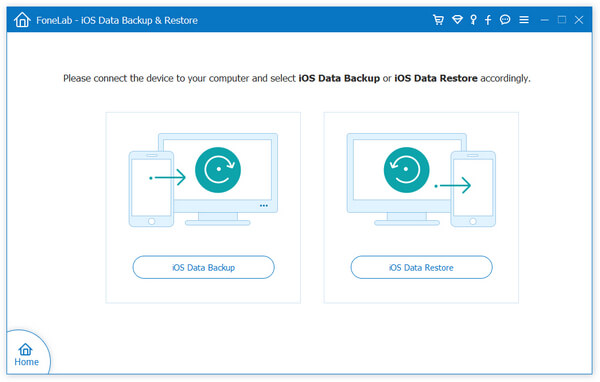 Step 3 Wait until your iPhone was detected by the program automatically. Then click "Start" button and select file type you want to backup. Here you need to choose Contacts.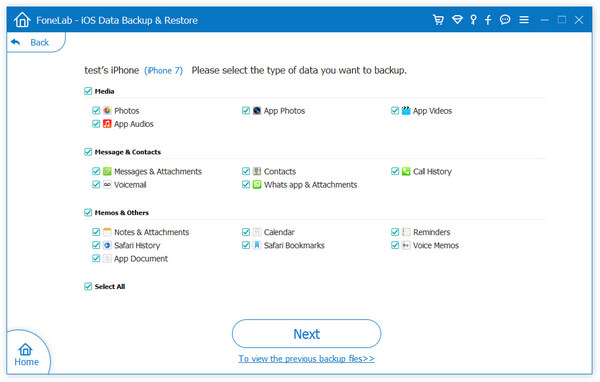 Step 4 Click "Next" button, and confirm the backup path in the pop-up window, then click Backup button to backup contacts to your computer.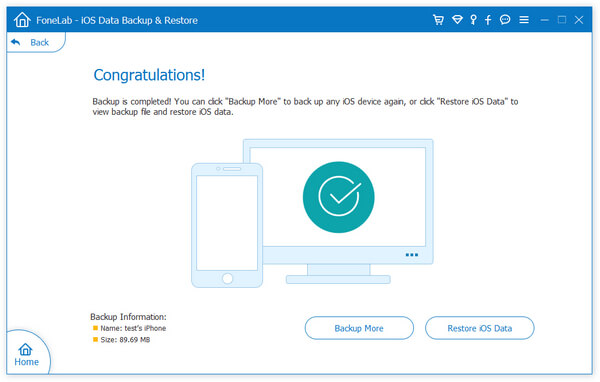 Method 4. How to backup iPhone contacts to computer with FoneTrans
If you feel the backup of iTunes and iCloud troublesome and don't need a data recovery tool, we recommend this method to you. FoneTrans is an iOS file transfer tool which can transfer files between iOS device and computer conveniently. You can use it to transfer iPhone contacts to computer for backup. The whole process is simple, fast and lossless. Firstly, you need to download and install FoneTrans on your computer.
Step 1 Connect your iPhone to computer. Wait for minutes, and all the files on your iPhone will be scanned.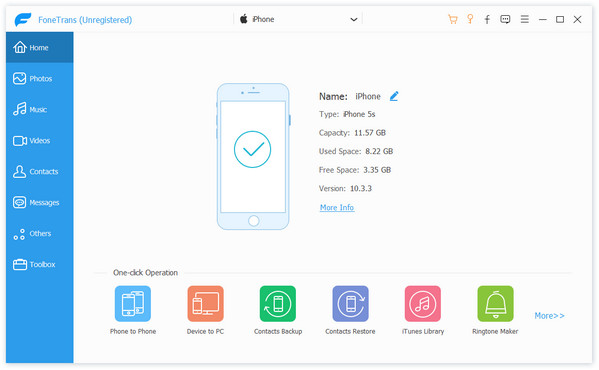 Step 2 Click Contacts on the left category, and you are able to view all the contacts information on the right window.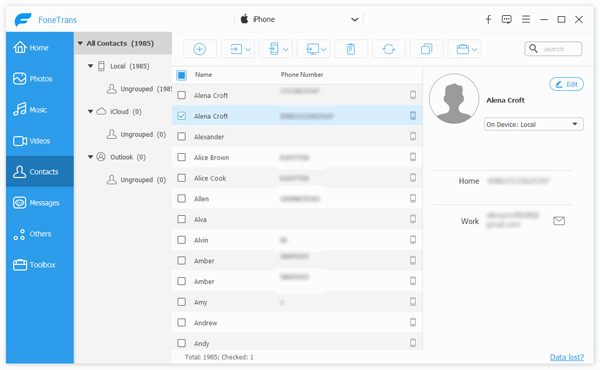 Step 3 Here we provide two ways for your iPhone contacts backup. The first method is to check all contacts or just what you need and click Back/Restore. The contacts will be backed up or restored. If you backup iPhone contacts in this way, then you could click Computer – Document – Aiseesoft – FoneTrans – Backup_Contact to find your contacts backup in VCF format. They could be read by our software, and next time, when you click Restore (below the Backup button), the backup of iPhone contacts will be restored on your iPhone.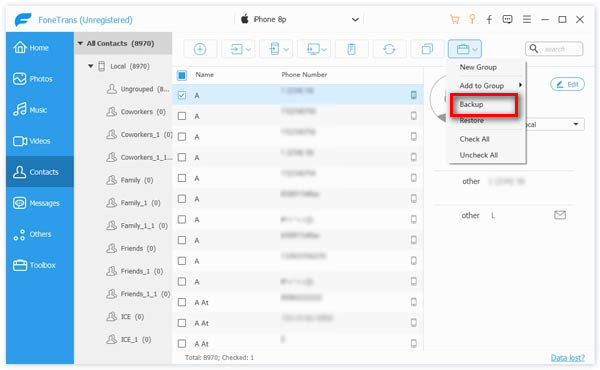 Step 4 The second way is to click Import/Export – Export Selected Contacts/Export All Contacts – to Outlook/Windows Address Book/VSF/vCard File/Mutilple vCard Files. In this way, the exported iPhone contacts will be saved in various formats, and you are able to import contacts to Gmail, Hotmail, Yahoo, iPhone.etc. according to your needs.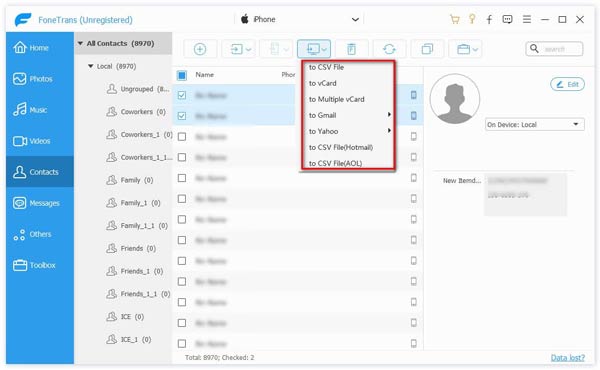 Step 5 Apart from backuping contacts to computer, FoneTrans also functions great to help de-duplicate contacts. That means, if you have stored your contacts repeatedly, or restore contacts backup with repeated contacts, this program will help you to de-duplicate your contacts.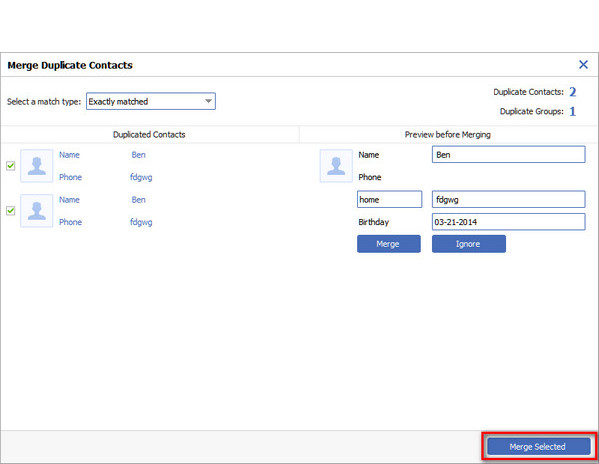 When you view your iPhone contacts in step 2, select all contacts and click De-duplicate for scanning all repeated contacts. After confirming those contacts are exactly repeated, then you could click Merge Selected to de-duplicate your contacts. This function enables you to avoid repeating problem and free up iPhone space for you.
Method 5. How to backup iPhone contacts to Gmail
Still, if you have Gmail account, you could also use Gmail to sync iPhone contacts. For the deails, you can visit: sync contacts to Gmail.
The above ways are helping you to back up iPhone contacts. After you make iPhone contacts backup, you can learn here to restore contacts from iPhone backup.