How to Recover Music from iPod and Copy to Computer
As one of the finest music players, the iPod has been trusted by users in various countries since its release. Countless people have enjoyed listening to beautiful music anytime and anywhere with it. People create their song lists and download their favorite music to their iPod. However, iPod malfunction or accidental deletion happens often, and you lose your favorite music files.
To help you escape the predicament of losing music files, we will introduce you to 3 ways to recover music from an iPod and copy to a computer. Whether you use iTunes or not, you can find a suitable solution in this article. Read on and explore with us!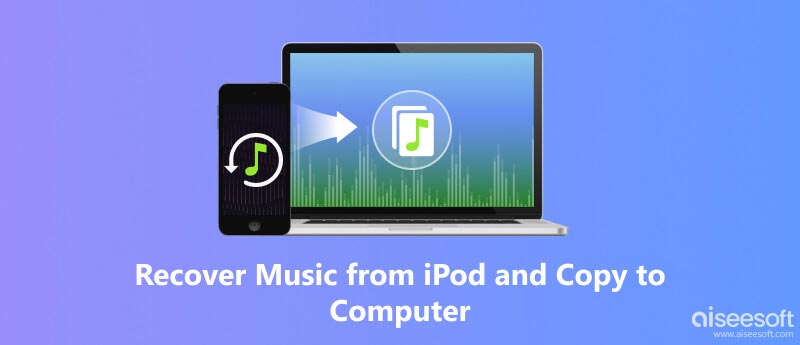 Part 1. How to Recover Music from An Old iPod
For Apple users, iTunes has been one of the most commonly used data transfer and backup tools. It reads the data on your device and keeps backups for you to restore at any time. Therefore, if you want to recover music from an old iPod, iTunes will be your most basic choice. The prerequisite is that you have synchronized your music to the iTunes library.
Here are the steps you should follow to apply for recovering with iTunes.
Step 1:
First, you must ensure that your computer has the latest version of iTunes installed. Otherwise, it may affect the normal use. Then, link your iPod and the computer with a USB cable.
Step 2:
Open the folder of
iTunes
in
My Music
, and delete files except
iTunes Music
.
Step 3:
Then, link your iPod and the computer with a USB cable. You may be asked if you want to remove your iPod's contents. Click
Cancel
.
Step 4:
Open the
Preference
of your iPod, and check the box next to
Enable disk use
.
Step 5:
Come to
My Computer
and double-click on your
iPod
. Open
Tools > Folder Options > View
. Choose
Show hidden files and folders > OK
.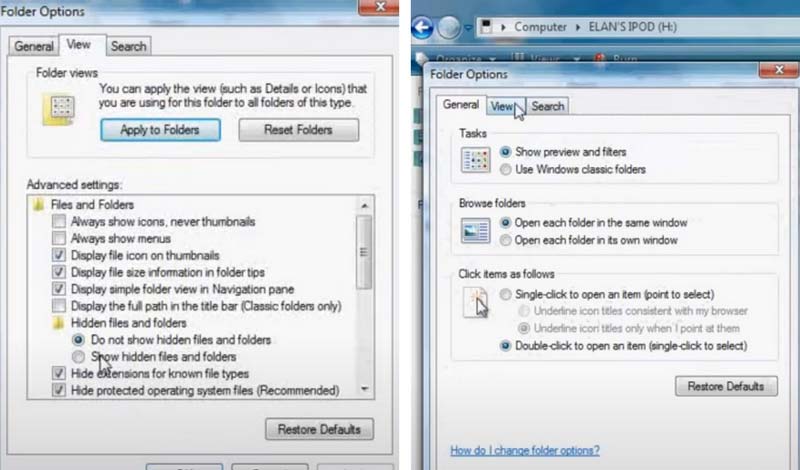 Step 6:
You will find a folder named
iPod_Control
. Open it and press
Ctrl
on your keyboard. Then, come to
Preference
of iTunes, choose
Advanced > Keep iTunes music folder organized
and
Copy files when added to iTunes library > OK
.
Step 7:
Right-click on
Music
in the
iPod_Control
folder. Cancel the checking of
Hidden
and click
OK
.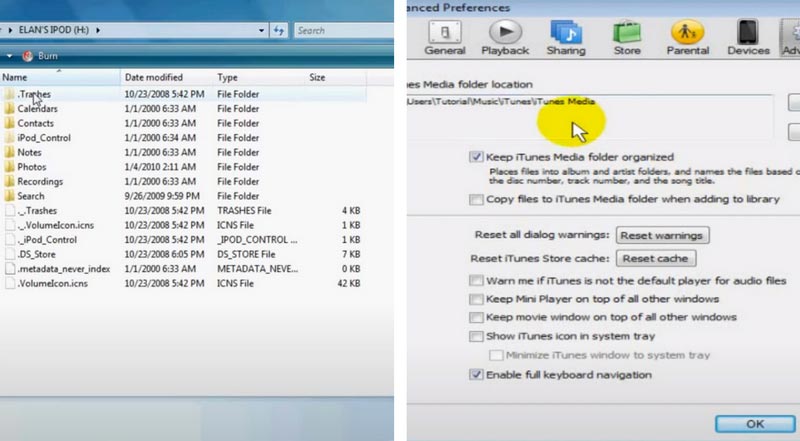 Step 8:
Come to iTunes, and press
Music
. Drag the folder of music to iTunes on your taskbar. Now, your music has been copied to your iTunes library.
Step 9:
Click
File > Add Folder to Library
to add songs not on your iPod to your library.
Step 10:
Find the iPod on the left menu, and press
Sync
.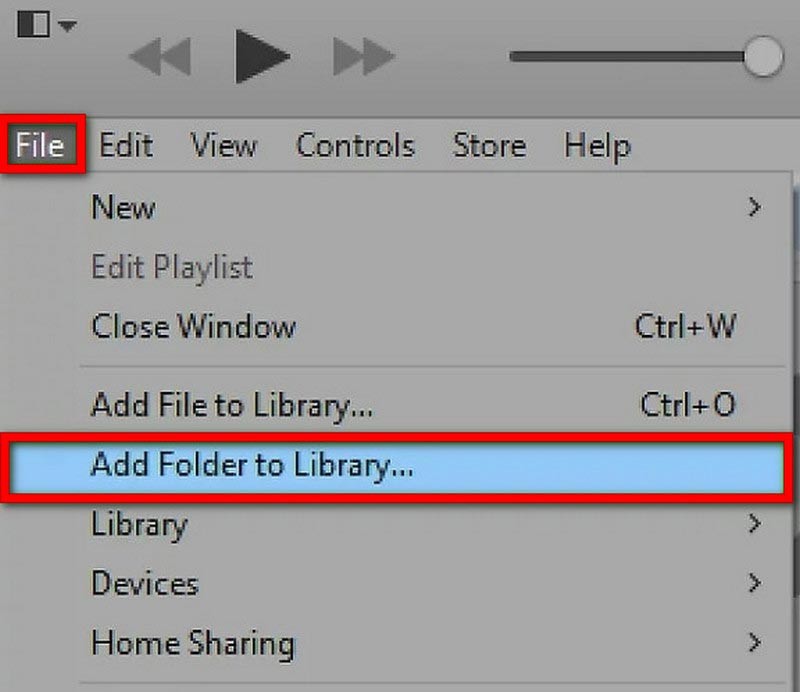 Part 2. Recover Music from iPod without iTunes
Other tools can help you recover music from an iPod without iTunes. Next, we will show you how to apply them.
Way 1. Use Aiseesoft iPhone Data Recovery
Aiseesoft iPhone Data Recovery is one of the best data recovery tools. It helps you recover a wide range of files on your device, including videos, music, messages, calls, notes, contacts, etc., and recover lost iCloud and iTunes backups. Even if your device has a series of problems such as water damage, stuck, lost or stolen, etc., iPhone Data Recovery can help you recover your data smoothly. With the help of advanced Intel acceleration and hardware configuration, its extremely high success rate and recovery efficiency are why many users trust it for recovering deleted files from iPod touch.
Step 1:
Download and install Aiseesoft iPhone Data Recovery on your computer. Link your iPod to the computer via a USB cable.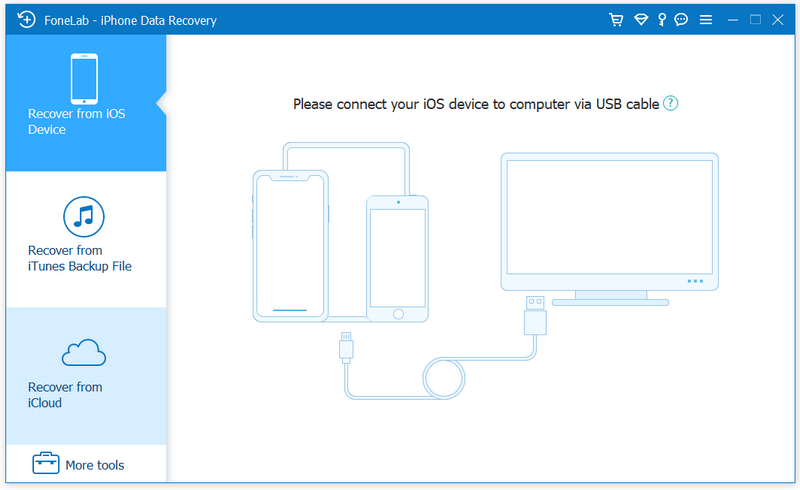 Step 2:
Choose
Recover
from the iOS device on the interface, and click
Start Scan
.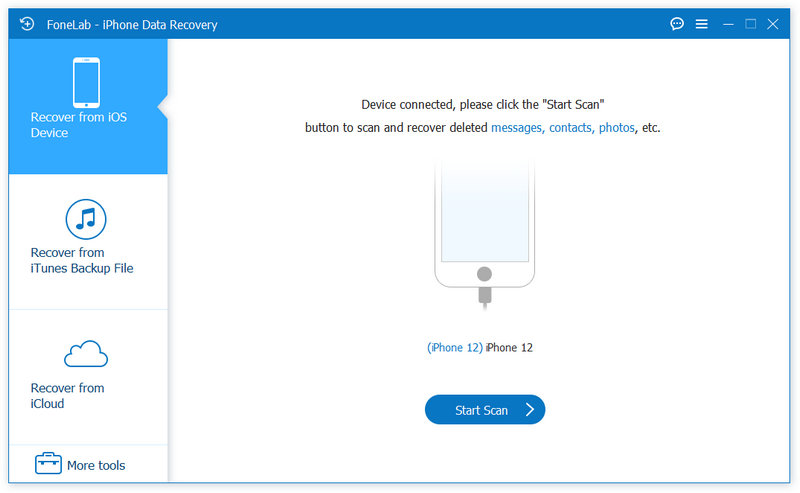 Step 3:
All your files will be displayed. Find your target file and double-click on it to preview it before recovering. Then click
Recover
. This way, you can recover
deleted songs from your iPod
and copy them to your computer.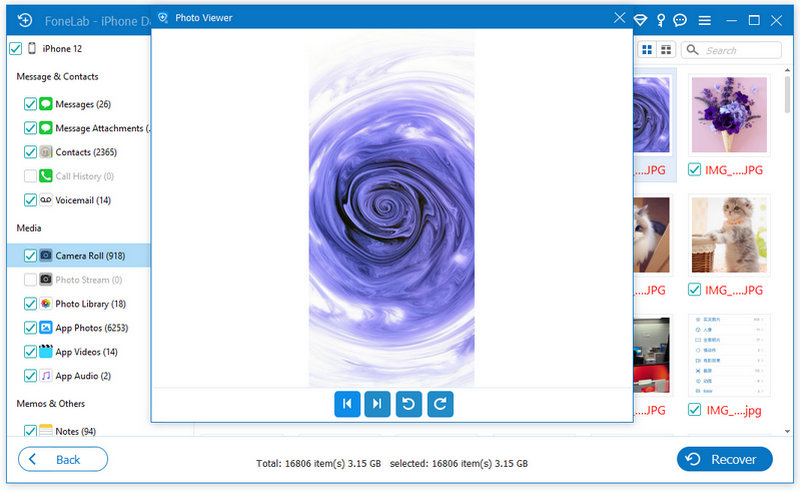 Way 2. Recover Music from iPod Classic Hard Drive
Recovering music from an iPod classic hard drive is also a great option. And Aiseesoft Data Recovery product will be your best choice. It can help you to recover lost files from the computer, hard drive, memory card, digital camera, etc. As a multifunctional software, it is also quite easy to use.
Step 1:
Connect your iPod Classic to the computer after getting Aiseesoft Data Recovery on your computer.
Step 2:
Choose the types of data you want to recover, then select the hard disk on which the deleted files were stored. Then click
Scan
to let the program search for your deleted files on the hard disk.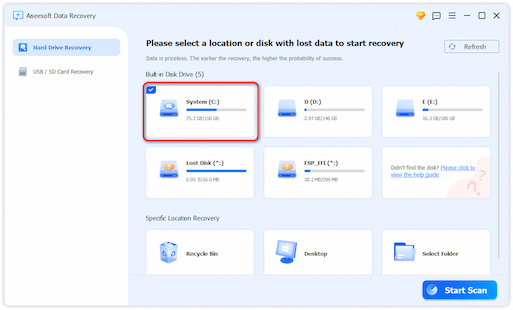 Step 3:
Your lost files will be displayed on the interface. Find those you want to recover and click
Recover
.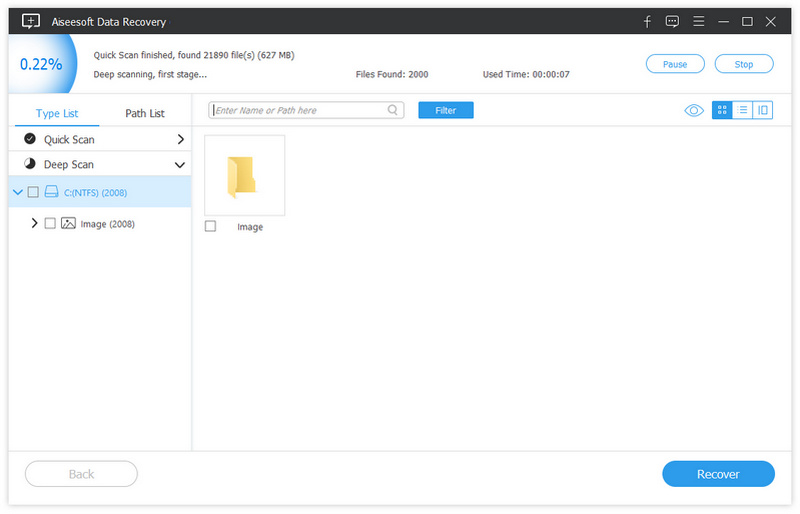 After the process, the recovered files will be saved to your computer.
Tips: How to Copy Recovered iPod Music to a Computer
After completing the recovery of deleted music from your iPod, you may want to back up the songs from your iPod to your computer to avoid losing your important music again. There's no doubt that iTunes can help you do this. iCloud is another way. Just sign in to iCloud on your iPod and upload your music to iCloud. Then, on your computer, log into icloud.com to download the files.
Of course, you can also take the traditional way of USB connection. After connecting your iPod to your computer, directly open the relevant folder and copy the music to the specified location on your computer.
Part 3. FAQ About Recovering Music from iPod and Copy to Computer
Is there a way to get music off an old iPod?
Sure. The most common way to accomplish this is through iTunes. Open iTunes on your computer and click Edit > Preference > Device. Then cancel by selecting the checkbox next to Prevent iPods, iPhones, and iPads from syncing automatically. Click OK. Connect your iPod to iTunes, and choose File > Devices > Transfer Purchase from your iPod. Now, you can sync all your music to the iTunes library.
Can I put music on an old iPod without iTunes?
You can put your music on your iPod through the cloud drive. A few common types of cloud drives that can provide you with this service include Dropbox, Google Play Music, iCloud, etc. You need to open your cloud drive on your computer first, then upload your music files to it. Install the cloud drive app on your iPod and sign in to your account. Download the music to your iPod. With a cloud drive, you can listen to your favorite music and manage your iPod without iTunes.
How to transfer music from old iPod to an iPhone without a computer?
To transfer music from the iPod to the iPhone, you can use the AirPlay feature. Open Control Center on your iPod and iPhone, then turn on AirDrop. Choose the music you want to share on your iPod and tap the three dots icon to check the song details. Select Share Song > AirDrop > your iPhone. Then tap Accept on your iPhone.
Why has all my music disappeared from my iPod?
You can start by checking to see if Sync Library is turned on for all your devices and ensure you're signed in with the same Apple ID you normally use for Apple Music. Your music library may also be stored on your computer, which can be checked to locate missing music.
Can I use my old iPod with a new iTunes?
You can do this. Connect your iPod to the new iTunes and sync the music you purchased on Apple Music to the new iTunes library. Note that you may only be able to sync your purchased music. And music that you haven't purchased will not be transferred to your new iTunes!
Conclusion
After detailing the methods to recover music from an iPod and copy to a computer with the help of iTunes and without iTunes in both cases, we are sure you will be able to complete the recovery operation under the guidance of detailed steps. These practical methods include one of the best data recovery tools, Aiseesoft iPhone Data Recovery. In addition to helping you retrieve iPod music, it can solve numerous file corruption and loss problems. You can try and explore more of its features. If you have a more convenient method, please message us. We will be open to any new ideas!

Leave your comment and join our discussion