3GP - What is 3GP File and How to Open and Play 3GP Video
There is a weird phenomenon that 3GP file format, a multimedia format exclusive for 3G mobile phones, is still so popular among various formats, even though 4G mobile phone has come birth. Have you ever thought of reasons? This article will uncover the mysterious veil of the 3GP file format.

A glimpse of 3GP file format
3GP file format is a multimedia format which is mainly used on 3G mobile phones and some 2G and 4G phones. It was designed for GSM-based Phones and its filename extension is .3gp. 3GP file format is similar to 3G2 file format, another container format, which is mainly applied in CDMA-based mobile phones. Both of them are simplified versions of Mp4 file format. Therefore, some mobile phones use the .mp4 extension for 3GP video. Most of 3G mobile phones, together with some 2G and 4G phones support the playback and recoding of 3GP video. 3GP file format occupies less storage space and needs lower broadband demand, which make your mobile phone run fluently and have more space to use.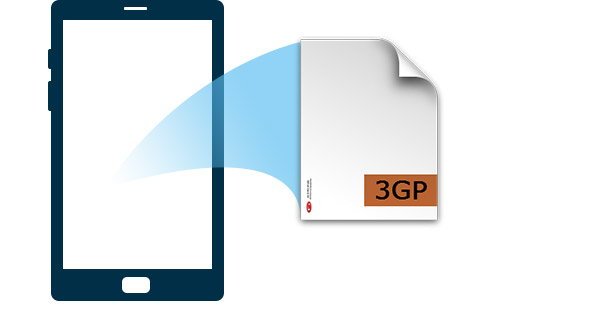 What is a 3GP file?
3GP file format is a multimedia format defined by Third Generation Partnership Project (3GPP), which was designed to match up with high-speed data transmission of 3G Network. It can be played on cell phones, MP4 Player and other mobile devices. A 3GP file is popular with its small file size and strong mobility when played on mobile devices, while it is superior to AVI file format when used on PC for its less universal compatibility, less software to support it and low-quality video image.
The 3GP file format stores video streams as MPEG-4 Part, H.263 or MPEG-4 Part 10 (AVC/H.264) and audio streams as AMR-NB, AMR-WB, AMR-WB+, AAC-LC, HE-AAC v1 or HE-AAC v2. 3GP videos have two resolution videos: resolution of 176 × 144 for all phones that support 3GP format and 320 × 240 for phones with widescreen, MP4 player, PSP, as well as iPod touch.

What devices and systems support 3GP file format?
Almost all 3G mobile phones support to play and record 3GP video. However, the memory and maximum file size of 3GP video, together with resolution limits vary in different devices.
◆ Some phones without 3G capabilities may also support to play 3GP videos or movies.
◆ Some players also can support 3GP files, such as Windows Media Player, Apple Quick Time Player, VLC media player, Media Player Classic, K-Multimedia Player, Totem, RealPlayer, MPlayer and other players.
◆ Some audios imported from CD onto a PS3.
◆ The Nintendo DSi supports 3GP files on an SD card.
◆ Computer used Windows, Mac OS X or Linux operating systems with Windows Media Player, Apple Quick Time Player, and VLC media player can also play 3GP movies.
◆ In addition, 3GP files can be encoded and decoded with FFmpeg.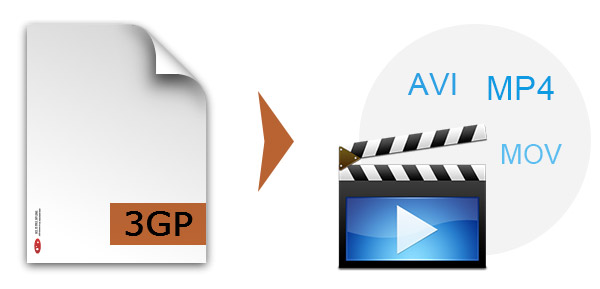 3GP vs 3G2
3GP is the standard video format for GSM-based phones, while CDMA phones use the 3G2 format as specified by the 3rd Generation Partnership Project Group 2 (3GPP2). Compared to 3GP format, 3G2 is a very similar format including some advancements and some limitations.
Although these two formats can store the same video streams but 3GP is considered superior as it is able to store AAC+ and AMR-WB+ audio streams. However, only 3G2 can contain EVRC, 13K and SMV/VMR audio streams.
When come to the practical usage, programs which can open and convert 3GP are most of the time supporting 3G2 as well.
What devices and systems support 3GP file format?
How to convert a 3GP video?
Sometimes, if you have 3GP videos on hand, you may have difficulty to play them on your computer or mobile device. In that situation, you may need to convert the 3GP files to other more popular format like MP4, AVI, MOV or MKV. Then you may need a 3GP video converter.
3GP Video Converter is a free and professional tool which is designed for converting 3GP video to MP4, AVI, or MOV video format and any audio for music players. It also enables users to adjust parameter settings for the output video/audio.
Aiseesoft 3GP Video Converter
For Mac
Change 3GP/3G2 to 4K MP4, 4K AVI, HD MP4, HD WMV, HD AVI and other video formats.
Convert 3GP/3G2 to lossless audio format like WAV, AIFF and lossless audio formats like M3A, AU, FLAC, etc.
Built-in video editing function for merging several 3GP files into one video and more.
Provide settings for video/audio parameters, like video/audio bitrate, resolution, frame rate, aspect ratio, channels, etc.
How to play a 3GP movie
You may shoot a video through mobile phone and want to view them on your computer. But it cannot be played directly on your computer. In this case, you need to install a 3GP video player. There are many popular videos players in the world, including 3GP Movie Player, Media Player, Quick Time Player, RealPlayer, and more. Here, we strongly recommend 3GP Movie Player to watch your 3GP movie which will give you unusual visual and auditory effects.
However, you can choose to convert your 3GP movies to MP4, or transfer 3GP moives to AVI or other more popular files, through Free 3GP Converter by Aiseesoft, to watch them on various video players. Learn more about how to covert 3GP to MP4 and convert 3GP to AVI.
Blu-Ray Player is a powerful player that not only play Blu-ray disc, folders, but also supports 3GP videos and other video format files. A video played by it will give you a wonderful experience. With its advanced technologies, it will never let you down.
Play 3GP and any other video format, including HD and 4K file for free.
Play Blu-ray disc and folder on your computer easily.
Support DVD disc, DVD folder and ISO file playback with smooth image and high video and audio quality.
Wonderful HD video watching experience and fully enjoy the HD entertainment with this amazing player.
FAQs of 3GP
Can I convert 3GP to MP4?
Yes, you can. MP4 is widely accepted by most devices. For converting 3GP to MP4, you will need the 3GP converter. Aiseesoft 3GP Converter can help you change 3GP to MP4 in simple steps. Here is the detailed guide to convert 3GP to MP4 on computer.
Is 3GP better than MP4?
In the form of compatibility, MP4 is widely accepted by almost all devices while 3GP are specialized for 3G network mobile phone. In the performance, MP4 has the relatively smaller size than 3GP and has a higher resolution up to 4K support, while 3GP supports the SD resolution. In one word, MP4 is more popular than 3GP.
How do I view 3GP files on my iPhone?
The supported video formats on iPhone are H.264, MP4, MOV, and M4V. 3GP cannot open on iPhone. For playing 3GP on iPhone, you should use Aiseesoft 3GP converter to convert 3GP to iPhone supported formats, and then transfer the videos to iPhone.