A Brutally Honest Review of CCleaner for iPhone Running iOS 15 and Earlier
It is not easy to clean up iPhone or iPad memory and improve performance. As time goes by, your iPhone stores a lot of cache data saving each of your activities using apps, accessing the internet, and more. However, iOS does not provide any feature to delete them in batch. In addition, to re-install your apps, you can only clean up your iOS device with a third-party tool, such as CCleaner for iPhone. This article will take you through the software.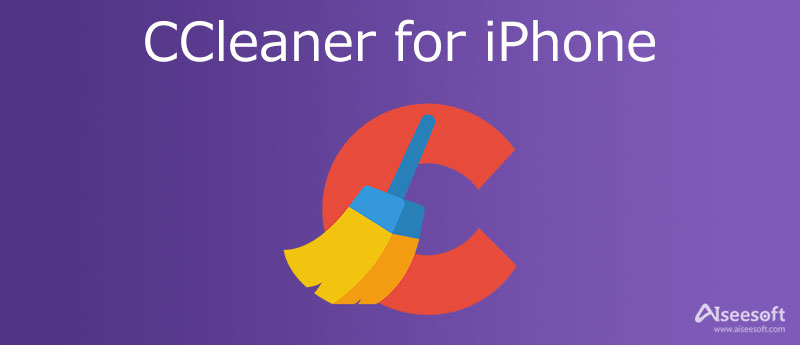 Part 1: What Is CCleaner for iPhone
At first, CCleaner is the cleaning software released for PC. Now, the iOS app allows you to clean up your iPhone and iPad quickly. According to the developer, it can remove junk, clear RAM, and monitor the software status. That makes it an easy way to boost your slow iPhone.
Key Features of CCleaner for iPhone
1. Speed up iPhone by cleaning up junk files.
2. Clear unwanted data, like app cache, browsing history, etc.
3. Optimize iPhone easily and simply.
4. Work fast and require low RAM.
5. Stop apps running in the background and clean up the memory.
6. Prevent app from running in the background.
7. Available to iPhone and iPad running iOS 15 and earlier
Brief Review of CCleaner for iPhone
PROS
1. The app gives users impressive custom options.
2. CCleaner for iPhone lets you control your iPhone storage easily.
3. It can clean up iPhone memory without jailbreaking.
4. It can detect malware on your iPhone and help you remove it.
CONS
1. The user interface is a little clunky.
2. You cannot install the app from App Store.
3. When using CCleaner for iPhone, you might need to take some risks.
Part 2: How to Use CCleaner
Suppose you do not mind the security issue of CCleaner for iPhone, it may be a good way to clean up your memory and speed up your iOS device. However, you have to install the app from the official website but your App Store. We share the procedure below.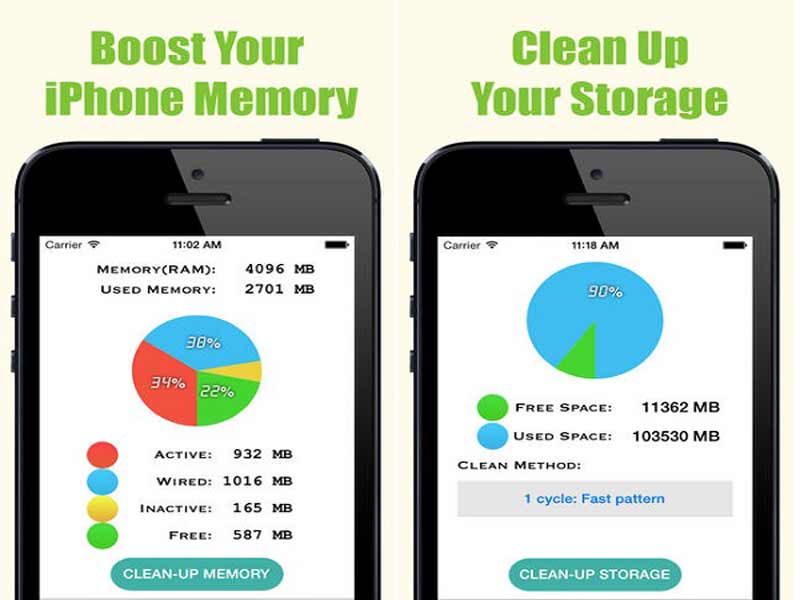 Step 1:
Visit the official website in Safari or other browsers and click the 
download
 button. Then you will be taken to the installation profile page.
Step 2:
Tap the 
Install
 button at the top right corner, and then press the 
Install Now
 button when prompted. Now the installation process will begin.
Step 3:
Wait for the process to finish and don't run the app immediately. Instead, open the 
Settings
 app from your home screen, and head to 
General Settings
. Tap 
Profile
, and hit 
Trust
 on iOS 9 and earlier, or 
Device Management
, 
Profile
, and press 
Trust
 on the new systems.
Step 4:
Now, head to your home screen, and run CCleaner for iPhone. Now, you can look at the status of your memory and clean it up quickly.
Part 3: Best Alternative to CCleaner for iPhone
The biggest drawback of CCleaner for iPhone is the safety. Whether you use it on your iPhone or iPad, there may be a problem. Moreover, it is difficult to install the app from the website. Fortunately, CCleaner for iPhone is not the only way to clean up your memory and storage. Aiseesoft iPhone Cleaner, for example, is one of the best alternatives.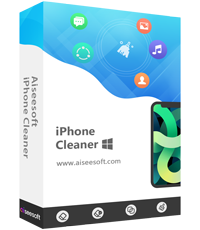 Downloads
Aiseesoft iPhone Cleaner – Best iPhone Cleaner
Free up iPhone space in a single click.
Available to junk files, cache, app data, and more.
Clean up all data or specific files after previewing.
Erase iPhone using advanced technology.
How to Clean up iPhone Space with a Computer
Step 1: Connect iPhone to computer
When your iPhone slows down or you need to clean up space, install the best alternative to CCleaner for iPhone on your computer. Then connect your iPhone to the same machine with a Lightning cable. We suggest you use the cable that came with your iOS device to protect your iPhone and data. Run the software and it will recognize your iPhone automatically.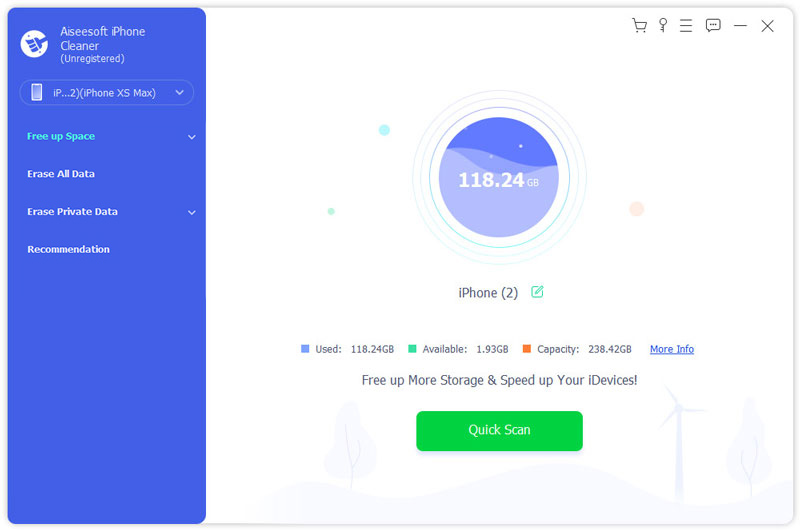 Step 2: Clean up iPhone space
Choose the 
Free up Space
 entity on the left-hand column. If you intend to erase the entire iPhone, choose 
Erase All Data
 instead. Next, click the 
Quick Scan
 button to begin looking for unwanted files and data from your iPhone. A few seconds later, you will see the data types that can be deleted. Click the 
Erase
 button next to the unwanted data type to begin cleaning up iPhone immediately. If you want to preview the detail of each data type, click on it under the 
Free up Space
 section. Then you can delete specific files from your iPhone.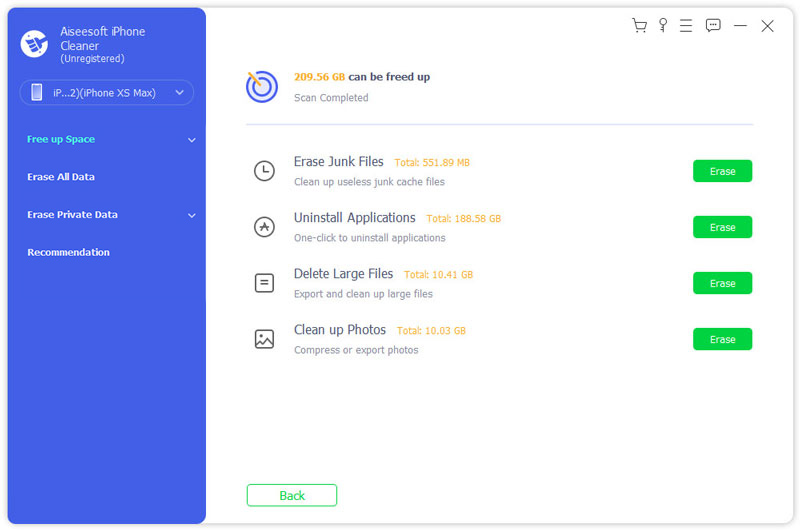 During the process, keep your iPhone connected to the computer. When it is done, remove your iOS device and it should work smoothly.
Part 4: FAQs about CCleaner for iPhone
Is CCleaner for iPhone safe to use?
According to our research, CCleaner for iPhone is safe to use. It has not been subject to prejudice about having malware. However, it is revoked by Apple. The installation is a bit complicated.
How much does CCleaner for iPhone cost?
There is a free version with limited features. If you intend to use the full version, you can pay for a plan. The professional version costs $24.95 for one year on one computer, $39.95 for one year on three PCs. It also provides other plans and you can pay for them according to your need.
Does CCleaner work with Windows 10?
Yes, CCleaner is available to Windows 10; however, the built-in Microsoft Defender now detects CCleaner as a PUA. When installing, you will get a warning said CCleaner comes with bundled applications including apps that are not required by the software.
Conclusion
Now, you should learn that CCleaner for iPhone is a still-working app to clean up space on iOS devices. Moreover, we also explained how to install the app on your handset. If you do not like the app, we shared an alternative, Aiseesoft iPhone Cleaner. It is not only easy to use but also able to protect your data. More questions? Please, leave your message below this post.

Leave your comment and join our discussion