Forget Old Christmas Ringtones, and Let's Make Different Tunes for iPhone
Christmas is the worldwide festival that people celebrate for the day of the Christ. You need to buy Christmas gifts, Christmas trees, Christmas decorations and other stuffs with lots of money. Fortunately, you can download Christmas ringtones for freefrom 10 hot sources.
Moreover, you can create unique iPhone ringtones for Christmas with no cost here. Yes, you can turn any Christmas song, dialogue, background music and movie as your iPhone ringtone. Now, let's read together to see where and how to get free Christmas ringtones for iPhone in 2020.

Part 1: Top 10 Websites and APPs to Download Free Christmas Ringtones
There are two main ways for downloading Christmas ringtones here. Thus, you can get best Christmas ringtones on your iPhone or computer.
Top 5 Sites to Get Free iPhone Ringtones for Christmas
If you want to download free Christmas songs and ringtones, you can get more choices from online sites. Many iPhone ringtones sites accept music tracks uploaded by users as iPhone ringtones, too. You may find your best Christmas holiday ringtone here.
| Online Christmas Ringtones Download Sites | Brief Introduction | URL |
| --- | --- | --- |
| Zedge | Zedge offers the huge collection of free iPhone Christmas ringtones. You can get Christmas Bells, Christmas Time, Christmas Techno and many other Christmas oriented free tracks online. | https://www.zedge.net/find/ringtones/christmas |
| MyTinyPhone | Here are over 1000 free Christmas ringtones for iPhone and iPad users. You can get funny Christmas ringtones, country Christmas ringtones and many other themes from MyTinyPhone. | http://www.mytinyphone.com/search/?skey=christmas&showall=ringtones&subm=Search |
| Notification Sounds | You can download Christmas ringtones as MP3, M4R or OGG format. Any Christmas ringtone in the Notification Sounds site is licensed. | https://notificationsounds.com/christmas-ringtones |
| Cellsea | Cellsea is also a good option to download free Christmas music ringtones. Though the popping-up ads are quite annoying. | http://www.cellsea.com/ringtone/search?keyword=christmas&sa=Submit |
| Mob.org | You can download not only free Christmas ringtones, but also good SMS and messages tunes here. Moreover, you can scan QR code to download Christmas ringtones to iPhone for free directly. | https://tones.mob.org/tag=holiday/ |
Top 5 APPs to Download Christmas Ringtones for iPhone
Apart from buying ringtones, you can also download Christmas ringtones for free on your iPhone directly. There are many free Christmas ringtones apps in the market. If you have no idea which one to choose, you can get some advices here.
1. Free Christmas Ringtones
URL: https://itunes.apple.com/us/app/free-christmas-ringtones-christmas-music-ringtones/id391257893?mt=8
You can unlock many ringtones for Christmas and other holidays with Free Christmas Ringtones for iPhone. Its daily updating allows users to get more fresh iPhone ringtones. You can get free, lite and pro versions for downloading Christmas ringtones and alert tones in different levels.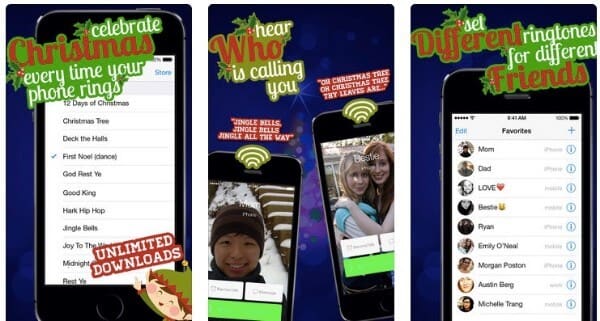 2. Christmas Ringtones – Carols
URL: https://itunes.apple.com/us/app/christmas-ringtones-free/id736536917?mt=8
You can get both new and classic Christmas ringtones in this Christmas ringtones app for iPhone. There are nearly 40 ringtones that are dedicated as Christmas celebration tones, though some tones are matched with wrong titles.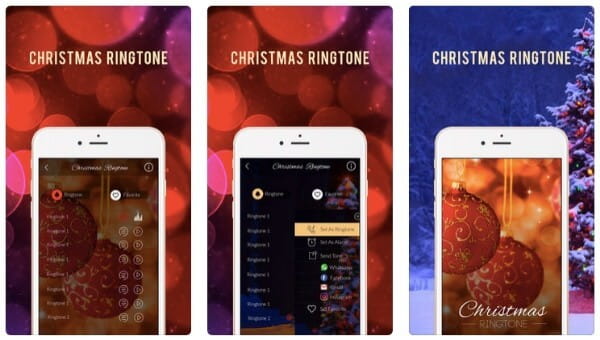 3. Christmas Texting & Ringtones
URL: https://itunes.apple.com/us/app/christmas-texting-ringtones/id567533842?mt=8
Just as its name shows, you can get Christmas ringtones and notifications with your iPhone. It is free to use Christmas backgrounds and emotions in the app too. What's more, you can even create your own Christmas music tree with family images decorated.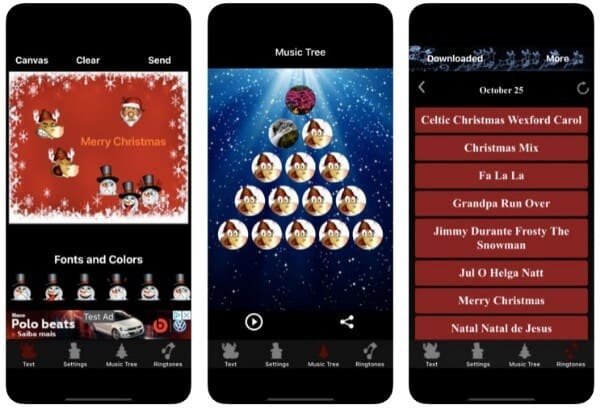 4. Merry Christmas Ringtones
URL: https://itunes.apple.com/al/app/merry-christmas-ringtones/id938685996?mt=8
From Merry Christmas Ringtones app, you can get lists of free Christmas songs and ringtones. You can also share Christmas tunes within this app through Facebook, Twitter and Gmail quickly. Before downloading, you can tap and hold the ringtone to pre-listen first.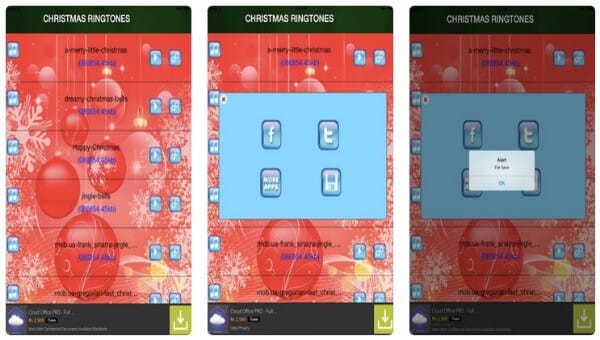 5. Christmas Ringtones 2018
URL: https://itunes.apple.com/us/app/christmas-ringtones-2018/id1318277627?mt=8
Christmas Ringtones 2018 app offers many classic Christmas ringtones and top remixes. In spite of Jingle Bells, you can get new iPhone ringtones for Christmas too. Sadly, some artists get paid for Christmas mobile ringtones.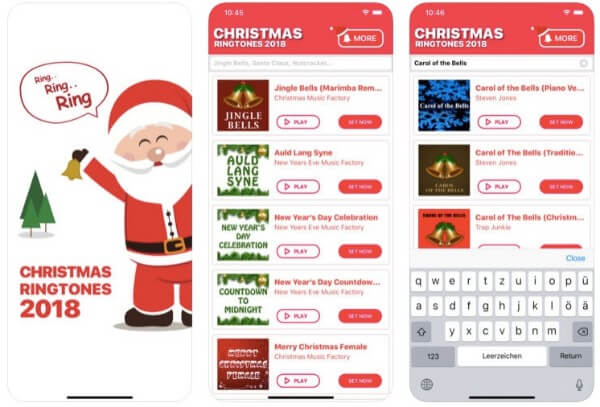 Part 2: Best Way to Make Christmas Ringtones for iPhone without iTunes
If you want to set a special Christmas ringtone, you can use Aiseesoft iPhone Ringtone Maker to add some audio tracks you like. Different from common ringtone creators, you can custom and convert iPhone ringtones from local audio and downloaded video files. Consequently, you can even DIY a lossless Christmas ringtone from your favorite movie part in clicks. Moreover, transferring ringtones to iPhone, iTunes and PC is also easy. In a word, you can make a custom iPhone ringtone for Christmas with ease.
Main Features of iPhone Ringtone Maker
1. Convert any video or audio to M4R iPhone ringtone format.
2. Set iPhone ringtone length, volume, fade in/out and other effects.
3. Export the generated Christmas ringtone to all iOS models, as well as iTunes and PC.
4. Support the latest iOS versions and all iOS models, such as iPhone XS, iPhone XR, iPhone X, iPhone 8, etc.
How to Create a Christmas Ringtone for Your iPhone
Step 1 Free download, install and run iPhone Ringtone Maker.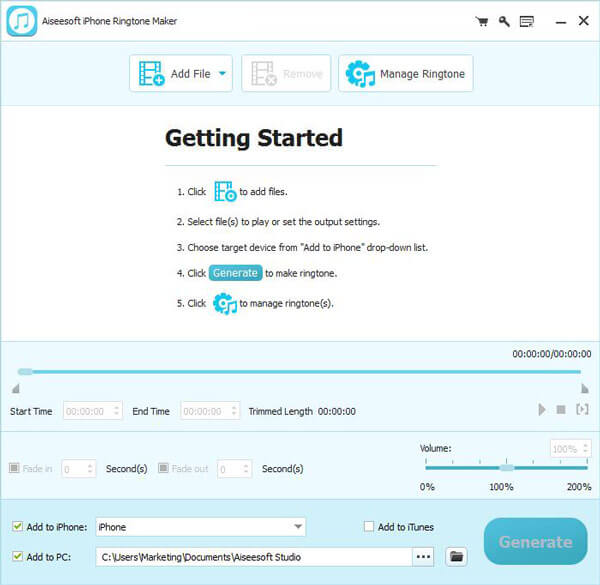 Step 2 Click "Add File" to add audio tracks about Christmas.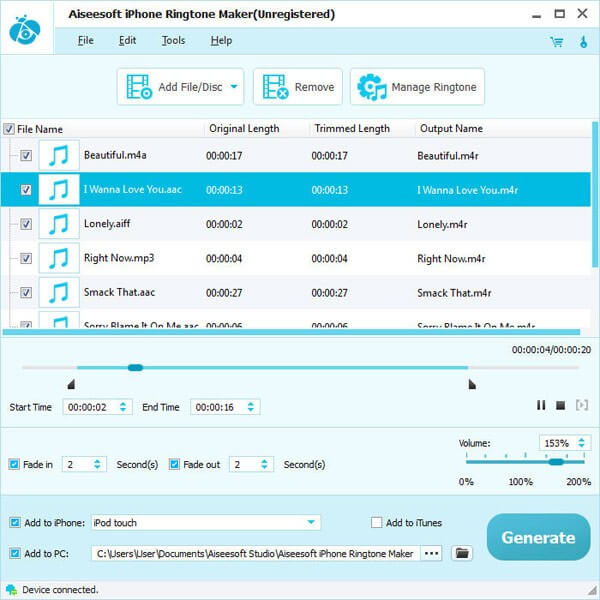 Step 3 Extract iPhone ringtone
Select the file you want to edit. Set the iPhone ringtone length with start and end time freely. In addition, you can define ringtone effects by settings fade in/out duration and volume.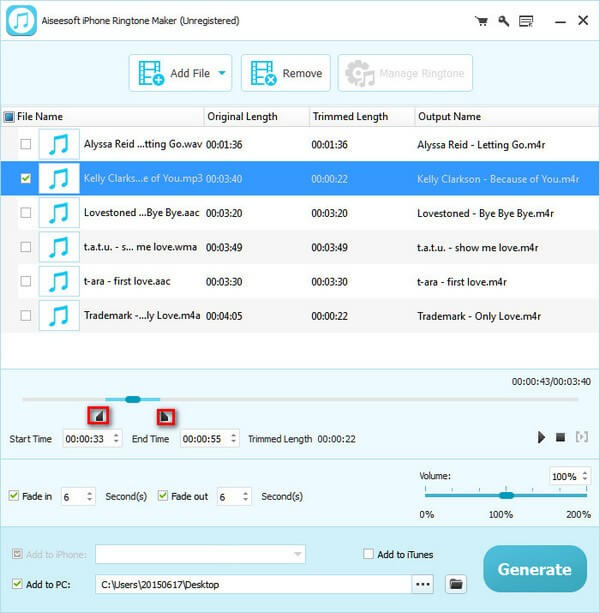 Step 4 Set free Christmas ringtones to iPhone
If you want to export the ringtone to iPhone directly, you need to connect iPhone to PC via a USB cable first. Later, choose your iPhone's name from the "Add to iPhone" list. At last, click "Generate" to apply all changes and start creating Christmas ringtones for iPhone.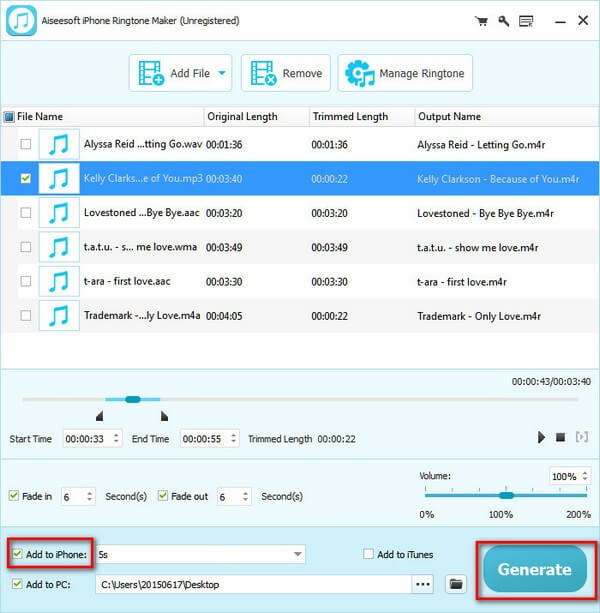 You can DIY free Christmas jingle ringtones here, as well as other Christmas music. Furthermore, you can use iPhone Ringtone Maker to add free Christmas ringtones to iTunes quickly. All in all, you can download and create free Christmas ringtones with above tools as a Pro. Just have fun and celebrate Christmas with awesome ringtones right now!