Where to Buy Ringtones for iPhone and Android
"I do not like the default ringtone on my iPhone 14, 13, 12, which is the same as many iPhone users. I want to buy new ringtones as my iPhone ringtone. Where can I purchase ringtones?"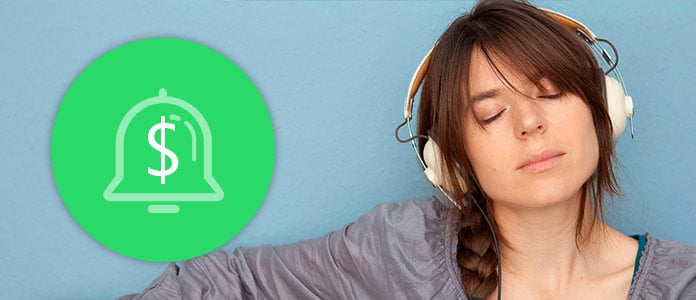 No matter what phone you use like iPhone or Android, one of the tiring things you have ever suffered is the default ringtone. Every new phone will be put the pre-loaded ringtones by manufacturer. However, the standard ringtones are limited and many of users use them as the ringtone. So if you want to custom ringtones on your iPhone and Android, you should consider buy ringtones. So where to buy the ringtones? How to purchase ringtones? That's what we shall show you in this page. Keep reading to find the answers.
Part 1. Where to buy ringtones
Whether you are using iPhone or Android, you could find apps or sites that can purchase ringtones. Now let's see where you can buy ringtones for your iPhone.
iTunes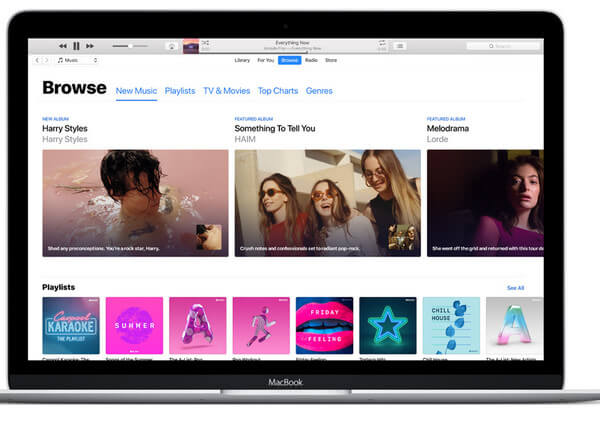 iTunes is a media player, media library, online radio broadcaster and mobile device management app. You can buy or rent songs from its enormous catalog of 40 million media files. Definitely, you can buy ringtones on iTunes. iTunes provides you ways to purchase ringtones on computer or iOS device like iPhone.
How to buy ringtones on iPhone with iTunes
Step 1 On your iPhone, go to "iTunes Store" app, hit it and run the app.
Step 2 Tap "More" to find "Tones" section, where you will find a list of many ringtones with the price. Here you could select the ringtone by "Charts" or "Genres" or features.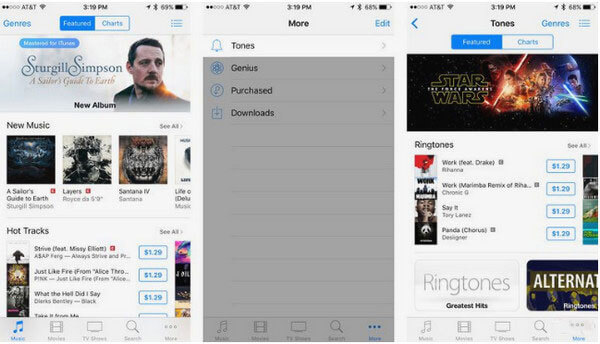 Step 3 After you select the ringtone, hit the price to read "Buy Tone" button. Then you will be asked to log in Apple ID and password to complete the purchase of ringtone.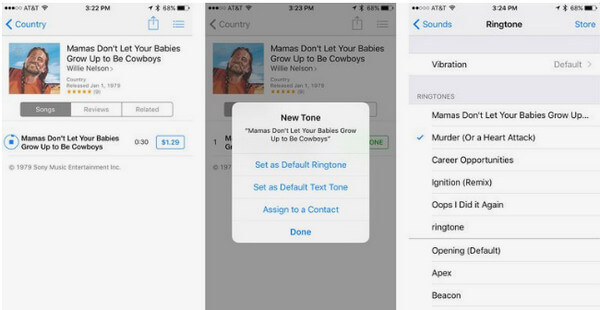 In a moment, the purchased ringtone will be downloaded to your iPhone. You can find it by tapping "Settings" > "Sounds".
Google Play
Google Play is to Android what iTunes is to iOS. Not only Android apps you can get from Google Play, but songs can you download from Google Play. Because Android ringtones does not limit the time duration, you could set any song as the ringtone on Android phone freely, after you buy the songs from Google Play.
How to purchase ringtone on Android with Google Play
Step 1 Go to https://play.google.com/music, sign in your Google Play account.
Step 2 Select the menu icon > "Music Library" > "Songs" > "Shop".

Step 3 In the shop music, you could find the music is categorized as top charts, new release, or genres. And every song is list with the price.
Click the song price to pay the money and download the song.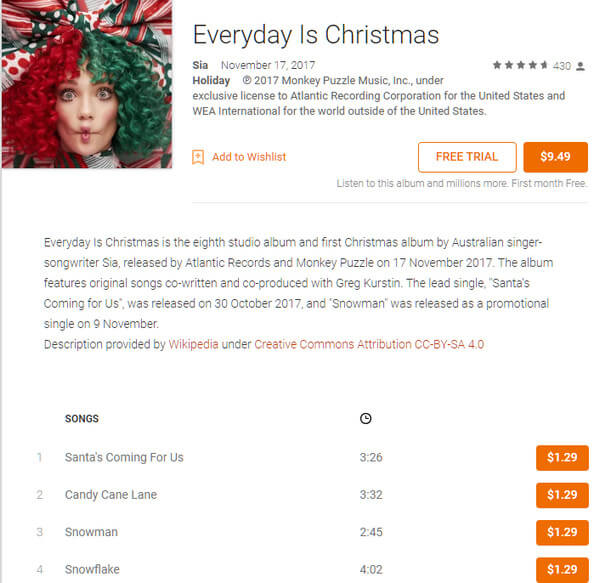 Step 4 Connect your Android phone to computer with USB cable, and the window will pop up, find "Ringtones" folder, and drag the downloaded MPS file to "Ringtones" folder on your Android phone.
Amazon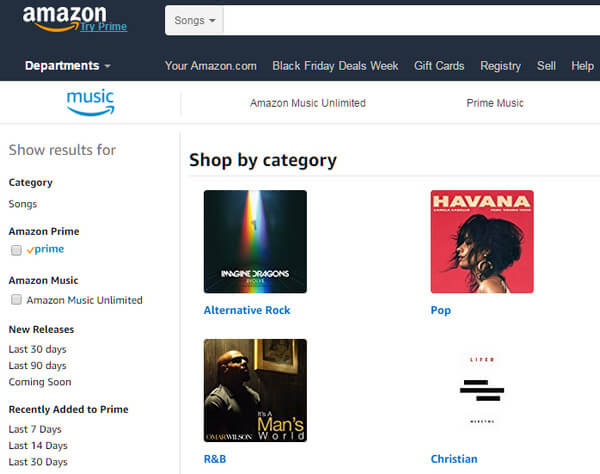 Amazon is an online shopping platform where you could buy books, magazines, music, DVDs, videos, electronics, computers, software, apparel & accessories, shoes, jewelry, tools & hardware, and more. You can buy the songs directly online and transfer the song to your iPhone or Android, also, you will be allowed to buy ringtone apps that will be installed on your phone to get the ringtones.
How to buy ringtones on Amazon
Step 1 Visit https://www.amazon.com, and search the ringtone name of you want to buy.
Step 2 Click the song name to view the information. And then you just need to click the purchase button, confirm the purchase information, and pay money.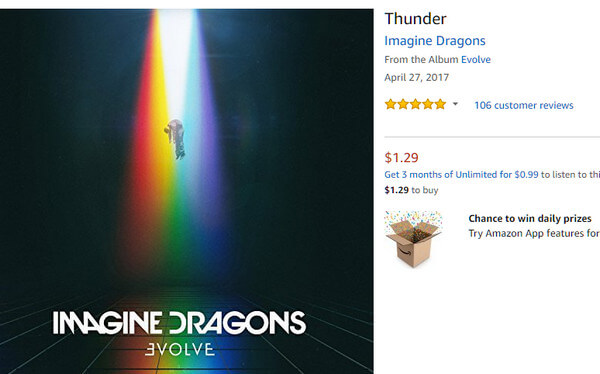 Step 3 After that, you could open the Purchased playlist in the Playlist view of "My Music" to see all of your recent music purchases.
Verizon Tones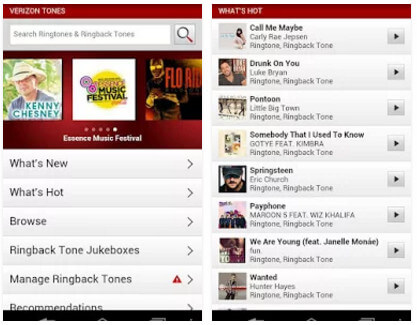 Verizon Tones is the app that you can buy ringtones and download tones from. This app allows you to set the purchased ringtones as default ringer and assign the purchased tones to contacts in your address book.
Step 1 Search Verizon Tones app on Google Play on your Android phone, install and run it immediately.
Step 2 Browse the available music tones and select the ones that you want to buy.
Step 3 Hit "Subscribe to Ringback Tones" to start your Ringback Tone service.
Part 2. Alternatives to buy ringtones
Honestly, buying ringtones will be not a small cost, so if you want to change your ringtones frequently, but not willing to spend a lot on that, then here you need to find alternative ways to buy, download free ringtones and make ringtones by yourself.
Download free ringtones
There are various ways to download ringtones. You can download from online to computer, and then transfer ringtones to iPhone or Android. Also, you could use some apps that enable you to get ringtones download directly to your phone devices.
Make ringtones for your iPhone
If you have stored many songs on your iPhone, then you could create the ringtones for iPhone with the current songs to save a lot of money. Take iPhone Ringtone Maker to help you custom your own iPhone ringtones.
iPhone Ringtone Maker is the iOS ringtone maker and manager to help you create ringtones from video or audio file and manage ringtones from your iPhone on computer.
Let's check what features it possesses:
✔ Create ringtones from almost video and audio file.
✔ Send the created ringtones to iPhone directly.
✔ Share the ringtones to iTunes or computer.
✔ Compatible with iPhone 14/13/12/11/XS/XR/X/8/7, iPad Pro, etc.
✔ Delete, rename iPhone ringtones and sync ringtones from iPhone to computer.
Now, let's follow the steps to make your own ringtones:
Step 1 Download, install and run this program on your computer.
Step 2 Click "Add File" to import the video or audio file that contains the ringtone that you want to make.
Step 3 Set the duration time (iPhone ringtone is within 40 seconds), fade in/out effect, and volume.
Step 4 Connect your iPhone to computer, and click "Generate" to start to make the ringtone and transfer the converted ringtones to iPhone.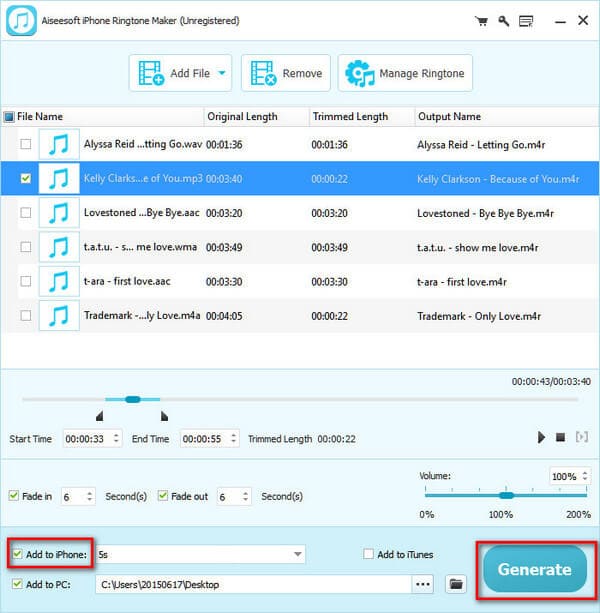 Create ringtone on Android
Android ringtone is easy to make because of no limit of time, and you just need to convert the song to MP3 format, and set the song as the ringtone on your Android phone.
Learn here to make ringtones for Android.
Part 3. How to set ringtone on iPhone and Android
The above two parts aim at showing you how to buy or access ringtones on your Android or iPhone. After you getting the ringtones, you may need to consider setting ringtones on devices.
How to set ringtones on iPhone
On your iPhone, go to "Settings" > "Sounds & Haptics" > Navigate "Ringtone" to pick up the ringtones that you get and set it as the ringtone.
Also, you could come back to "Sounds & Haptics" to find "Text Tone", "Calendar Alerts" or "Reminder Alerts" to set the tone for each app.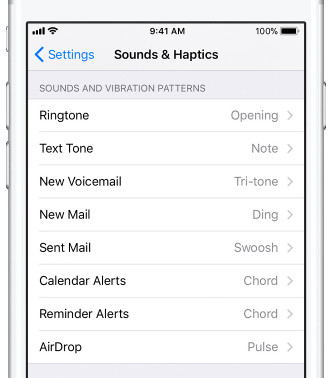 How to set ringtones on Android
On your Android phone, go to "Settings" > "Sound" > "Phone Ringtone" to select the music from default library or stored music to assign your ringtone.
Bottom line
This post mainly talks about the ways to buy ringtones. You can buy ringtones from iTunes, Google Play, Amazon, or third-party apps. However, if you think ringtone purchases cost more that beyond what you can bear, then you could consider downloading or making ringtones by yourself. After getting the ringtones that you want, you could easily follow the guide above to set the ringtone on your iPhone or Android easily. If you think this post miss something, just give your comments below.