12 Best Funny Face App to Enjoy a Different Selfie
When you have some spare time, Funny Face App should be a nice option to entertain yourself. Whether you have an Android phone or iPhone, you can take out the phone to get a different selfie with these programs. The article explains 12 best funny applications for selfie, you can choose the desired one to enjoy a funny time.
In the following article, we have collected 12 best funny face apps for iPhone/Android with different features, some of them are even free.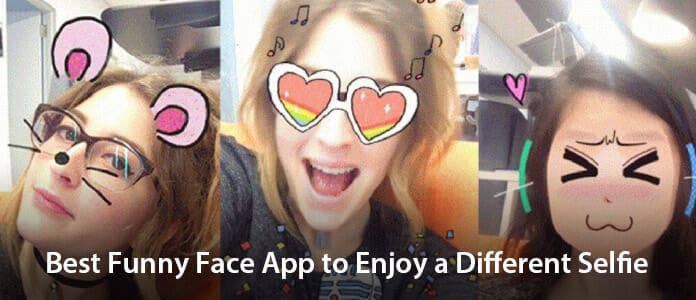 Part 1: Top 6 funny face app for iPhone
MSQRD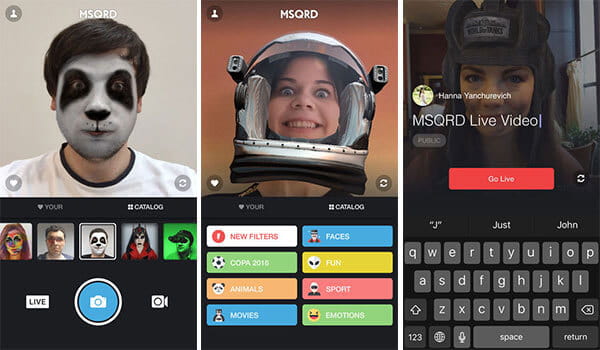 Platform: iPhone, Android
MSQRD provides amazing masks and filters for videos and photos. The Funny Face App for iPhone has seven categories with 23 different filters, COPA 2016, ANIMALS, MOVIES, FACES, FUN, SPORT and EMOTIONS. It is able to turn selfie into a panda, zombie, pee wee herman or even face swap with your friends. Once you shoot a 30 seconds video or apply a filter to selfie, you can share to Instagram, Facebook or other social media.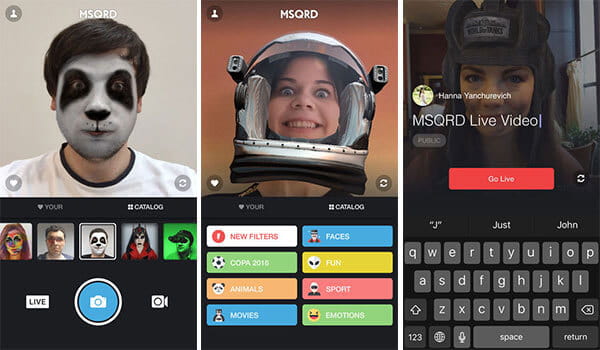 ---

SNOW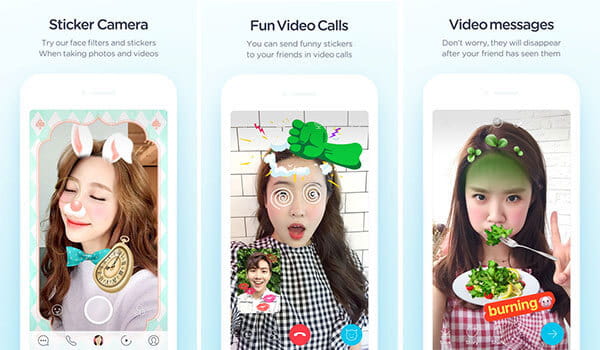 Platform: iPhone
SNOW is more than a funny face application with stunning stickers, it is able to take a fun video with live face filters and send it to friend. What is more, when you send the funny stickers to your friends in video calls, the video filters will disappear after your friends viewed them. The fun selfie maker also enables you to create and share your stories every day and keep up with your friends.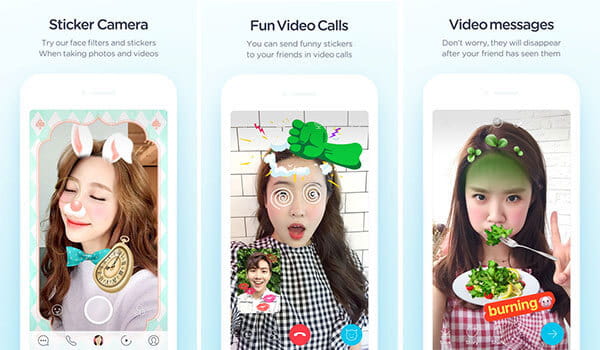 ---

Face Swap Live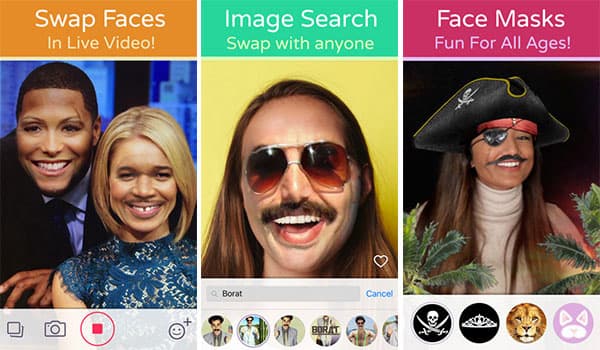 Platform: iPhone, Android
Just as the name of the program, Face Swap Live lets you switch faces with a friend or a photo in real time. Moreover, you can also switch faces from your camera's video lively. Different from the other funny face app, Face Swap live also picks the 3D filters or enables you to search one from Internet and swap out with face. Another interesting feature is the mask custom mode, which add hat, glasses and bread with a hilarious result.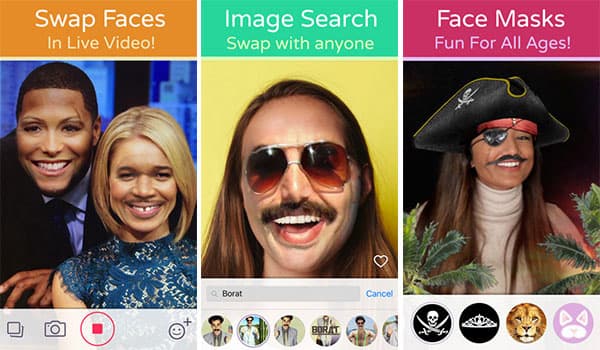 ---

iSwap Faces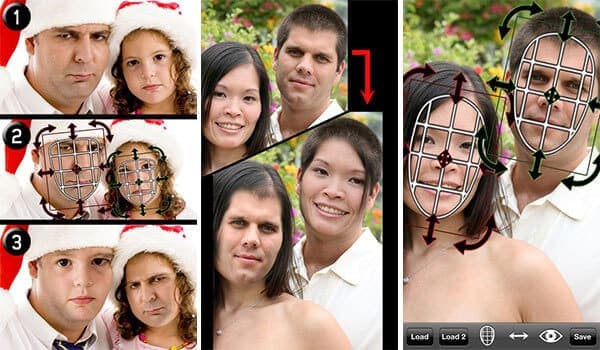 Platform: iPhone
iSwap Faces is one of the most popular face swapping applications to enjoy selfie. When you take a photo or load one portrait from photo library of iPhone, you can switch faces with easy process. Besides, you can also find some face filters from the funny selfie app to enjoy yourself or share the swap faces in Facebook, Instagram, and Twitter. You will enjoy the results with all your friends in social media.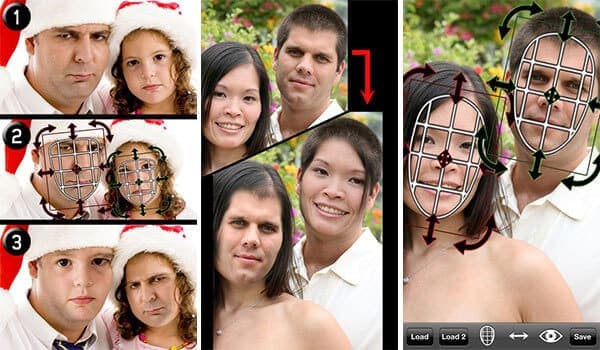 ---

Funny Face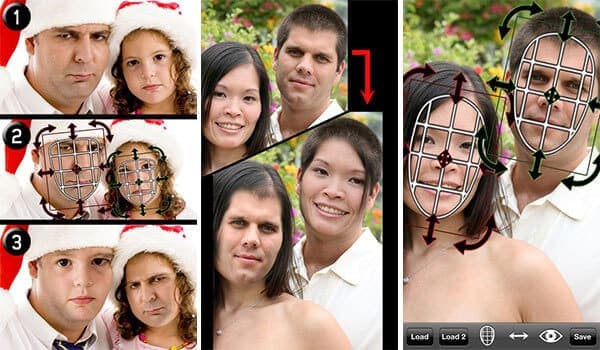 Platform: iPhone
When you are attracted with the lovely Funny Face style, you can find similar photo filters from the funny face app. It has the different fantastic styles for hat, hair, eye, glass, nose, mouth, bread, mask and more. There are more than 1,000 stickers and more others will be added to the application. And you can also find some lovely filters special designed for iMessages. You can just access to similar filters directly without any account of snapchat.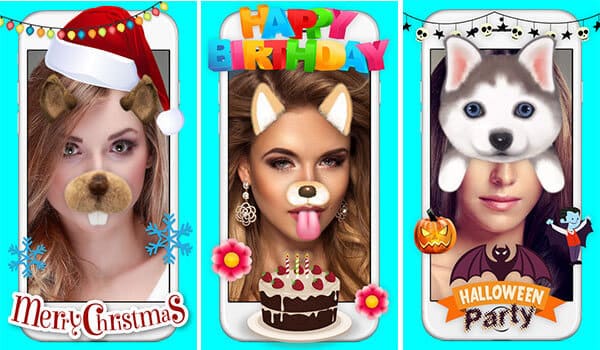 ---

Boo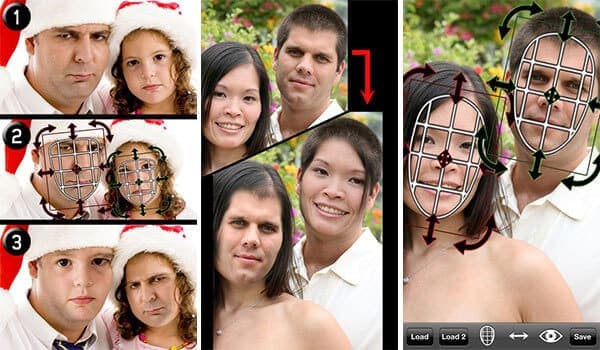 Platform: iPhone
Boo has some incredible filters and stickers for video chat camera. You can make your video fun with motion stickers, Gifs, texts and doodles. When you need to enjoy the most fantastic photo experience, you can apply the filters to photos with ease. The funny face app has lots of users around schools and campuses because of the lovely and funny effects. Say goodbye to the boring text messages or filters with Boo now.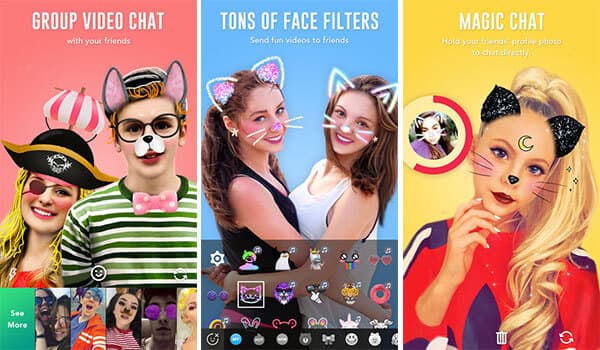 Part 2. Best 6 funny face app for Android

FaceCamera – Snappy Photo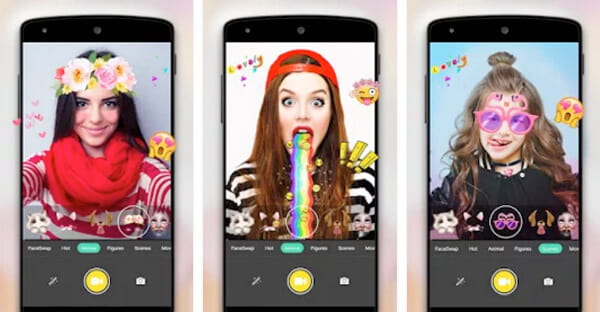 Platform: Android
FaceCamera has the best face changer and photo editor for Android users. Similar to the Funny face app on iPhone, you can swap faces with different looks. Of course, you can also get lots of motion stickers or artistic filters. If you wanna become a cute kitty or a funny clown, you can just add the photos from your Android phone to Face Camera and enjoy them with loud laugh.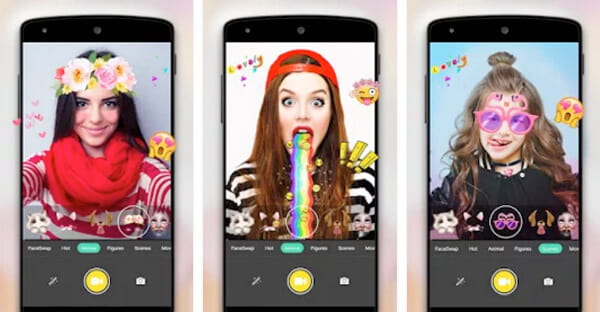 ---

Face Swap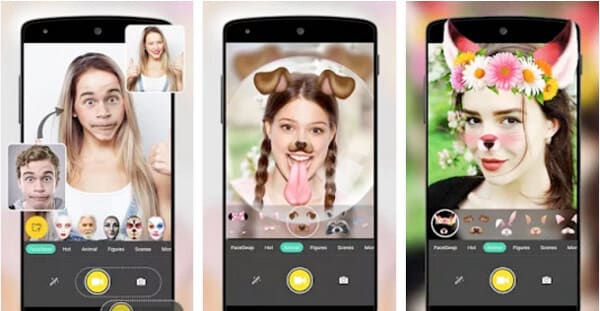 Platform: Android
Face Swap is another funny face app for Android from PIP camera big family. Besides the ordinary face swapping features, face filters and effects, you can also enjoy the experience to change face with super stars. It also provides the fancy animal world with plenty of sticker sets, such as the fluffy dog ears, soft and lifelike animal tongues, cut cat ears and more other lovely effects.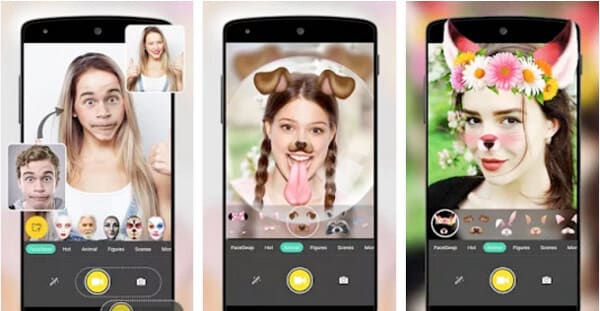 ---

Face Changer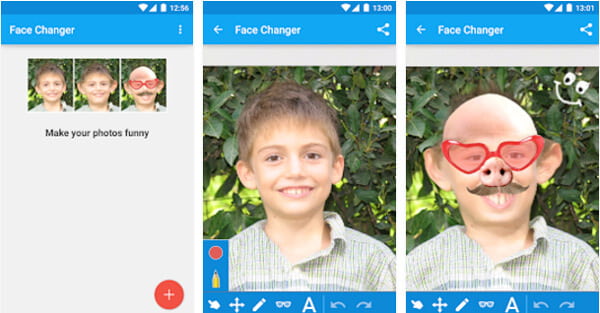 Platform: Android
What should be special about face changer? As for the other funny face applications, you can achieve the result within one click to make up for all the effects. Face Changer is able to replace different face parts, such as eyes, noses or even make bald. And then you can make face thin or fat, make ears pointy or make them smile. No problem to add text or even draw on the photos.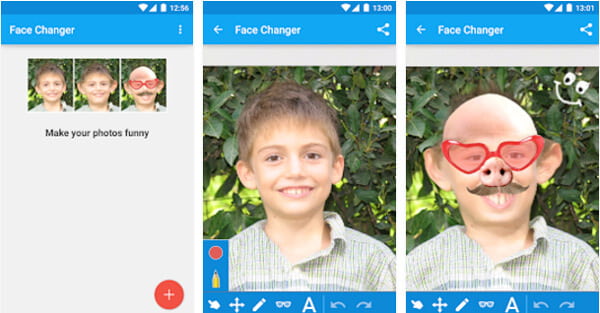 ---

Funny Face Effects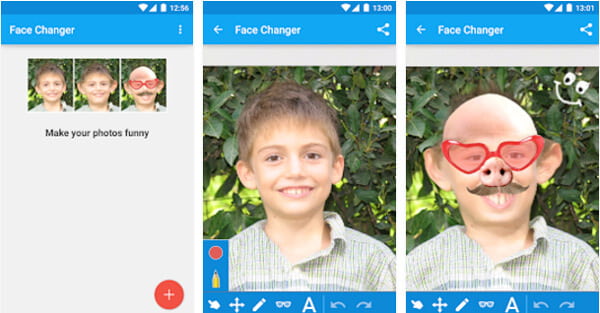 Platform: Android
Funny Face Effects is only used to change different parts of face. It can change face to fat, bold, huge smile and more. And you can use the funny face apk to warp, move, stretch, and distort any image to create your own warped face. When you import the photos from photo gallery of your smartphone or even Facebook, you can share the funny photos to your friends in Facebook or other social media.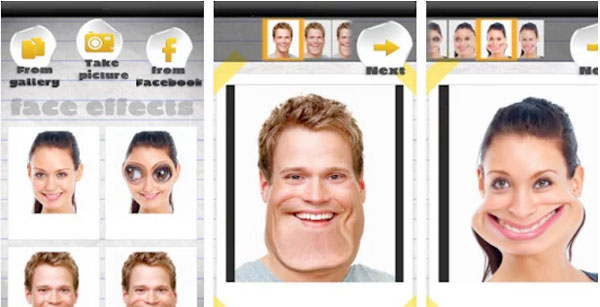 ---

Ugly Camera – Funny Selfie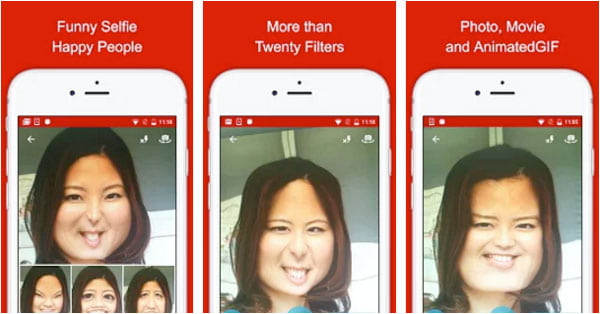 Platform: Android
Have you ever considered making a funny and ugly photo? Ugly Camera should be one of your choices. The funny face app even provides live filter that enables you watch the result before taking the pictures. Another feature that should be mentioned is that you can make still photo, video and animated GIF with the Ugly Camera only in a few steps. Just enjoy the ugly photos with fun now.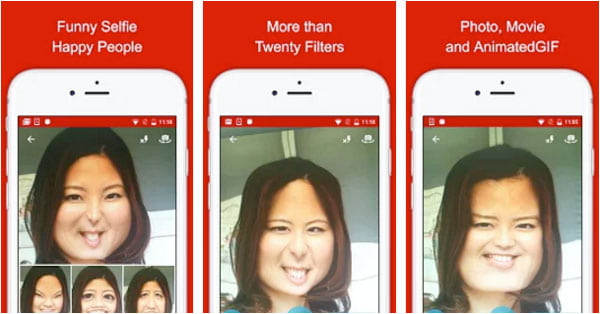 ---

Animal Face Photo App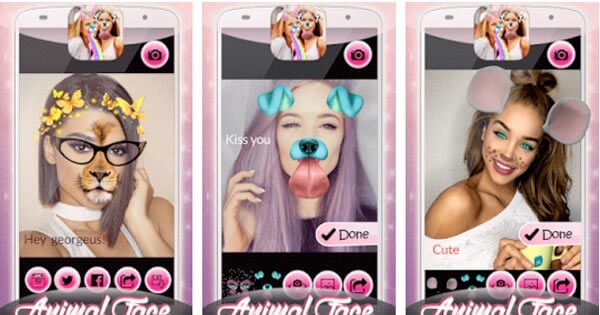 Platform: Android
When you are looking for some animal face effects or filters, Animal Face Photo App is the funny face app you need to use. It only takes a few seconds to apply an angry lion, a cute bird or love dog to make everyone laugh with animal filter or sticker. Besides sharing the funny photos to social media, you can also set the photo montage as a image background for your Android phone.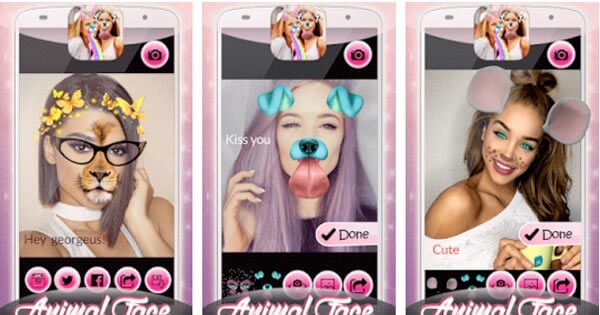 ---
Best Photo & Movie Maker you may want to know: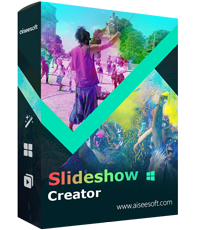 Downloads
Create your movies with picture, videos and music.
Adjust visual effects like contrast, saturation, brightness, etc.
32 kinds of filters to make movie warm, plain, grey, dynamic, romantic, etc.
Wrap Up
What should be the most interesting funny face app for you? Whether you need to swap faces, add face filters, apply love stickers or even add effects to videos, you can choose the desired the suitable application from above list. Actually you can find lots of similar filters or effects for selfie, just read more detail about the features of the funny selfie maker or face swapper before make a decision. If you have any query about the program, you can feel free to inform more detail in the comments.

Leave your comment and join our discussion