How to Edit Videos on Mac/Windows or iPhone/Android or YouTube
With the development of technology, it becomes easier for us to shoot and share videos. Like photos editing, after you get the video clips, you may be dying to edit videos for better quality and make it more fantastic.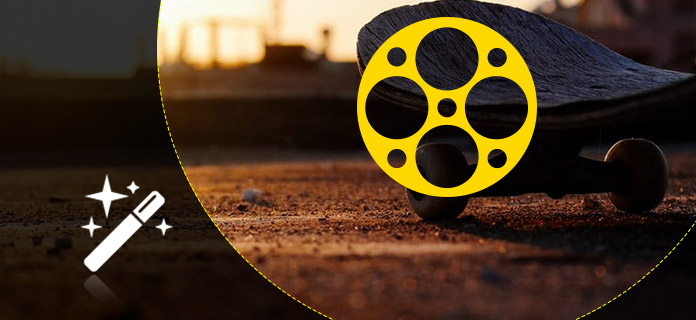 Then, how to edit videos? In fact, no matter what platform you are on, Mac/Windows, or iPhone/Android, or even YouTube, video editing can be quite easy as long as you get proper video editing software. The following article will show you how to edit videos on Mac/Windows, iPhone/Android or YouTube separately.
Part 1. How to edit videos on Mac/Windows
It firstly starts to edit videos on PC or laptop, so it is not hard to find some professional video editing software. However, as video editing becomes more popular with the increasing usage of camcorders, most of the users like you and me are just an amateur for editing videos and only need some basic and easy-to-understand functions to edit videos on Mac/Windows. In that case, we would like to recommend you the top-rated Free Video Editor for Mac/Windows tool.
Free Video Editor
Free Video Editor is the free tool that enables you to edit videos on Mac/Windows.
Free software to edit videos on Windows or Mac computer.
Rotate/flip/crop/clip/merge/watermark/effect video.
Convert video and audio formats for free.
How to edit a video using Free Video Editor
Aiseesoft Video Editor is the best video editing tool for you. Equipped with this video editor, you can easily rotate/flip/clip/crop/merge/watermark/effect video as you like. Free download this software on Mac/Windows and follow the three-step guide to use this video editor.
Step 1 Select the editing feature of for your video.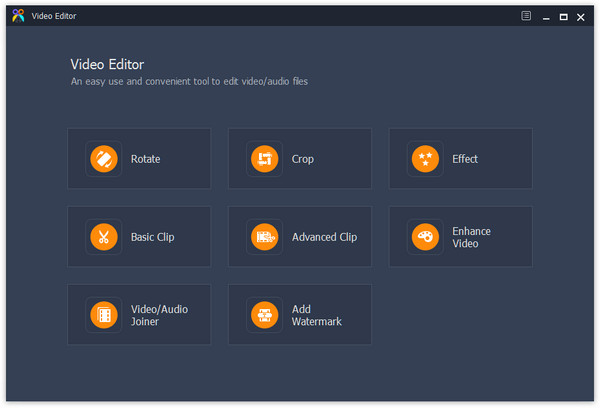 Step 2 Click "Add File" to add media files to this video editing program.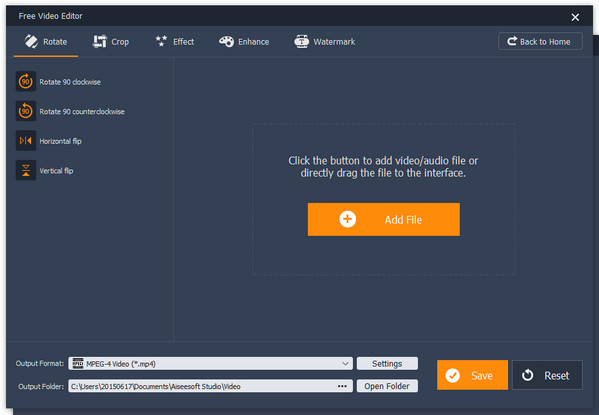 Step 3 Use editing features to start to "Save" this video with editing effects.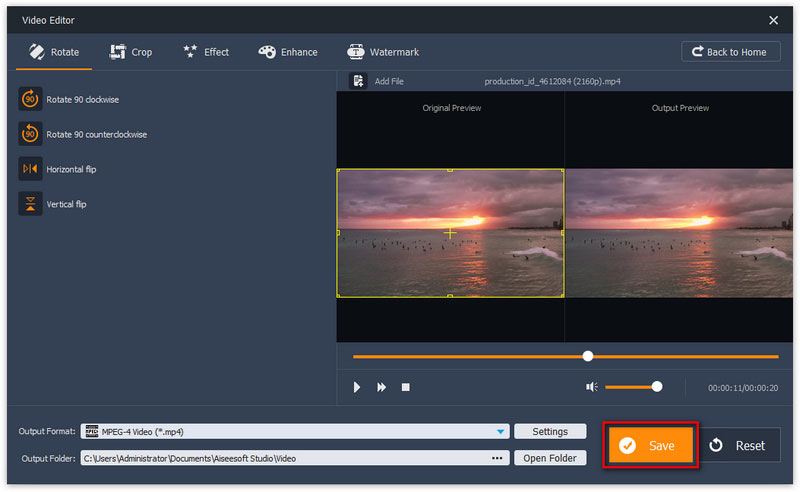 This powerful video editor allows you to rotate/crop/clip video, add video effects or watermark, enhance video in four ways. It is very easy to use, you can try each feature on your own. Looking for more videos editors to edit video on Windows or Mac, Check these two posts: 2018 free video editors on Windows, Best free video editing software on Mac.
Part 2. How to edit videos on iPhone/Android
With an iPhone/Android in the pocket, it is handier to record videos. When it comes to edit a video, you can also do it on your portable device directly. Then, how to edit videos on iPhone/Android? iPhone and most Android phones are designed with built-in way to edit a video simply, but that's not enough, obviously. To better edit videos on iPhone/Android, you can turn to one reputable video editing app. Here we listed some great video editing apps for iPhone/Android.
Video Editor
Platform
Features
Screenshot
iMovie
iPhone/iPad

(Download link: https://itunes.apple.com/us/app/imovie/id377298193?mt=8)


• Make Hollywood-style trailers.s
• Unique themes and movie enhancement create beautiful fast or slow motion video.
• Upload editing video to YouTube in 4K or 1080p.
Cameo
iPhone/iPad

(Download link: https://itunes.apple.com/us/app/cameo-video-editor-movie-maker/id988821661?mt=8)


• Vimeo free video editor and movie maker.
• Combine or clip video taken with Camera Roll.
• Adjust audio, collect themes or effects to create cool videos for Instagram and Vine.
• Showcase your videos in Vimeo's gorgeous, ad-free, HD player.
Splice
iPhone/iPad

(Download link: https://itunes.apple.com/us/app/splice-video-editor-free/id409838725?mt=8)


• Free video editor and movie maker by GoPro.
• Apply filters, transistions style and adjust background colors, orientation and more.
• Add title slides, text overlays and a custom outro.
• Trim, cut and crop your photos and video clips.
Magisto Video Editor & Maker
iPhone, Android

(Download link: https://www.magisto.com/)


• Share videos on Facebook, Instagram, Google+, Twitter, Email, YouTube and Whatsapp.
• Available 24/7 that transforms your photos and videos into a music video masterpiece.
• Automatic video stabilization, facial recognition, video filters, video effects, and smooth transitions.
AndroVid Pro
Android

(Download link: https://play.google.com/store/apps/details?id=com.androvidpro&hl=en)


• One comprehensive and powerful Android video editor.
• Cut or join video, make slideshow from images, add music/text/frames/effects to video, etc.
• Convert video to MP3/MP4/3GP and more formats.
VideoShow
Android, iPhone/iPad

(Download link: http://www.videoshowapp.com/)


• One top and strict video Android video editing.
• Support adding your own voice, sound effects, emoji, themes, subtitles, music, filters and more to videos (filters are special).
• Video trimming, compressing, and converting to MP3
Part 3. How to edit videos on YouTube
For people who intend to share videos on YouTube, there is another option to edit YouTube videos. You can find quite a lot of online video editors to help you edit videos before uploading to YouTube. Here we suggest you to use the built-in online video editor from YouTube.
This online video editing tool offers you a lot of great features like video trimming, multi-video combining, music and special effects adding, etc.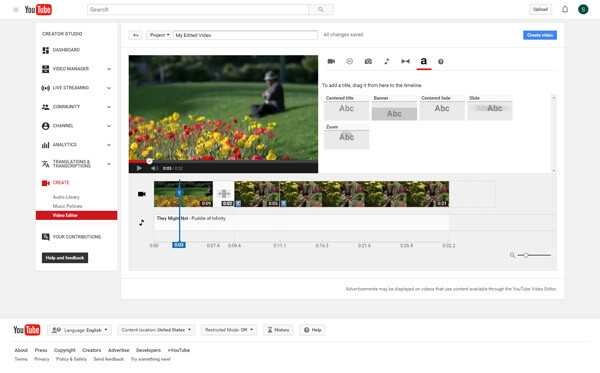 Key Features:
Combine with video manager to let your manage video files on your YouTube account;
Support adding photos to the editing video;
Offer royalty free music and transition to make video more interesting;
Simple title effects and timeline editing functions available;
Offer split video clips on the timeline.
You can also click here and learn how to use YouTube Video editor to edit videos on YouTube specifically.
This article mainly introduces to you how to edit videos on Mac/Windows, iPhohne/Android, or YouTube. Still have more questions about how to edit a video? Feel free to leave your comments down below.