Instant Messaging - What is Instant Messaging and Instant Messaging Apps
According to Wikipedia, instant messaging is a type of online chat that offers real-time text transmission over the Internet. Without doubt, instant messaging satisfies people with its powerful real-time messaging transmission, so people can communicate with their friends, families and colleagues anytime and anywhere as long as there is Internet.
In this article, we will show you the detailed information about instant messaging, including what is instant messaging, instant messaging apps, and something else about instant messaging.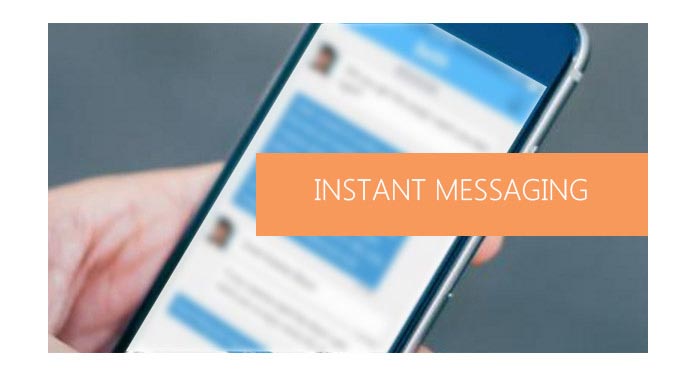 Part 1. Instant messaging definition
In the early 1990s, some developers designed chat-room software and set up chat rooms on Web servers. Later, instant messages - similar to a chat room for just two perskons, are developed. Instant messaging, shorted to "IM" or "IMing", is a private chat service that enables you communicate with someone else in a "private chat room" in real-time over Internet. That means both parties are online at the same time, and they "talk" to each other by typing text and sending small pictures in instantaneous time. Of course, you can send voice messaging if you use some instant messaging programs that support voice messaging.
Part 2. Instant messaging programs/apps
Ok, speaking of instant messaging programs, we have something to tell you.
First, instant messaging is based on special small programs that two separate people install. And the software supports you to send message to your online friends, even if you are in different rooms, cities or countries.
Second, these programs use the same cables and network as web page/email connection, so as long as you and your friends have the compatible IM software, you can use instant messaging service to communicate easily.
Last, some instant messaging tools even have the function to remind you if the other person have received the messages, where you can send messages when the other one is offline, and they retrieve it later like email.
Moreover, there are more and more instant messaging apps and programs appearing. Some IM products are simple and single (example: Google Talk). You can simply send text messages only. And, some other instant messaging apps offer advanced options that let you do more than send text messages. It is possible to allow you to share photos, send and receive computer files, play online games, carry out web searches, or even make free calls worldwide.
Here, we will show you several instant messaing apps:
1. Google Talk
2. MSN Messenger
3. Yahoo Messenger
4. AIM
5. Windows Live Messenger
6. Trillian
7. ...
All the instant messaging programs will be updated by their owners in the future, and IM providers will continuw to allow more interface between users of their services. If you are a new comer of instant messaging, you will find a new world of communication.
Part 3. How does instant messaging work
See the information below to get the guide about how instant messaging works.
1. Choose one instant messaging app installing on your computer. Here we recommend you Trillian, you can send text/voice messages, photos, files and more to your friends.
2. Find your friends, families or add new buddies.
You can use regular phone or email to find your friends or families, or you can ask them to install the same IM program as you. After that, you can add them to your list.
3. Start to send isntant messages to your friends.
Click on their name on the screen, start typing messages, and press enter. If you want to send pictures, font messages, files, etc., you can discover them by yourself.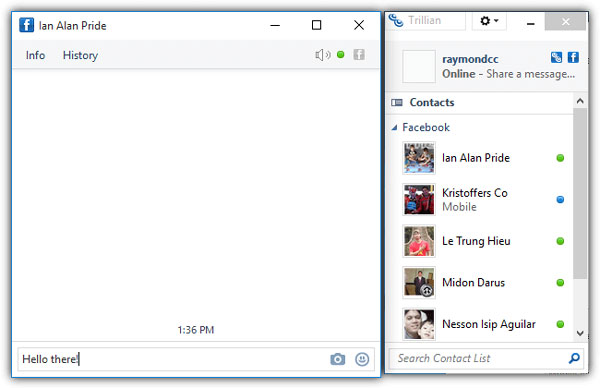 In this article, we mainly talk about instant messaging. If you are interested in, hope you can find what you want. And if you have more thoughts about instant messaging, you can leave us a message.