10 Best Instant Chat Messenger Alternatives for PC/Mac
The integration of instant messenger and popular online services has reduced the need for an IM client, especially when comes to a PC platform, but it hasn't vanished completely. As developers are getting crazy about instant messaging function for mobile devices, we can see so many IM apps provided for your Android/iPhone. However, what if you are looking for an instant messenger for your Windows computer or Mac?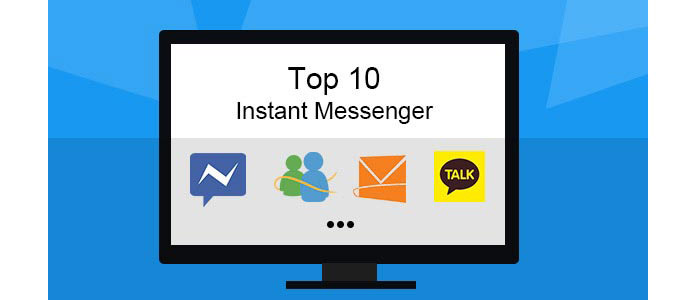 We know that Windows messengers are not as popular as mobile IM apps, but there are also some great ones. People have their contacts on different mail networks like Gmail, Yahoo, Windows Live, Facebook, AOL, etc. The list is very big and every service provider has their own chat messenger application: Google has GTalk, Yahoo has Yahoo Messenger, Windows Live has Windows Live Messenger, etc. In the following article, we have collected 10 best instant messenger alternatives for you. Click instant messaging to learn about the definition of instant messaging and how does instant messaging work.
1. Trillian
https://www.trillian.im/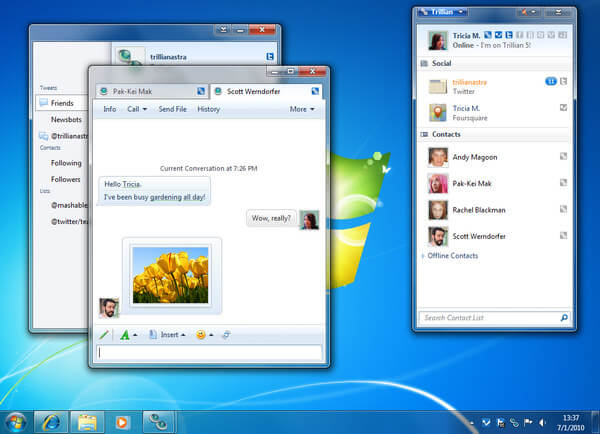 Trillian is a free fully featured, stand-alone and one of the most popular standalone instant messenger. Its themes make it attractive with dozens of themes to suit your mood every day. This instant messenger for Windows supports chatting on Windows Live, Facebook, Yahoo, MySpace, AIM, Email, Google Talk, Skype etc. It has various features such as audio and video chat, file transfers, group chats, message history, avatars, multiple simultaneous connections to the same network, and encrypted messaging. It also helps you to manage your social networks such as Facebook and Twitter.
2. AIM (AOL Instant Messenger)
www.aim.com/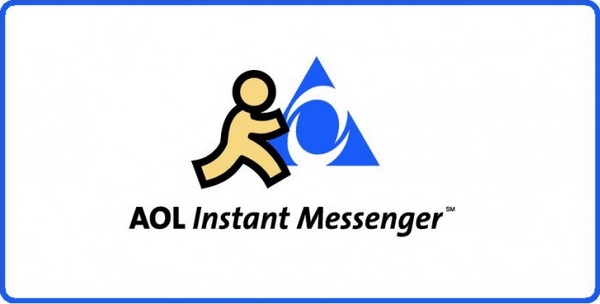 AIM (AOL Instant Messenger) is a free messenger that connects you with your friends and family instantly. AOL Instant Messenger enables you to add a variety of accounts such as Facebook, Twitter, YouTube or chat with your friends on AIM messenger, Facebook and Google Talk. You can also follow your friends, post photos and status messages to stay connected in real time.
3. Pidgin
https://pidgin.im/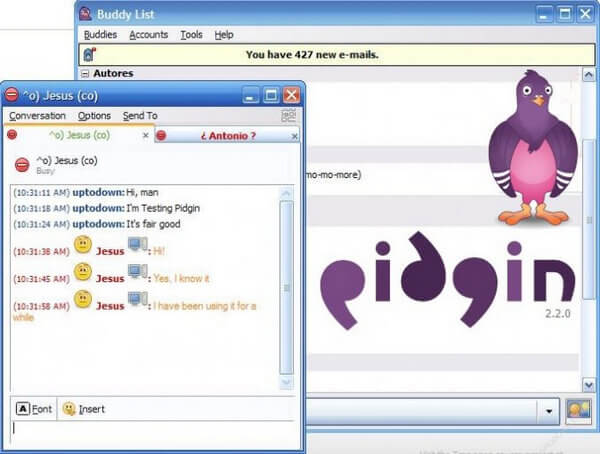 Pidgin is an IM chat program which lets you log into accounts on multiple chat networks simultaneously. It is compatible with the following chat networks out of the box: AIM, ICQ, Google Talk, Jabber/XMPP, MSN Messenger, Yahoo!, Bonjour, Novell GroupWise Messenger, etc. Pidgin supports file transfers, away messages, buddy icons and typing notifications. Numerous plugins also extend Pidgin's functionality above and beyond the standard features.
4. Paltalk Messenger
http://www.paltalk.com/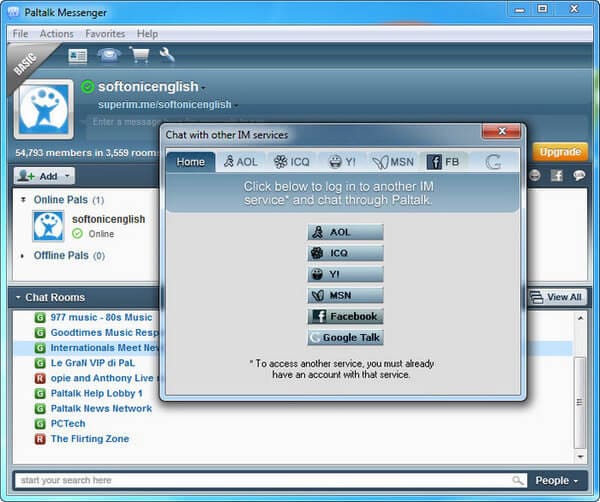 Paltalk Messenger is a free instant messenger. It supports text chat, live chat and video call. You can access thousands of live video chat rooms. Various room categories available like music, politics, sports, religion and many more. You can send fun animations to other members in a chat room. Group video calls up to 10 friends. It has interoperability feature with AIM messenger, Yahoo, Facebook, GTalk and ICQ.
5. Digsby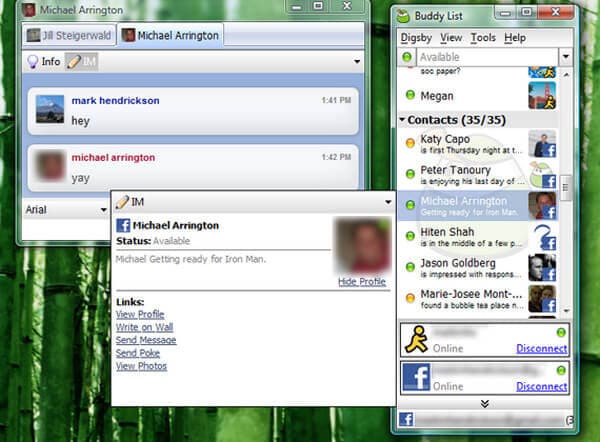 Digsby is a free Windows instant messenger program client that puts IM, Email and social networks together. You can use networks like MSN, Yahoo!, Google Talk, Jabber, AOL Instant messenger, Gmail, Hotmail Messenger, Facebook chat and updates from social networks like Twitter, Myspace and Facebook, etc. This Windows messenger enables you to merge multiple friends' networks into a single account, multiple tabs for conversations, send SMS, status change for all networks, pop-up notifications, manage emails and more.
6. Skype Messenger
https://www.skype.com/en/features/instant-messaging/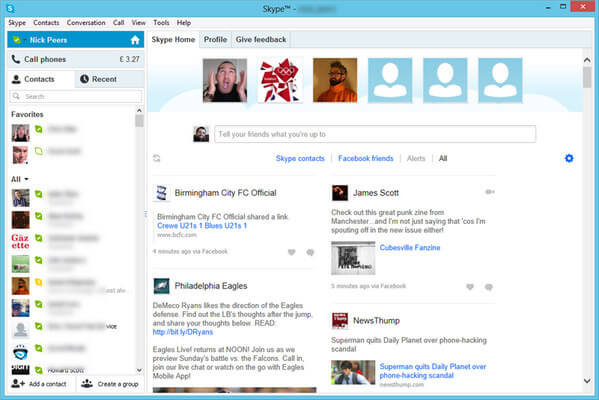 Skype Messenger is one of the oldest instant messaging services. With Skype, you can make video and voice calls to anyone else. Instant messaging is an alternative to talking with your friends on Skype. This online messenger is completely free and very easy to use. Simply select a contact, type your message, send it and you can enjoy instant messaging. Skype also supports group IMs if you like.
7. Windows Live Messenger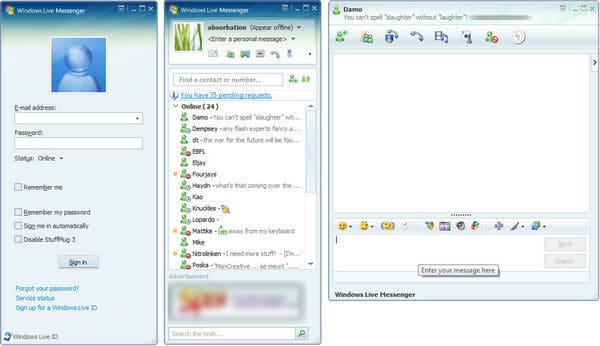 Previously called MSN Messenger, Microsoft's Windows Live Messenger (WLM) is an advertisement-supported instant messaging service. It currently has more than 27 million active registered users worldwide. WLM offers file sharing, PC-to-PC calling, time-stamped messages, offline notifications and other features. If you are not satisfied with the basic Windows Live Messenger, you could also adopt Windows Messenger Plus! Live, which is a free extension that adds extra features such as skins, log search, custom emotion sounds, etc.
8. Yahoo Messenger
https://messenger.yahoo.com/
Like Microsoft Messenger and Google Talk, Yahoo Messenger requires you to connect with their accounts. Yahoo Messenger supports instant messaging, chat rooms, photo sharing, free text messaging and video chats. You can make free PC-to-PC calls, or calls to telephones at a low rate. You can also add other networks like Windows Live Messenger and Facebook and chat with your friends.
Yahoo was one of the first chat clients to support customization. You can add plugins, download different emoticons sets, play games, and install custom sounds and ringtones.
9. Miranda
http://www.miranda-im.org/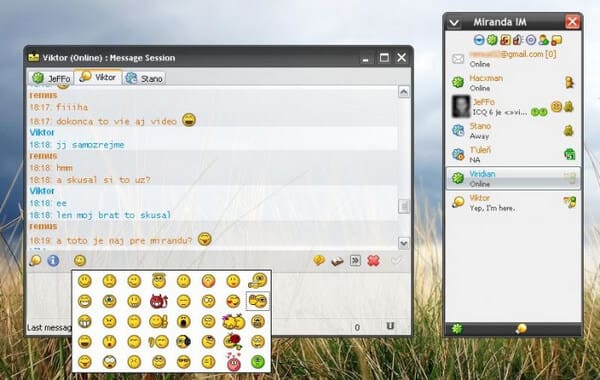 Miranda is a basic chat client that supports AIM messenger, Facebook, Gadu-Gadu, IAX, ICQ, IRC, MSN, Netsend, Tlen, Yahoo and more. This instant messenger is very small and lightweight, perfect for a flash drive with no extra feature like video chat or phone calls. There are also a lot of available add-ons and plugins to further customize Miranda. If you're looking for a simply instant messaging client for Windows without a lot of bells and whistles, this is the one for you.
10. ICQ
https://icq.com/windows/en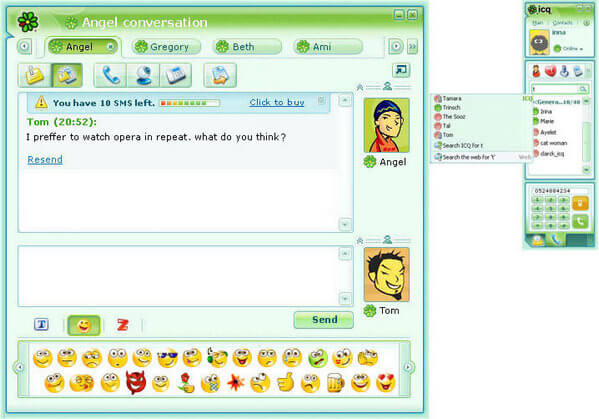 With ICQ you can make free calls, send messages, talk, chat, and send files to your friends. You can chat with Facebook friends by adding your Facebook friends to your contact list. You can share pictures of yourself and others with the ICQ picture sharing tool. Also includes video, audio, and text chat modes.
These are the instant messengers for Windows/Mac we would like to recommend to you. Of course there are also other great instant messengers out there, including Aidum, Outlook messenger, Telegram messenger and more. Still have more questions about Windows instant messenger? Feel free to leave your comments down below.
Reading more: How to recover text messages from iPhone to PC
FoneLab - iPhone Data Recovery
For Mac
Recover Contacts, Messages, Call History, Calendar, Notes, Reminders, Safari Bookmark and WhatsApp data from iPhone.
Get back deleted iPhone text messages and iMessages from iPhone directly and iTunes/iCloud backup.
Preview the data on your iPhone and select what you want save exactly to computer.
Support all iOS devices like iPhone 12/12 Pro/12 Pro Max/12 mini/11/XS/XR/X/8/7.