Facebook/Kik/Yahoo/WhatsApp/Google Messegner, Which Is the Best?
I have many customers around the world, and always use WhatsApp to contact them. But not all of them use WhatsApp. What Messenger app can I use to receive or send emails easily?
I like to travel and take many travel journey photos. What Messenger app can I use to share the photos with my friends easily on my iPhone?"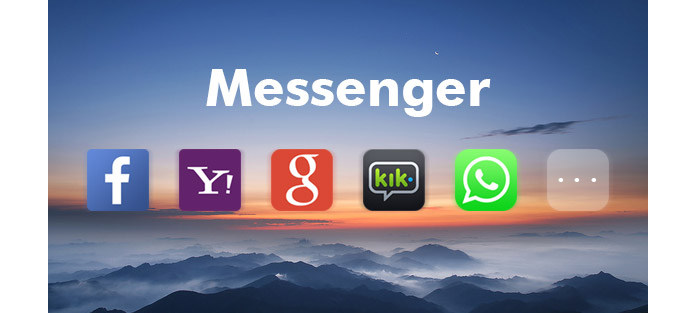 As the circle broadens, people have an increasing appeal to communicate with others with the easy-to-use Messenger app, instead of the traditional text messages or MMS. With the instant Messenger app, you can send or receive the emails very fast; you can share the photos or short videos easily with your friends. Still the Messenger apps emerge as the time requires, like Facebook (FB) Messenger, Kik Messeger, Yahoo Messenger, WhatsApp and Google Messenger. However, which one is the best one for you? Keep reading and check it by yourself.
Messenger definition
Before you get the most suitable Messenger, you had better get the brain knowledge of Messenger. Messenger refers to the Messenger app nowadays, which is just like texting, but you don't have to pay for every message (it works with your data plan). You can use the Messenger app to send or receive messages, photos, videos, audio files, emails, etc. For different Messenger apps, they varies like supported platform (online, iPhone/iPad, Android), etc. So in the next description, we will list several popular Messenger apps, Facebook Messenger, Kik Messeger, Yahoo Messenger, WhatsApp and Google Messenger, to make the comparison, so you can select the best one as you need.
Facebook Messenger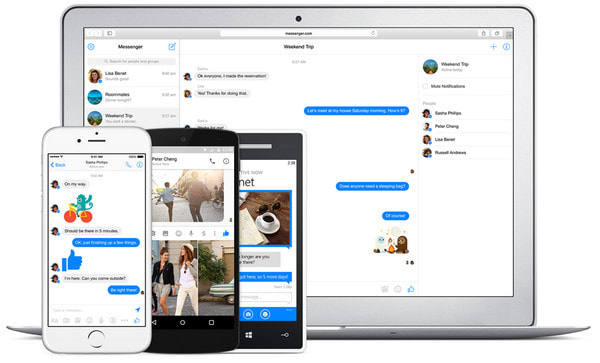 What is the messenger app/message on Facebook?
Facebook Messenger, sometimes abbreviated Messenger or FB, is an instant messaging service and software application which provides text and voice communication.
Facebook Messenger, sometimes abbreviated Messenger or FB, is an instant messaging service and software application which provides text and voice communication.
Platform: iOS, Android, Windows Phone
Features of Facebook Messenger app
➤ The messages are reached people instantly.
➤ You can get the free face-to-face HD conversation calls with friends with Wi-Fi.
➤ Facebook Messenger lets you snap and shoot moments to send the photo and videos easily.
➤ Send a map of the location.
➤ Start group chats with your favorite people.
➤ Send money safely and easily (only available on USA).
How to use Facebook Messenger app?
While Messenger was originally intended for use on the Facebook platform itself, it can now operate independently from Facebook as long as you provide the app with your mobile phone number. You can download Facebook Messenger app on the platform from iOS, Windows Phone, and Android.
After downloading the Messenger app on your phone, select the "Not on Facebook?" option, and enter your phone number and name to sign in it. That's it.
What does Facebook Messenger symbols mean?
Facebook Messenger creates many symbols for using. Check the following symbols to play your own Facebook.
A blue circle,

means your message is sending.
A blue circle with a checkmark,

means your message has been sent.
A filled-in blue circle with a checkmark,

means your message has been delivered.
A red triangle with an exclamation point,

should only appear if your message is not sent due to an Internet connection outage.
Facebook Messenger problems
Q1: My iPhone storage is almost full, and I want to delete the useless Facebook messages, how to make it?
A1: Check this post to delete Facebook messages now.
Q2: What a headache! My Facebook messages from my customer are deleted by my boy accidentally. Is there any way to recover them? By the way, my mobile phone is Samsung Galaxy S7.
A2: Surely, you can recover the deleted messages on Facebook. Though Facebook does not provide you the direct way to do that, you can still recover Facebook messages on Android in this post.
Kik Messenger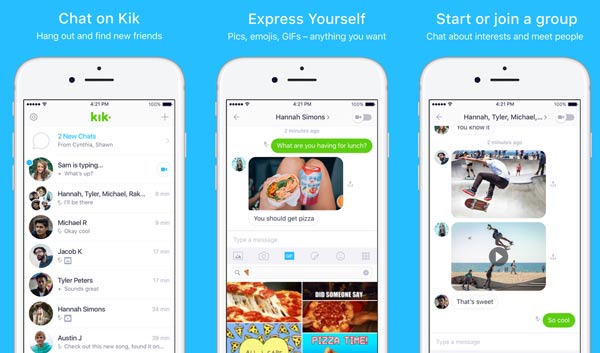 What is Kik Messenger?
Kik Messenger, commonly called simply Kik, is a proprietary instant messenger software application (app) for mobile devices from the Canadian company Kik Interactive, available free of charge on iOS, Android, and Windows Phone operating systems. Kik Messenger is modeled after BlackBerry Messenger.
Platform: iOS, Android, Windows Phone
Kik Messenger features
➤ You can send unlimited text and SMS to your love ones without paying a single penny.
➤ Kik messenger lets you send single message to different and multiple people in one click.
➤ You can connect to other popular social platforms like Instagram, SocialCam and Viddy to easily share your photos and videos.
➤ On Kik, you can set your status like, you are bored, engaged, break-up, feeling happy, etc.
➤ You can see if your friend is online or not. Not only this you can only see the last visited time of your friend.
➤ There are no records to reviews and chats are easily deleted.
How to download Kik Messenger to your device?
You can download Kik app from App Store to your iPhone or iPad. And download this app to your Android phone from Google Play, and download Kik to Windows phone from Windows Phone Store.
For iOS 7 and later, https://itunes.apple.com/en/app/kik-messenger/id357218860?mt=8
For Android 4.0, https://play.google.com/store/apps/details?id=kik.android&feature=search_result#?t=W251bGwsMSwxLDEsImtpay5hbmRyb2lkIl0.
For Windows Phone 7 and later, http://www.windowsphone.com/en-ca/store/app/kik-messenger/432c8fec-569c-e011-986b-78e7d1fa76f8
How to sign up on Kik Messenger?
After downloading and installing Kik from an authorized app store, users choose a username, a display name (first and last name) and a password, and provide an email address and their birthday to create their account.
Also you may be asked to complete a CAPTCHA when you finish entering the account info, which is done to help prevent spam on Kik.
How do you deactivate your account?
Go to Settings on your phone, select Your Account, tap Log Out, enter the email address that's registered to your Kik account on the Deactivation website, and after that you will receive an email with a link to deactivate your account.
Kik quick questions and answers
Q1: After uninstall Kik app from my phone, how can I delete the Kik messages permanently?
A1: Get the way here to delete Kik messages permanently.
Q2: There is no record to the reviews and the messages are easily deleted, so is there any way to recover them?
A2: Yes, still there is the way to get the Kik messages recovery.
Yahoo! Messenger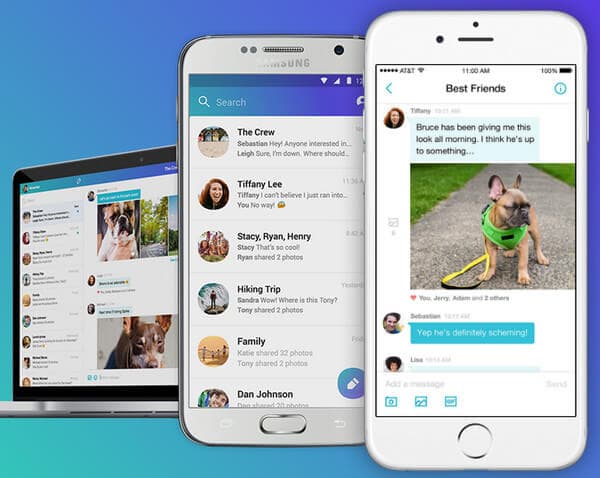 What is Yahoo Messenger?
Yahoo! Messenger (sometimes abbreviated Y!M) is an advertisement-supported instant messaging client and associated protocol provided by Yahoo. Yahoo Messenger is provided free of charge and can be downloaded and used with a generic "Yahoo ID" which also allows access to other Yahoo services, such as Yahoo Mail, where users can be automatically notified when they receive new email. Yahoo also offers PC-PC, PC-Phone and Phone-to-PC service, file transfers, webcam hosting, text messaging service, and chat rooms in various categories.
Platform: iOS, Android, online
Yahoo Messenger features
➤ Instantly share lots of videos and high-resolution photos in one go.
➤ "Like" messages and photos in the conversation.
➤ Offline/low connectivity mode – anything you share will be posted once you're back online.
➤ Take backs! Tap "Unsend" to remove photos and messages from a conversation.
➤ GIF can be used to express yourself instead of words.
How to log in Yahoo Messenger
Go to iTunes or Google Play to download Yahoo Messenger app, after successful installation, tap "Yahoo Messenger" > hit "Get started" button > Enter your Yahoo ID (Yahoo email) or mobile phone associated to your Yahoo account, and click "Next" button. Then, on the next page, enter your password and tap on "Sign in".
For online Yahoo Messenger, you can go to https://messenger.yahoo.com/ to sign in your Yahoo account.
How do you chat on Yahoo?
Click "Online Contacts" in the sidebar to display a list of your contacts who are available to chat. Click a contact name to start a conversation in a new Yahoo Messenger window. Click the "X" in the upper-right corner of the Yahoo Messenger window to end any open chats and close the window.
Questions and answers of Yahoo Messenger
Q1: Apart from Yahoo Messenger for iPhone/Android/online, can I use Yahoo Messenger for Mac?
A1: Yes, you can download Yahoo Messenger for Mac from CNET.
Q2: Is Yahoo going to shut down?
A2: Old Yahoo Messenger Finally Shutting Down After 18 Years. Short Bytes: Yahoo has announced that it is shutting its legacy Yahoo Messenger on August 5th. After this date, the users will need to download the previous conversations to access them.
Q3: Should I sign up a Messenger account for use or any Yahoo email account is OK?
A3: You can sign in your Yahoo Messenger account with your any Yahoo email address and password to use Yahoo Messenger.
Q4: I forgot my Yahoo account password, is there any way to get it back?
A4: Yes, you can still get back your Yahoo mail account if you forgot the password.
WhatsApp Messenger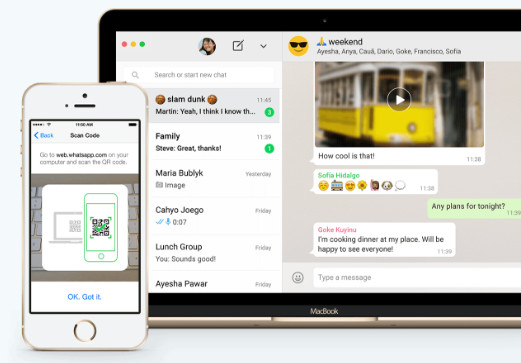 What is WhatsApp Messenger
WhatsApp Messenger is a freeware, cross-platform and end-to-end encrypted instant messaging application for smartphones. It uses the Internet to make voice calls, one to one video calls; send text messages, documents, PDF files, images, GIF, videos, user location, audio files, phone contacts and voice notes to other users using standard cellular mobile numbers.
Platform: Android, iOS, Mac, Windows PC, Windows Phone
Features of WhatsApp Messenger
➤ Message your friends and family for free.
➤ With WhatsApp, you'll get fast, simple, secure messaging and calling for free, available on phones all over the world.
➤ WhatsApp voice and video calls enables you to have face-to-face conversations.
➤ With WhatsApp on the web and desktop, you can seamlessly sync all of your chats to your computer.
➤ Send photos and videos on WhatsApp instantly.
➤ Send PDFs, documents, spreadsheets, slideshows and more, without the hassle of email or file sharing apps. You can send documents up to 100 MB.
How to free download WhatsApp messenger for Android tablets?
Enable your Android tablet to install unknown sources by going to Settings, and then securities followed by Unknown Sources. Open your file browser and navigate to wherever you put the Google Play Store APK. Once you find the APK, click on it. On the next screen, read over any permission changes (there usually aren't any) and then click install.
How do I update WhatsApp?
Open WhatsApp and go to Options > Settings > Updates > Check for updates > Follow the on screen instructions to install the update.
You do not need to remove or uninstall WhatsApp in order to update. If you do remove WhatsApp, you may lose your entire WhatsApp chat history.
How to export WhatsApp messages?
WhatsApp messages are important for you, also WhatsApp provides you the way to export the WhatsApp chat history.
Take Android phone as the example.
Open the chat for the individual or group, tap "Menu" button > "More" > "Email chat" > choose whether to "Attach Media" or not. Then the exported WhatsApp chat history as the .txt document.
How to back up WhatsApp messages frequently?
For avoiding any data loss of your WhatsApp messages, you can make the settings to back up WhatsApp chat history. Go to "WhatsApp" > "Menu" button > "Settings" > "Chats" > "Chat backup" > "Back Up".
How to recover WhatsApp messages?
WhatsApp messages, just like text messages, are very important, and you cannot make sure that you will never lose them. However, WhatsApp Messenger cannot help users to recover the messages because WhatsApp chat history does not store in their system. The good news is that you can still get the way to recover the WhatsApp messages.
If you do make the WhatsApp backup, then you can uninstall and reinstall WhatsApp to recover the latest backup of WhatsApp messages.
Questions of WhatsApp Messenger
Q1: I have many contacts on my SIM card, how can I add the contacts to my WhatsApp?
A1: This post will direct you how to add contacts to WhatsApp.
Q2: I do not want to receive the messages from someone on WhatsApp, is there any way to block the contact?
A2: Yes, WhatsApp provides you the way to block someone on WhatsApp.
Google Messenger/Google Hangouts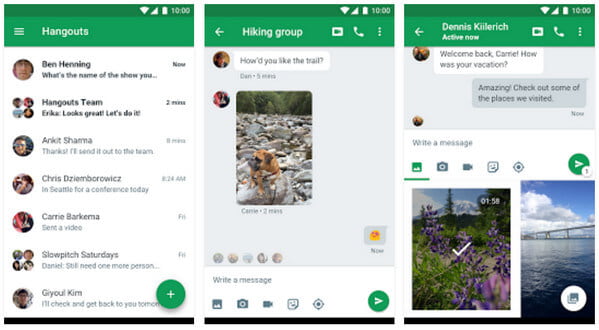 What is Google Messenger?
Google Messenger, also Google Talk (also known as Google Chat) is an instant messaging service that provides both text and voice communication. The instant messaging service is colloquially known as "Gchat," "Gtalk", or "Gmessage" to its users, although Google does not endorse those names. In February 2015, the Windows client was discontinued and ceased to work, with Google recommending users to use Google Hangouts instead.
Platform: Android, iOS, Chrome, Windows
Google Hangouts functions
➤ Include all your friends with group chats for up to 150 people.
➤ Talk with status messages, photos, videos, maps, emoji, stickers, and animated GIFs.
➤ Turn any conversation into a free group video call with up to 10 friends.
➤ Call any phone number in the world (and all calls to other Hangouts users are free!).
➤ Connect your Google Voice account for phone calling, SMS texting, and voicemail integration.
➤ Keep in touch with friends across Android, iOS, and the web, and sync chats across all your devices.
➤ Mobile carrier and ISP charges may apply. Calls to Hangouts users are free, but other calls might be charged.
How to turn off Google Hangouts?
You need to remove all Hangouts updates in Google Play, then reboot and Hangouts will disappear from the application list and Talk be back. Talk can then be disabled in Settings -> Apps -> All. On android kitkat: long click on the hangout app and drag it to app info. Click on turn off.
How to start a video or audio call with Google Hangouts?
If your contact has a camera icon next to their name in your Chat list, you can start a voice call with them. Simply select your contact from the chat list and in the Chat window that appears click the phone icon.
If you're using Chat in Gmail, Chrome OS, or Google+ you can start Hangouts directly from the Chat window.
How to use Google Hangouts Chrome extension?
You need to install the browser extension to sign in your Google account. Navigate to the Bookmarks bar, click "Apps". Then, from the upper left corner, chose "New conversation" to type the messages.
For using the video call, you need to check that your computer meets the system requirements and give Hangouts access to your camera and microphone.
How to save the Google Hangouts video call?
You can jump to this post to record Google Hangouts.
By now, all the popular Messenger apps throughout the world have been shared here. You can select the best Messenger to play it as you like.