Part 2. Top 5 Ways to Merge a PDF File Using the Best PDF Combiner/Merger
For those who want to dig deeper about the PDF mergers and combiners we added here, you better read the information we added on each. To help you even more, read then follow the steps included here based on the app you chose to use.
1. Aiseesoft PDF Merger - Top PDF Merger/Combiner on the Market
Aiseesoft PDF Merger is a simple yet effective application you can download to on how to combine PDF files, even if they are multiple files and pages. Its strength in merging is incomparable, for it is fully equipped with the suitable functions that PDF users might need on this task. Even with an old-school interface, you wouldn't have trouble understanding how this app works, even if you are a first-timer. Enjoy the ultimate merging it provides by following the indicated steps below.
Step 1:
Download the app on your device by clicking the button that is presented above. Follow the quick setup process to install it into your system and open the app.
Step 2:
Now that the app is running in your system look at the upper left corner of the interface and click
Add Files
. Upload the files that you want to merge PDF.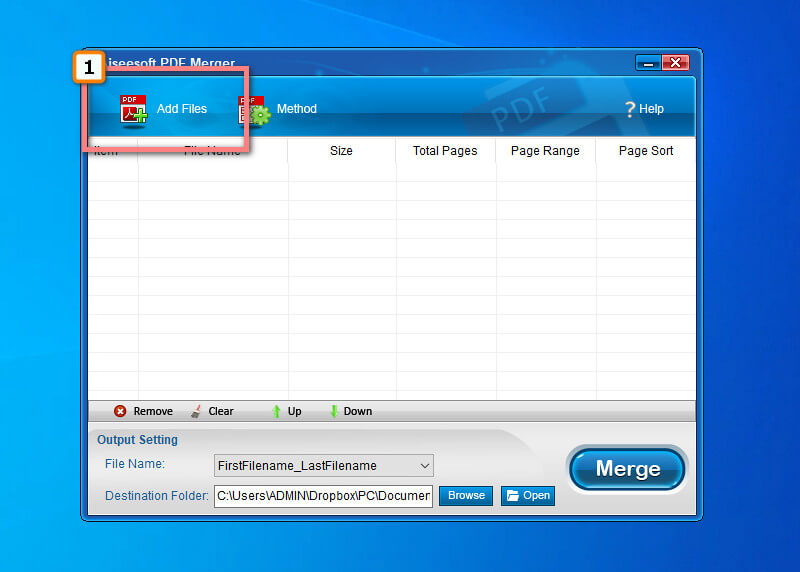 Step 3:
After you have uploaded the PDF files, you can set the
Destination Folder
of the final output first to locate it quickly, then hit the
Merge
button and let the app process it. You can now sit back and relax while waiting for the PDF file.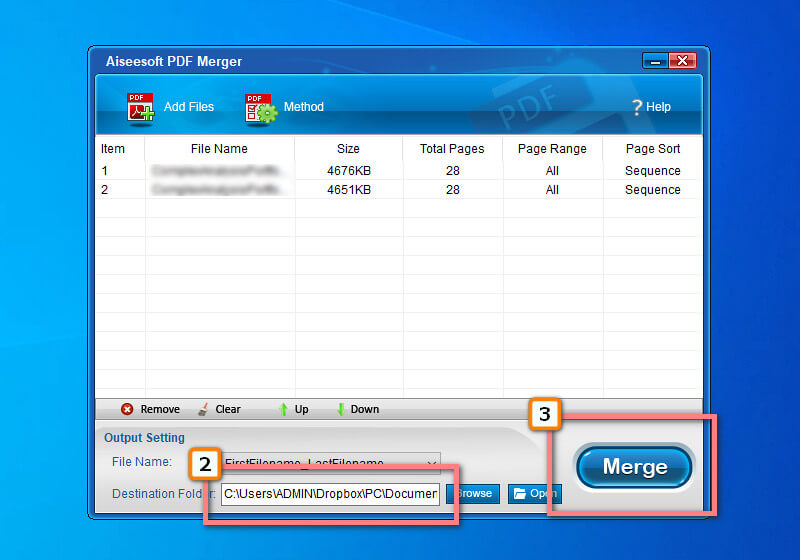 2. Adobe Acrobat
Adobe Acrobat is a popular solution you can use on the web. The app is powered by Adobe, the maker of PDF format, so, naturally, they will create an app to work with the format. Since the app has been mentioned in this article, it is worth mentioning that it also has an additional PDF compressor to shrink the file size quickly. Unlike the app developed under the same management, this one is much easier to use because of its on-point interface, and its purpose is focused only on combining. So, if you want to use this Adobe merge PDF app, follow the steps here.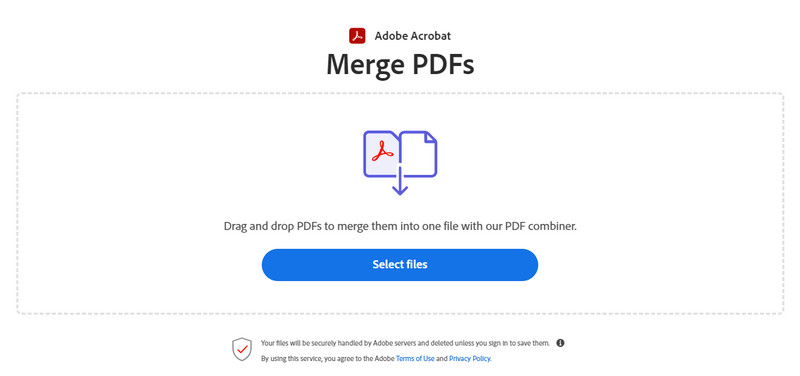 Step 1:
Go and visit the official webpage of the Adobe merger on the web.
Step 2:
Click the
Select Files
button on the main website to add the PDFs you want to combine. The uploading process might take a while, like on the succeeding apps, because their process will depend on your internet stability and strength.
Step 3:
Tick the box of every PDF file you want to be processed and click
Merge
. After that, click
Download
to have the PDF file on your device.
3. SmallPDF
SmallPDF merge isn't just small because it is terrible. Since it has a PDF on its name, expect that this app is a PDF editor and can solve your PDF problems. All the processes you have made here are secured and automatically deleted after an hour, so there is no need to worry about exploitation because it won't happen here. However, altering the PDF settings based on your preference isn't workable if you use its free version. Registering into its pro version allows you to do more into your PDF when using this; it may cost a dollar, but it is relatively cheap. Let's take a quick look at how this app merges the files with the steps here.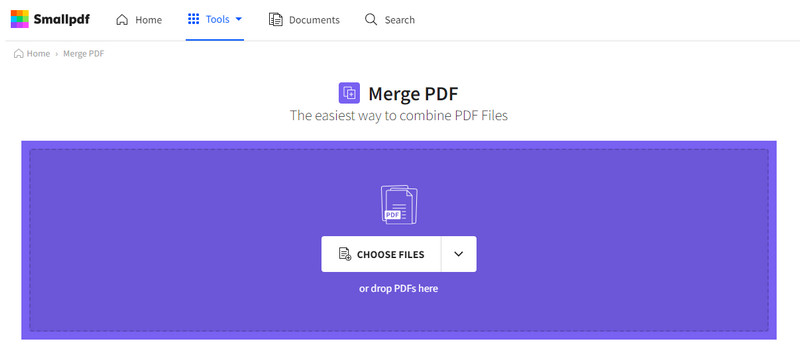 Step 1:
Open the app on a new tab by typing its name on the search bar.
Step 2:
Press
Choose Files
or drop the PDF files you want to merge in the middle. After that process, click
Merge
to proceed with adding more PDF files.
Step 3:
Click
Add More
to insert the PDF file you want to merge into the first one you add, and hit
Merge PDF
! to start the process.
4. iLove PDF
iLovePDF merge is another application you can use to process your PDF files at ease. The app has a simplified interface but is enriched with features such as cropping PDFs. Even though the app is free to use, it is still helpful for users and professionals who need to make quick PDF changes. Also, there is no need for you to go into the app to continue using it, which saves time in processing. Overall, we can easily say that the app is a good pick for those who want to take this process lightly and effectively.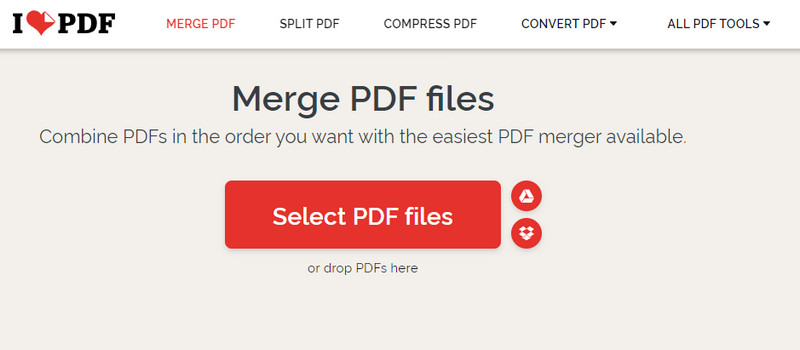 Step 1:
You can easily access the app through your web browser, and any kind will work for this web tool.
Step 2:
Now that you have accessed the app, tick
Select PDF File
and a file folder will appear. Locate the PDF files you want to add to this merger online and click
Open
.
Step 3:
After you have uploaded the necessary PDF files that are needed to be merged, hit the Merge PDF icon, and the app will process it. When done, you will need to click the Download button to save the final combined output on your drive.
5. SodaPDF
SodaPDF is another set of programs that offers complete toolkits that can handle merging PDFs online. Despite the features you can use here, it remains free for those who want to try it. This app is better because you can use its online version or download it on Windows or Mac and then use it without an internet connection. Unlike the application we have mentioned above, here you can upload files saved from DropBox or Google Drive and then save them back to the cloud storage. Yet, the free version has restrictions, and purchasing it is the only way to remove these limitations. Here are the steps you will only need to follow for those who want to test this app.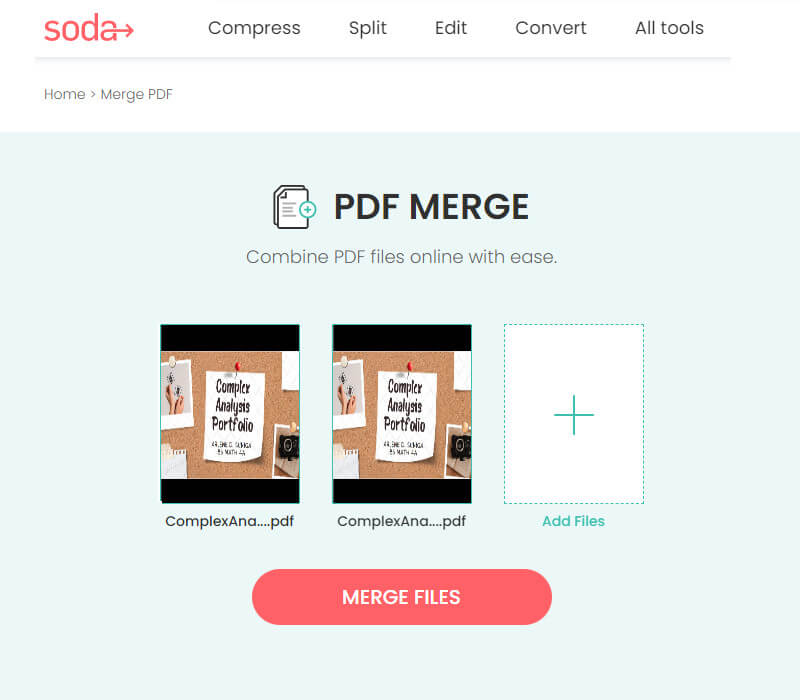 Step 1:
Launch your favorite web browser and search the web tool using it, then open the app.
Step 2:
When the app is opened, you will see an interface like this. With the PDF Merge, click
Choose File
to upload the PDF files you want to combine into a single file.
Step 3:
After the uploading process, click
Merge Files
. Another process will happen, click
Download File
to have the final output; now you have learned how to combine PDF files on Mac and Windows browsers with this app.
Part 3. FAQs about Combining & Merging PDF
What is PDF?
PDF, or Portable Document Format, is one of the most flexible file formats containing multiple elements on a single document. It processes well on any Adobe product since the format creator is from Adobe.Inc. Compared to its alternative format, this is the most secure format that it can encrypt with codes so that no one can easily access it. With this futuristic container, it became popular to compile files for future purposes.
How to combine PDF files on Mac?
You can learn how to merge PDF files on Mac using the applications we included in this article. With Safari, you can easily access them to combine multiple PDF files you have saved on your macOS drive.
Is it possible to split PDF?
Even with the merge PDF, splitting PDF files is doable with the help of a tool available on the web or downloadable on your device. So, if you want to split the files that are embedded in PDF into multiple files, you better look for the best application on the market that can do it.
Conclusion
You can now combine two PDFs into a single file easily with the help of the combiners or mergers we added in this article. Even if you aren't professionally knowledgeable about solving this problem, by following the steps, you can succeed instantly. As you may read, all the apps are reliable in merging the elements on separate PDF files into one, but which tool do you think suits you? If you haven't got an idea which one to use, better try the Aiseesoft PDF Merger that we added here because it is the easiest app to use, and the outcome is amazingly excellent.

Leave your comment and join our discussion