[Updated] Top 5 Video Recording Software
Have you ever thought about how those online videos, video tutorial as well as video presentations are made? Or have you ever wanted to create a learning video and gameplay video? If you are interested with this topic but don't know how to do it, then you've come to the right place. Here we recommend the top 5 video recording software, and you can take them into consideration and choose the one you like. Please read on and learn!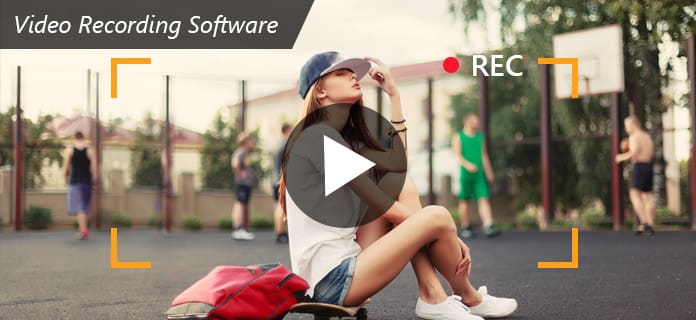 Part 1: Top 5 video recording software
1. Recommended Video Recording Software - Aiseesoft Screen Recorder
Aiseesoft Screen Recorder is powerful and professional video screen recording software to record any video on your device and play them in high definition. You can capture online video, create video tutorials, grab webcam movies and take screenshots, etc. Besides, Aiseesoft Screen Recorder allows you to edit the screen videos with its advanced editing settings and tools, including system audio recording, time capturing option, cursor and click highlighting and more functions. If you are interested in Internet games, this software also supports you to record the whole process of your game playing and share it with your friends directly.
Key Features:
• Any online movies and webcam videos can be captured and recorded by this video recording software without downloading.
• You can record and edit the screen videos just with several easy shortcut buttons, or start and stop capturing only with keyboards.
• You are supported to record microphone voice and add your own voice to your created videos easily and simply.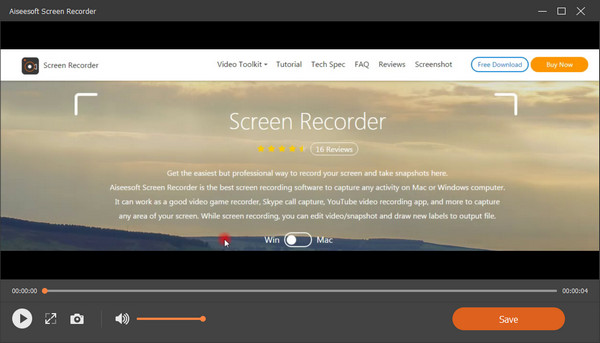 2. ActivePresenter – Professional Video Recording Software
ActivePresenter is professional software for screen recording, videos editing and rapid eLearning authoring. With such a full-featured video recording software, you can easily record your screen videos with nice filter effects, fair-sounding music and interesting images. In addition, ActivePresenter is compatible with the latest web standard HTML 5 and it improves its ability to incorporate with learning management systems, which means that all the videos made by ActivePresenter can be delivered to any device, including Windows, Mac, iOS device as well as Android phone and tablets.
Key Features:
• With many functions provided, it is quite easy for you to create and edit a simple recording video.
• You are allowed to tweak the look and feel of the recording video, and define the branched scenarios easily and fast.
• The main interface and many operating options are similar to other video recording software, which can give you a familiar sense to use it.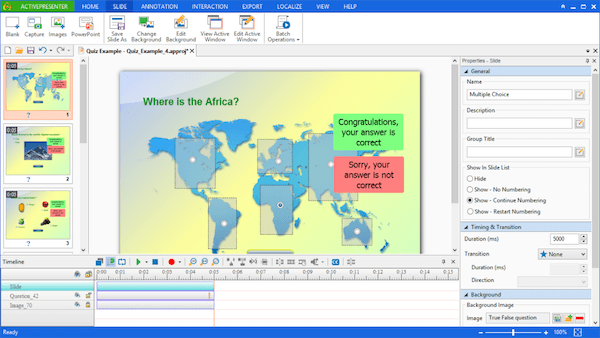 3. eLecta Live Free Screen Recorder – Simple Video Recording Software
eLecta Live Free Screen Recorder is a shareware video recording software developed by Electa Communications Ltd. Compared with other likewise products, it develops simple design and reduces complexity, which is very popular among green hands and casual users. eLecta Live Free Screen Recorder features its highly efficient memory usage, which fits low configuration computers well. This video recording software has several basic modes, such as full screen recording, a screen region recording, record from video camera and live session. And eLecta Live Free Screen Recorder is a good choice to record your live sessions and online movies into cross-platform video files.
Key Features:
• Record videos into standard AVI files, which apply to any video player on Windows, Mac, iPhone, iPad and other Android devices.
• You are supported to create abundant learning videos, video tutorials and course presentations for students and learners.
• The video recording software can protect your ownership of copyright by allowing you to add your own watermark and logo on the recording video.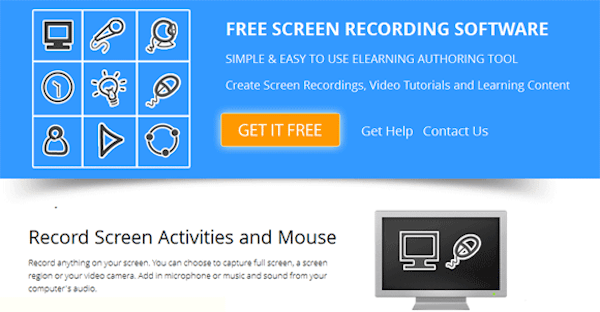 4. Filmora – Video Recording Software with High Quality
Wondershare Filmora may be nice video recording software for you to take into consideration. It is designed specially for video recording beginners, with an intuitive interface and concise recording tools. The video recorded by Filmora has a high quality resolution ratio, which can be played much more clearly. After recording a video, you can easily cut, join, compress, and change ratio. More advanced editing functions are also supported, including multiple filter effects, Mosaic technique, tilt-shift effects and so on. You can record a professional video with this wonderful video recording software even though you are amateur.
Key Features:
• You can choose various songs from a free music library and add them into your recording videos.
• It supports to combine several videos no matter that is recorded just now or downloaded from the Internet seamlessly.
• Filmora allows you to record and export the videos at resolution of up to 4K.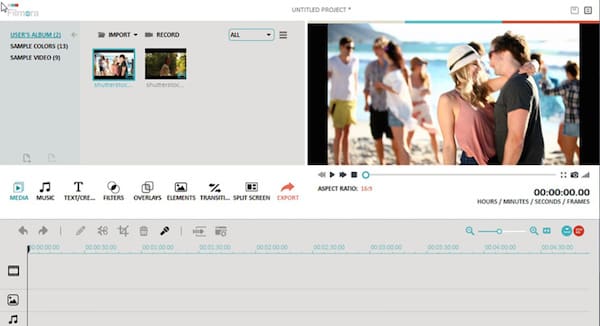 5. Snagit Screen Capture – Video Recording Software for Small Files
As light video recording software, Snagit Screen Capture is good at recording movies at relatively small file size without taking an obvious toll on your system. When you are recording a video, it can capture the screen automatically, customize image easily with its powerful editing tools, and share it directly on the Internet. What's more, Snagit Screen Capture has been optimizing recent years. It redesigned for smoother capture as well as easier editing, so that you can record a unique and special video effortlessly.
Key Features:
• Snagit Screen Capture offers a range of capture and editing tools to quickly record or snap movie on the screen, which can simplify your recording operations.
• The tutorial built in this video recording software can give you step-by-step guides to record your own videos.
• There is a batch converter that can help you to transform photo formats and alter multiple photos simultaneously.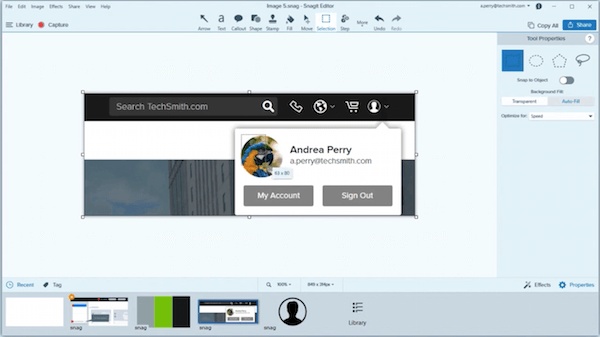 Part 2: How to record videos
Step 1 Choose video recording mode
Download the Screen Recorder on your computer, install and run it with double clicks. Click the two buttons on the main interface to choose whether to record with "Screen Recorder" or "Audio Recorder".

Step 2 Customize the video recording
Select preference on your recording video. You can choose the recording area as full screen or a customized area. What is more, you can also set up the video quality, video codec, audio codec, video formats and so on. You can customize output video with the video recording software.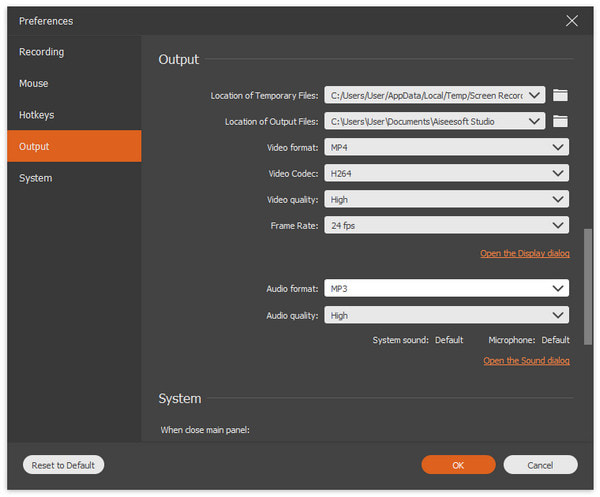 Step 3 Record video with one click
Click the "REC" button to start recording your video. If you want to stop, just press the button again. When the recording is done, you can preview the video first, then just click "Save" to keep it on your computer.
https://www.youtube.com/watch?v=z_TbJMlPz04
Conclusion
A good video recording software must have the elements below: ability to record video and voice, ability to edit videos with built-in tools, ability to share videos directly on the Internet, and last but not least, ability to record life into beautiful memory. Above is the outline about the best video recording software. If you are satisfied with this article, don't forget to share it with your friends.