Top 10 Free Screen Recorders
If you want to present something to your friends and colleagues intuitively and precisely, screen recording may be a highly efficient way for you. This passage recommends the best 10 free screen recorders, you can take them into consideration and choose one you like best. Please read on and learn more about these screen recorders for free!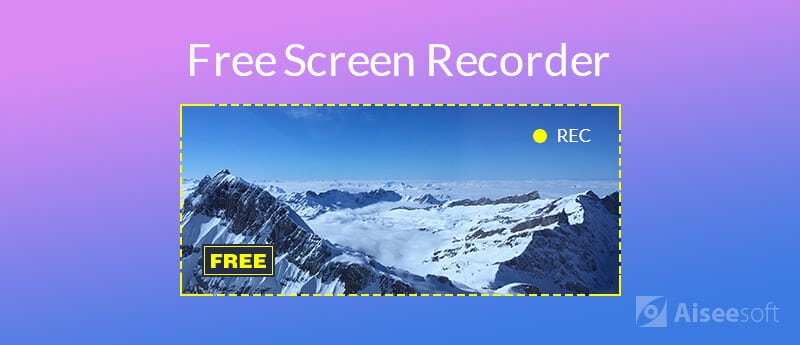 1. Recommended Free Screen Recorder - Aiseesoft Screen Recorder
Aiseesoft Screen Recorder is a powerful and professional screen recording program and webcam recording tool with high definition, it is highly recommended for you. You are given options to capture game videos, grab online movies, record webcam videos or take screenshots on your windows. And you can choose to record video in full screen or a desired region of screen with ease. In general, Aiseesoft Screen Recorder, as a free screen recorder, deserves you to download and have a try.
Key Features:
• Aiseesoft Screen Recorder can help you to record almost all the screen videos that you want to record, including online games, learning course, Skype calls and so on.
• You are supported to highlight the movement of mouse cursor in order to make it easier to track when you are capturing the screen videos.
• This free screen recorder can also save your webcam videos directly on your PC, even when you are chatting with friends and the videos are recording.
• Once you have done with the video, you can export it in MP4 or WMF and share on the Internet or play it on most video players easily.
Following is a simple step to record a screen video with Aiseesoft Screen Recorder:
Step 1 Choose to record screen and audio simultaneously or screen only, and set the recording region, full screen or customized screen size.
Step 2 Select to record voice through system audio, microphone audio or both. You can also select the screen device if you have multiple screens.
Step 3 Click "Start" and "Stop" button to launch or finish the recording process. Before you export the video, you can preview it firstly. Save the video file as the format you like, such as MP4 or WMV.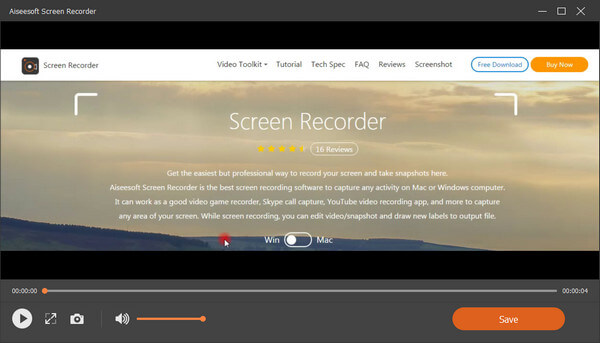 2. Rylstim Screen Recorder
This is a nice screen recorder for free, and you can take it into consideration. With Rylstim Screen Recorder, you are allowed to record anything running on your Windows PC. When you launch this program on your computer, just select the codec type, the frame rate you need and the location where to save the screen video, then you can start the process of screen recording. It is really easy to operate. What's more, Rylstim Screen Recorder can get things much easier with a portable version coming with this handy software.
Key Features:
• Rylstim Screen Recorder is able to record anything on the screen with the movement of the mouse cursor or other clicks and more.
• You can export and save the created video as AVI format, which is the widely-used format and applies to the most players on the Internet.
• You are able to customize the recording screen of this free screen recorder with the left button clicks or right button clicks.
• This program supports quite a lot of codec, including Cinepak Codec by Radius, Intel IYUV codec, Microsoft RLE, Microsoft Video 1, Microsoft YUV and etc.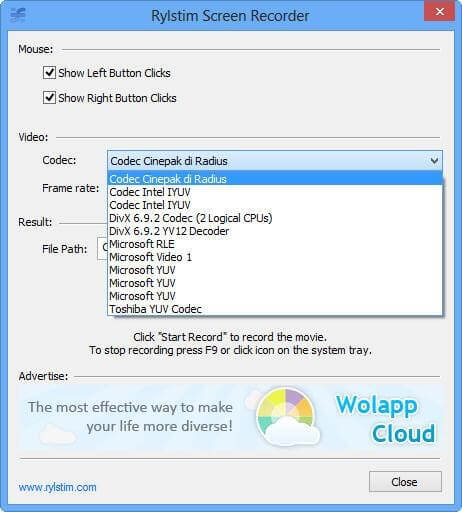 3. ActivePresenter
ActivePresenter, developed by Atomi Systems, is professional software that is designed for educational video tutorials and presentations. This free screen recorder allows you to make more creative learning video, with its powerful editing tools and ability to incorporate with learning management systems. In addition, through adding callouts, annotations, narration and special graphics on the recorded videos, you can have a clearer explanation about your courses, giving students and learners a better understanding.
Key Features:
• With each action captured as a slide, it can explain to the viewer what they should follow to master the course in details.
• ActivePresenter enables to record screen as a full motion video, and embeds in a slide for further editing.
• After the screen video is recorded, you can edit it directly without any quality loss. Cutting, cropping, joining, splitting are all supported.
• You have dozens of options to choose the shape of the screen. Just drag the mouse cursor to change the video shape.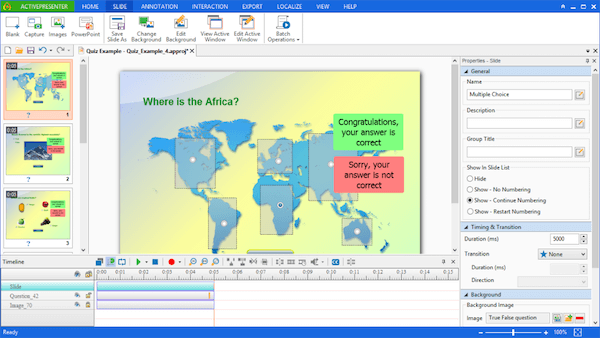 4. CamStudio
CamStudio is another great free screen recorder that is compatible with all Windows versions. Though there is not a wide range of fantastic capture tools in CamStudio, it still has extremely useful features with high efficiency. CamStudio comes with the function to personalize your recordings with screen captions and video annotations. Also, you are allowed to capture videos through webcam, record full screen or a region screen through CamStudio. It is really nice software.
Key Features:
• You are allowed to select the codecs to encode your screen capture shots as well as set the frame rate that you want to capture at.
• You can add texts, images and a lot of complicated motion captures, and a useful auto-tracking feature follows the movement of the mouse automatically.
• Also, converting the screen videos from AVI format to MP4 format is supported. Besides, you can set auto pan speed, delete the intermediate AVI file and more.
• There is an audio option in this free screen recorder for you to set for the microphone and speakers, in order to remain the audio and video in sync.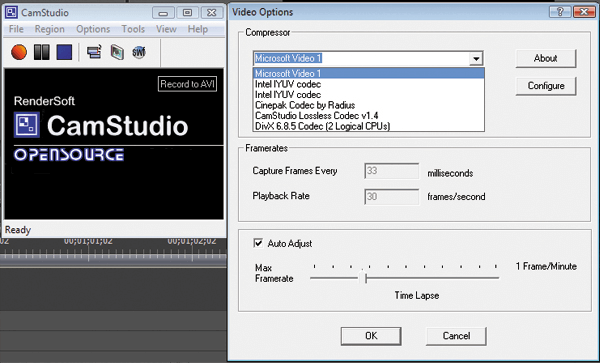 5. eLecta Live Free Screen Recorder
As a shareware screen recorder for free, eLecta Live Free Screen Recorder is designed by Electa Communications Ltd. Compared with other likewise products, it develops simple design and reduces complexity, which is really welcome to beginners and novices. eLecta Live Free Screen Recorder features its highly efficient memory usage, which fits low configuration computers well. Also, you can add your own watermark and logo on the recording video to protect your copyright.
Key Features:
• eLecta Live Free Screen Recorder can export and save the screen video in AVI format, and you can play it in multiple device, like Windows, Mac, iOS and Android devices.
• This free screen recorder allows you to create video tutorials and learning videos, and then record them into cross-platform video folders.
• It has been scanned by several built-in antivirus and the result proves that this program is totally safe and secure. Your personal information will never be leaked out by eLecta Live Free Screen Recorder.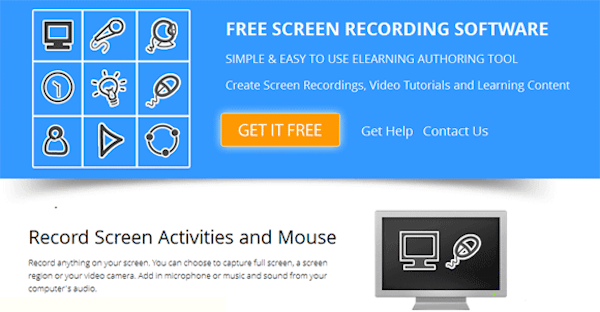 6. Ezvid
Ezvid is also a good and free screen recorder for you to capture screen videos on your computer. Except great screen capturing functions, Ezvid also has an integrated video editor built in, which can help you to edit your recording conveniently and easily. Also, Its audio editing functions are extremely wonderful. For example, you can control the speed of the recording and synthesizing speech. Besides, this video recording software is compatible with all Windows versions. You can never miss this screen recorder!
Key Features:
• It will automatically present the screen videos in HD format, certainly with no intricate export operations.
• You do not have to register when you firstly use Ezvid, and it will allow free soundtrack music to new users automatically.
• This program accepts a wide range of video import formats, even the gameplay videos from software are supported, like Fraps, Camtasia and Hypercam.
• Ezvid has an easy and user-friendly design which is appropriate for all ages, so both the young as well as the old can operate this free screen recorder easily.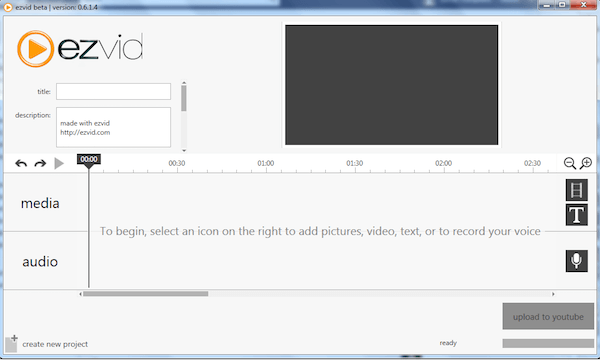 7. Filmora
You can also choose Filmora as your video recording software for the Windows, if you are video recording beginners. As a free screen recorder, Filmora is exactly developed for those who want to try recording screen videos of life and don't want to pay for the downloading. Additionally, the intuitive interface as well as easy recording tools will give green hands a good experience for video recording. Its editing tools deserve to be mentioned, too. Cutting, joining, compressing and more basic functions are supported and you can easily operate.
Key Features:
• This free screen recorder provides a free music library for you to choose and add them into your recording videos.
• The free price, pleasing interface, and various filter effects and overlays of Wondershare Filmora are extremely attractive.
• It supports to combine multiple videos no matter that is recorded just now or downloaded from the Internet seamlessly.
• You are allowed to export the videos you recorded at the resolution of up to 4K.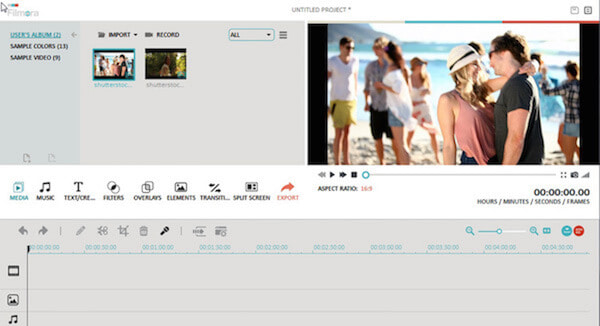 8. BB FlashBack Express
BB FlashBack Express is a free screen recorder that can help you make your own screen videos with high quality in real time. Beside nice video recording tools, Blueberry FlashBack Express allows you to capture voice with an attached microphone, PC speaker or a third-party source. After the screen video is recorded, you can export it in AVI format, which is compatible with most video players. You also have options to either upload it on YouTube or share it with your friends on social web.
Key Features:
• When you are recording your screen video, you will be guided by BB FlashBack Express to configure all the settings, including video quality, sound source and recording area.
• When you finish the recording process, you are supported to save it as AVI files directly or open it on this free screen recorder and perform the further editing operations.
• This software offers many detailed capturing tools for you to record a nice screen video.
9. Movavi Screen Capture
As a simple and free screen recorder, you can use Movavi Screen Capture to capture camera, record screen videos and save it as AVI files. The most two impressive features in this software are that its duration of video recording can last more than 60 minutes and the maximum capture frame rate is up to 36s, which is much superior to other video recording software. So it may be a good choice if you want a special screen recorder.
Key Features:
• Many capturing and editing tools in Movavi Screen Capture are unique and you cannot find them in other similar free screen recorders.
• It is excellent to record streaming video, online games, video calls and so on and even supports to record the screens of your smartphones and tablets.
• Movavi Screen Capture makes it much easier and more intuitive to capture your screen when you are recording video, through the entire desktop, selected region, or scrolling screen.
• You are allowed to control the video you are recording with keyboard shortcuts, which is extremely easy and convenient for you to quickly start, stop and pause recordings with several simple keystrokes.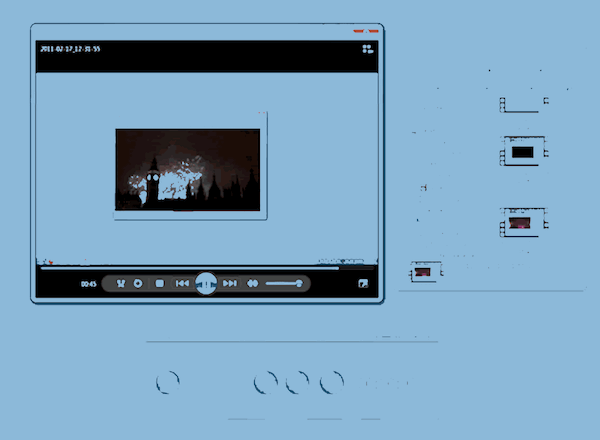 10. Snagit Screen Capture
Snagit Screen Capture is a light video recording program similar to Camtasia Studio. But the editing tools of Snagit Screen Capture are much lower and less than Camtasia Studio. You can turn to the free screen recorder – Snagit Screen Capture if you are scared off the nearly 300 dollars price of Camtasia Studio. When you are recording a video, Snagit Screen Capture can capture the screen automatically, customize image easily and share it directly on the Internet, which can meet your basic needs well.
Key Features:
• It will always provide you with up-to-date tutorials, how-to guides, and detailed manuals, even when the software you are using has upgraded.
• If you want to create high quality screnshots, customize graphics or record screen videos, this free screen recorder may be a highly effective choice.
• It is easy to comment over your created screen videos with arrows, shapes, and callouts of Snagit Screen Capture, which can make your communication more clearly.
• You can easily add the recorded video to your email, video players, Facebook, YouTube and any other website. Or share it with your friends through a short URL.