Possible Ways to Fix Kernel Panic on Mac in Multiple Aspects
What is kernel panic?
A kernel panic is a safety measure to protect your Mac computer. The operating system detects an internal fatal error that may cause a major data loss. It has no choice but keep mac shutting down and restarting. Different from common issues, you can find kernel panic log on Mac saying "You need to restart your computer…" in long paragraphs.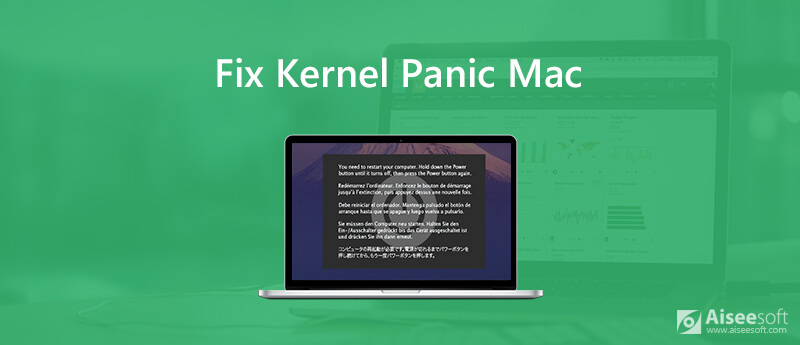 Why does a kernel panic happen?
What causes kernel panic on Mac with a death screen? Here're the most possible reasons responsible for kernel panic error on Mac.
Bad RAM and lack enough hard drive space
Outdated drivers, apps or plugins
Software conflicts
Broken disk permission
Incompatible peripherals and hardware issues
It is hard to tell what is the correct way to stop kernel panic on Mac. During this time, you can try out the following solutions to get your Mac back to the normal state.
Part 1: Troubleshoot Kernel Panic on Mac (from Software Aspect)
If kernel panic is caused by internal issues, you can take the following measures to identify potential problems.
Way 1: Install the Latest Update
If you haven't updated your computer for a long time, the outdated problems may cause kernel panic on Mac OS X. Thus, you need to run the App Store app to access all available updates in the "Updates" section. You can get the software update and app update here.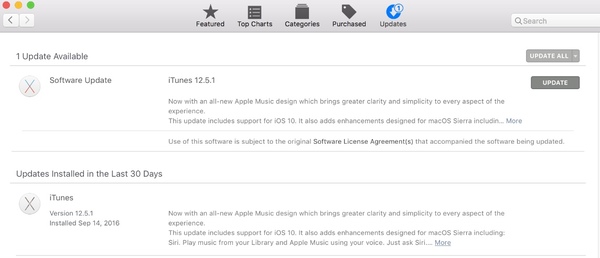 Way 2: Uninstall the Corrupted App on Mac
You may find that your Mac keeps crashing on the certain app. Why not uninstall this app and delete related files to have a try? You can reinstall the latest version without Mac OS X kernel panic error.
Way 3: Repair Disk Permission
Some apps are not compatible with each other. In other words, they are fighting for the permission of files and folders. If you are running Mac OS X Yosemite or older versions, you can repair disk permission manually.
Step 1:
Restart Mac while pressing "Command" and "R" keys.
Step 2:
Go ahead to "Disk Utility".
Step 3:
Click "First Aid".
Step 4:
Click "Repair Disk Permissions" to fix kernel panic on Mac.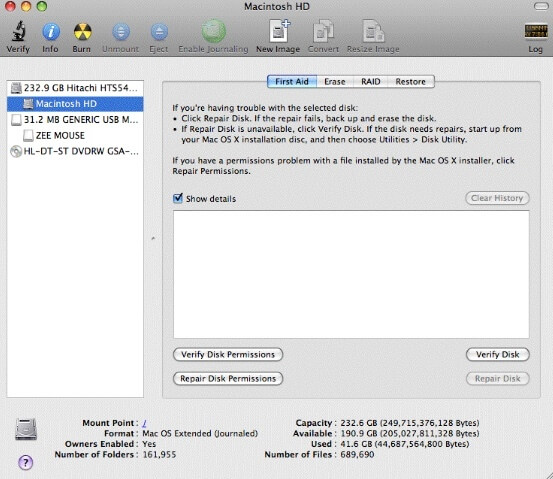 Way 4: Free Up Space on Startup Disk
Make sure there should be at least 20% of free space on your startup drive. Otherwise, the running speed and system performance on Mac will be reduced a lot. Choose "Apple" > "About This Mac" > "Storage" to check the available space. Later, you can clean up Mac with or without third-party Mac cleaning software.

Way 5: Run First Aid
The corrupted files and issues with external devices can cause kernel panic on Mac Mojave. Thus, you can run Disk Utility First Aid to detect and fix macOS kernel panic.
Step 1:
Choose "Restart" from the "Apple" drop-down menu.
Step 2:
Hold and press "Command" and "R" keys while rebooting.
Step 3:
Choose "Disk Utility" followed by "First Aid".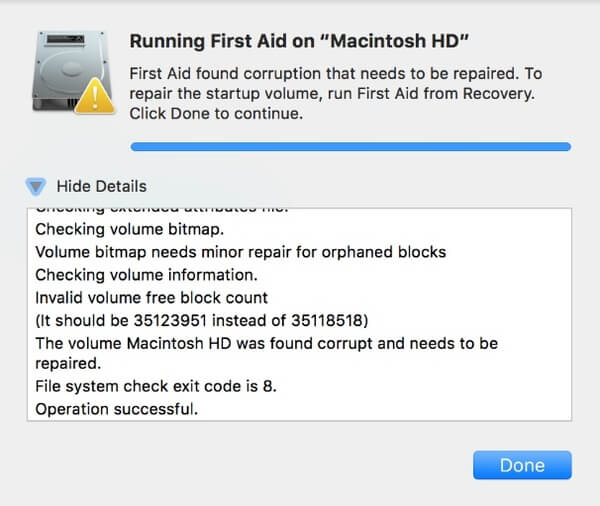 If you see something like "Operation successful" in the report, it means the Mac kernel panic has been fixed. But if you receive "The underlying task report failure", you may need to think about back up Mac and reformat the drive.
Way 6: Disable Startup Program
Too many startup programs are hard to handle. You can disable some not frequently used items to fix Mac randomly restart.
Step 1:
Choose "Users & Groups" in "System Preferences".
Step 2:
Select your name in the list.
Step 3:
In the "Login Items" section, click "-" next to the startup item you want to disable.
Step 4:
Restart Mac to see if the kernel panic Mac OS X error is fixed or not.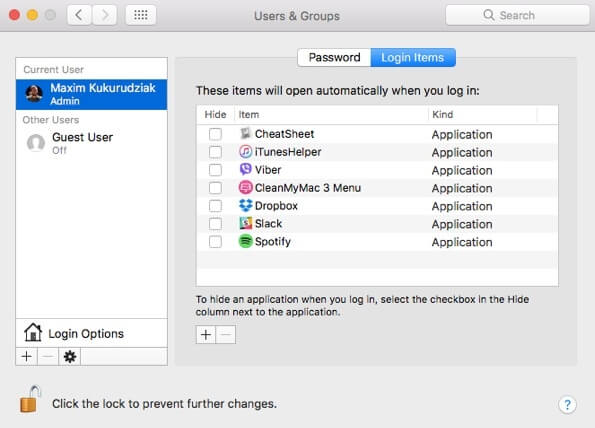 Part 2: Fix Kernel Panic Error on Mac (from Hardware Aspect)
It is true that the connected hardware might be responsible for Mac kernel panic. You can figure out which device is the conflicting one with your Mac OS X.
Way 1: Disconnect Hardware from Mac
Plug off all connected devices from your Mac computer, such as the printer, external video card, adapter and more. Later, restart Mac and connect one device back to your computer. If everything goes OK, you can restart Mac and plug the second device back. Repeat the above process until you fix kernel panic error on Mac.
Way 2: Run Apple Diagnostics to Test Hardware Condition
The built-in Apple Diagnostics (Apple Hardware Test) can troubleshoot kernel panic on Mac too.
Step 1:
Disconnect all peripherals from your Mac computer.
Step 2:
Restart Mac. Press "D" during the Mac restarting process.
Step 3:
Wait for a while to complete the process. Apple Diagnostics can test the hardware condition automatically.
Step 4:
Read the detailed report to find kernel panic log on Mac.
Part 3: Ultimate Way to Reduce the Possibility of Kernel Panic and Other Mac OS X Errors
Just as above mentioned, you need to free up Mac space to maintain the normal operation. However, it is not an easy job to find the old and large files you may forget already. To optimize Mac performance and clean up Mac, you can get one-stop service from Aiseesoft Mac Cleaner. It is a professional Mac management tool that helps you remove any unwanted file and monitor Mac performance easily.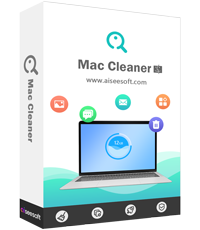 Downloads
Remove junk files, clutter, large/old files, shred files, delete duplicate images/files and more.
Monitor disk utilization, battery status, memory performance and CPU usage automatically.
Clean up browser data to protect your privacy.
Mange all files and extensions on Mac.
Support the latest Mac OS X and computer.
Step 1:
Launch
Mac Cleaner
. Check the current status of Mac in the "Status" section.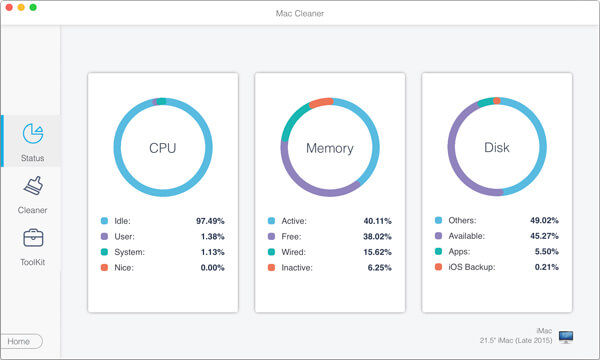 Step 2:
Choose "Large & Old Files" in the "Cleaner" section. Click "Scan" to find out all worthless files in large file sizes. Then click "View" to have a check.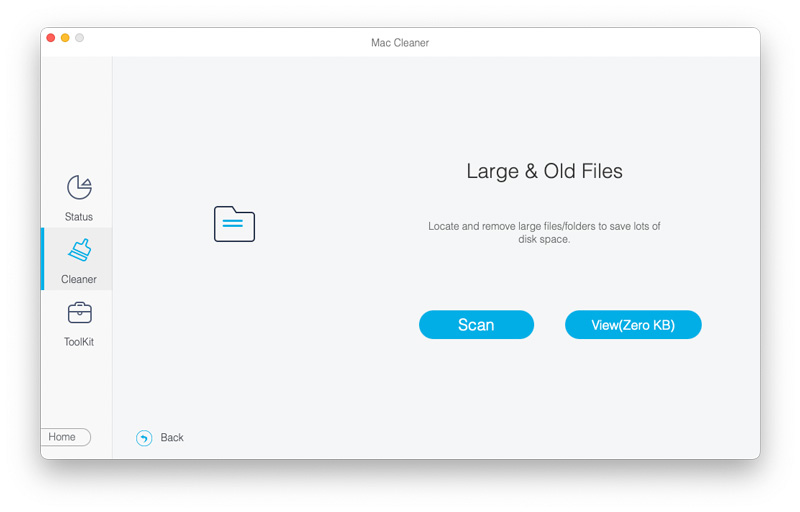 Step 3:
Preview and choose the item you want to delete. At last, click "Clean" to delete the selected large and old files on Mac.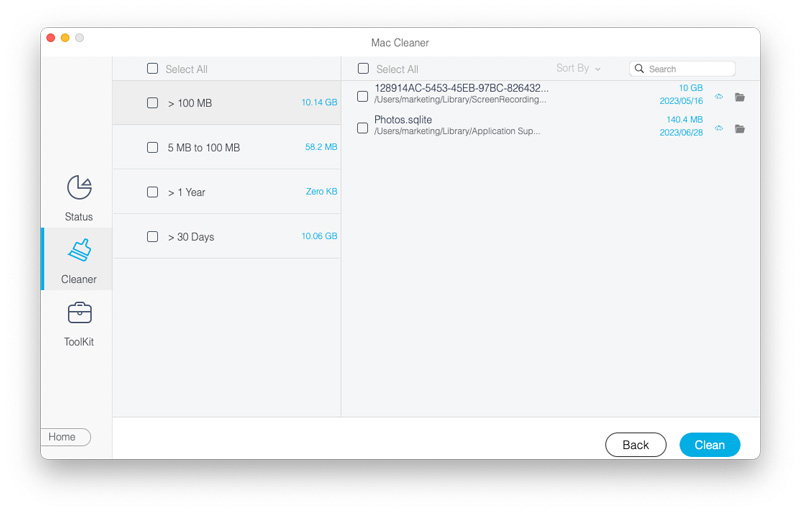 That's all for the troubleshooting guide of kernel panic on Mac. If you want to keep your Mac healthy, you can free download Aiseesoft Mac Cleaner to have a try. It can eliminate kernel panic and other errors caused by Mac internal factors effectively.

Leave your comment and join our discussion