How to Uninstall Apps on Android Phone
With so many apps available free on both the Google Play Store, it's easy to download app after app and forget to remove those you have no intention of using. When your Android has not enough storage, and you need to clear out some space on your device, uninstalling old apps is a great place to start. You can quickly uninstall any Android app that you've downloaded from Google Play Store. If the app came preinstalled on your device, you can also disable the preloaded app jumping through a few hoops.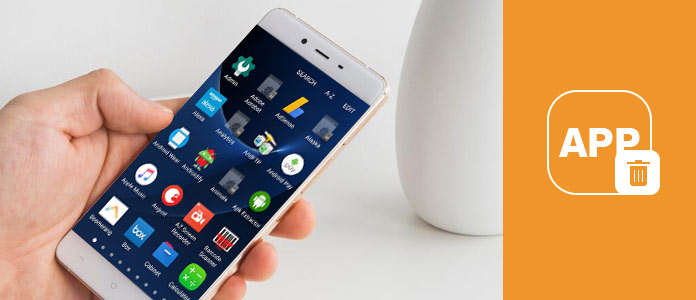 In the following article, we will show you the best methods to uninstall apps you downloaded on Android phone, and how to uninstall preinstalled apps if you need.
Method 1. How to uninstall downloaded apps manually
You can uninstall apps you have installed on your device if you no longer want them or need to free up storage space. There is a conventional yet simple method to help you do this, which is to remove Android apps from Settings menu.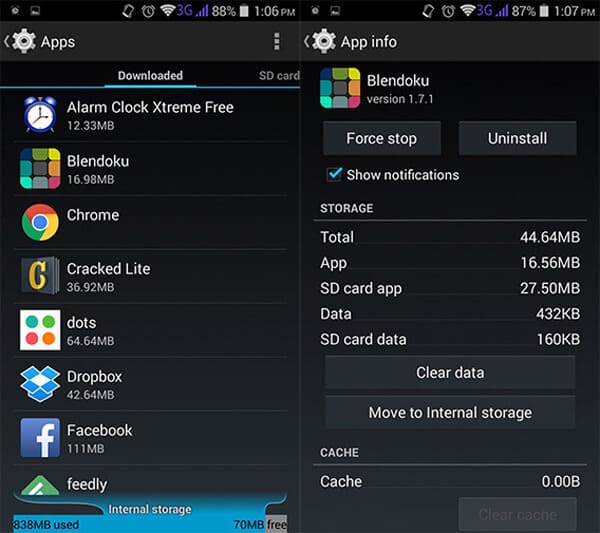 Step 1Go to "Settings", scroll down the screen and find "Apps" or "Application manager".
Step 2All applications available are listed, including downloaded apps, SD card apps, etc. Tap the app you intend to uninstall and enter "App info" screen.
Step 3Choose "Uninstall" or "Disable" option to uninstall apps on Android. For mobile phone/tablet running Android 4.4 KitKat, choose "Force Stop" and then "Disable", you can disable preinstalled app.
Note: It may differ from uninstalling apps specifically. For some Android phones like Samsung's Galaxy range, you can also delete apps from the home screen app menu. Long press the app until it is marked with a cross or a minus, then tap the mark to uninstall the unwanted apps.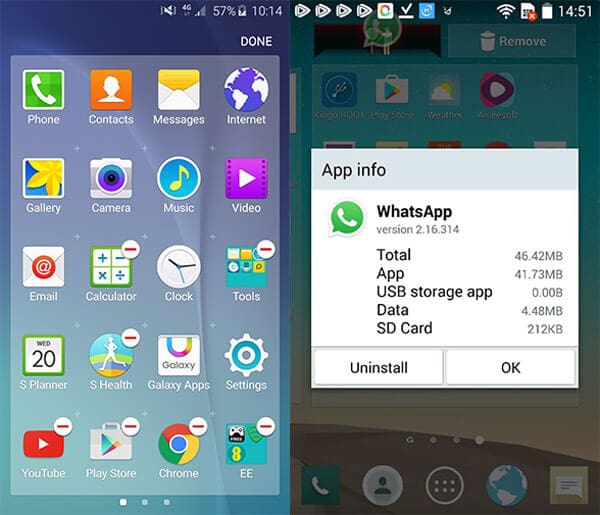 Method 2. How to uninstall system and carrier apps
As we have discussed, some Android phone allows you to follow the method above to disable preinstalled apps, which means that the app will stop running on your phone, but it is not deleted and can come out anytime.
Want to uninstall the annoying preinstalled apps from your Android phone/tablet completely? There are actually useful tools you can use to uninstall preinstalled apps. Here we would like you to introduce several Android app uninstallers you can use to uninstall apps from Android. But before you uninstall unwanted apps, it is necessary to root your Android phone first.
1. NoBloat Free
NoBloat is a Android app uninstaller for you to uninstall preinstalled Android apps. It can also help you back up Android data before uninstallation. It is an easy-to-use app, so you'll like when you use it. A premium version is also available for $1.99 (£1.25), providing some advanced features including blacklisting system apps and so on.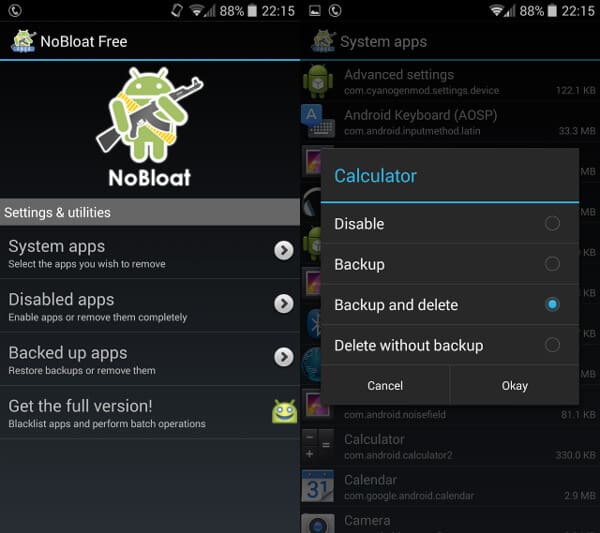 2. Root Uninstaller
Root Uninstaller is a power-user uninstaller app to manage system and regular applications on Android device. It allows you to uninstall apps (default apps included) on your phone easily. Run Root Uninstaller on your phone, and it will display the list of every app. Go to "System apps" > Select the app that you want to edit, here you can freeze, backup, reset and uninstall this app.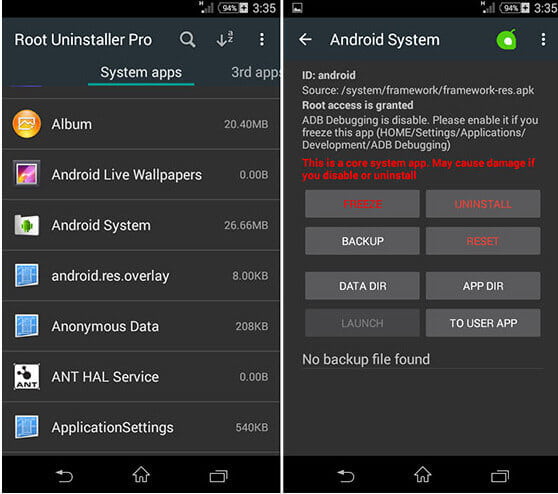 3. System App Remover
System App Remover provides a simple way to uninstall apps while also offering useful tools to transfer apps to your SD card. Although you may be bothered by ads, System App Remover is faster than the two uninstaller apps we referred before in removing preinstalled default Android apps.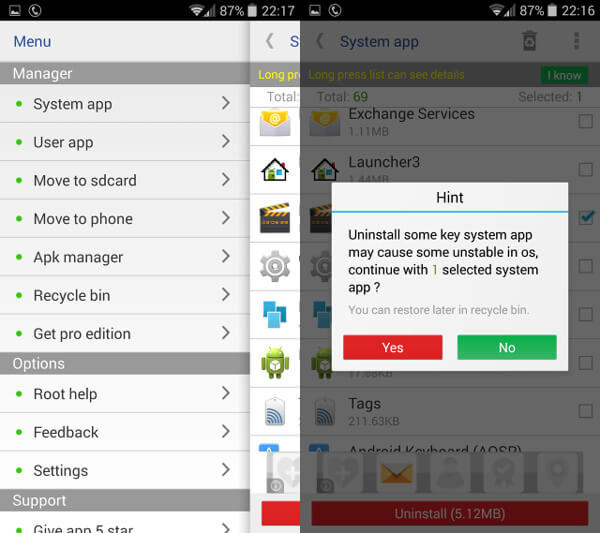 See what to do when Google Play Store not working on Android Devices.
Method 3. Best app uninstaller to uninstall Android apps from PC/Mac
Uninstalling apps one by one would be a tedious process. For this reason, many users prefer to uninstall apps from Mac or computer. Here we would like to recommend you the best Android Manager tool, which gives you a much easier and faster process to uninstall Android apps on PC or Mac.
FoneLab for Android
For Mac
FoneLab for Android is the professional Android recovery and management program which can help you recover deleted/lost data from Android device and SD card with ease.
Recover Android files like contacts, photos, messages, videos, etc.
Support Samsung, Sony, HTC, LG, Huawei, etc.
Recover deleted Android data with ease.
In this article, we have mainly teach you how to uninstall wanted apps on Android phone. You can uninstall downloaded apps manually, or uninstall preinstalled apps using Android apps uninstaller. Still have more questions about how to uninstall apps on Android? Feel free to leave your comments down below.