That's How I Turn On/Off Black and White Screen on iPhone
I want to turn off the iPhone 7 grayscale mode. My iPhone 7 screen is black and white. I don't like that.
How do I get a black and white screen in iOS 11?
Is it possible to get rid of iPhone 5 black and white screen?

iPhone Black And White
Some people like to set the iPhone display in grayscale, while others want to get rid of the black and white screen as soon as possible.
Well, this article introduces how to turn on or turn off black and white screen on an iPhone. Thus, you can switch the iPhone screen color easily here.
Part 1: How to Turn Off Black and White Screen on iPhone
Actually, when you upgrade to iOS 8, the grayscale feature will be triggered automatically. This feature will change your iPhone screen to the black and white state. It is true that people with color-blindness can distinguish characters from the background easier than before.
However, many users complain that it is frustrating to see the iPhone black and white screen. Well, from this section, you can get detailed steps to change your iPhone screen from black and white to color.
Step 1 Open "Settings" app on your iPhone X, iPhone 8, iPhone 7 or other iDevices.
Step 2 Choose "Accessibility" from the "General" list.
Step 3 Turn off the "Grayscale" option to disable iPhone black and white screen.
Step 4 Head to the "Zoom" section under the "Accessibility" category.
Step 5 Tap "Zoom Filter" and select "None" from its list.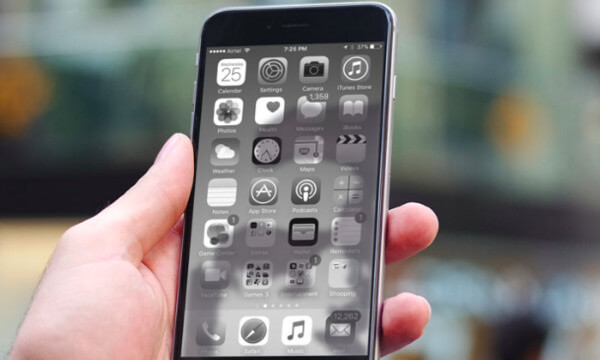 Now your iPhone should get rid of the black and white screen successfully. If it does not work, you can restart your iPhone to have a try.
Part 2: How to Make an iPhone Screen Black and White in iOS 10/11/12
Well, if you want to turn your iPhone or iPad into grayscale mode, you can do as the following paragraphs tell. All your settings and display will be in the original state. Actually, the only difference is that your iPhone screen turns black and white. So if you have difficulty seeing colors, the grayscale mode may help you a lot.
Step 1 Choose "General" under the "Settings" app.
Step 2 Tap the "Accessibility" icon.
Step 3 Select the "Display Accommodations" option under "Vision".
Step 4 Turn on the "Color Filters" option followed by "Grayscale".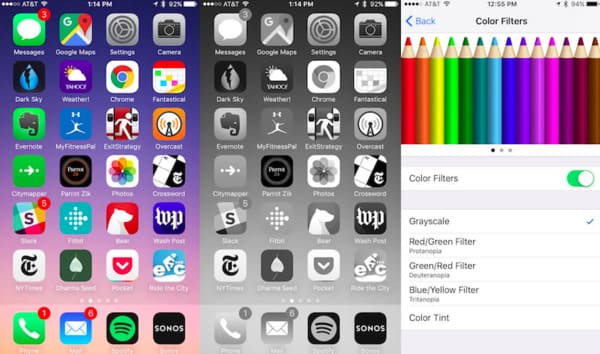 The moment you enable the grayscale mode, all saturations will be removed immediately. In another word, you can make the iPhone screen to be black and white in iOS 12, 11 or iOS 10 quickly.
Part 3: Best Way to Fix iPhone Display Issues
If your iPhone get stuck on black and white mode for a long time, or there are black and white stripes on the iPhone screen, then you can turn to Aiseesoft iOS System Recovery for help. What's more, if your encounter blue screen. black screen, white screen or other problems, you can fix the disabled or frozen iPhone safely here.
Key Features of iOS System Recovery
Fix your disabled or unresponsive iPhone back to the normal state safely and easily.
Get rid of the iOS system errors by entering the DFU mode or recovery mode.
Fully compatible with the latest iOS 10.3/11/12, as well as iPhone XS Max/XS/XR/X, iPhone 8 and other iOS devices.
How to Fix Your iPhone Stuck on Black and White Screen
Step 1 Launch iOS System Recovery
Free download and install Aiseesoft iOS System Recovery software on your Windows or Mac computer. When you launch this program, connect your iPhone to the computer with a lighting USB cable.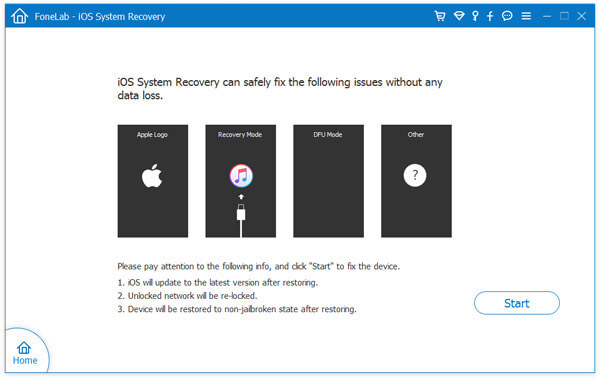 Step 2 Enable the Recovery mode
Click the "Start" button on the lower right corner. Later, you can put your iPhone into Recovery mode with the on-screen instruction. For instance, if you want to solve the iPhone 8 black and white screen problem, you need to follow the certain guide under the "iPhone 8/8 Plus/X" section.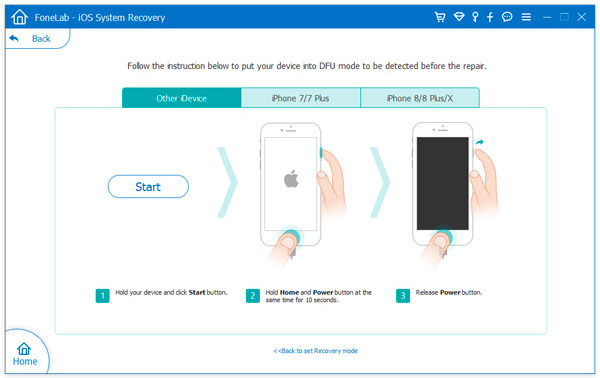 Step 3 Check the detected device information
Sooner, you can see the basic information of your connected iDevice. Check and correct if something goes wrong. Well, you can choose from "Device Category", "Device type", "Device model" and "Update to iOS version" options.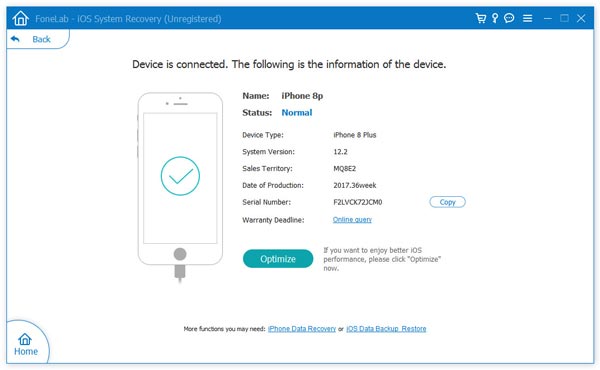 Step 4 Step 4: Save your iPhone back to the normal state
After all preparations, you can choose the "Download" option to download the required plugins. Later, the program will fix the iPhone stuck on black and white screen automatically. Well, you just need to wait several minutes to complete the process.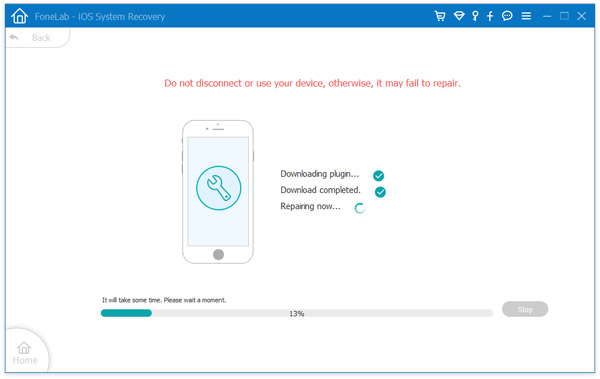 In a word, Aiseesoft iOS System Recovery can fix all iPhone or iPad errors caused by software-related issues without data loss. So next time you have any abnormal situation on your iPhone, you can free download the program first.
Well, That's all for how to switch on and off the black and white screen on your iPhone.