iPhone Storage Full? Clear Storage on iPhone X/8/7/6/5/4 to Get More
"My iPhone 6 says my storage space is running out, and ask me to free up more storage for normal use. But actually it does not. There is several pictures and contacts in it. Is something wrong with my iPhone 6?"
"I buy a new iPhone 7 with 64 GB, but now it says there is not enough storage. I have put several movies, and lots of photos on my iPhone. Can I buy more storage on my iPhone?"
When iPhone becomes the part of your life, the problem brought out by iPhone will also comes to you. iPhone storage is the frequent headache met by lots of you. "My iPhone storage is almost full. How can I clear up space for more?" This question has been asked for many times. Today, we will provide some useful tips about the issue of "iPhone storage full" to teach you how to manage and free up storage space on iPhone.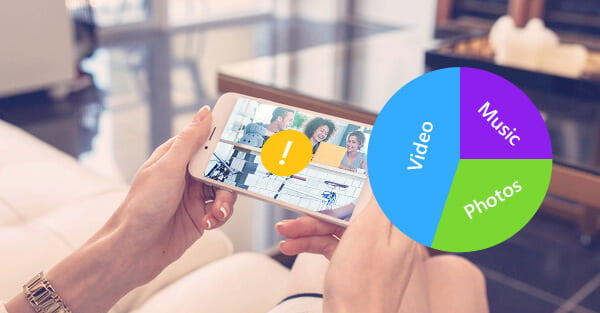 Tip 1. iPhone storage full but not – Clear up junk files
iPhone says not enough storage, but actually not. For this problem, it is not the fault of your iPhone, but often created by some useless junk files like app caches, corrupted files, crash log files, and more. You can download the junk-clearing app to your iPhone, and scan and delete the unwanted junk files frequently. Or you can close all running applications on your iPhone.
Tip 2. iPhone storage is full – Delete unwanted files
Delete unused apps
Apps take up a big storage on your iPhone, and the cache brought out by them also needs more space. Considering this problem, you can uninstall the unused apps from your iPhone.
Go to "Settings" > "General" > "Usage" > "Manage Storage" > hit and delete the unwanted apps for getting more storage.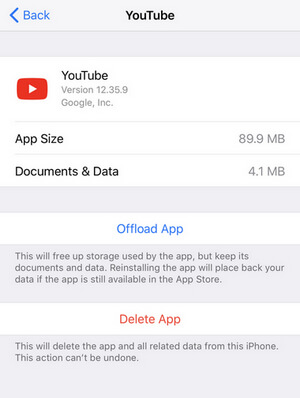 Delete photos and video/audio from iPhone
Apart from apps, another big storage taker is media files like photos and videos/audio files. For those photos and videos with important memories, you may want to view them on your iPhone frequently. However, the big storage space form them may slow your iPhoen and get the reminder that your iPhone storage is full. So you had better back up them to other places like iCloud or computer. Then you can learnt the ways as below to delete the photos pictures video and audio files from your iPhone.
Delete Photos Pictues from iPhone
Clear Safari cache
Like other web browsers, Safari also store cache like photo, video and other site data. Such cache data also takes up some storage on your iPhone. You need to manage them to free up more space.
Go to "Settings" > "Safari" > "Clear History and Website Data", and then restart your iPhone.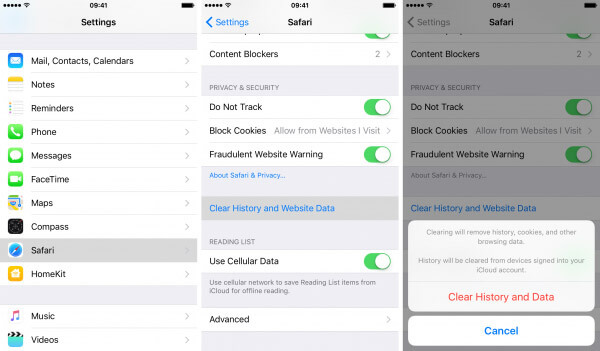 Delete contacts, messages, notes, etc.
Apart from app caches, media files, text files on your iPhone like contacts, messages (text messages and iMessages), notes, reminders, etc. use some storage space on your iPhone. If your contacts or messages are useful, you can also delete them.
Delete "Other"
When you connect your iPhone to computer with USB cable and run iTunes on the PC for syncing data, you will find a graph that shows the space usage. "Other" includes browser cache, mail cache, mail messages, mail attachments, Safari reading list, iTunes backup, game data, crud resulting from jailbreaking your iDevice, saved data files, notes, media, Printer drivers, language files, preference files, preference panes, etc. For clearing it, you can refer to clear the "Other" space.
Delete old iPhone backups
Apart from the above data stored on iPhone, another storage users you may miss is iCloud backup. iCloud only provides free 5 GB storage for backup. If you store many files on iCloud, you will start getting the reminder that "Not Enough Storage on iPhone". To solve this problem you have to delete backup from iCloud.
On your iPhone, go to "Settings" > "Storage & iCloud Usage" > "Manage Storage" to check your different iPhone backups like from iPhone 4 or iPhone 5, then tap on the backups, and hit "Delete Backup" to free up more storage.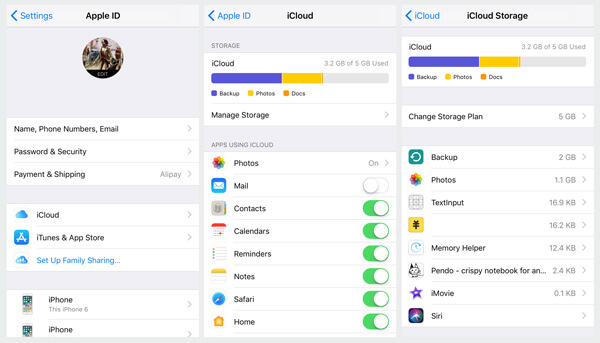 Make iPhone to factory resetting
The common way for almost everyone to get more space on iPhone is to reset iPhone. But this method will erase all data and setting on your iPhone. In one words, you renew your iPhone. For this way, you have to take care of using it.
Go to "Settings" > "General" > "Reset" > "Reset All Settings".
Tip 3. iPhone Storage is full – Manage iPhone space
After trying the above ways to delete data from iPhone to free up more space, you may conclude that my iPhone storage is not big, and it is really not enough. So at this point, you had better learn the way managing your iPhone storage to put them in use reasonably.
Back up iPhone to PC with iTunes
For the frequent-used data, you can keep them on your iPhone for easy use. For those data you may notice for a long time, you can make the backup to your computer in iTunes, and then delete them on your iPhone to free up more storage.
Note: Because iCloud only gives free 5 GB storage for iCloud, while iTunes provides the storage based on your computer space, we suggest you back up iPhone to PC with iTunes.
Launch iTunes on your PC, and connect your iPhone to PC, click your iPhone icon, and choose "Back Up Now" to back up iPhone data to iTunes.
Best iPhone storage managing tool you may want to know:
FoneTrans - iOS Transfer
Transfer from iPhone/iPad/iPod to computer
Transfer from computer or iOS device to iPhone/iPad/iPod
Sync from iPhone/iPad/iPod to iTunes
Support any popular iOS device and all types of data
Manage iPhone with professional app
If you do not brainstorm to analyze every file on your iPhone and decide which one is useful or useless, you can download the professional iPhone manager to help you. Take iPhone Data Erase as the example.
Step 1 Run the app on your computer, and plug your iPhone to PC. You should install the latest iTunes on your computer.
Step 2 Choose "1-Click Free Up Space" tab and click on "Quick Scan" to know storage space of your iPhone.
Step 3 Select the file type that you want to delete and click on "Clean" button.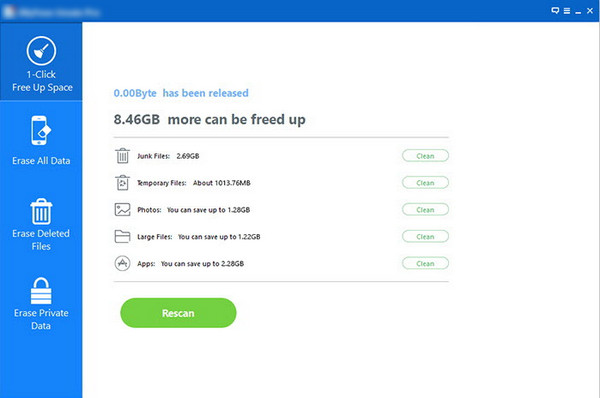 Tip 4. More advice to get more storage on iPhone
Since iPhone does not allow to add SD card to make extra storage like Android, when iPhone storage is full, you have to consider expanding your iPhone storage with other way.
Turn off iCloud drive
iCloud drive is the convenient way to access files from your Mac or other devices connected to iCloud, if you turn on your iCloud drive. So here, to create more storage, you can turn off iCloud drive.
On your iPhone, go to "Settings" > "iCloud" > "iCloud Drive" > off.
Buy more space for iCloud
If you do need to turn on iCloud drive to access more files, then you have to think about buying more space for iCloud to store your data.
On your iPhone, navigate "Settings" > "iCloud" > tap the storage and select "Buy More Storage" to choose a plan based on your condition.
Here, all tips for iPhone storage full have shared here. More suggestions for this issue will be welcome.