Music Won't Play on iPhone? Here are the Ultimate Solutions for You
What should you do if music won't play on iPhone?
iPhone is more than a communication tool, but also a superb media player for entertainment. As iPhone supports the most common audio formats, including the lossless FLAC audios now. Most iPhone users are using their iPhone to listen to high-quality music. It should be a frustrating experience when the music not playing on iPhone.
Why iPhone won't play music? To solve the problem, you have to find the problems first. Is it a problem of the music, or iPhone component? If your iPhone has the same issue, just follow up the article to get rid of the problem step-by-step now.
Part 1. Universal Solution to Fix iPhone won't Play Music
Is there any method to fix iPhone won't play music without erasing all the content or settings? If all your music cannot be played on your iPhone, maybe there is something wrong with your iOS system or the default music app. iOS System Recovery is the ultimate solution you have to take into consideration.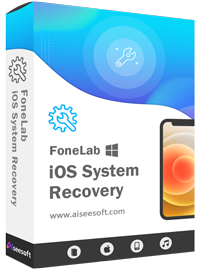 Downloads
Fix blue screen, app stuck, screen frozen and other system issues.
Easy to use and safe enough to cause no data loss for iPhone.
Support most of iPhone, iPad types with different iOS versions.
Compatible with iPhone 11, 11 Pro, 11 Pro Max, XS, XR, X, 8, 7, 6, 6s, 5, 4, iPad Pro/Air/mini, etc.
Step 1Launch iOS System Recovery.
Download and install the latest version of iOS System Recovery, you can launch the program to fix music not playing on iPhone. Connect your iPhone to your computer with a USB cable. Select "iOS System Recovery".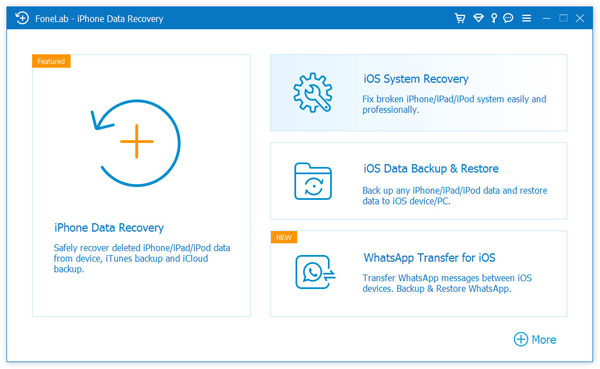 Step 2You can check all the abnormal issues that this software can fix. Just click "Start" to proceed.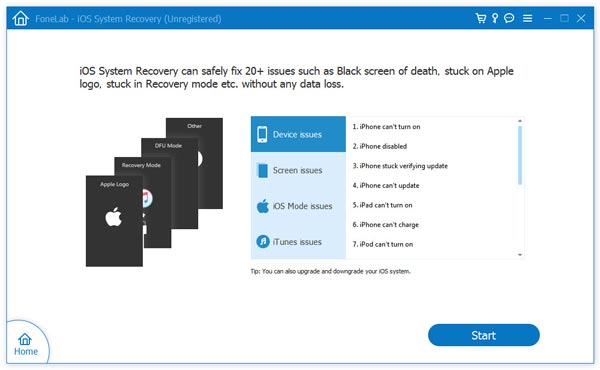 Make sure you have installed the latest iTunes in order to scan and locate the problems for iPhone won't play music.
Step 3Select the fix mode from "Advanced Mode" or "Standard Mode" and then the basic information of your iPhone will show. Click "Optimize" to continue the next step.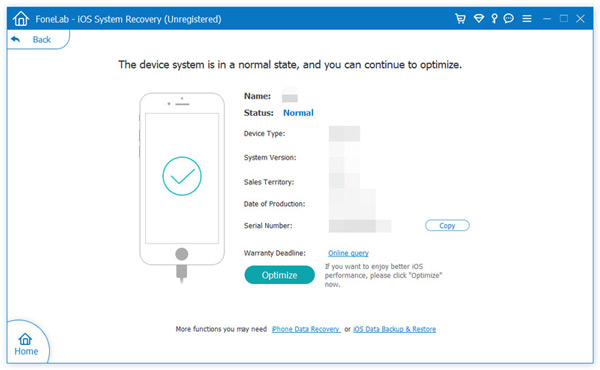 Step 4In this step, you will see the iOS information including model, type and category. Just modify it id it is not correct. Then select the iOS version that you want your iOS device to update or downgrade. Click "Next" to start fixing iOS system.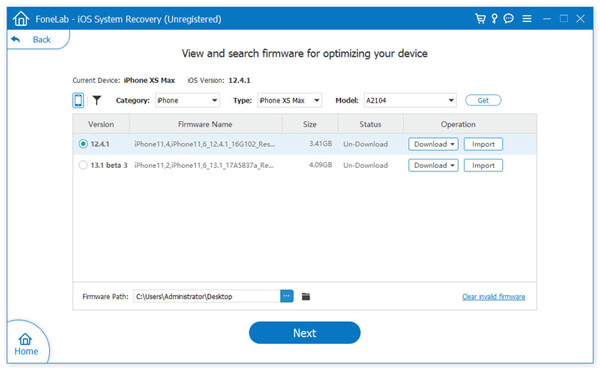 Part 2. Other 9 Solutions to Fix Music Not Playing on iPhone
Solution 1. Check Volume Settings of iPhone
If the timeline of the music app shows the time elapsing normally when playing music, but there is no sound in the speaker or headsets, you should check your iPhone volume settings first.
Step 1Check if the "Mute" button is on or not. If on, set it off to see if there is sound or not.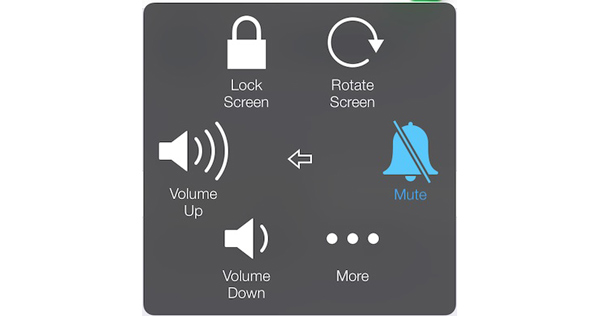 Step 2Increase the Media volume. You can also adjust the volume of the music to find whether music plays on iPhone now.
Solution 2. Upgrade iOS of iPhone
Apple keeps upgrading iOS to add some new features. The lossless FLAC format is supported on iOS 11 and the later versions. As for the case, FLAC music files won't play on iPhone with iOS 10 or earlier versions.
Step 1Make sure you have a backup for iPhone on iTunes or iCloud. Go to "Settings" > "General" > "Software Update", you can check the latest iOS version.
Step 2Tap on "Download and Install", you can install the latest iOS version. Enter the password and tap "Agree to Term and Conditions". After that confirm to install the iOS version.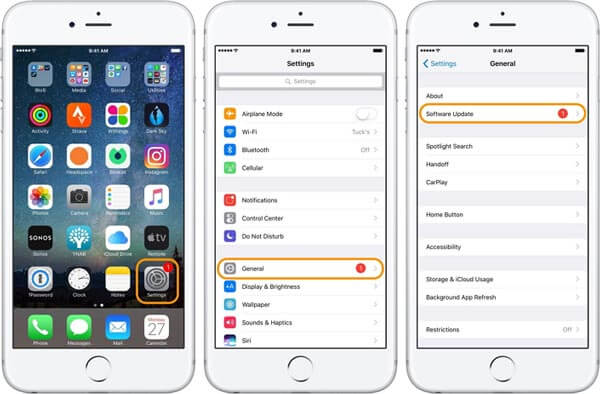 Step 3Once you restart the iPhone with the latest version, you can check whether the issue has been fixed.
Solution 3. Use 3rd-Party Music Player
Just take FLAC format for example again. If you are using iPhone 6s or older iPhones, the system default music player cannot play FLAC audios. But you can install a powerful third-party music player from App Store to play this kind of music.
Cesium is one of the recommended media players that music won't play on iPhone, you can download the program from Apple Store to playback most of the audio formats.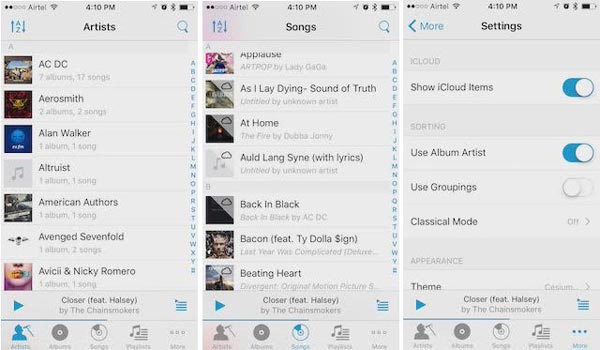 Solution 4. Convert the Music Format
If your music is the format that iPhone doesn't support, your iPhone won't play the music, such as APE and WMA. You have to convert the music into the compatible format. Usually, you can convert the music to MP3 or other formats that iPhone can play, and then sync the converted music to your iPhone.
iPhone supports the following music formats: AIFF, WAV, AAX, AAX+, AA, MP3, MP3 VBR, ALAC, AAC, protected AAC and HE-AAC.
When you want to convert the music for the desired iPhone with high quality, Aiseesoft Free Video Converter is a recommended media converter. It supports more than 300 video formats and device types. Moreover, you can also find multiple editing tools available within the free program.
Solution 5. Fix the Sync Issue with iTunes
Sync issues with iTunes may cause the problem that music not playing on iPhone. The possible reasons for this issue may be:
The music file does not exist on the computer but it is still listed in iTunes library, and the file name is synced on your iPhone.
The music is corrupted or modified.
If the sync issue happens, your iPhone cannot play the music, and prompts a notification: "Item Not Available! This item can't be played."
To solve this problem, you can update iTunes to the latest version if it is not, renew your iTunes library and re-sync your iPhone.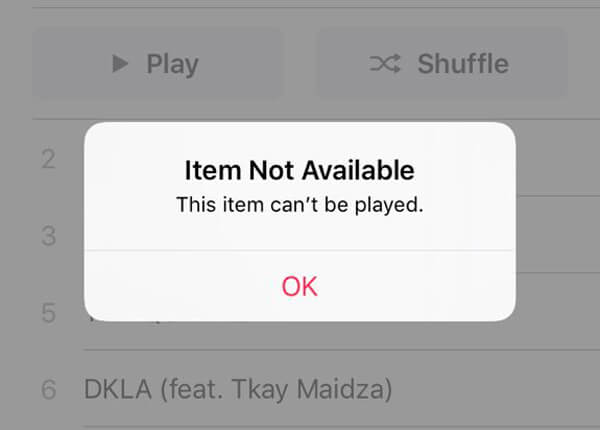 Solution 6. Re-Authorize Your Computer
iTunes may forget that your music is actually authorized for some unknown reason. So you can refresh the authorization to fix music not playing on iPhone.
To refresh the authorization, you can launch iTunes, click the "Account" menu, select "Authorization" and click the "Deauthorize this Computer" option. Then you need to click "Authorize this Computer" to confirm the operation.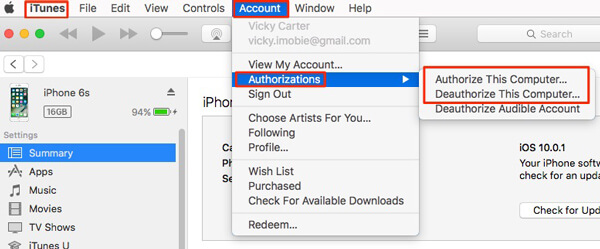 Solution 7. Try an iTunes Alternative to Transfer music
If your iTunes issues are failed to solve, or there are some copyright issues with the music file, you can try iTunes alternatives to sync the music on your iPhone, Aiseesoft MobieSync should be a professional program to sync iOS files between iPhone/iPad/iPod and computer.
It can transfer photos, videos, music files, contacts, messages and more other files without restrictions. Moreover, you can find HEIC converter, Ringtone maker and more from the program.
Solution 8. Restart iPhone to fix the issue
If you keep the iPhone running for several months without restart or reboot, a lot of residue data has been produced on your iPhone and some malfunctions may be caused in some apps.
The music player of iPhone might not play the music file. So, restarting your iPhone to reset the configuration of your iPhone may fix music not playing on iPhone.
To make a thoroughly new configuration for all the hardware and software on your iPhone, we suggest powering off your iPhone for a while and start it again to see if your iPhone can play the music or not.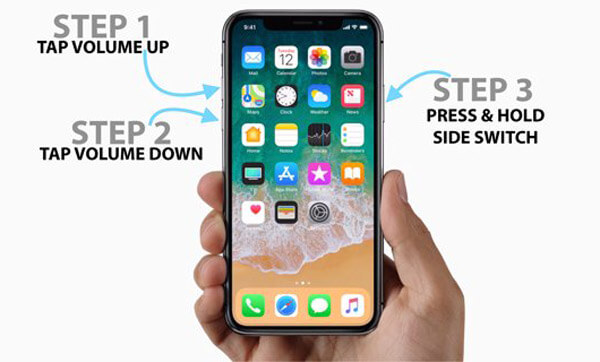 Solution 9. Reset Your iPhone
If you have tried all the methods above, but your iPhone still won't play music, you can reset all settings of your iPhone. It means all your settings on your iPhone will go back to the defaults on the day when you started using it. All of your accounts, messages, contacts, call logs, pictures, videos and music will be gone.
To reset all settings on your iPhone, you can go to "Settings" > "General" > "Reset" > "Reset All Settings".
If you have to reset your iPhone, you'd better back up your data in advance, so that you can get your data back after resetting. We recommend an easy-to-use iOS Data Backup & Restore to backup important files beforehand.
Conclusion
In order to fix iPhone won't play music, you have to locate the problems beforehand. iTunes, video format, music app, even the system may cause the issue. You need to check the solutions one by one to fix this problem. If you have any other good solutions to fix music not playing on iPhone, please feel free to discuss it with us.

Leave your comment and join our discussion