What You Should Do When Your Mac Won't Shut Down
I use my MacBook for work, but it won't shut down by itself yesterday, it stayed on the black screen, how to fix this problem and shut down my computer normally?
When you switch off your Mac, it needs to quit performing tasks, background apps and processes. Anything wrong may block Mac shutting down properly. This post tells you how to fix this problem efficiently.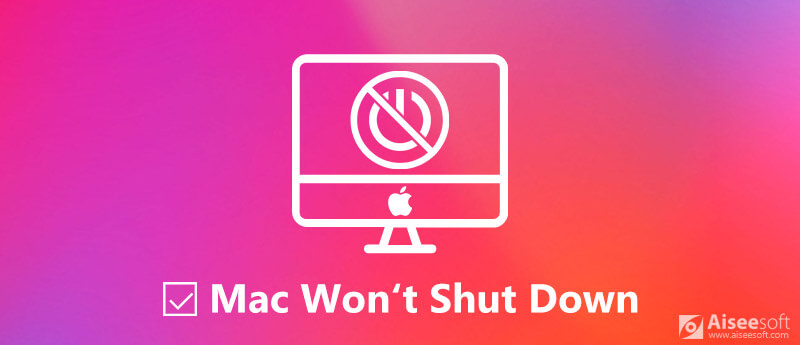 Fix Mac Won't Shut Down
Part 1: How to Shut down Mac Correctly
Sometimes, Mac won't shut down just because you did not follow the right procedure.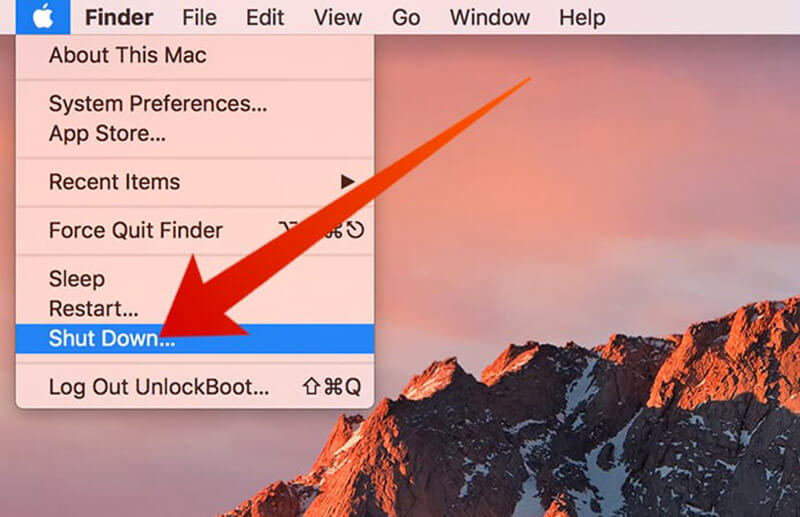 Step 1.
Click the
Apple
logo at the upper left corner of your screen and select
Shut Down
.
Step 2.
Then you will get an alert warning with a clock counting down from 1 minute. To skip the countdown, hold down the
Command
key while selecting
Shut Down
.
Step 3.
Save the files you have been working on. After all apps are closed, Mac will start turning off.
Part 2: What to Do If Mac Won't Shut down
According to our research, here are the best fixes for Mac that won't shut down.
Solution 1: Free up Space
If your computer accumulates too much junk files, Mac won't shut down.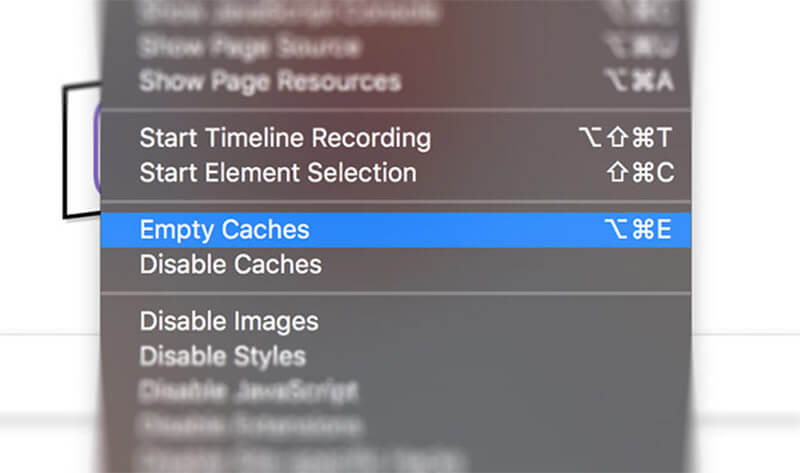 Step 1.
Open your Safari, go to
Safari
>
Preferences
>
Advanced
and enable
Show Develop menu in menu bar
. Then head to Develop after close the Preferences window and select
Empty Caches
.
Step 2.
Run the Finder app, click
Go
>
Go to Folder
, input
~/Library/Caches
and click
OK
. Drag the junk files and drop them into the
Trash
. Then empty your trash can.
That is also the way to speed up slow Mac.
Solution 2: Close All Apps
If there are too many apps opened, Mac won't shut down quickly.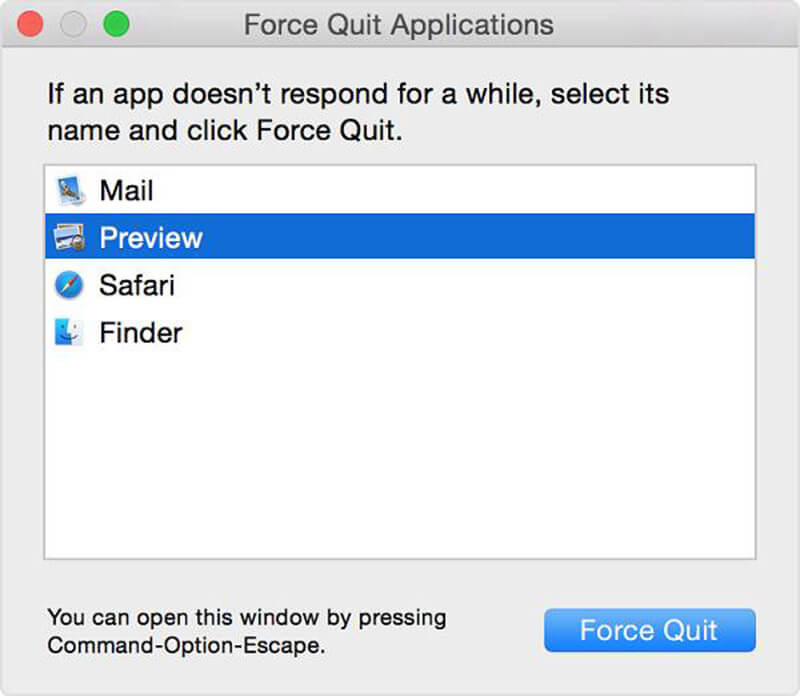 Step 1.
Hold down
Option + Command + Esc
keys at the same time to open the
Force Quit
window.
Step 2.
Check and select the apps and click
Force Quit
button. Then shut down your Mac and it should respond quickly.
Sometimes, you could try to delete an app from Mac, when the app caused a failure of shutting down Mac every time.
Solution 3: Reset NVRAM, PRAM and SMC
NVRAM, or PRAM on older system, and SMC are two special attributes on Mac. If something wrong with them, Mac won't shut down normally. The solution is simple, resetting NVRAM and SMC.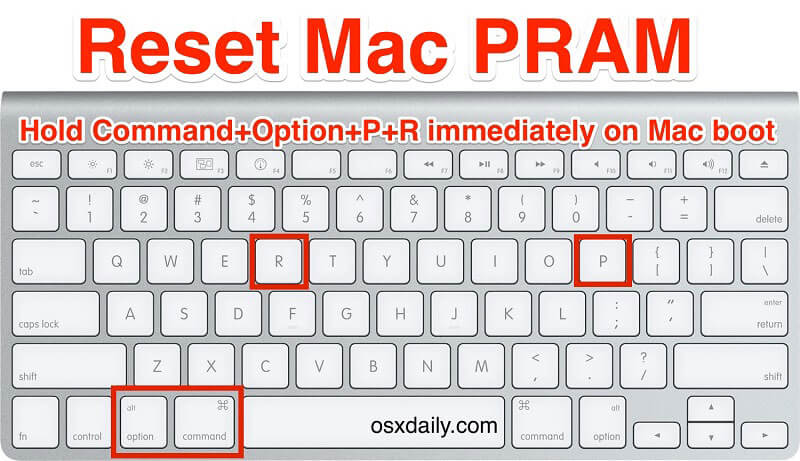 Step 1.
Hold down the Power key for 10 seconds to force shut down your Mac. Then power it back on and keep pressing
Cmd + Option + P + R
keys together.
Step 2.
When you hear a second startup sound, release the key combination.
Step 3.
To reset SMC, force shut down your MacBook, unplug the power cord and wait for at least 15 seconds, then power cord back and turn on your Mac.
Solution 4: Diagnose Mac and Test Your Disk
The built-in Apple Diagnostics and Disk Test features are valid troubleshooting when Mac won't shut down.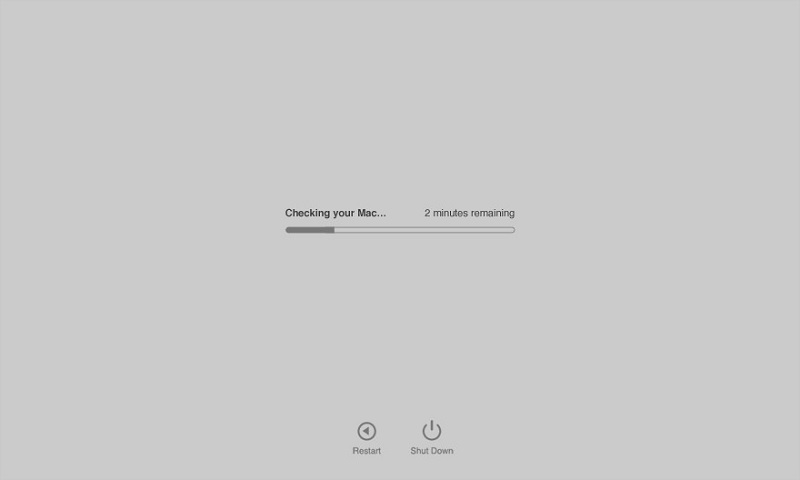 Perform Apple Diagnostics
Step 1.
Remove all external components except your keyboard, mouse and display.
Step 2.
Click
Apple
menu >
Restart
, and hold down the D key while Mac reboots. Then Apple Diagnostics will state automatically. Follow the onscreen instructions to finish it.
Do Apple Hardware Test
Step 1.
Also disconnect external components, and hit
Apple
menu >
Restart
, keep pressing the
D
key while Mac restarts.
Step 2.
Then Apple Hardware Test chooser screen will pop up, select your language and hit
Return
or click the right arrow icon to trigger the
Apple Hardware Test
screen.
Step 3.
If a problem is detected, you can write it down and ask help from Apple Support.
Solution 5: Try Safe Mode
The Safe Mode can check the issue that leads to Mac won't shut down. It is worth to try to restart your computer in Safe Mode.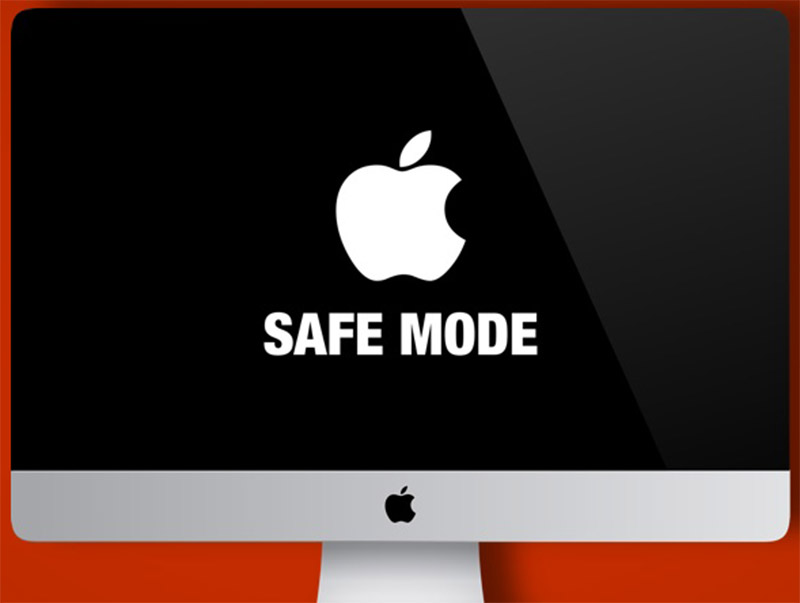 Step 1.
Force shut down your Mac by hitting the
Power
key for 10 seconds. Wait for another 10 seconds, press the
Power
key to turn back on your machine.
Step 2.
Hold down the
Shift
key once you hear the startup tone. Let the key go until you see the gray Apple logo.
Step 3.
Now, your Mac switches to the Safe Mode and all extensions turned off. Check your startup disk and make sure it works well.
Step 4.
Go to the
Apple
menu and select
Restart
. Then check if Mac shuts down as usual.
Solution 6: Reinstall MacOS
If you have tried the solutions above and the issue that Mac won't shut down repeats, you have to reinstall your system.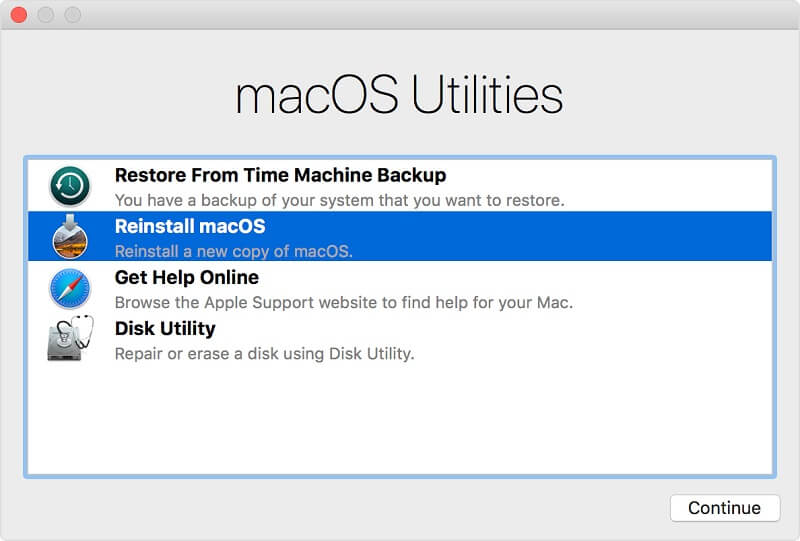 Step 1.
Go to
Apple
menu >
Restart
, then hold down
Command + R
while Mac restarts.
Step 2.
Release the key combination when you see Apple logo. Then macOS Utilities window will pop up.
Step 3.
To repair a disk, click Disk
Utility
>
Continue
, select the volume you intend to repair and click Erase to start it.
Part 3: Get Back Data After Force Shutdown or Reinstall
Aiseesoft Mac Data Recovery is a powerful way to get back your files after troubleshooting.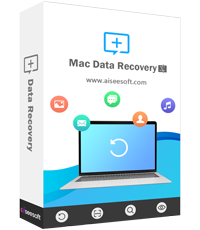 Downloads
Recover data from Mac with a single click.
Support a wide range of file types.
Offer both the quick scan and deep scan.
Available to extensive Mac systems.
How to Recover Data from Mac after Troubleshooting
Step 1.
Install Mac Data Recovery
After the problem that Mac won't shut down is fixed, download and install Mac Data Recovery to your machine.
Launch the program and you will get three sections, Data Type, Hard Disk Drives, and Removable Drives.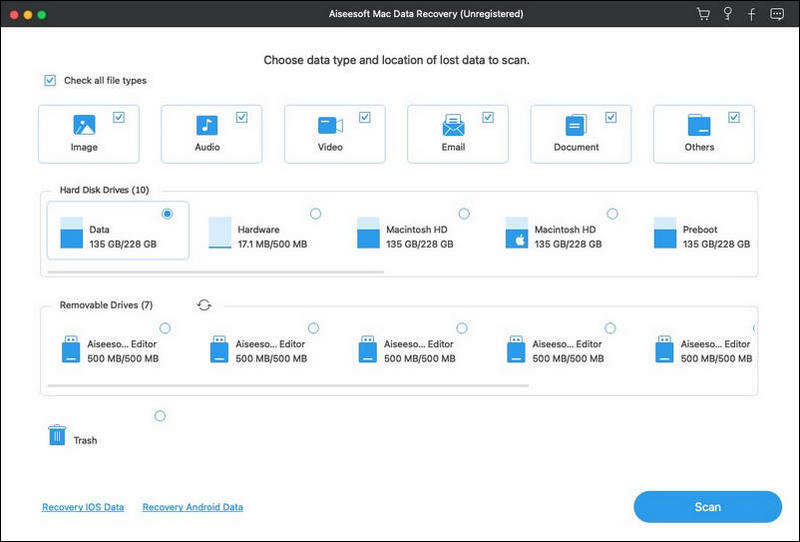 Step 2.
Scan lost files
Check the file types you wish to recover in
Data Type
area, and where they stored in
Hard Disk Drive
area. Click the
Scan
button to look for lost files. There is a Deep Scan option at upper right corner for performing a deep scan.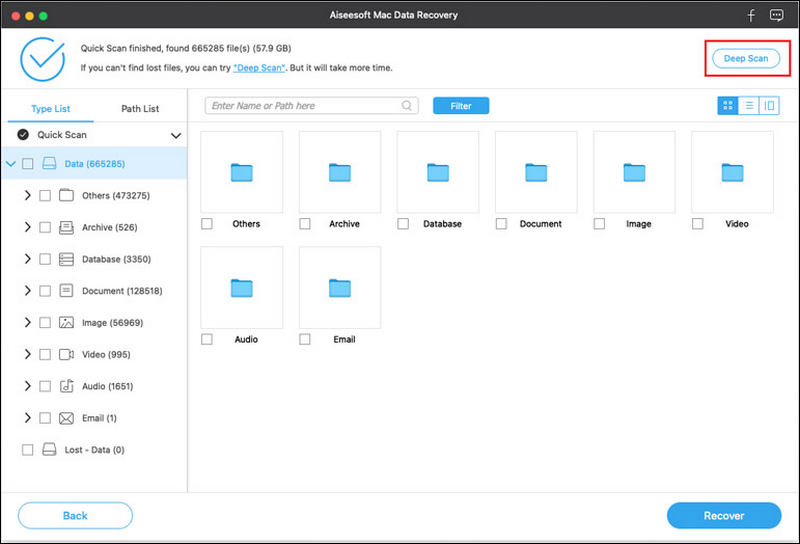 Step 3.
Recover files from Mac
After that, preview and find the lost files. Check them and click the
Recover
button to get them back.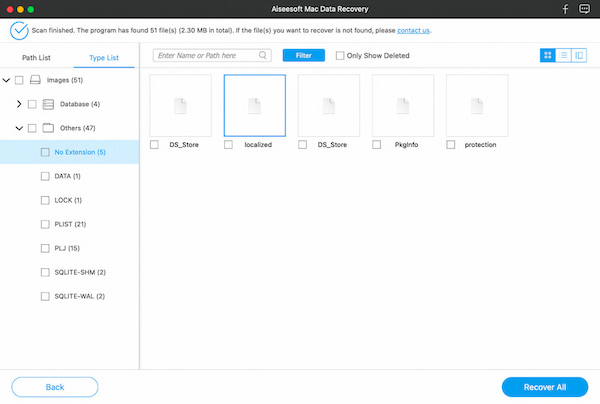 If your Mac keeps shutting down and restarting, you need to find solutions to fix kernal panic on Mac.
Conclusion
This post has discussed what you can do when Mac won't shut down. If you encounter the same trouble, follow them to fix it and get your Mac working normally. More problems? Please leave your message in the comment area below this post.

Leave your comment and join our discussion