Why Is My Mac Running So Slow? Find the Reasons and 5 Best Solutions
Why is my Mac so slow? How to fix Mac running slow?
Like other computers, Mac will also slow down over time. That is why you may wonder 'why is my Mac so slow'. How to fix Mac running slow? By doing a few simple clean up and maintenance tricks, you are able to speed up your slow Mac. Here we are going to show you 5 best solutions to speed up your slow Mac.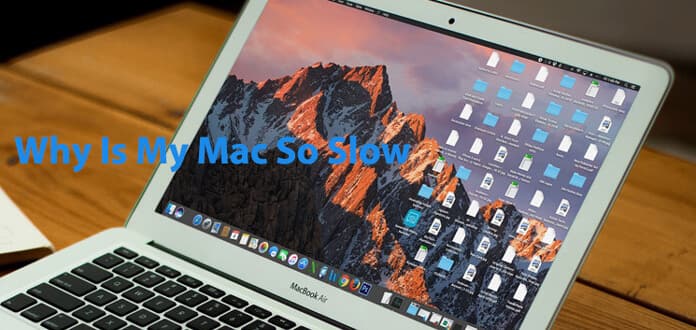 Part 1. Why My Mac is Running Slow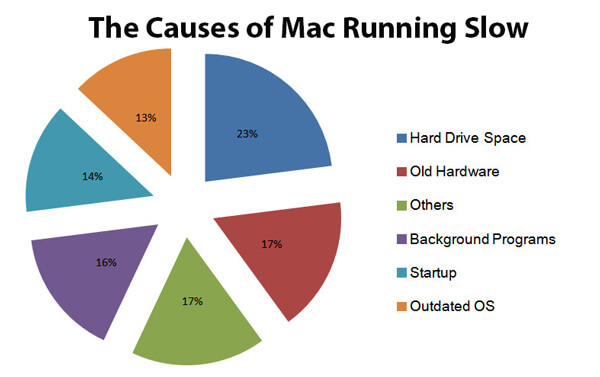 1. Your Mac hard drive is almost full
When the hard drive is running out, your Mac should be running slower than before. If you can lighten the load on your Mac and free up storage space to speed up the slow Mac.
2. Startup is slowing Mac down
When you start your Mac, a lot of things triggers in the background. Not only do they slow down your startup time, but they continue to slow down Mac performance.
3. Too many background programs
If your Mac has too many programs running in the background, your Mac will slow down definitely. Actually, most of background program are not needed. You should delete programs from Mac.
4. Outdated Mac operating system (OS)
Your Mac's OS is another factor why your Mac is getting slower. Older operating system your Mac runs, the slower your Mac would be.
5. Mac hardware is too old
Maybe your Mac may just be too old to fix. If your Mac hardware gets too old, your Mac will be running slow. You can do nothing to fix it but upgrade the hardware.
Part 2. 5 Solutions to Speed up Mac
Solution 1. Clean up Mac hard drive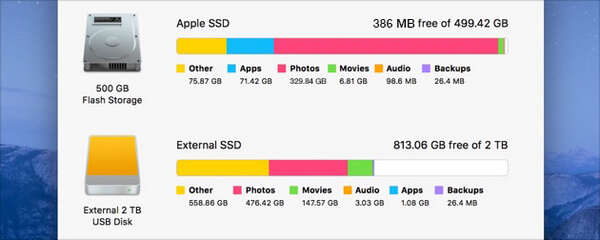 Check your Mac, you may find various movies files stored in the hard drive, many documents or folder messed up on the desktop.
It is time that you should clean up your Mac hard drive to solve 'my Mac is running slow now' or similar problem.
Delete files or folders one by one?
Too time- consuming and leave alone some junk files, cookies or cache.
The best option is to adopt one Mac cleanup program, such as Mac Cleaner. This Mac cleaning software lets you clean download files, delete unneeded files, remove large or old files with just a few of clicks.
After deleting files, logs, cache, you will find your computer is no longer the Mac running slow before. Here is a tutorial on how to clean Mac up with Mac Cleaner to speed up slow Mac.
Mac Cleaner
Monitor Mac status, such as disk utilization, battery status, memory usage and CPU usage.
Support iMac, iMac Pro, MacBook, MacBook Air, MacBook Pro.
Apply to Mac OS X 10.10 or above (macOS High Sierra included)
Compatible with iMac, iMac Pro, MacBook, MacBook Air, MacBook Pro.
Works on Mac OS 10.10 or above (Mac OS X Yosemite, Mac OX El Capitan, macOS High Sierra included).
1Open Mac Cleaner
Download and launch Mac Cleaner. The Mac cleanup software is able to monitor system status of your Mac, so you can see how your Mac is or how much available storage space you can use.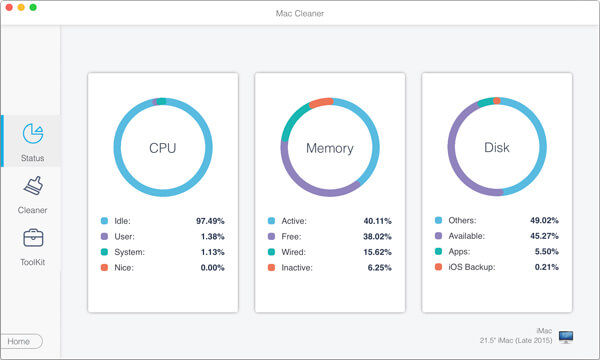 2 Scan junk files
Three main modules are offered for you, "Junk Files", "Unneeded Files" and "Large & Old Files". With this software, you are able to quickly clean up your Mac to speed up slow Mac. Taking junk files cleaning for example, here we choose Junk Files and click the Scan button.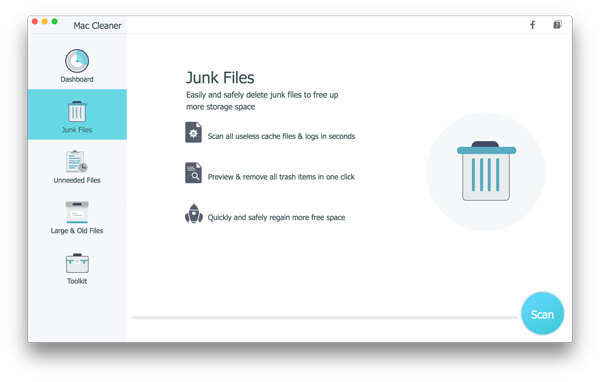 3Click Review button
The scanning process will quickly begin. After that, you can click Review button to see the scanning results.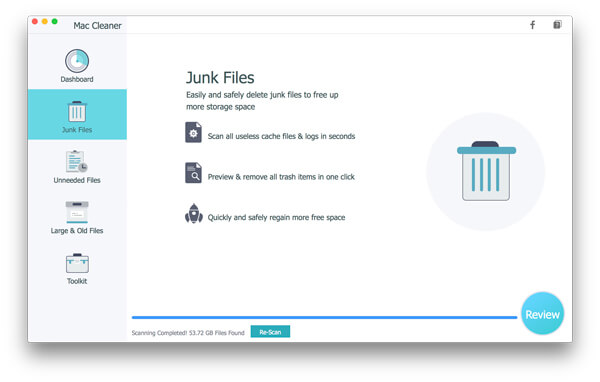 4 Review and select items
Junk files including application cache, system logs, photo junks, system cache and so on are listed into categories. Check the junk files to speed up slow Mac, such as "Application Cache", and the detailed junk data will display on the right window. Finally, click the Clean button.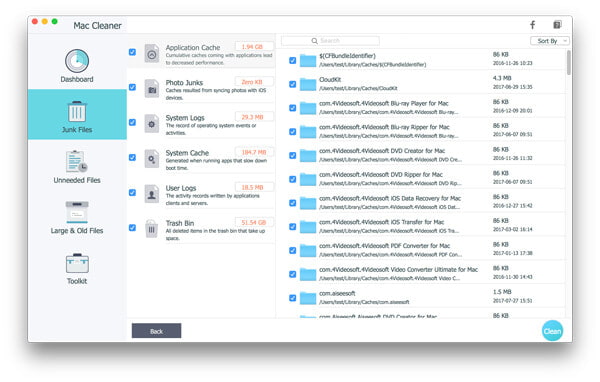 5Cleaning done
Then all the junk files are deleted from your Mac. Mac Cleaner can be the best choice to clean up and speed up your slow Mac.
Note: As for "Unneeded Files" and "Large & Old Files", the steps to clean Mac up is the same as that of "Junk Files".
Solution 2. Manage your Startup items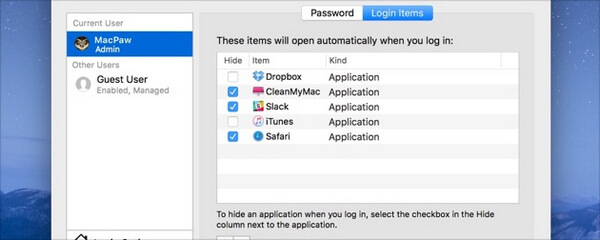 Give your Mac a clean startup and drive Mac OS X running faster. If you don't manage your Startup items, it's time-consuming when you turn on Mac. And then you will wonder why my Mac is running slow. Lighten the load and manage the startup items on your Mac.
Get a quick Mac startup by deleting unnecessary apps. Go to your System Preferences > Users & Groups, and then click on your username. Now, click on Login Items, click on the name of an application that you don't need and then click the "-" symbol located below the list to the left. Then you'll remove the application from Mac.
The fewer applications you stored on Mac, the faster your Mac will be. This should help out a lot to speed up your slow Mac.
Solution 3. Shut down unneeded background programs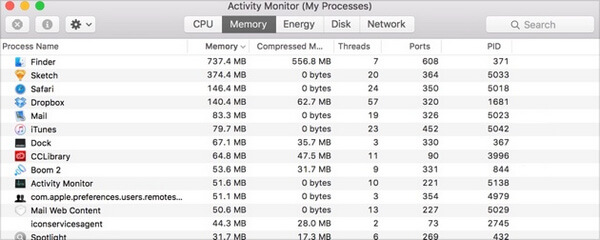 Apple offers Activity Monitor feature, so that you can the processes that are running on your Mac. Quitting an app using up a lot of processing power could speed up your slow Mac. Open up your Applications folder > Utilities folder > Activity Monitor. From the list, you will see a lot of apps and processes are running background. Why is your Mac slower? Answer may be here.
Click on the Memory tab, here sorts the programs by the amount of space. It means that those programs are taking up Mac RAM. The higher the number, the more power they use up. Click on the app from the list and hit the gray "x" icon at the top-left corner of the window. But never delete the processes you don't know, or some tragedy may happen.
Solution 4. Update your OS X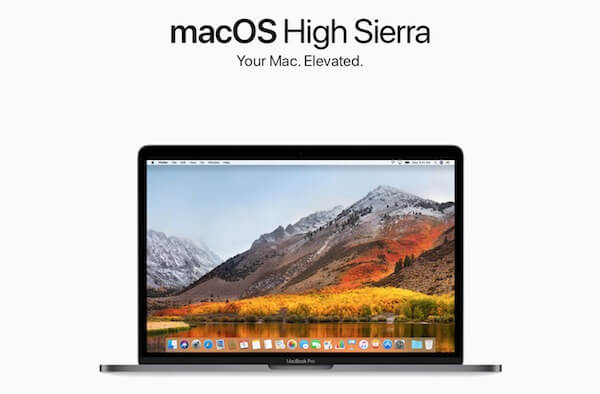 Having the latest version of OS X is good practice and the latest version right now is macOS High Sierra. Head over to the Mac App Store and search for "macOS High Sierra". Install and update the Mac OS and you'll probably see a faster Mac.
Solution 5. Upgrade your hardware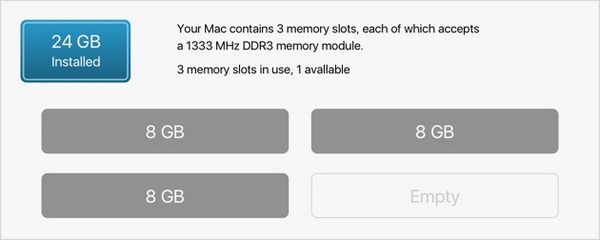 Everything referred above are tried but your Mac is still running slow. It's time to check whether the hardware of your Mac is too old. If so, you should consider upgrading the Mac hardware. Unfortunately, this will cost you much money. Some Mac hardware cannot be upgraded. You'd better think it over to speed up Mac using this method.
Conclusion
In this article, we mainly provide you with 5 tips to deal with 'why my Mac is so slow' issue. To speed up your slow Mac, Mac Cleaner can be a great option. If you have any other tips and tricks to fix slow Mac, welcome to tell us.