iPhone AutoFill You Should Know About
AutoFill on iPhone can be a good benefit if you do not remember, who like to surf the Internet. It can help us memorize some private info to save a lot of time. If you always surf the Internet, shop online or apply for a new account, but you have to type the same details info again and again once you login, will you be mad? Fortunately this is a mode call Autofill on iPhone, which can help you out the problem and improve your customer experience. Now let me introduce what is iPhone AutoFill and how to clear Autofill on iPhone for you. Just read the article and get the idea of how to use Autofill on iPhone to save some unnecessary steps.

iPhone AutoFill
Part 1. What is Autofill on iPhone
What is AutoFill on iPhone
Autofill is automatic online form filler that used in web browser or apps to help users to save time when filling in forms online. It can automatically fill in all the details needed for you instead of typing every letter. Once you have typed the relevant details, Autofill on iPhone will memorize them and it keeps you from needing to use the touch keyboard to type the same details again next time. It can help you auto fill your passwords, logins, contact information such as phone number and e-mail address, credit card number and so on.
Autofill on iPhone is the most useful system in iOS. And it promotes the convenience of using data. Research shows that an ordinary people only get letters by using his short memory when remembers numbers, letters, words or meaningless syllables. Once he has got more than 9 letters or numbers, the rate of getting wrong will rise. So when we are dealing with some numbers or letters to fill them in a form, we always check them again and again in case of typing wrong information. That is really a suffering moment.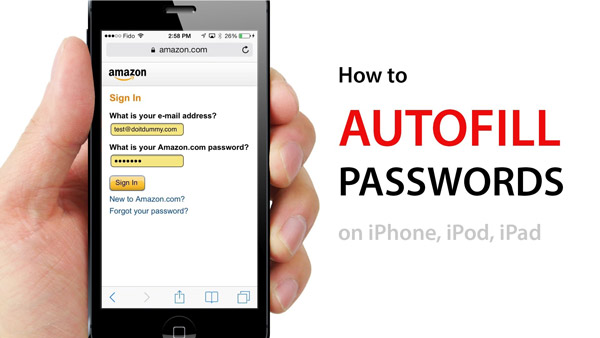 How to set up iPhone Autofill
Sometimes we have to type the same information again and again, just using our poor short memory or some people will copy them on a paper and then type into the form. It wastes a lot of time to do such a meaningless thing. However Autofill on iPhone can help us solve the issue. Thank you for the inventor. Now let me tell you some steps to set up Autofill on iPhone. If you are an iPhone beginner, please pay more attention to. Following these steps, you will be a good user of Autofill on iPhone.
Step 1 Open the "Settings" App from Home screen to launch the program. It is a set of grey gears icon you can find easily from the home screen of iPhone.
Step 2 Scroll down to find and tap the "Safari" option. As for the case, you can auto fill information you saved in using Safari browser. There are two major iPhone Autofill file types, personal information and credit card information.
Step 3 Tap the "AutoFill" option, which you can choose what you want to save. Tap "My info" to find a list of your saved contacts. You can scroll down and tap on your name to enable Safari enter your name automatically.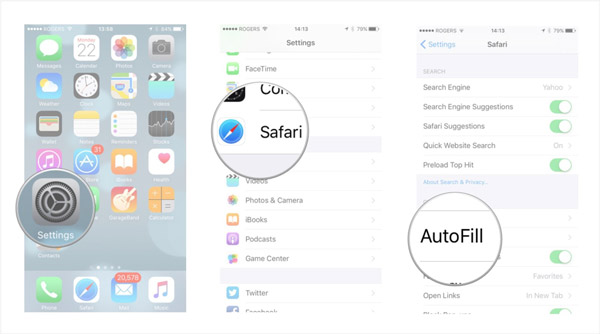 Features for iPhone Autofill
Save Use Contact Info
What is Use Contact Info? That means when you want to fill in a form, Safari will copy the information you have saved after tapping AutoFill on keyboard. Here are some steps for you to follow up to set up iPhone AutoFill.
Tap My Info to display your Contacts, and then locate and tap your Contacts card name to select it as the card you want to use. You could see your name in the My Info. When you fill in a form next time, you could save same personal info such as your name, address, phone number, and e-mail address and so on. The Autofill on iPhone will copy this information into the appropriate fields.
Save Names and Passwords
Tap the option on if you want to Safari memorize users name and passwords for some web pages. Once typing your account name and passwords on a web page, Safari will remember it because the smart system of Autofill on iPhone. Safari will pop up a dialog, asking you if you want to save the passwords. If you want to save the passwords, tape Yes. Or Not Now, if you want to keep the option of saving the passwords next time when you visit the web page.
Save the passwords
Tap Saved Passwords to see what websites and passwords you have saved. You can click Edit to select what you want to save. If you want to delete the website, tap the Delete Button in the upper left corner.
Always Allow
Unless you are sure that your iPhone will always be your side, the best choice is not allowed to tap it on. Because it allows iPhone Autofill even for websites that request passwords not be saved, which need Passcode Lock to turn on to allow the option. If you turn off the Passcode Lock, Safari will ask you if you want to continue to use Autofill on iPhone without Passcode Lock. It is not safe because anyone who uses your iPhone could get your personal information through Safari.
Credit Cards
If you always shop online, Autofill on iPhone about Credit Cards can help you save more time.
Just tap Save Credit Cards and add your cardholder information to Safari. It will remember your information and Autofill it when it is necessary.
Part 2. How to clear Autofill on iPhone
Because it is not safer to use Autofill on iPhone on every occasion, especially someone else is able to access to your iPhone. As for the case, you might need to know how to delete the passwords saved. How to clear Autofill on iPhone? Just follow the detailed process to get rid of the feature of your iPhone.
Step 1 Launch "Settings" App on iPhone home screen to choose "Accounts & Password", after that go to "App & Website Passwords".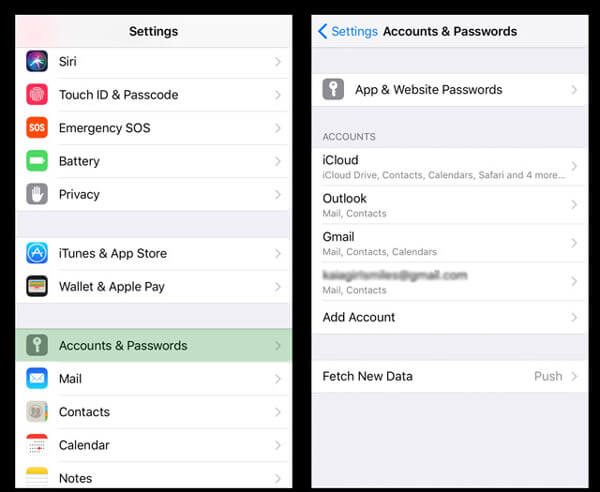 Step 2 Choose the name of the website from the drop down list. Now, you can tap on the "Edit" button in the upper right corner to remove the information.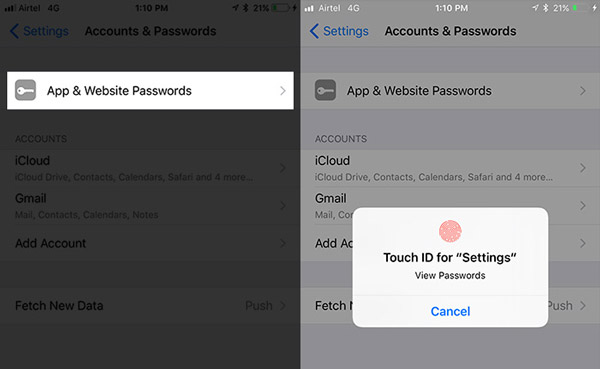 Step 3 After that you can select the App, you can tap on the red button left to the website, which you can tap on the "Delete" button to clear AutoFill on iPhone.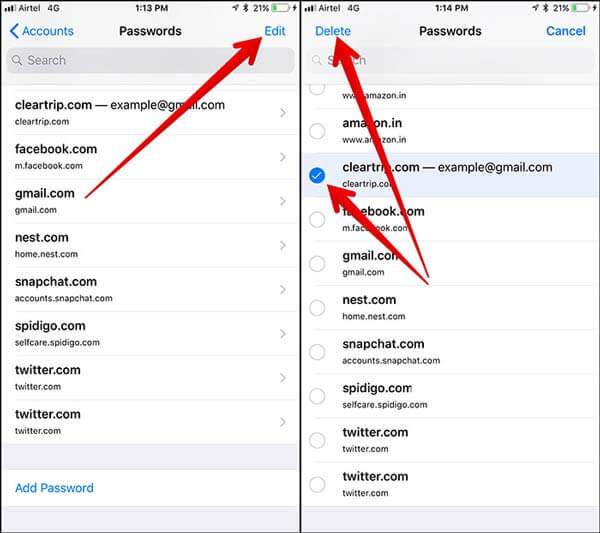 Conclusion
iPhone Autofill can be a convenient way to save our valuable time, and actually we use it on our daily life commonly. But we should keep a clear mind that some important information should not been remembered by Safari, or once you have lost your iPhone, you would lose more. After reading this article, please check if you have give Safari have more authorities to control your iPhone. If so, just clear Autofill on your iPhone now. If you have any questions you would like to contribute, please share your feedback in our comments. Thanks for your views in advanced.