Free Online HEIC Converter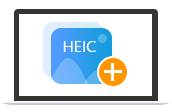 1. Add HEIC File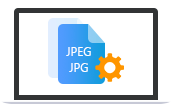 2. Convert Automatically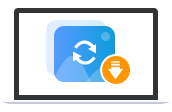 3. Download JPG/JPEG

Free Online HEIC Converter
Upload HEIC from computer
Convert HEIC to JPG/JPEG
Keep the original Exif data
Faster conversion speed
Convert Now

HEIC Converter
Convert HEIC from iOS device or computer
Convert HEIC to JPEG and PNG
Compress HEIC image quality by 1-100%
Keep the original Exif data or not
30X faster than online converter
Try it Free
Try it Free

100% Clean & Safe

Convert HEIC to JPG/JPEG Online
With the introduction of iOS 11, Apple has announced HEIC as its default image format, replacing JPEG. Compared with JPEG, HEIC takes less storage space on the premise of lossless image. However, some users can't view HEIC photos directly on their Windows computer. HEIC photos can't be opened by some photo editors either. Well, JPG/JPEG is much more compatible than HEIC. With this powerful HEIC Converter, users can easily convert photos from HEIC to JPG/JPEG on Windows and Mac without hassle.
Convert Now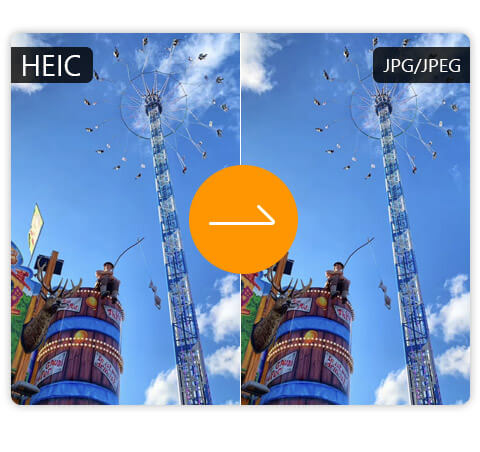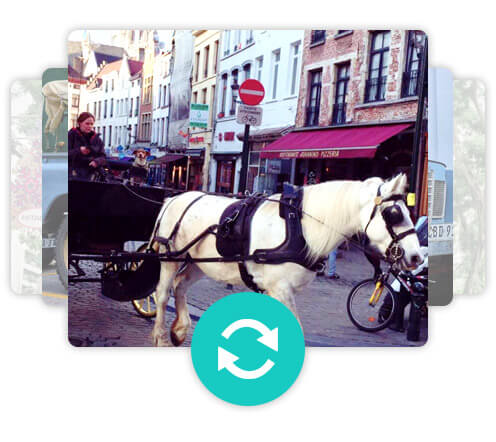 Batch Convert Multiple HEIC Files Simultaneously
If you have of a bunch of HEIC photos on your iPhone, converting them to JPG/JPEG one by one is not a smart decision. Though there are so many HEIC conversion platforms, few of them meet the needs of both free and batch conversion. Aiseesoft Free Online HEIC Converter is an effective HEIC converting tool that can meet all these conditions. It helps you to convert a bank of HEIC photos to JPG/JPEG in no time. You can upload up to 10 HEIC photos each day for conversion at a time, which greatly saved your time.
Convert Now
Keep Original Exif Data of HEIC Photos
Aiseesoft Free Online HEIC Converter will keep the original Exif data during the HEIC to JPG conversion. From the Exif (Exchanable Image File Format) data embedded in the photo, you will get to know some related information like dimension, format, size, camera exposure, capture data/time, or even the GPS location. The quality of the image will not be compressed. It keeps the high quality as the original HEIC file. So, it's a good tool enables you to create JPG/JPEG files at small size without sacrificing image quality.
Convert Now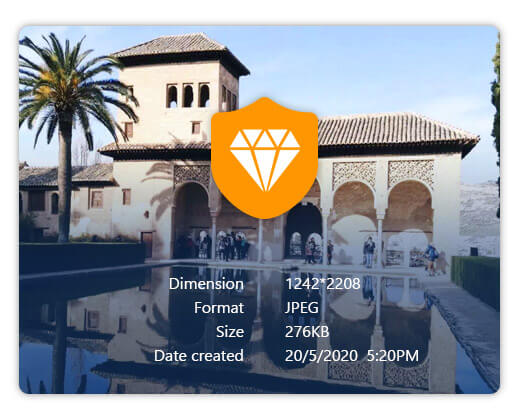 Highlighted Features

100% Free
This web-based HEIC converter is totally free. You can convert HEIC files any time you want.

High quality output
It converts HEIC files to JPG/JPEG while containing the highest quality of the original data.

Fast conversion
It gives you the fast experience in conversion. After uploading, the conversion starts in no time.

No Installation
No need to install, sign up or install third-party plugins. All conversion will be finished in browser.

Batch Conversion
You can use this online HEIC tool to convert multiple HEIC files to JPG/JPEG at the same time.

Privacy Protected
Your privacy is guaranteed on our platform. Your photos can't be leaked or accessed by anyone.
FAQs of Aiseesoft Free Online HEIC Converter
1. Why are my photos HEIC instead of JPG?
With the release of iOS 11, Apple has introduced HEIC to replace JPEG. Using the advanced compression method, HEIC stays in smaller size while maintaining higher image quality than JPG.
2. Is Aiseesoft Free Online HEIC Converter completely free to use?
Of course. This free online HEIC converter is 100% free without costing any coins. You are free to use it to convert HEIC to JPG.
3. Is Free Online HEIC Converter safe?
Absolutely! Aiseesoft Free Online HEIC Converter is a green online platform. There is no virus nor ads. All your photos are converted privately on your computer.
4. Can I use this free online HEIC converter on my Mac?
Yes. This free online HEIC converter works in all browsers. You can convert your HEIC photos on Windows, Mac or Linux online. Just visit the web page and convert now.
Aiseesoft Free Online HEIC Converter -
Convert HEIC to JPG/JPEG with High Quality
Served 21332 Users Worldwide

Download Desktop Version

Download Desktop Version
Explore More Recommendations from Aiseesoft

Aiseesoft Online Image Compressor
It can compress, optimize and reduce any image file to a smaller size with high quality online for free.

Aiseesoft Online Background Remover
Remove the background from your image automatically and make your photos look so much better.

Aiseesoft Free Online Video Converter
A completely free online conversion tool that provides a fast and easy way to convert any video & audio formats.