A Complete Review of Top 8 HEIC to JPEG Online Converters
Since Apple announced to adopt HEIF photo format in iOS 11 in 2017 in replacement of the JPEG photo format, more and more people have focused on this newer file format. HEIF (High Efficiency Image File, often pronounced heef) is a file format for individual images and image sequences, while HEIC is the filename extension for this High Efficiency Image File Format. It's said that photos in HEIC format has 2x the compression than JPEG. But because of the compatibility issue, there are a few devices that support HEIC format at present. So there are some new requirements come into being.
Converting HEIC file to JPEG file is one prominent demand since then. This article has sorted out a complete collection of the top 8 online tools to convert HEIC to JPEG.

HEIC to JPEG Online Converters
1. Apowerful Free HEIC Converter
Apowerful Free HEIC Converter is a free online tool to help you convert HEIC file to JPEG or JPG format. There is also a desktop app available if you want to convert HEIC files offline.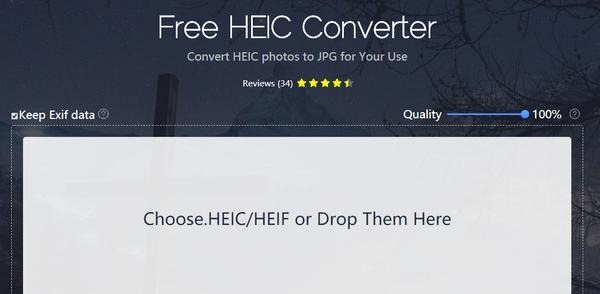 Pros:
Totally free to convert HEIC to JPEG online.
You are allowed to convert multiple HEIC photos at a time.
You are able to keep Exif data when converting HEIC to JPEG online.
Cons:
You have to download the converted photos from its cloud server.
To use this online tool you need to transfer and upload the HEIC photos to computer first, if you want to convert HEIC photos in your iOS device.
It's not compatible with Mac.
2. JPEGmini
This JPEGmini HEIC to JPEG Online Converter is powered by JPEGmini. It's a small-sized website to convert HEIC format to JPEG online.

Pros:
You can convert HEIC files online for free.
Cons:
There is a limitation of uploading up to 50 HEIC files.
It does not enable you to adjust image quality.
You need to transfer HEIC photos to computer in advance.
3. Converter.Asimkt
Converter.Asimkt is also an online HEIC converter with clear interface. It can be opened in any browser. It's very easy to use. You just need to click "SELECT A FILE" to upload your HEIC files and then click the "CONVERT" button to do the conversion.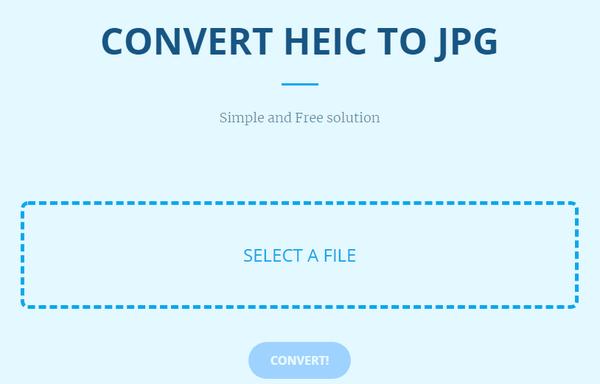 Pros:
Totally free and easy to use.
Cons:
It doesn't allow you to drag and drop HEIC files.
The biggest shortcoming is that there is time limit to convert HEIC files. I cannot convert HEIC to JPEG with this online tool after a while when I received an error message: "error":"Your daily limit of 25 conversion minutes exceeded. Your daily quota will be reset in 16 hours and 4 minutes.","code":402.
4. freetoolonline.com
freetoolonline.com is also free and simple to use. You can drag and drop your HEIC files to convert them to JPG format.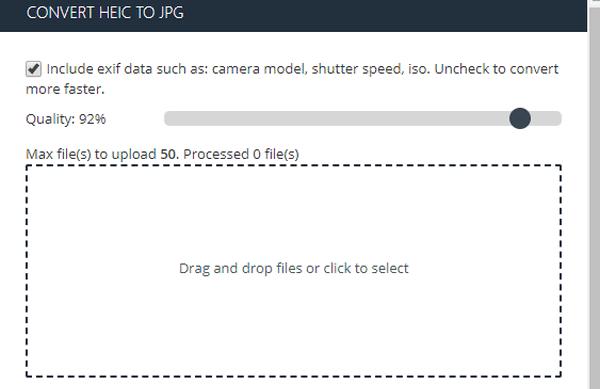 Pros:
Free online tool with simple interface.
You can set the quality of the output images by dragging the slider before the HEIC conversion.
Cons:
This online tool can only convert HEIC to JPG format.
You can only convert up to 50 HEIC files at one time.
You cannot convert HEIC files with more than 30MB file size.
There is a "START NOW" button for advertisement, which causes confusion and can reduce user satisfaction.
5. IOTransfer HEIC TO JPG CONVERTER ONLINE
This HEIC to JPG Converter is another online tool for you to drag and drop HEIC photos. It works on any browser.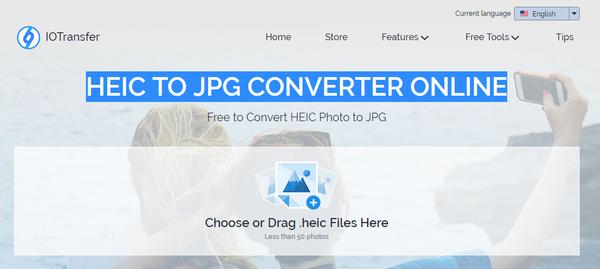 Pros:
Cons:
Please note that you cannot convert more than 50 HEIC photos once a time.
If you want to enjoy more features of the HEIC converter, you need to download the paid desktop program.
6. Aconvert.com
Aconvert.com doesn't have a simple entrance like the above online HEIC converters. You can select a HEIC photo from computer or provide a URL from the internet, which is a feature different from common online HEIC converters.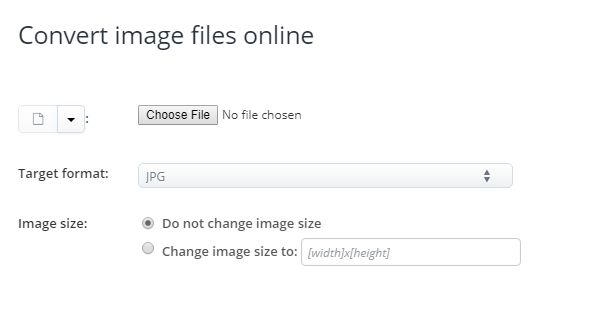 Pros:
It not only supports JPEG output format, but also other formats like TIFF, GIF, and BMP etc.
It also provides features like resizing, cropping, etc.
Cons:
It's inconvenient to manually adjust image size and there is no option to maintain the proportion.
There are many ads on the website page, which will deteriorate user experience during HEIC conversion.
It's time-wasting to convert one HEIC image each time.
7. CoolUtils
CoolUtils HEIC to JPG Free Online Converter can change not only iOS 11 HEIC photo format to JPEG and PNG format, but also other formats like MNP, TIFF, GIF, PDF, etc.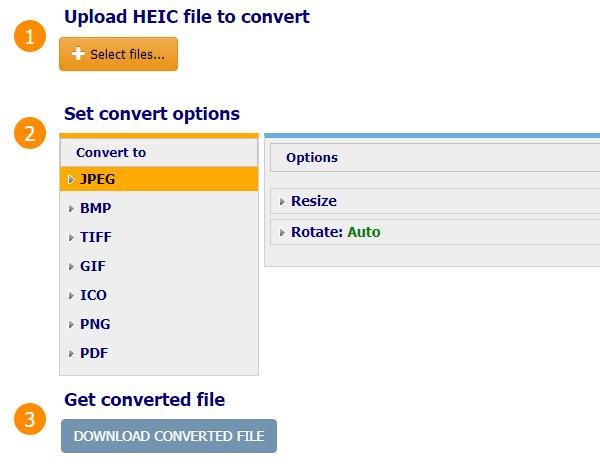 Pros:
You are able to resize output photos with constrain proportions option.
Support various output formats no more than JPEG.
Rotating photos is possible.
Cons:
The unfriendly part is that you need to pay if you want to convert HEIC images in batch.
8. EZGIF.COM
EZGIF.COM is also a free online HEIC to JPEG converter. You can select a HEIC file from your computer or paste a HEIC image URL to upload the source file.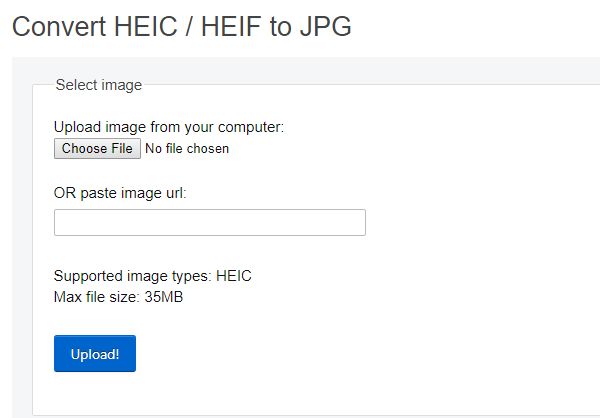 Pros:
Free and simple to use.
It enables you to set the output image quality, size, orientation, etc. after you upload the HEIC file online.
Cons:
You can only convert one HEIC image at a time, and the file size cannot exceed 35MB.
Some users reflected that the uploading is slow and there is a possibility of failing to convert HEIC TO JPEG.
More recommendation: Aiseesoft HEIC Converter
After listing all the advantages and disadvantages of the top 8 free online HEIC to JPEG converters, it's obvious that the Pros and Cons of these online tools are similar to each other. There are some facts that you need to notice about the online HEIC converter. One is that the online tools work slower than the download HEIC Converters. The second is that the online tools always don't allow you to covert HEIC to JPEG in batch and without output quality adjustment. Last but not least, these sites will need you upload your pictures to their cloud server and download the converted files a few minutes later. Therefore, there is a privacy risk although the sites claim to delete the images hours later. A downloaded tool should be safer than an online HEIC converter. So if you have higher demand on HEIC conversion, you can download Aiseesoft HEIC Converter to your Windows PC or Mac to convert HEIC images to JPEG or other formats.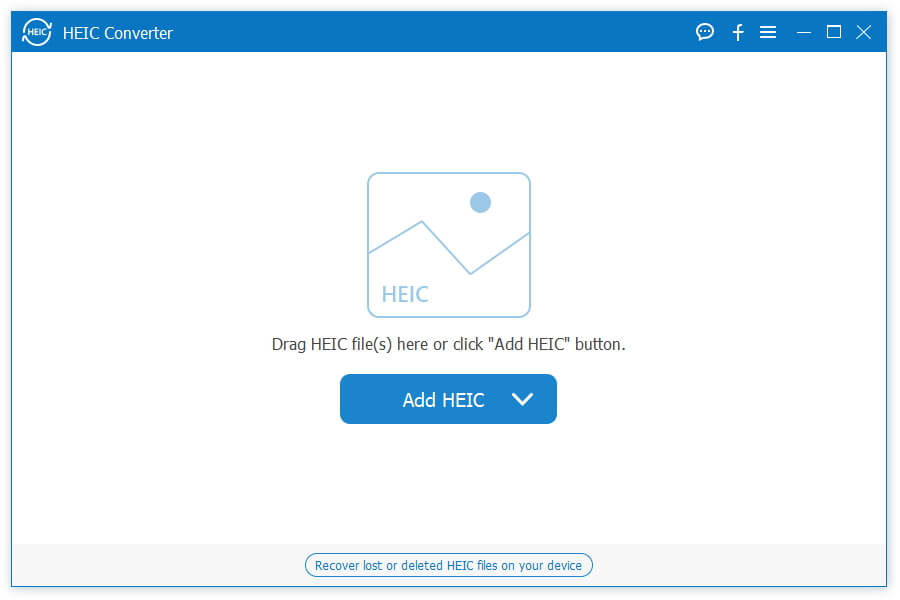 Pros:
It can reverse Exif data.
It can effectively convert HEIC photos with flawless quality.
You are able to adjust the output photo quality at your demand.
You are allowed to upload unlimited photos for conversion at a time, which is time-saving.
There are too many choices for you to convert HEIC image to a more accessible image format. Pick one according you your need!