How to Convert BMP to PNG
When you are going to share your BMP files with your friends via web browsers or email, you'd better transfer them from BMP to PNG firstly.
What are the formats for BMP and PNG?
How to convert BMP files into the desired format?
This tutorial is focusing to discuss how to convert BMP to PNG. Please read on and learn the detailed steps.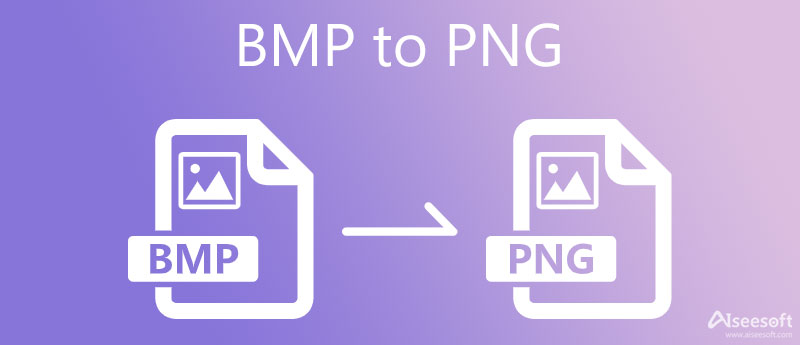 BMP to PNG
The BMP file format, or called Bitmap Image File or Device Independent Bitmap (DIB) file forma, is actually a Raster graphics image file format aimed at store bitmap digital images. This BMP File Format is able to store 2D digital images of arbitrary width, height, and resolution, but it is not always supported by a lot of browsers, and Portable Network Graphics (PNG) file format is another bitmap image format that can improve upon and replace GIF. It employs lossless data compression, and is supported to transfer images on the Internet.
Method 1: How to Convert BMP to PNG with Microsoft Paint
Microsoft Paint is a simple raster graphics editor. As a widely used image manipulation tasks, it can also be used in transferring image files, and it supports a multiple of image formats, such as BMP, JPEG, GIF, PNG and TIFF formats and so on.
Below is a general guide about converting BMP to PNG with Microsoft Paint:
Step 1 Launch Microsoft Paint in your PC. This program should be built in your Windows originally.
Step 2 Choose a certain image from the folders that you are going to convert from BMP to PNG, and input it into Paint.
Step 3 Select "Save as" option from the Edit menu, and choose PNG as the exported format in the drop-down menu.
Step 4 Finally, save this newly created image and you have finished to convert BMP to PNG!
Moreover, you are able to follow this method to convert TIFF to PNG in the similar steps.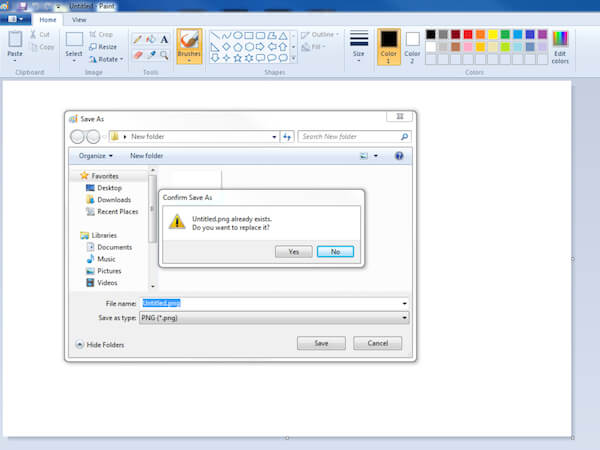 Method 2: How to Convert BMP to PNG with XnConvert
XnConvert is a simple yet functional tool for you to convert BMP image to PNG file for free. With its ever-expanding toolset and capabilities, XnConvert makes it easy to convert image files from one format to another, as well as batch conversion, folder imports, filters, resizing, and several other advanced options.
Step 1 Launch XnConverter, and click "Add Files" to input a BMP image files into this converter.
Step 2 After that choose PNG as the output format, and adjust any needed settings before converting.
Step 3 Finally click "Convert" button to convert the picture from BMP to PNG. Now you can use the BMP files for more channels now.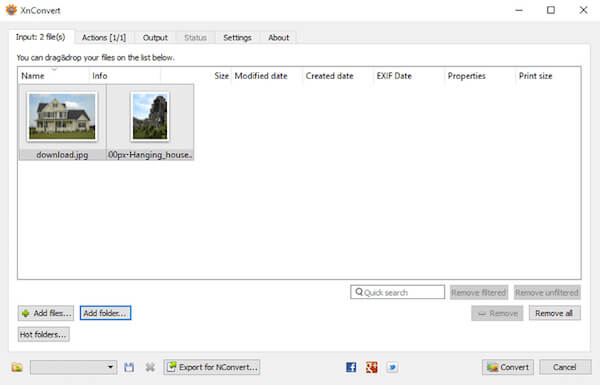 Method 3. How to convert BMP to PNG with Adapter
Adapter is a wonderful image converter program for you to take into consideration. It supports popular file formats to help you transfer and also provide plenty of nice features to deal with the image files. In addition, you are able to see the size of the image files before or after the conversion.
In a conclusion, it is strongly suggested for you to convert BMP to PNG.
Step 1 After download and install this software on the computer, open a BMP image in the main interface.
Step 2 Choose the image format that you want to convert to, such as PNG format, and then adjust the image settings at the tab.
Step 3 Then choose a destination to save this image, and finally click on "Convert" button to transfer the BMP picture to PNG format.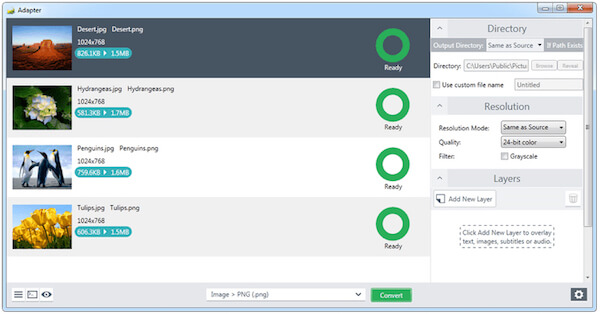 Method 4. How to convert BMP to PNG online with Converter.Files
Converter.Files is another online converter that is aimed at converting your image from BMP format to PNG format. The free online conversion tool supports you to make your file conversions with ease and convenience and is compatible with more than 1000 different types of transformation.
Step 1 Search converterfiles.com in Google and then open this official website.
Step 2 Click Select to choose an image file from the computer or cloud storage.
Step 3 You can choose any conversion format, PNG format as an example, from the dropdown menu. Next click More Settings to customize the image settings.
Step 4 Then hit on Start button, and the converter can start converting BMP to PNG, and you can choose to download the PNG file or send it with your email.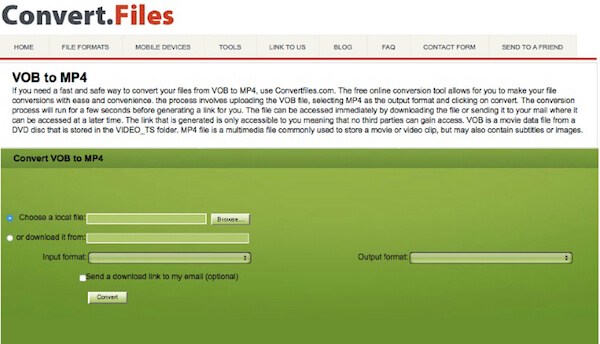 Method 5: How to convert BMP to PNG online with Zamzar.com
Zamzar is an online file converter that can help you to convert image as well as video files without downloading software tools.
What's more, it supports more than 1000 different types of transformation for you to convert multiple image files.
Step 1 Search online for Zamzar in Google and open it to transfer image from BMP to PNG.
Step 2 Select files or URL you wish to convert, then Choose the PNG format to convert to.
Step 3 Enter your email address to receive converted files. But it is optional, so you can fill in or not as needed.
Step 4 Click the Convert button to export image from BMP to PNG now.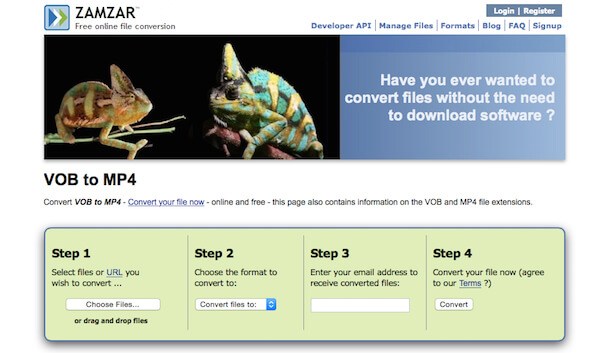 Conclusion
What should be the best methods to convert BMP to PNG? When you have lots of BMP files, you can turn the photos into the desired PNG files with ease. Whether you need to convert the files on Windows, Mac or even online, you can find the suitable solutions from the article.
If you have any query about how to convert BMP to PNG, you can share more detailed information in the article.