Convert OGG to MP3 with The Simplest Method
It is wonderful that you find the new track of your favorite singer in the Internet. However, it is of OGG format and your music player cannot play this song. It is really disappointing.
You can find the OGG Player to play the OGG files. Or you can get a professional OGG to MP3 converter to help you convert the OGG song to MP3, a more common format that is compatible with your player.

If you do not know the detailed ways, you have come to the right place. This article is focusing on explain why you need to convert your OGG files to MP3, and how to make it. Please read on and learn.
Part 1: What is OGG
Before starting converting OGG to MP3, you need to figure out what OGG is and why you have to convert it to MP3.
OGG refers to a multimedia container format, which is able to store the actual audio or video encoded by a codec and the native file and stream format for the Xiph.org multimedia codecs.
The OGG container format has the ability of multiplexing various streams of video, audio, text (like subtitles) and metadata. Multiplexing is the ability of transmitting multimedia streams at the same time. For example, a sound film contains data encoded by an audio codec as well as a video codec.
Vorbis is the most popular and successful encoding format of the Xiph.Org Foundation. This foundation is also dedicating to launch a patent-free video format. Undoubtedly, patent-free audio and video formats for Internet content will save much more time and money for consumers and general Internet users to stream the content they create. These would definitely become more popular in the future.
Part 2: Why convert OGG to MP3
MP3 took a head start in occupying the audio sharing field. That's the most important reason why MP3 format is so popular nowadays. It's almost the synonym of compressed audio format. Sometimes, we also use MP3 to represent all types of audio file.
Gradually, OGG becomes more and more popular among developers due to its satisfying sound quality and open source code base. To achieve qualified compression and avoid patent dispute, some toy and hardware manufacturers are adopting OGG to encode their audio. However, in the current market, MP3 format still remains the mainstream audio format. Most portable music players cannot play OGG files. That is the exact reason why you need to convert your OGG songs to MP3 format.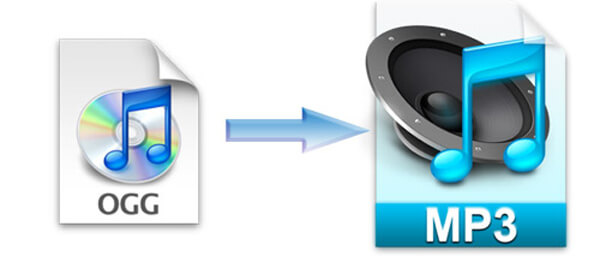 Part 3: 5 best methods to convert OGG to MP3
Method 1: How to convert OGG to MP3 with Aiseesoft Free Video Converter
Now that you have a general understanding about OGG, let's start learning how to convert OGG to MP3. Here the article recommends Aiseesoft Free Video Converter for you to solve this problem.
Key Features:
• Convert all frequently used audio formats including OGG/ M4A/ AAC/ WAV/ WMV/ FALC/ M4R/ MKA and so on to MP3.
• Support external and multi-audio track and external subtitle for the OGG files
Step 1 Install and launch the program
Before converting OGG to MP3, first download and install Aiseesoft Free Video Converter on your computer. Then double click to launch it.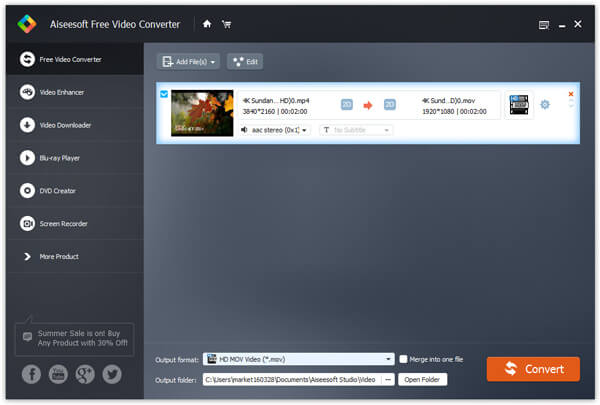 Step 2 Load OGG file into the program
Click Add Video in the main interface, check the OGG file in the pop-up window and click Open. The OGG file will be loaded to the program.
Step 3 Select profile as output MP3
Click Profile and select MP3 as the output format, or just enter "mp3" in the quick search box to find it quickly.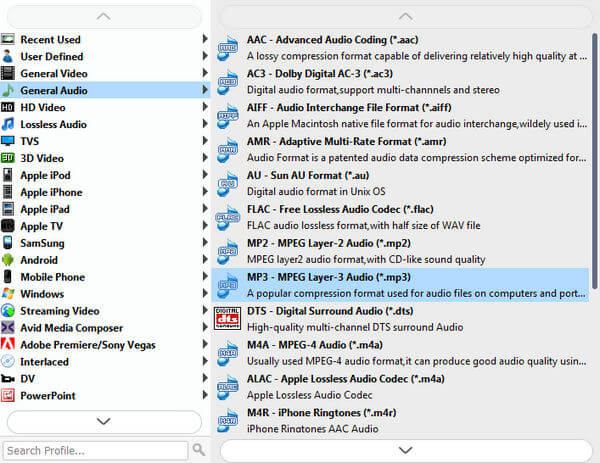 Step 4 Start OGG to MP3 conversion
Click the Convert button and the conversion will start in no time. After a few seconds, you can see the OGG files have been converted to MP3 successfully.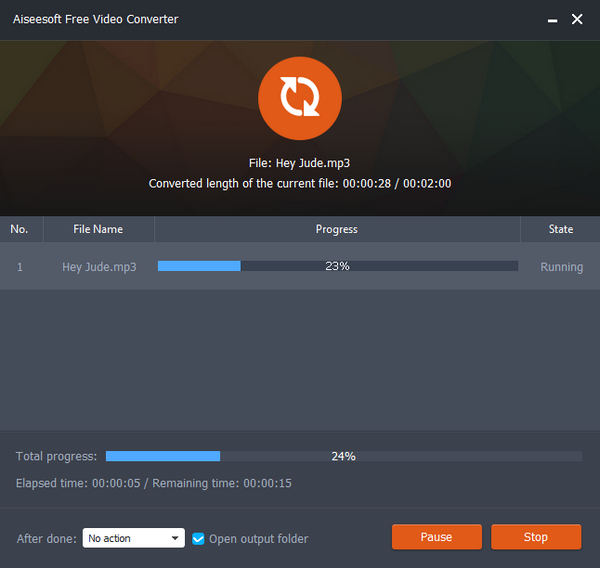 Method 2. How to convert OGG to MP3 with Any Audio Converter
Any Audio Converter is an excellent program to help you convert audio files for free. With powerful functions and fast converting speed, you can simply convert any OGG files to MP3. Follow the next steps:
Step 1 Download Any Audio Converter on your computer, and then launch the program to convert OGG file to MP3.
Step 2 Use "Add Videos" button to select the OGG files that you want to convert in the pop-up dialog box.
Step 3 Click "Output Format" and choose MP3 Audio from the drop-down list according to your device.
Step 4 After set the destination, you can start to convert OGG to MP3 by clicking "Convert Now!" button.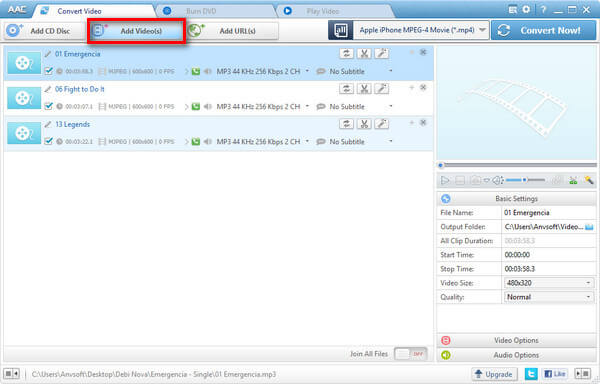 Method 3. How to convert OGG to MP3 with Apowersoft Free Online Video Converter
Apowersoft Free Online Video Converter is one of the applications to easily convert OGG to MP3 on the Internet. Online application as it is, users are allowed to convert any file into the format it lists on the web page. With its innovative launcher, you'll be able to convert unlimited files for free.
Step 1 Go to Apowersoft Free Online Video Converter page and click "Select files to start" button.
Step 2 Then import your selected OGG files to the online converter by following the instructions.
Step 3 Click "Format" button and then simply choose MP3 as the output format.
Step 4 Lastly press the "Convert" button to convert the OGG video to MP3 successfully!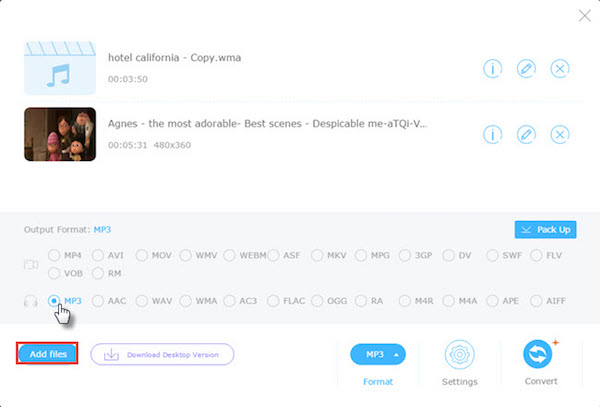 Method 4. How to convert OGG to MP3 with Video Converter Studio
Video Converter Studio is another powerful OGG to MP3 converter. It supports any media file type to be converted to different formats and devices. Whether you have an Internet connection or not, it helps you convert one or multiple files at high speed without losing original quality.
Step 1 Download and Launch Video Converter Studio and browse your target OGG files in the main interface.
Step 2 Drop down "Profile" and choose MP3 as the format that you want to export at the format category.
Step 3 Click the "Convert" button to convert the OGG files to MP3. After the converting process is complete, you can see more details about the video in the file.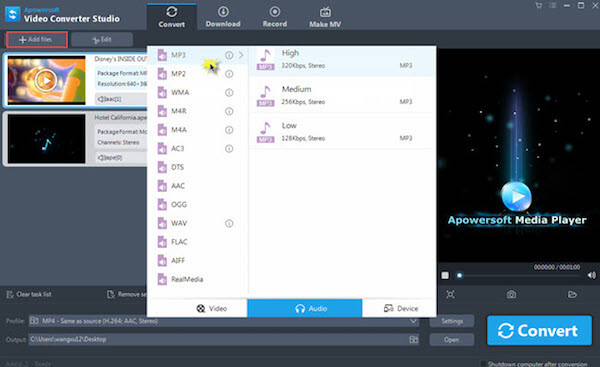 Method 5. How to convert OGG to MP3 via VLC media player
If you have a VLC Media Player on your computer, then you can use this converter to help you transfer OGG to MP3 and do not have to download other similar apps. But it will take you a little bit confusion. It requires effort, time and a deeper understanding of the tool.
Step 1 Launch VLC media player, and choose "Add" button to import an OGG file to this converter.
Step 2 Click the "Browse" button to choose a folder to locate the output MP3 file. And here you can also configure the MP3 file settings.
Step 3 Simply click on the "Save" button to return to the "Convert" menu and then select the newly created profile and click "Start" to convert OGG to MP3.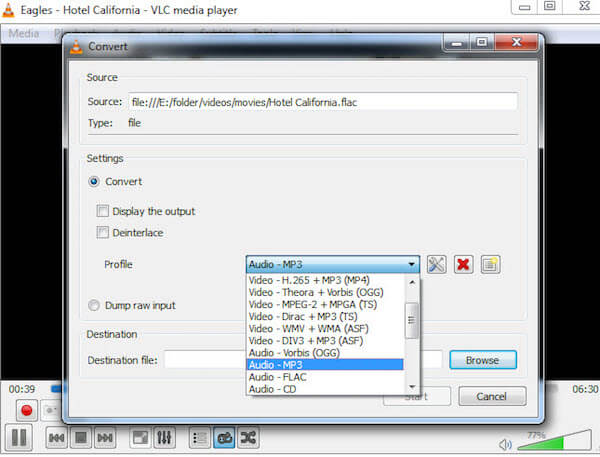 For more OGG to MP3 converters, you can refer to Best OGG to MP3 converter.
Conclusion
When you need to extend the OGG audio compatibility, you can convert OGG to MP3 instead. The article is the ultimate guidance to turn the OGG files into other formats with 5 different solutions. If you have any other query about how to transcode OGG files, you can share more information in the article now.